An easy mushroom dish that is all cooked on one tray in the oven. Ideal to serve with steak, chicken or add to risottos or pie fillings. A versatile dish that has so much flavour from being roasted in oil with herbs and stock. The mushrooms are glossy and simply delicious!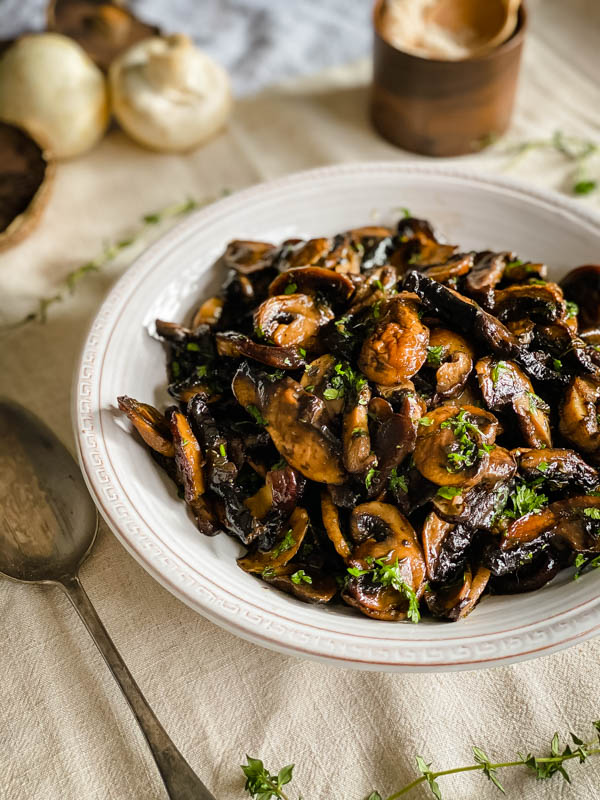 If you are after a simple and flavoursome mushroom side dish, this is a must try. Once you have sliced the mushrooms, they are placed on an oven tray with herbs and oil and cooked in the oven for 30 minutes before hot beef, chicken or vegetable stock is added. They are then put back in the oven for another 20 minutes and then they are done. It is such an easy recipe with the oven doing all the work!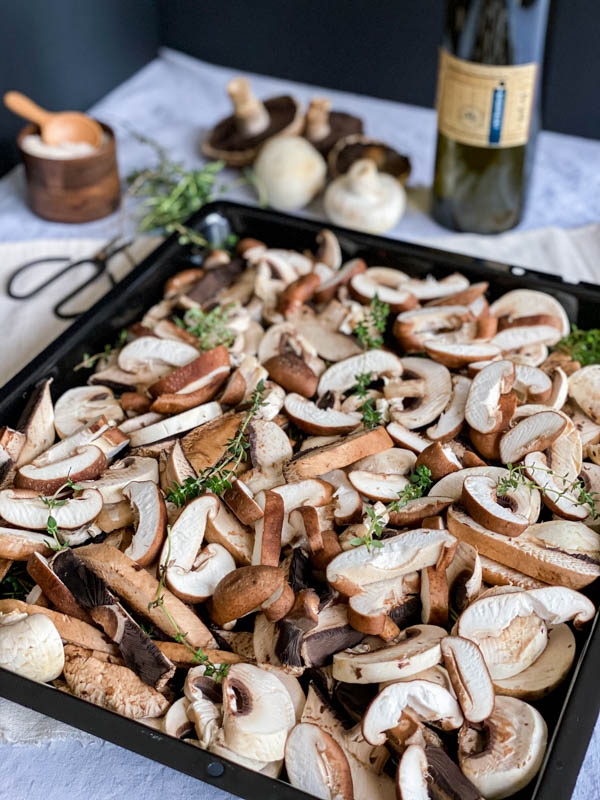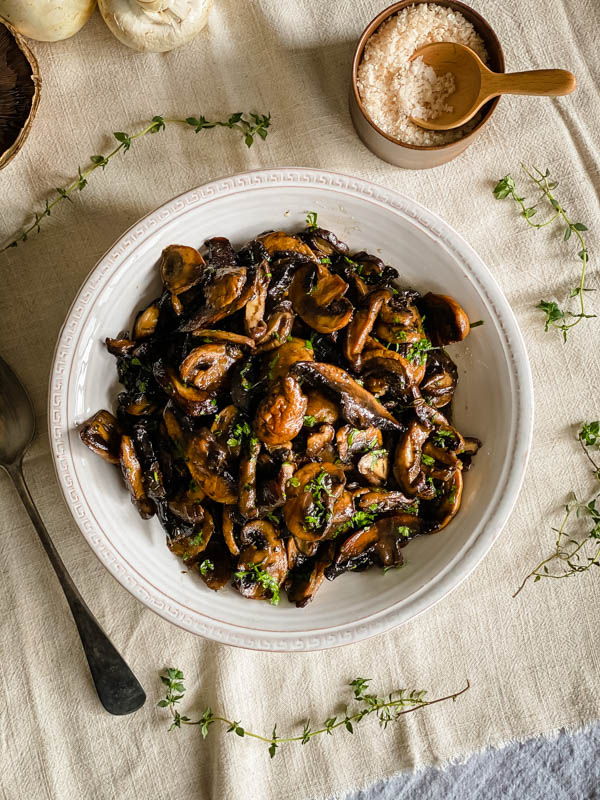 This dish only uses a few simple ingredients: mushrooms, olive oil, beef stock (or chicken or vegetable), fresh herbs (parsley, chervil and thyme), salt and pepper.
The only preparation required is the slicing of the mushrooms and herbs, and heating up the liquid stock. It really is a quick and easy mushroom recipe to have in your repertoire for easy dinners and entertaining. I have served these warm or at room temperature.
Ingredients to make this recipe
Mushrooms – I recommend a mix of at least three different varieties. I use baby mushrooms, gourmet flat mushrooms and shiitake mushrooms. Shiitake mushrooms provide a great chewy texture and are meaty. I sometimes also add enoki mushrooms or phoenix/oyster mushrooms.
Extra Virgin Olive Oil
Beef Stock – I find beef stock gives the mushrooms a lovely rich flavour which is delicious when serving them with steak. You can substitute with chicken or vegetable stocks if you prefer. The stock must be hot when added to the mushrooms as the mushrooms will soak most of the hot stock up and leave the mushrooms flavoursome and glossy.
Herbs – this recipe uses thyme and Italian parsley. If I can get hold of chervil, I will also sprinkle some of this over the mushrooms at the end as well.
Salt and freshly ground black pepper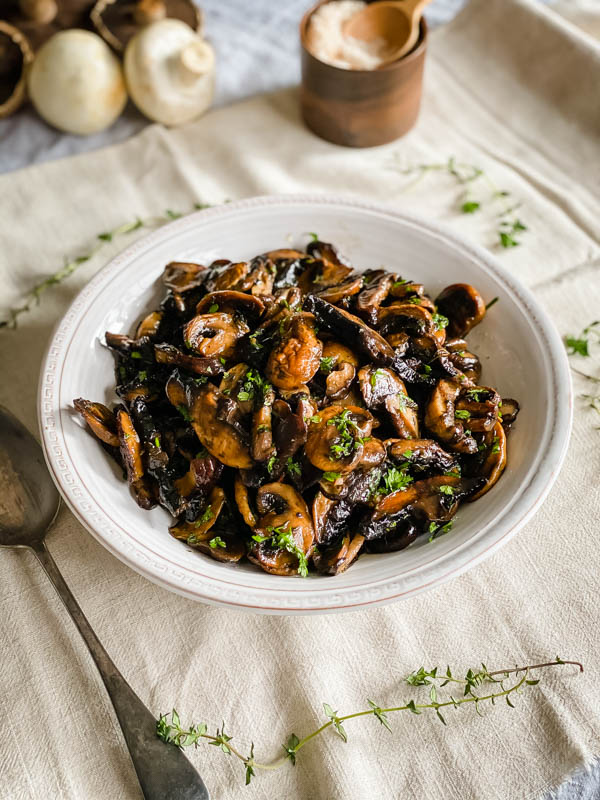 How to make this recipe (step-by-step photos)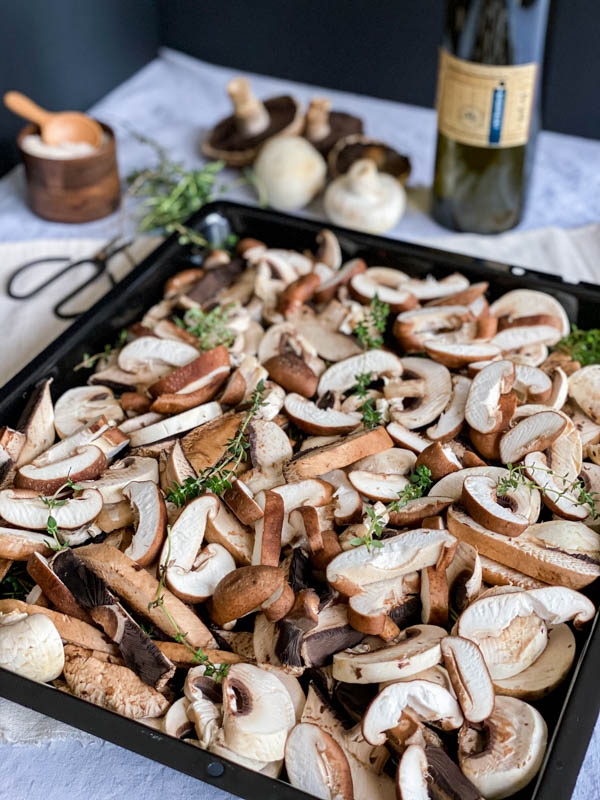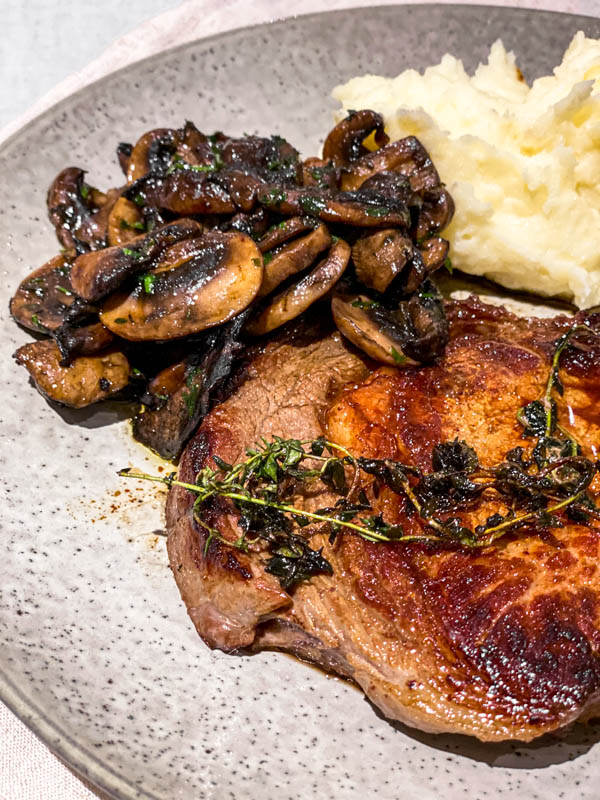 If you love mushrooms, I hope you give this dish a try! Once you have made it, you will see how versatile this dish can be. Enjoy!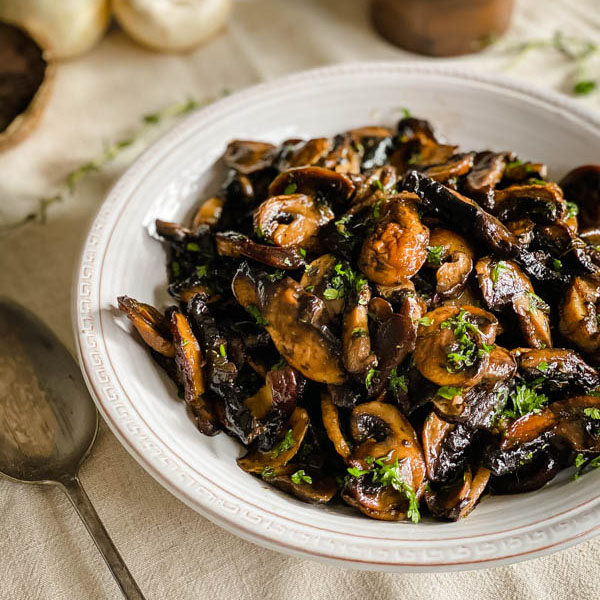 Ingredients
250

g

button mushrooms

cleaned and sliced into 1cm slices

250

g

gourmet flat mushrooms

cleaned and sliced into 1cm slices

250

g

shiitake mushrooms

cleaned and sliced into 1cm slices (or use a mix of shiitake, oyster and enoki mushrooms)

125

ml

olive oil

extra virgin (1/2 cup)

10

g

thyme (generous handful)

washed and tied into 2-3 bunches with kitchen string (see note 1)

1/4

tsp

sea salt

1/4

tsp

black pepper

freshly ground

500

ml

HOT beef stock

hot beef stock (heat in a saucepan before adding to mushrooms)

1/4

c

chopped parsley

Italian parsley and/or chervil, chopped

extra salt, pepper to season if required
Instructions
Preheat the oven to 200°C.

Place the bunches of thyme onto the oven tray so they are spread out.

Scatter over the sliced mushrooms so they are in an even layer.

Drizzle over the olive oil and season with the salt and pepper.

Bake in the oven for 30 minutes, stirring twice during this time.

Add the hot stock to the mushrooms in the oven tray and stir. Place the tray back in the oven and cook for a further 20 minutes or until the mushrooms have soaked up almost all the stock and are glossy.

Sprinkle with parsley and/or chervil. Season to taste with extra salt and pepper if required. Transfer to a serving dish.

Serve warm or at room temperature.
Notes
Thyme – in the photos you can see that I have scattered loose thyme sprigs over the mushrooms. You can do this, however I found at the end of cooking time, I had to pick all the sprigs out of the dish. I now tie the thyme sprigs into 2 or 3 bunches using kitchen string, and that way they can be easily removed at the end.
Hot Liquid Stock – please make sure you add HOT stock to the mushrooms. This is very important as adding cold stock will mean the mushroom won't immediately absorb the liquid and you will end up with liquid at the end of the cooking time.
Nutrition
Calories:
230
kcal
|
Carbohydrates:
7
g
|
Protein:
5
g
|
Fat:
21
g
|
Saturated Fat:
3
g
|
Sodium:
273
mg
|
Potassium:
589
mg
|
Fiber:
2
g
|
Sugar:
3
g
|
Vitamin A:
290
IU
|
Vitamin C:
7
mg
|
Calcium:
17
mg
|
Iron:
1
mg