Here is a healthy, low-carb twist on traditional fried rice. Made with cauliflower instead of rice, it looks and tastes like real 'fried rice'. A much lighter version using turmeric, ginger and garlic to add flavour. The turmeric gives the rice a lovely golden yellow colour too.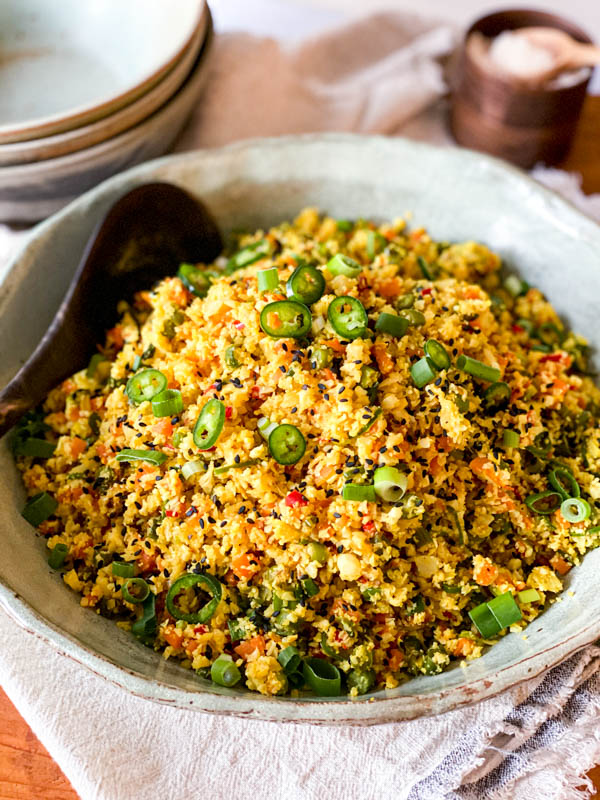 This is a great substitute for fried rice especially if you want a lower carb option. It is a very versatile dish that can be served on its own as a meal, or as an accompaniment to other dishes like curries, marinated meats or chicken, and even seafood. We often serve this alongside Asian or Indian marinated meats or with seafood.
If you are serving this dish on its own as a meal, you can also add some protein like bacon, chopped chicken, prawns or a combination of these to the frying pan at the start of the cooking process (once the carrots have cooked through). Continue to cook the proteins and other vegetables completely, before adding the cauliflower as the cauliflower will only take 5 minutes to be ready.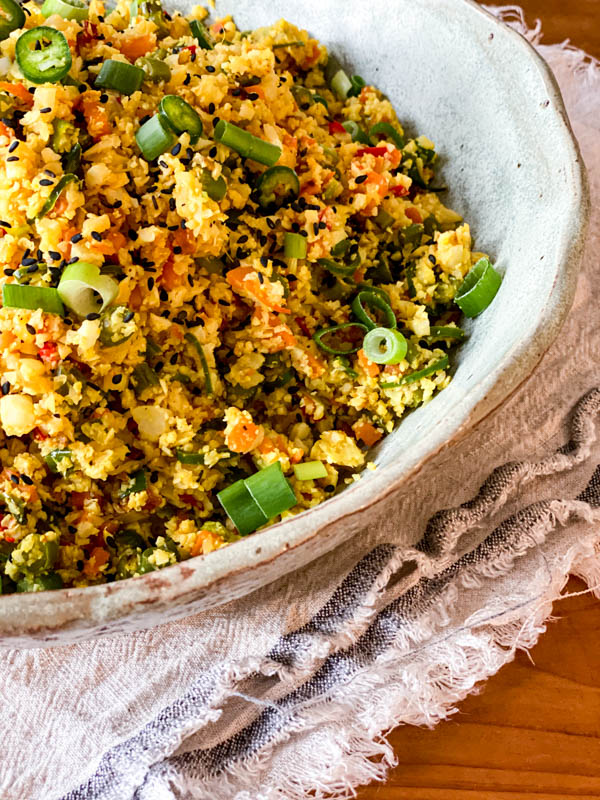 What is Cauliflower Rice?
Cauliflower rice is made by processing cauliflower florets and tender stems in a food processor until they resemble the size of rice grains. You can do this using the grating disc, or like me, simply use the pulse button to process in short bursts. If you don't have access to a food processor, then you can use a grater. The cauliflower rice takes a very short time to cook and like rice, they absorb a lot of the flavours that they are cooked with.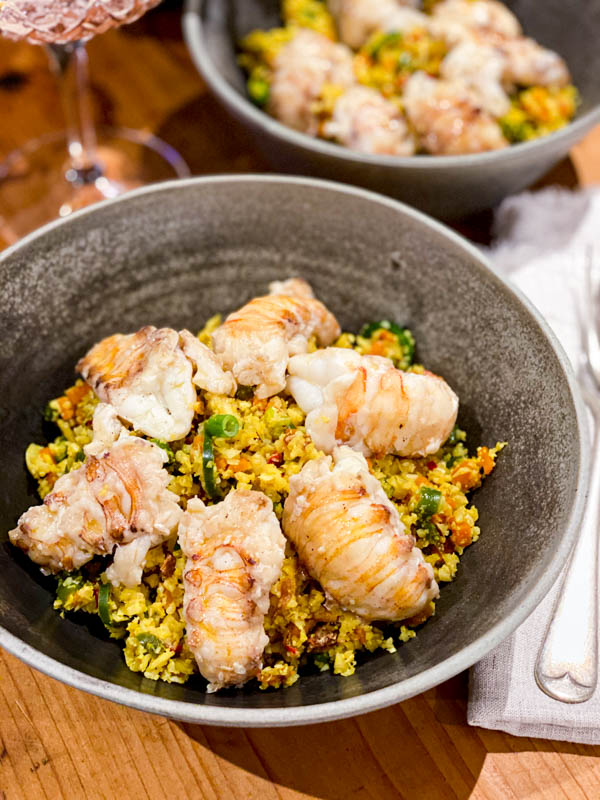 Ingredients to make Cauliflower Fried Rice with Turmeric
Oil – peanut, canola or vegetable oil
Onion
Garlic
Fresh Ginger
Fresh Turmeric or Turmeric powder
Carrots – I like to use fresh carrots, but you can use frozen diced carrots if you prefer
Green Beans – I like to use fresh green beans, but if you like you can substitute with frozen peas.
Red Capsicum – optional
Chillies – I use green chillies mostly but either green or red long chillies can be used for this. Put as little or as much according to preference.
Spring Onions – use the white and green parts.
Cauliflower rice – make this using the tender stem and florets. Discard the tough core and leaves.
Bacon – optional. I sometimes add 100g chopped bacon to flavour the rice.
Eggs – optional but they add a nice texture to the dish. I like to add the whisked eggs to the pan at the end of the cook which is how I always cook it in fried rice. If you prefer, you can cook them beforehand as a soft omelette and chop them up before adding to the finished dish.
Soy Sauce, Mirin, Oyster Sauce – all add great flavour to the rice.
Vegetable or Chicken Stock powder – only 1/4 tsp is added but again, it helps build the flavour.
White pepper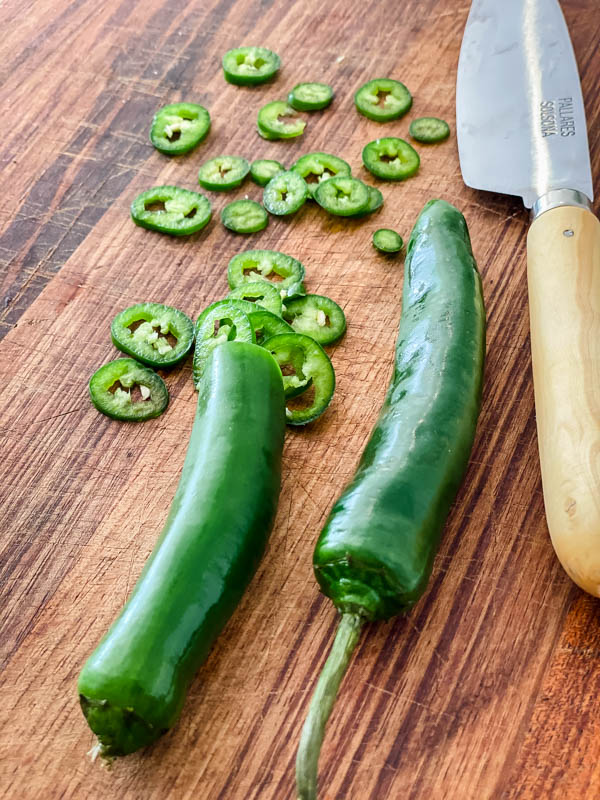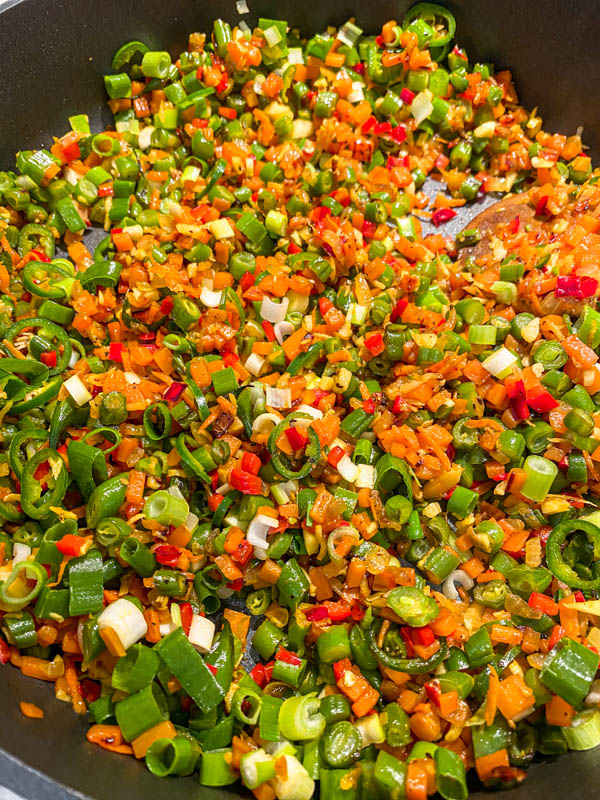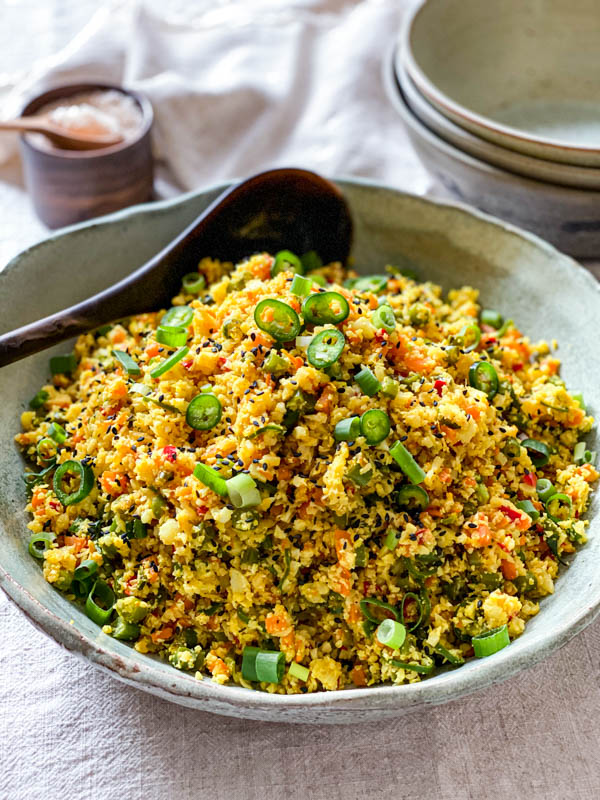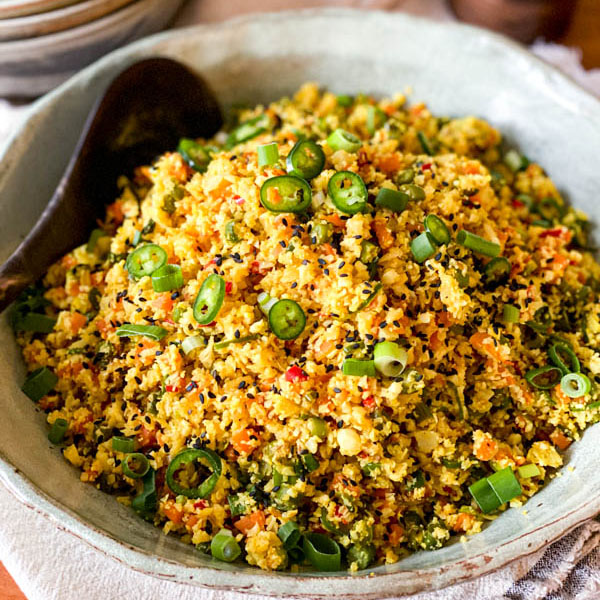 Ingredients
2

tbsp

peanut oil

1

small onion

finely chopped

2

medium carrots

finely diced

200

g

green beans

thinly sliced

1/4

red capsicum

(optional) finely diced

1/4

tsp

vegetable or chicken stock powder

or add 100g bacon (see notes)

3

garlic cloves

crushed or finely chopped

1

tbsp

grated fresh ginger

1

tsp

grated fresh turmeric

or 1/2 tsp ground turmeric powder

2

long green chillies

finely chopped (or long red chillies)

4

spring onions

chopped finely (white and green parts)

500

g

cauliflower rice (5 cups)

from a medium sized (1.4 kilo) cauliflower – remove leaves and tough centre core

2

eggs

lightly whisked (optional)

sea salt for seasoning if required
Sauce:
25

ml

light soy sauce

or tamari (not dark soy sauce)

15

ml

mirin

15

ml

oyster sauce

(optional)

2

tsp

sesame oil

1/4

tsp

ground white pepper
Instructions
Place a frying pan or wok over medium high heat and add the oil. Place the onions and carrots in and cook for 5 minutes stirring often.

Add beans and capsicum. Cook a further 5 minutes. At this stage the vegetables should all be softening. Cook a little longer if required.

Add the stock powder (or bacon), garlic, ginger, turmeric, chillies and spring onions and cook for a further 3 minutes. Make sure all the vegetables are now cooked (especially the carrots) before proceeding.

Add the cauliflower rice and sauce and stir together to combine everything. Cook for 5 minutes, stirring often to reduce the sauce and allow the cauliflower to become tender but not mushy.

Move the cauliflower rice to one side to make space in the pan, and pour in the lightly whisked eggs. Let it set for 15 seconds and then stir it around so it scrambles. Once it is just scrambled and cooked, mix it in with the cauliflower rice.

Taste and season with salt if required. Serve immediately.

Store in the fridge in a sealed container for up to 3 days or freeze for up to 1 month.

Serves 6 as a side dish or 3-4 as a main meal (see notes).
Notes
I have included the option to use either stock powder (chicken or vegetable stock powder) or bacon. This gives an option for vegetarians.
This recipe serves 6 people as a side dish or 3-4 people as a main course. As mentioned earlier in this post, you can also add extra protein into the cooking process as well. I will sometimes add chopped prawns and/or chicken (chopped chicken thigh fillets) if serving this dish as a main meal. I add the chicken pieces when I add the beans, and I add the prawn meat once the chicken and vegetables are cooked, before adding the cauliflower rice. If using chicken, make sure it is completely cooked before adding the cauliflower. Cook the prawns until they are just ready, then add the cauliflower rice and continue with the recipe.
Garnishes: serve the dish as is, however you can reserve some of the chopped spring onion greens and sprinkle them over the dish. I sometimes also sprinkle over a few toasted sesame seeds.
Enjoy!
Nutrition
Calories:
142
kcal
|
Carbohydrates:
14
g
|
Protein:
5
g
|
Fat:
8
g
|
Saturated Fat:
2
g
|
Cholesterol:
55
mg
|
Sodium:
455
mg
|
Potassium:
479
mg
|
Fiber:
4
g
|
Sugar:
6
g
|
Vitamin A:
3941
IU
|
Vitamin C:
57
mg
|
Calcium:
58
mg
|
Iron:
1
mg