This slice is so versatile and very tasty. It can be served hot or cold, making it ideal for just about anything ( even school lunches or picnics). Filled with vegetables, bacon and cheese it is always VERY popular and perfect to make in Summer when zucchinis are in abundance. I have also included a vegetarian option for this slice as well.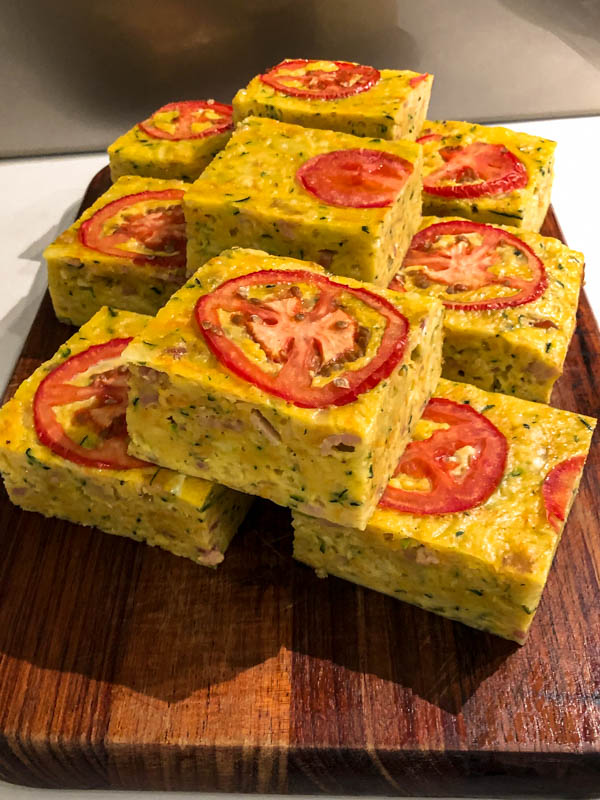 This is a slice I make often as it is easy to prepare and very versatile. It can be cut into 15 pieces for a serving portion or into even smaller squares as part of a share platter or finger food option. It is also a great slice to give to friends or family when you offer to make food for them when they are time-poor and you are helping out. The fact that it can be served hot or cold is an added bonus. This slice can be served for breakfast, lunch or dinner and is a great choice for school lunches!
My recipe differs from most zucchini slice recipes as I sauté my vegetables rather than adding them raw. The reason I do this is to concentrate their flavours by reducing their liquid content but still keeping them vivid. To achieve this, I like to sauté the onions, garlic and carrots first and cook them fully to achieve a golden colour on the onions (colour here = flavour!), before adding the bacon and zucchini. This way, the onion gets to soften completely as do the carrots, and the zucchini is in the pan for the shortest time to reduce its water content, but not become mushy.
The beauty of this recipe is that you can use different vegetables. Once you have made it, you will see that you can add other vegetables depending on what you have available. I have made this with other vegetables including leeks, peas, sautéed mushrooms, corn and have even added chopped leftover roast vegetables from the night before, as well as steamed broccoli and cauliflower florets. I love this sort of versatility in a recipe. Obviously if you are using already cooked vegetables, then just add them to the pan once the onion, garlic and bacon have been cooked, then add the egg, flour etc.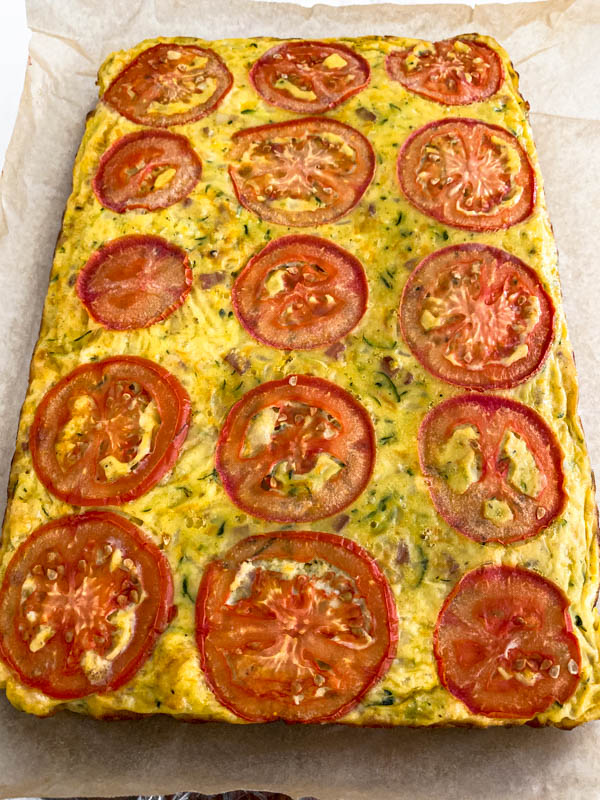 The slice is all prepared in one frying pan – the vegetables and bacon are cooked in the pan, then cooled slightly before the eggs, flour and cheese are added. Everything is combined together in the frying pan before being poured into a rectangle baking pan and cooked in the oven. So simple!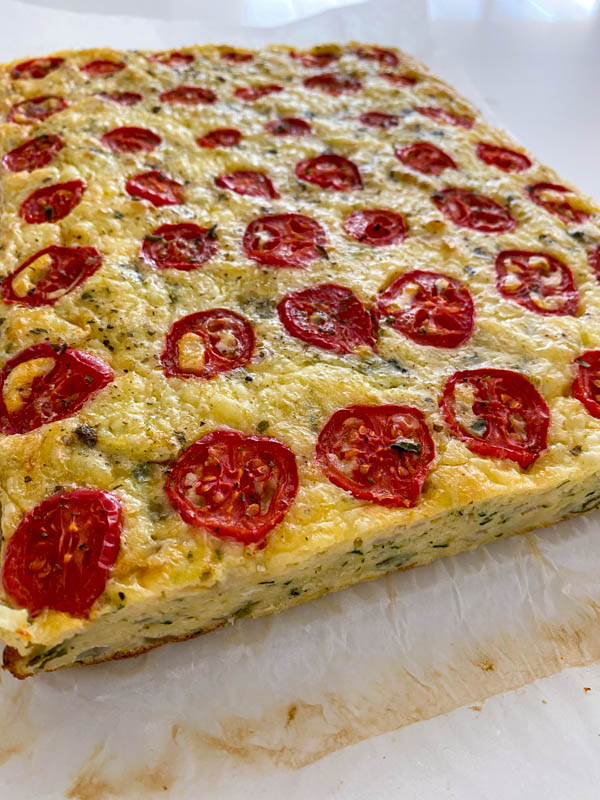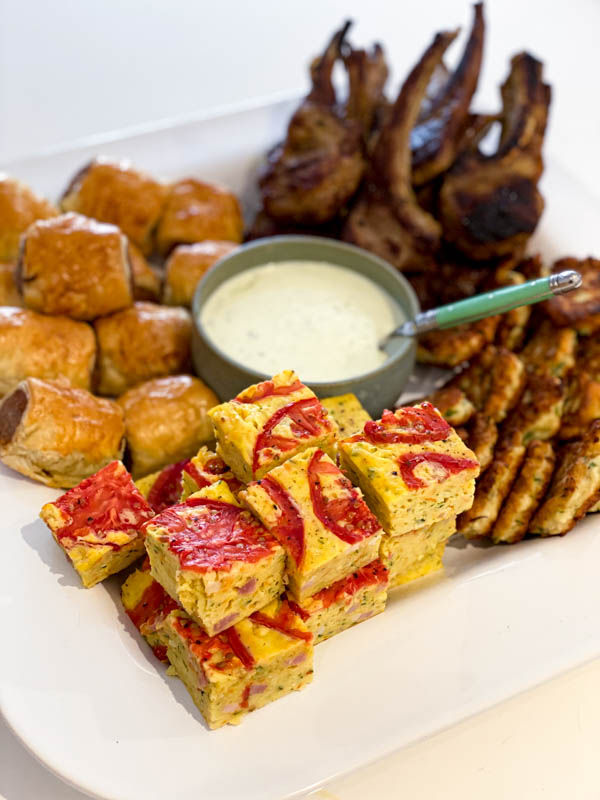 The Zucchini Slice can also be made vegetarian by simply omitting the bacon altogether, or by replacing it with feta cheese. If using feta cheese instead, add it at the same time you add the rest of the cheese, towards the end.
The slice can also be made gluten-free by using gluten-free self raising flour.
What ingredients do I need to make this recipe?
Olive oil – for sautéing the vegetables.
Onions – you can use brown or red onions.
Bacon slices – use rindless streaky bacon or middle bacon (healthier option). You can also use ham instead of bacon. To make a vegetarian version, simply leave out the bacon altogether, or substitute with crumbled feta cheese (add the feta cheese at the end when adding the grated cheese and eggs).
Garlic – use fresh crushed garlic. If you don't have fresh garlic, you can leave it out or add a teaspoon of garlic powder.
Vegetables – for this recipe I have used grated zucchini and grated carrots. Once you have made it, you will see how easy it is to add other vegetables the next time you make this recipe, depending on what you have in the fridge. Zucchini and carrot is my go-to, but I sometimes have leftover roasted vegetables which I will chop up into small pieces and add them, or I will have some steamed broccoli or cauliflower which I will chop up and add. Finely chopped leeks, capsicums (peppers) and peas are also other options. TIP: Choose small to medium sized zucchinis for this recipe as they are firmer and have less water content. If using small zucchini, use 4 of them.
Eggs – I use 8-10 eggs for this recipe depending on the size of my eggs. If using the extra large eggs I will use 8 and if they are any smaller, I will use 10.
Self -Raising Flour – use self-raising flour for this recipe. If you only have plain flour you can use 1 cup plain flour and 2 teaspoons baking powder instead of 1 cup self-raising flour in the recipe.
Milk – a little milk is used to help loosen the mixture a little.
Cheese – I use grated tasty cheese and parmesan cheese in this recipe.
Stock powder – I like to add a teaspoon of chicken or vegetable stock powder as it adds even extra flavour, but this is optional.
Salt and pepper
Tomatoes – thinly sliced ripe tasty tomatoes for the topping (optional).
How to make this zucchini slice?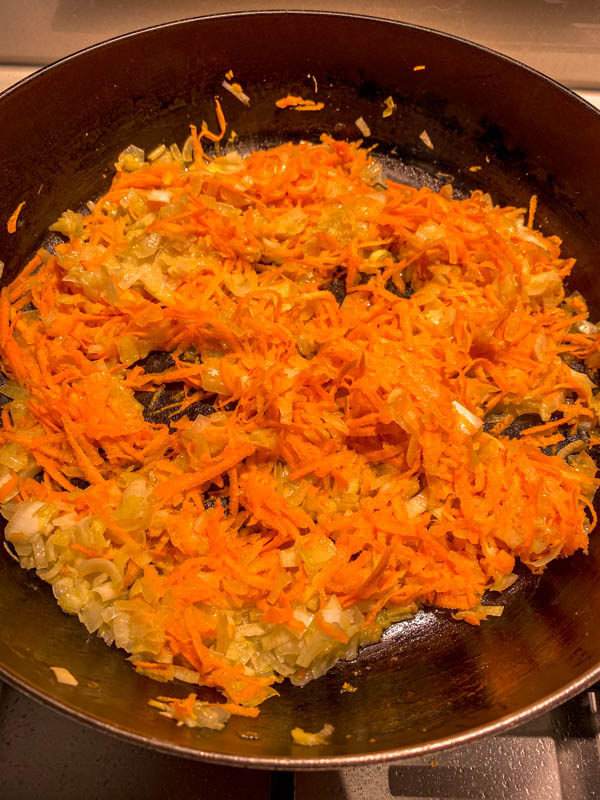 How to store this slice?
This slice will keep for up to 4 days in an airtight container in the fridge.
This slice is also suitable to freeze. Place in an airtight container or sealed freezer bags and keep in the freezer for up to 3 months. To defrost, remove from the freezer and place in the fridge overnight.
Can I make this slice without the bacon for a vegetarian option?
Yes you can. Simply leave the bacon out of the recipe altogether, or add feta cheese instead. If using feta cheese, then crumble it and add it to the vegetables at the end when adding the grated cheese. I suggest using 100gm feta cheese.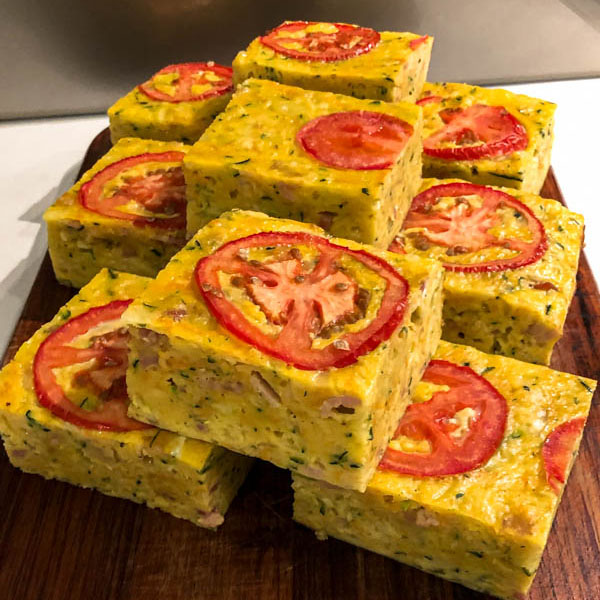 Equipment
Baking (Lamington) pan – 30cm x 20cm x 5cm high

Large Frying Pan
Ingredients
2

tbsp

olive oil

2

onions

peeled and finely diced

4

garlic cloves

crushed

2

carrots

peeled and grated

200

g

bacon slices

rindless and finely chopped (see note 1)

3

medium zucchini or 4 small zucchini

washed and grated (see note 2)

1

tsp

stock powder

chicken or vegetable (optional)

1

c

self raising flour

or gluten-free self raising flour

2

c

tasty cheese

grated

8

extra large eggs (or 10 smaller eggs)

lightly beaten (see note 3)

1/4

c

milk

1/2

tsp

salt

1/2

c

parmesan cheese

grated

2

tomatoes

thinly sliced (to decorate top)

black pepper
Instructions
Preheat the oven to 180°C (350°F). Grease and line a rectangle (20cm x 30cm x 5cm) baking pan with oil or butter and baking paper, making sure there is some overhang.

Heat the oil in the frying pan over medium high heat. Add the onions and cook, stirring regularly until the onions are starting to soften (5 mins). Add the carrots and garlic and continue to cook until the onions are completely softened and slightly golden in colour. Add the bacon, zucchini and stock powder to the pan and cook for a further 5 minutes or until the zucchini is cooked slightly and there is no moisture left in the pan. Set aside to cool slightly in the frying pan.

Add the flour to the slightly cooled vegetables and stir gently so the flour is evenly distributed. Add the grated tasty cheese and half the egg mixture and stir gently to combine and avoid any clumping. Once combined add the remaining egg mixture, salt and milk and continue to stir until incorporated and smooth.

Pour the mixture into the prepared baking pan. Smooth it out evenly and sprinkle over the grated parmesan cheese. Arrange the tomato slices over the top of the mixture and grind over some black pepper.

Place in the preheated oven and bake for 25-30 minutes or until the middle is cooked and firm to the touch. Remove from the oven and allow to cool in the pan for 15 minutes before carefully removing onto a flat surface. Cut into squares or slices for serving.
Notes
Note 1: For a vegetarian slice you can omit the bacon altogether, or substitute it with 100g feta cheese (crumbled). Add the feta towards the end, when you add the eggs.
Note 2: Use small or medium zucchini for this slice if you can. The larger (older) zucchini are more watery.
Note 3: I use 8 extra large eggs for this slice or 10 smaller eggs. It makes no difference to the recipe using 8-10 eggs.
Nutrition
Calories:
234
kcal
|
Carbohydrates:
11
g
|
Protein:
12
g
|
Fat:
16
g
|
Saturated Fat:
7
g
|
Trans Fat:
1
g
|
Cholesterol:
115
mg
|
Sodium:
391
mg
|
Potassium:
360
mg
|
Fiber:
1
g
|
Sugar:
2
g
|
Vitamin A:
2003
IU
|
Vitamin C:
17
mg
|
Calcium:
185
mg
|
Iron:
1
mg