While there are so many basil pesto recipes out there, I still wanted to share my favourite recipe with you. I make this recipe at least 2-3 times every Summer when basil is at it's best. It is full of basil flavour and I just love the combination of basil, pine-nuts, parmesan cheese and garlic – heady and delicious! This screams Summer to me.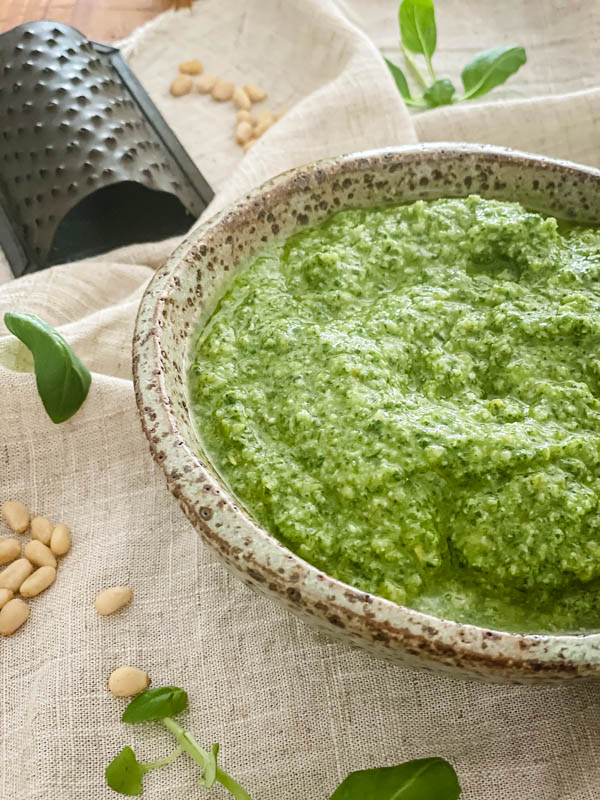 Today I am sharing my favourite Basil Pesto recipe. I find home-made pesto to be so much better than store-bought. There really is no comparison in my eyes. If you are a fan of pesto, and have never made it yourself, you simply must. A food processor makes it a cinch to make and the freshness and taste is far superior.
Pesto is traditionally made using a Mortar and Pestle, however a food processor makes this recipe very quick and easy.
I make batches of this pesto every Summer when basil is in abundance. It freezes really well too so I always make a batch at the end of the season as that way I can use it in the following months.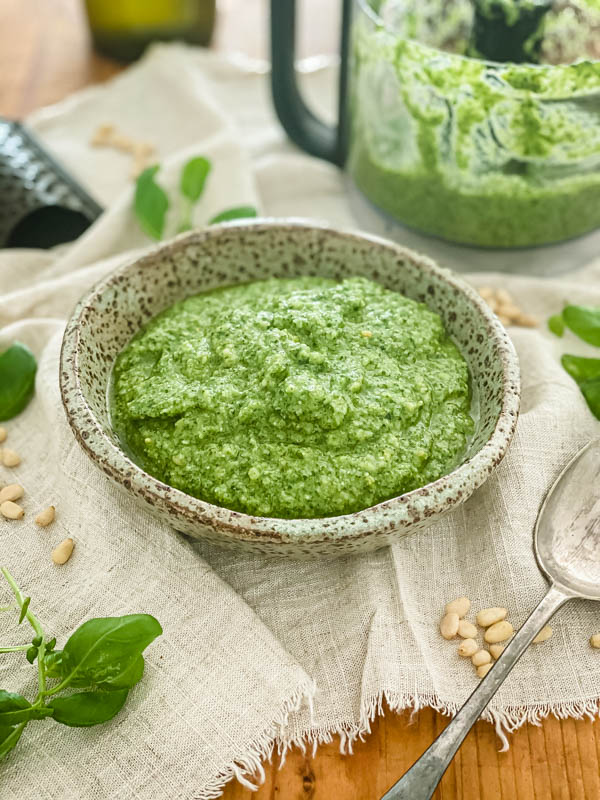 Ingredients to make this recipe
basil leaves – this recipe uses 2 packed cups of freshly picked leaves. I find anywhere between 100g and 120g in weight to be sufficient. Wash and dry the leaves well. Wash them in cold water to remove any grit then place in a tea towel and pat dry.
garlic cloves – I do like a garlicky pesto. If you prefer a milder flavour, then reduce to 2 cloves of garlic. Always crush the garlic first before adding to the food processor. That way the garlic is distributed throughout the pesto and you won't bite into a large chunk of garlic.
sea salt
olive oil – use a good quality extra-virgin olive oil that you like the taste of. I use a fruity variety.
pine nuts – I always use pine nuts in basil pesto. Some recipes use toasted pine nuts but I actually prefer to use them fresh without toasting. If you are not a fan of pine nuts, then you can substitute with walnuts, almonds or even pumpkin seeds (a nut-free alternative).
parmesan or pecorino cheese – use freshly grated if you can, or a good quality 'grated' parmesan. If the parmesan is finely grated, I stir it through the pesto at the end instead of processing it. To make a vegan pesto, you can substitute the parmesan cheese with vegan cheese or nutritional yeast.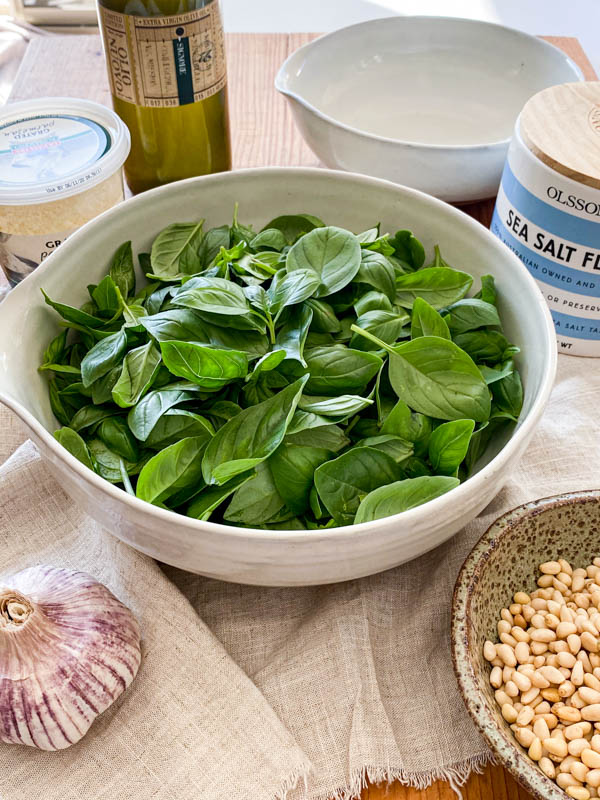 Tips to making this Basil Pesto
Wash and dry the leaves well in cold water. Remove as much moisture from the leaves as you can without bruising them (I pat them dry with a tea towel). Some recipes suggest blanching the leaves first to preserve the green colour, however I have never done this and have found my pesto to have a beautiful vibrant green colour.
Always crush the garlic cloves first before adding them to the food processor. That way they are distributed evenly and you won't bite into a big chunk.
When storing the basil pesto, add a thin layer of olive oil over the top to cover, before sealing the jar or container. This prevents the top from browning. Store pesto for up to a week in the fridge or freeze for up to 3 months.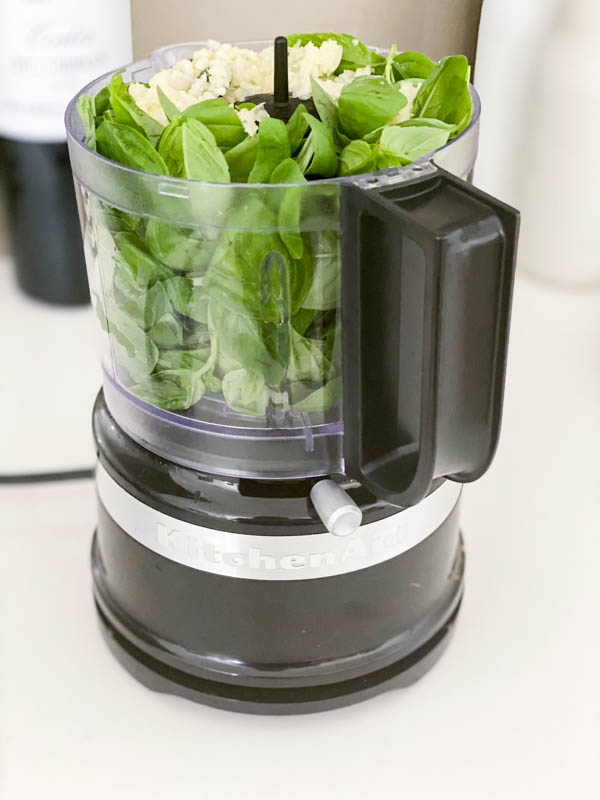 Serving Suggestions
toss through pasta
toss through zucchini noodles – a combination we like is chopped baby tomatoes, crumbled feta and pesto with zucchini noodles
use in sandwiches or toasted sandwiches
serve on top of crostini with tomato or even cooked prawns (add a dollop of mayo to the pesto)!
instead of garlic bread, make pesto bread
add to raw scone mix or bread dough
add to rice or pasta salads
use as a pizza topping
serve a dollop with eggs, frittatas or quiche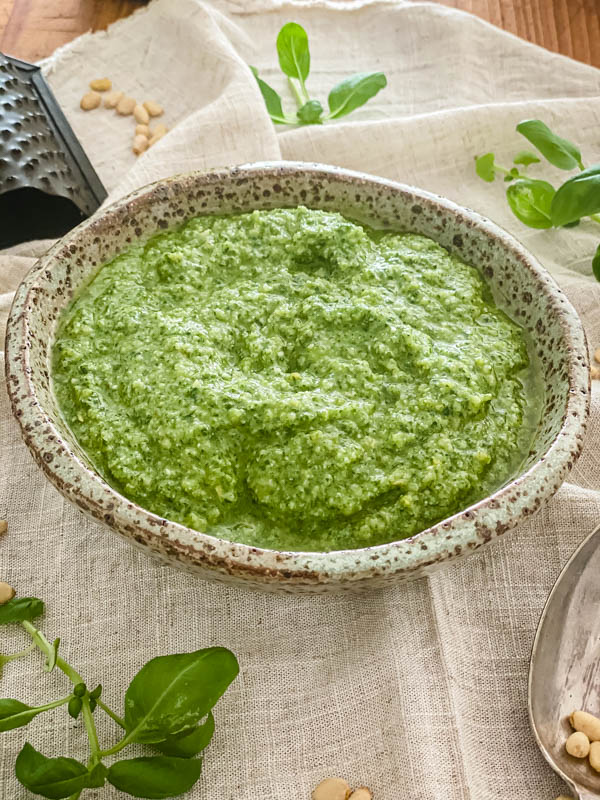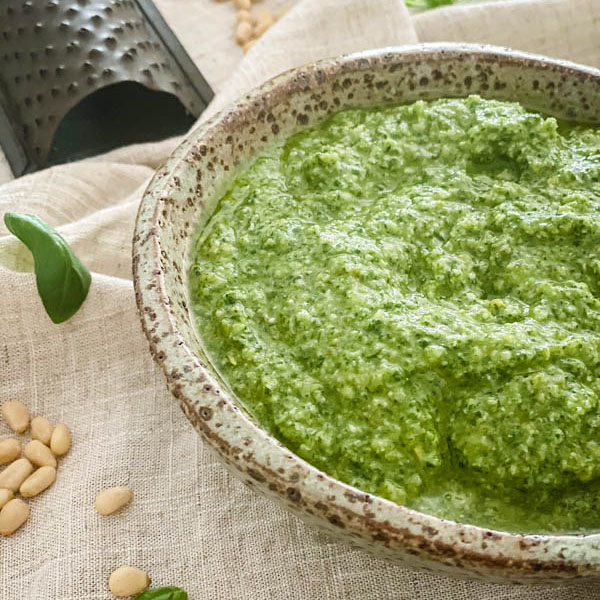 Equipment
food processor or mini food processor
Ingredients
2

c

basil leaves (between 100g and 120g in weight)

washed and dried

3

large garlic cloves or 4 medium

peeled and crushed

1/4

tsp

sea salt

3/4

c

olive oil

extra virgin

3/4

c

pine nuts

80

g

parmesan cheese or pecorino

grated

sea salt, extra for seasoning
Instructions
Add the basil leaves and crushed garlic to the bowl of a food processor. Scatter over salt and add 1/4 c of the olive oil. Process until combined.

Scrape down the sides, add the pine nuts and another 1/4 c of olive oil. Process briefly so the pine nuts are still chunky.

Drizzle the last 1/4 c of olive oil through the feed tube and process until just combined. Add the cheese and pulse a couple of times or if the cheese is finely grated, you can just stir it through.

Season to taste with extra salt if required.

If you prefer a smoother pesto, then process longer.

Store pesto in the fridge in a jar or container, with a thin layer of oil over the top of the pesto to prevent it from browning. Seal the container. Lasts for up to a week in the fridge or freeze in a container for up to 3 months.