This vibrant, green and full of flavour Pea Purée is delicious. It is my go-to recipe that I have been making for years. So quick and simple to make and a great accompaniment to many dishes. This recipe is made in under 20 minutes.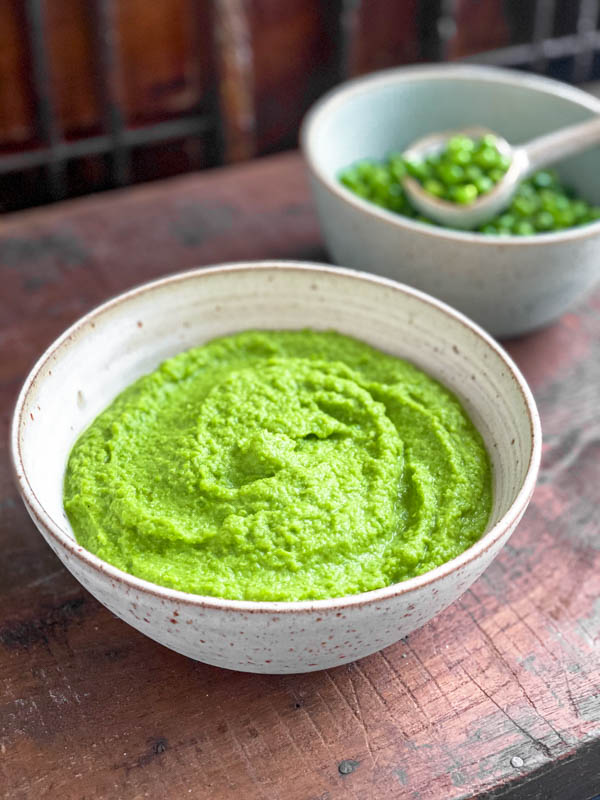 Pea Purée is a wonderful side dish to accompany many dishes like pies, roasted meats or vegetables. It is also great alongside poultry or fish and seafood dishes (beautiful served with scallops). We often serve it with homemade fish and chips. I also love serving it underneath fried foods like arancini balls or croquettes when entertaining.
The Pea Purée can be made ahead of time, so is great for entertaining.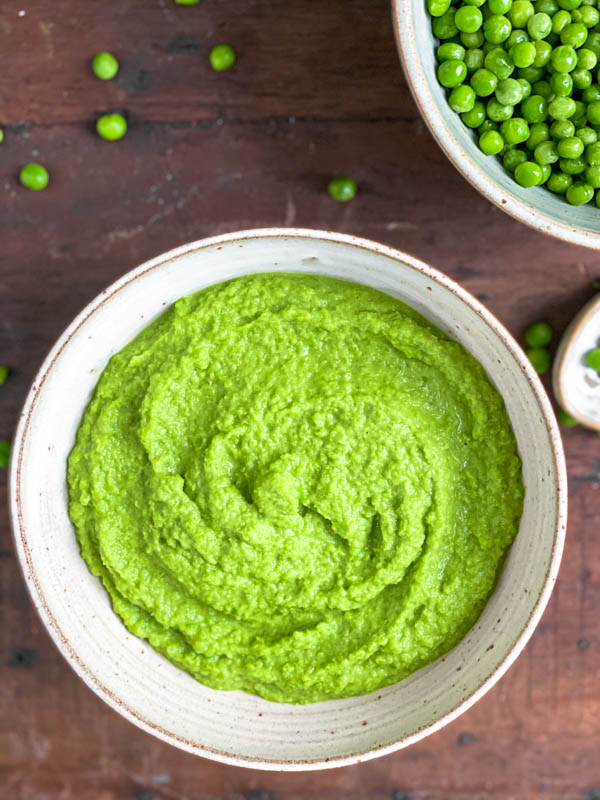 The Pea Purée can be made two ways – it can be simply puréed to a fairly thick, smooth purée that still has some texture (like the photos), or you can take an extra step and push this purée through a fine sieve using the back of a spoon. This will create a purée that has a silky smooth texture which is well suited to fish dishes or more refined dishes when entertaining.
The Pea Purée in these photos was served with my Homemade Beef and Vegetable Pie so I wanted to keep the purée nice and thick. You can find the recipe for my delicious and hearty pie here.
If I was serving the Pea Purée with salmon or chicken, I would make it a more silky smooth consistency.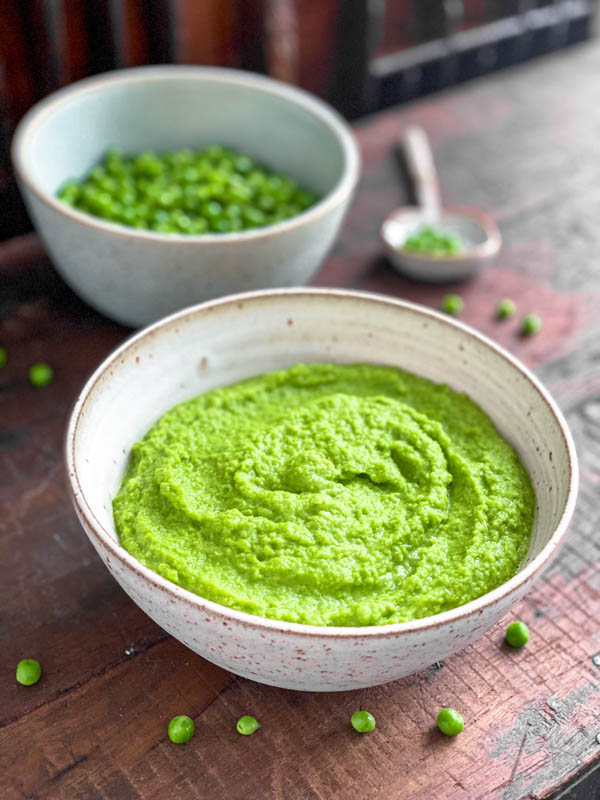 I love eating fresh peas, but for this purée I prefer to use frozen baby peas. Frozen peas are much easier to purée and I like to use 'baby' peas as they are younger and sweeter.
Ingredients
butter
olive oil
shallots or red onion
frozen 'baby' peas
chicken or vegetable stock
salt
To make the purée, I first sauté the shallots or onion in a small amount of butter and olive oil until soft. This gives a lovely flavour to the purée without overpowering the peas. I then add liquid to the onion and bring it to the boil. Once boiling, I then add the peas and blanch them for only 3 minutes so as not to lose their colour. The peas are then strained, reserving the stock (you might use some of this to thin the purée). Any leftover stock is delicious used in soups or added to a gravy, so don't throw it out. The strained peas are added to a food processor and blended until smooth.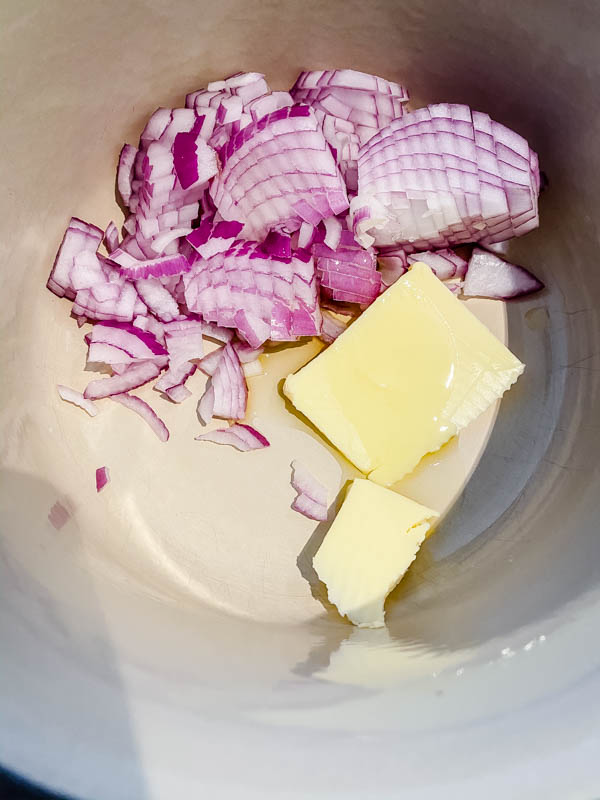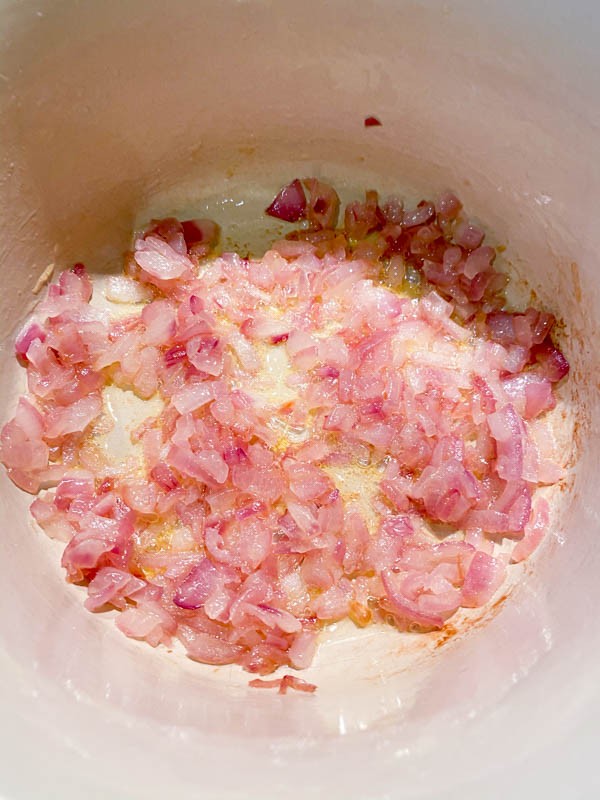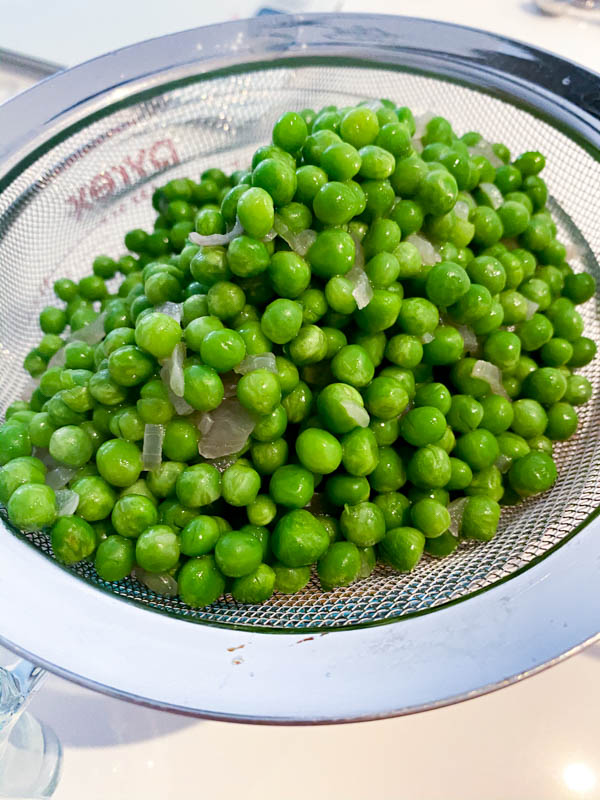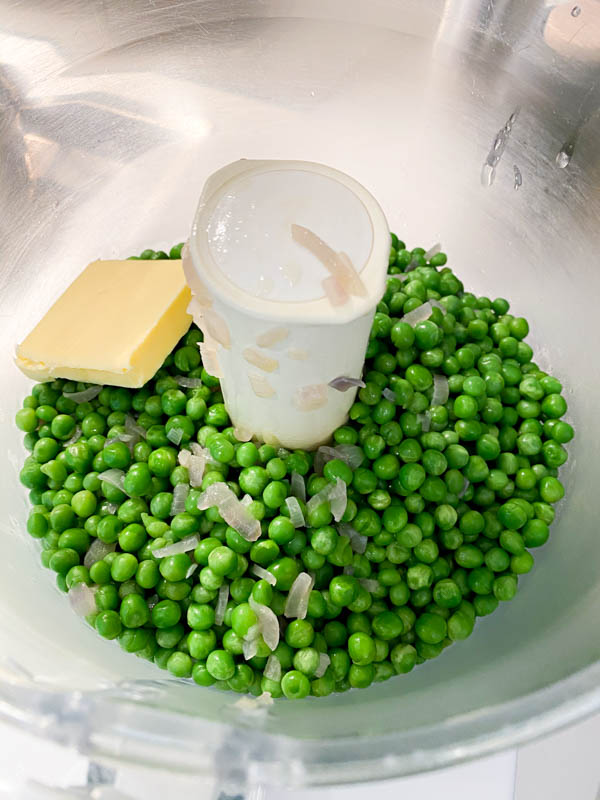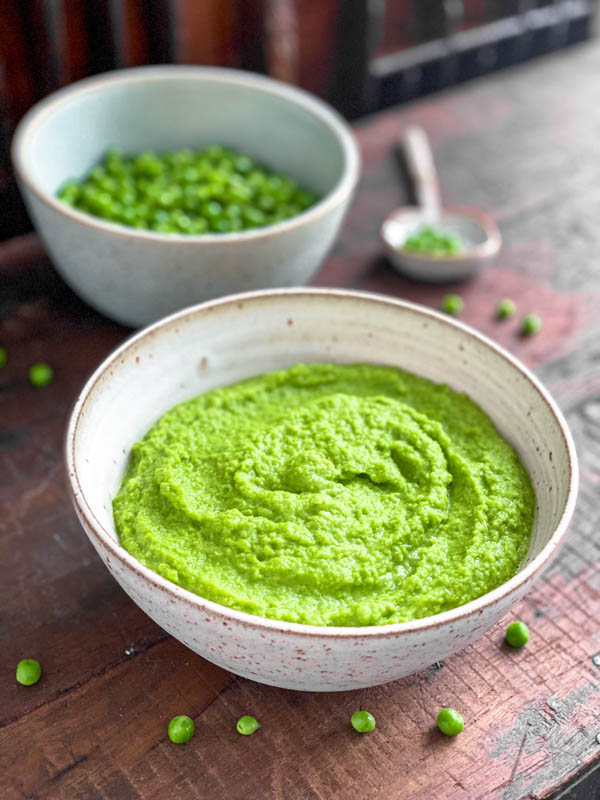 This Pea Purée is so simple and straightforward to make, so let's take a look at the recipe…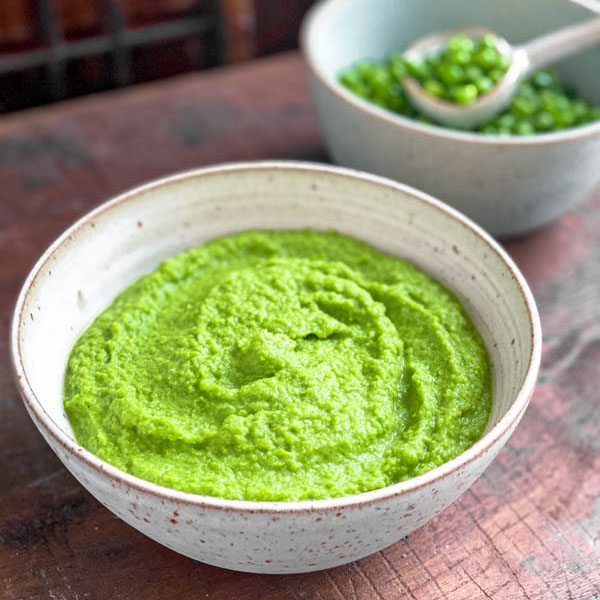 Equipment
medium heavy-based saucepan

food processer or high speed blender

sieve
Ingredients
10

g

butter

1

tsp

olive oil

extra virgin, mild flavoured

3

shallots, or 1 red onion

finely chopped

500

g

frozen baby peas

defrosted

500

ml

chicken or vegetable stock (2 cups)

or water

40

g

butter

add 10g more if desired

1/4

tsp

sea salt
Instructions
Place 10g butter, olive oil and shallots into a heavy based saucepan and cook the shallots and salt over medium heat, until they start to sizzle. Stir for a minute or so, then reduce to low and continue to cook, stirring occasionally, until shallots are softened (approx 8-10 mins). Keep an eye on them as the goal is to completely soften them without browning them. Make sure they are very soft.

Add 500 ml of stock to the softened onions, turn up the heat to high, and bring to the boil. Once it's boiling, add the defrosted peas and blanch for 3 minutes. Remove from the heat and strain the liquid through a sieve, into a jug. Reserve the liquid and place the peas and onions into the bowl of a food processor or high speed blender. Blend the peas until smooth (no more than 2-3 minutes. It only takes 2 x 30 secs in my thermomix and a little longer in my food processor). Add some of the liquid in small amounts to achieve a fairly thick, smooth purée. Season to taste. This will give you a thick, smooth purée that still has some texture to it. Serve as is, or see below for a silky smooth consistency.

For a silky smooth purée – Tip the thick purée into a fine sieve and using the back of a large spoon, press the purée through.

Make ahead: the purée can be made ahead of time. Make it in the morning or even the day before and once cool, keep it covered in the refrigerator until required. To reheat: simply reheat gently in a pot, or in the microwave on a low setting until heated through.
Notes
The peas can be cooked in chicken stock, vegetable stock or plain water – I prefer the flavour that chicken or vegetable stock  bring. 
You can also add a small amount of cream to the pea purée when blending if you prefer. The recipe states 40g of butter to be added for blending, but you can add slightly more if you prefer a richer more luxurious purée.
I sometimes add mint to the purée – add 4-6 mint leaves to the boiling stock at the same time the peas are added, or add it to the peas in the blender, just before blending. I often do this when I serve the pea purée with roasted lamb.
Note: Don't throw away the cooking liquid as it is delicious added to soups or to gravies. Cool, cover and keep refrigerated or freeze if not using in 2-3 days.
Nutrition
Calories:
173
kcal
|
Carbohydrates:
17
g
|
Protein:
7
g
|
Fat:
9
g
|
Saturated Fat:
5
g
|
Cholesterol:
20
mg
|
Sodium:
281
mg
|
Potassium:
333
mg
|
Fiber:
5
g
|
Sugar:
7
g
|
Vitamin A:
846
IU
|
Vitamin C:
35
mg
|
Calcium:
28
mg
|
Iron:
2
mg