Lamb racks coated in a herby breadcrumb crust not only look fabulous but they taste delicious as well. The crumb coating is all prepared in the food processor making this a very simple dish to cook. Easy all year-round entertaining that will be sure to impress your family and friends.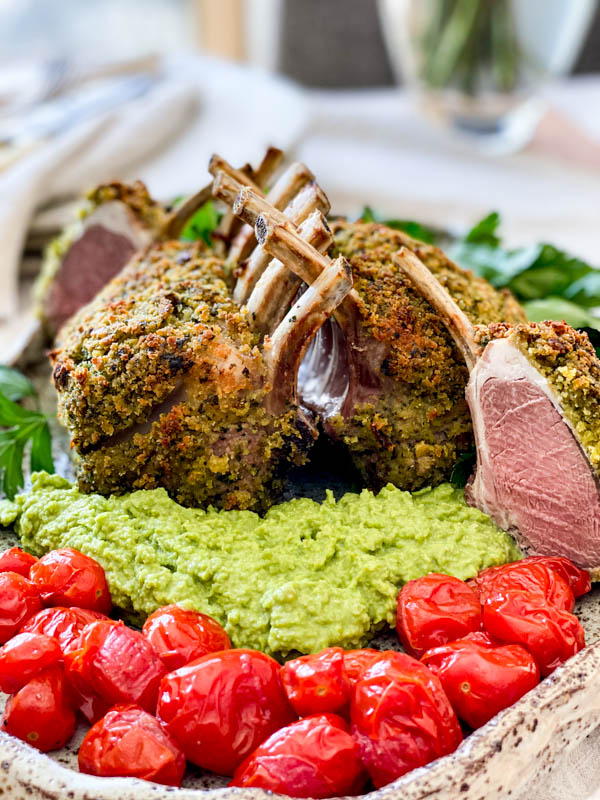 While they may look difficult to make, they are actually very easy. Once the herb crumb is processed, it is then patted firmly onto seared lamb racks that have been covered with dijon mustard. They are then ready to be cooked or they can be refrigerated until required, which makes them ideal for entertaining as you can prepare them ahead of time. They can even be prepared the day before they are required! Oh and they can be gluten-free too.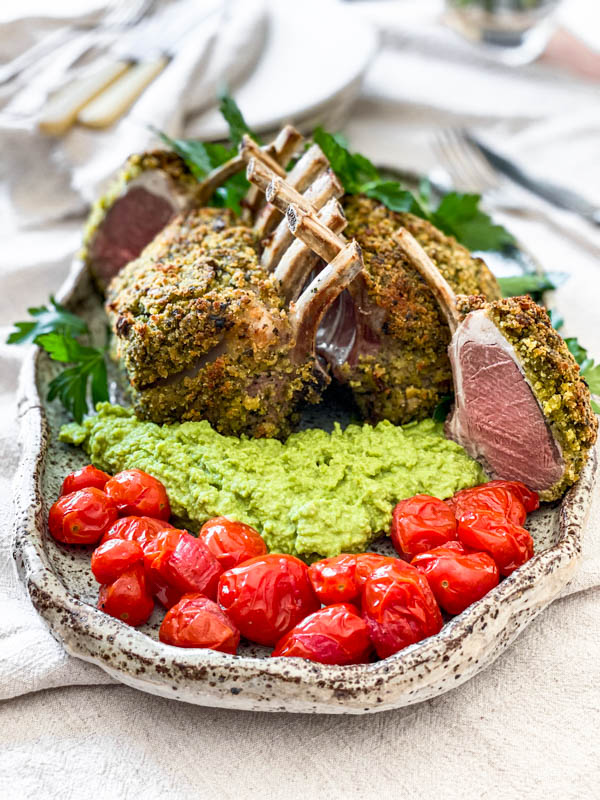 I like to use a good amount of herbs in my crumb which gives great flavour and colour. I use Italian parsley but sometimes add a little mint or rosemary as well. If using rosemary, you will need to chop that finely first before adding to the food processor.
The crumb is made up of lightly toasted sourdough bread (white or wholemeal), herbs, garlic, lemon zest and olive oil. I also add parmesan cheese however you can leave this out or substitute it with nutritional yeast if you prefer. The flavour is wonderful – it is a delicious herby, garlicky, cheesy crumb that adds great texture to the lamb. I have also used this crumb on top of fish fillets, chicken pieces and beef tenderloin.
Let's take a look at the ingredients you'll need to make this recipe.
Ingredients
Lamb Racks – I use french trimmed lamb racks for this recipe. If you can't find these, just ask your butcher to trim the racks and remove any thick pieces of fat.
Bread – I mostly use white sourdough but you can use wholemeal. The recipe needs 170g of bread which is approximately 3-4 slices. You can use gluten-free bread if required.
Herbs – I like to use Italian parsley however I will sometimes substitute some of the parsley for mint or rosemary. For mint I would use 1/4 cup and for rosemary I would use 2 tablespoons. If using rosemary, make sure you chop it finely before adding to the food processor as it doesn't process as well as the other ingredients.
Lemon – Lemon zest is used for this recipe.
Garlic – 2 cloves of freshly crushed garlic is added to the food processor.
Olive Oil – I use extra-virgin olive oil. This will help bind the crumb mix and help it stick together.
Parmesan Cheese – I love adding parmesan cheese to the crumb. You can leave it out if you prefer, or substitute with nutritional yeast.
Dijon Mustard – the dijon mustard is rubbed over the seared lamb racks before the crumb is pressed onto them. The mustard gives them a beautiful flavour and also helps the crumb stick to the lamb to form a crust when cooked.
Salt and Pepper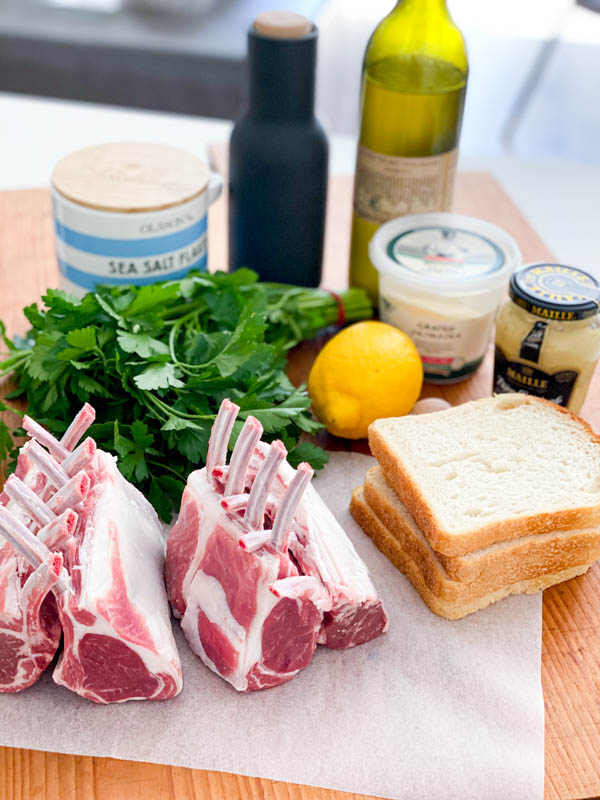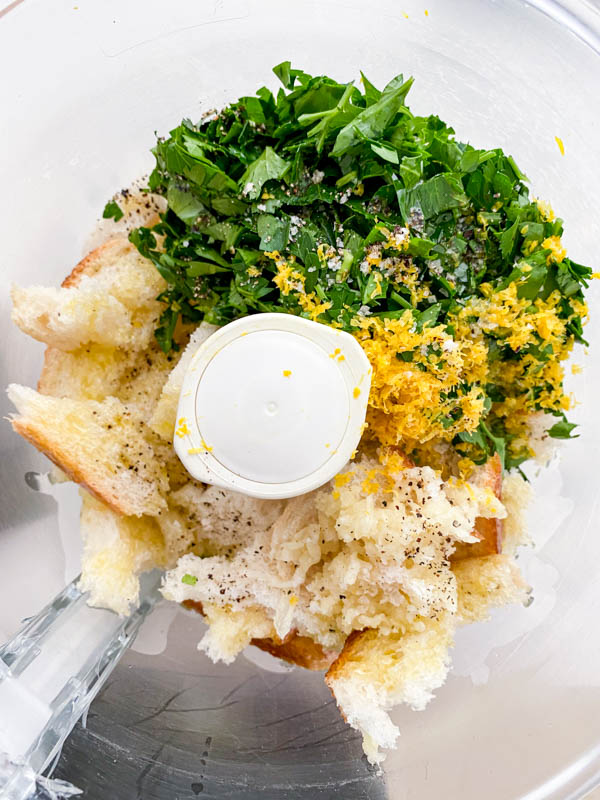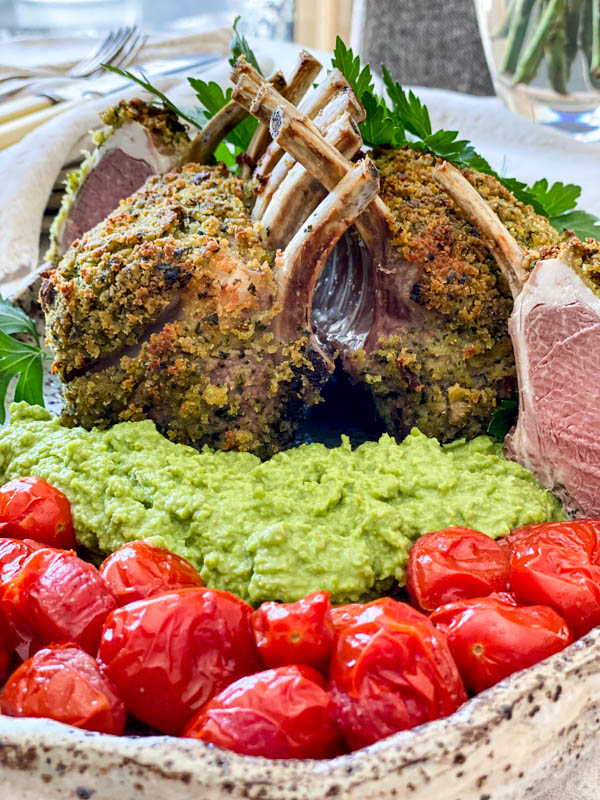 Serving Suggestions/Make ahead
As mentioned earlier, the lamb racks can be prepared ahead of time. Once they are coated with the breadcrumb mix, gently place them on a dish, cover and refrigerate until ready to cook. They can be made up to a day ahead of time. Make sure to bring them out of the fridge to allow them to come to room temperature before cooking. This is an important step if you want perfectly cooked pink lamb.
Here are some ways to serve the lamb:
As seen in these photos – serve with my Pea Purée (which can also be prepared a day ahead of time and gently reheated) and easy blistered baby tomatoes. The tomatoes are added to a pan with a little olive oil, salt and a pinch of sugar (optional). cook over medium/high heat, shaking the pan as you go until the tomatoes soften and blister a little but still retain their shape. Season and they are ready to go!
The lamb is also delicious with a purée or mash and greens. I like to make a potato, sweet potato or parsnip mash and serve with beans or asparagus.
For a more elegant style of plating I will slice the lamb racks (usually I will slice each rack in half (so there are 2 racks to a slice), and serve 2 slices on individual plates. I have served them with squares of potato galette, smooth pea purée and some asparagus spears.
There really are many sides you can serve with these Herb Crusted Lamb Racks. I hope you enjoy them as much as we do. Easy entertaining at it's best but also great for a family lunch or dinner as they are so simple to make. Enjoy!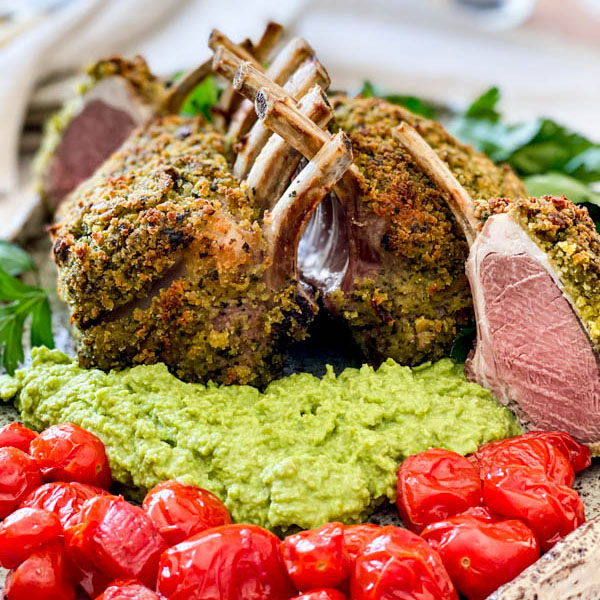 Equipment
food processor

Frying pan

oven tray
Ingredients
4

lamb racks (4 cutlets per rack, so a total of 16 cutlets)

french trimmed

olive oil

extra, for searing the lamb racks

sea salt

extra, for seasoning the lamb racks

2

tbsp

dijon mustard
Herb Crust:
170

g

sourdough bread

(approx 3-4 slices)

30

g

Italian parsley

roughly chopped (1 packed cup)

1

zest of 1 lemon

2

garlic cloves

crushed

60

ml

olive oil

extra virgin

1/2

tsp

sea salt

1/4

tsp

black pepper, freshly ground

30

g

parmesan cheese

(1/4 cup)
Instructions
To Prepare Herb Crumb Mix:
Lightly toast the sourdough bread in a toaster or in a low oven. You are really only drying the bread out so you do not want it to colour much at all.

Break up the lightly toasted bread and add to the bowl of a food processor. Add the rest of the crumb mix ingredients, except the parmesan cheese. Pulse the mix 3-4 times and scrape down the sides. Add the parmesan and process again briefly until you achieve a breadcrumb consistency with all the herbs blended evenly throughout. Set aside.
To Prepare the Lamb Racks:
Preheat a frying pan over high heat.

Lightly oil the lamb racks with the extra olive oil, and season lightly with the extra salt.

Sear the lamb racks, fat side down in the frying pan for 3-4 minutes or until browned. Remove to a plate or tray and allow to cool and come to room temperature.

Once at room temperature, spread the seared side of the lamb racks with the dijon mustard so they are covered evenly (I often cover the ends of the racks too).

Press the prepared breadcrumb mix firmly onto the lamb racks, over the top of the mustard. I take handfuls and press it on. Cover the seared side and ends (optional) of each rack.

At this point you can cook the lamb or refrigerate it until required. Remember to bring the lamb back to room temperature before cooking.
To Cook the Herb Crusted Lamb Racks
Preheat the oven to 200°C.

Place the lamb racks carefully onto an oven tray.

Cook for 25-30 minutes or until the lamb is cooked and nicely pink in the middle (see notes). Remove from the oven and cover them loosely with foil. Allow to rest for 10 minutes before serving.
Notes
Cooking times will vary depending on the size of your lamb racks. If your lamb racks are on the smaller side, check them at 25 minutes. If they are larger, they will be closer to the 30 minute mark. If you prefer your lamb less pink, then cook longer.
It is important to rest the lamb for at least 10 minutes before serving. 
Nutrition
Calories:
297
kcal
|
Carbohydrates:
26
g
|
Protein:
8
g
|
Fat:
18
g
|
Saturated Fat:
4
g
|
Cholesterol:
5
mg
|
Sodium:
719
mg
|
Potassium:
106
mg
|
Fiber:
2
g
|
Sugar:
1
g
|
Vitamin A:
690
IU
|
Vitamin C:
12
mg
|
Calcium:
125
mg
|
Iron:
2
mg