This delicious homemade pie has a filling of tender slow-cooked beef, potatoes, carrots in a full of flavour gravy and all encased in golden puff pastry – comfort food at its best! A wonderful family dinner and also great for casual entertaining.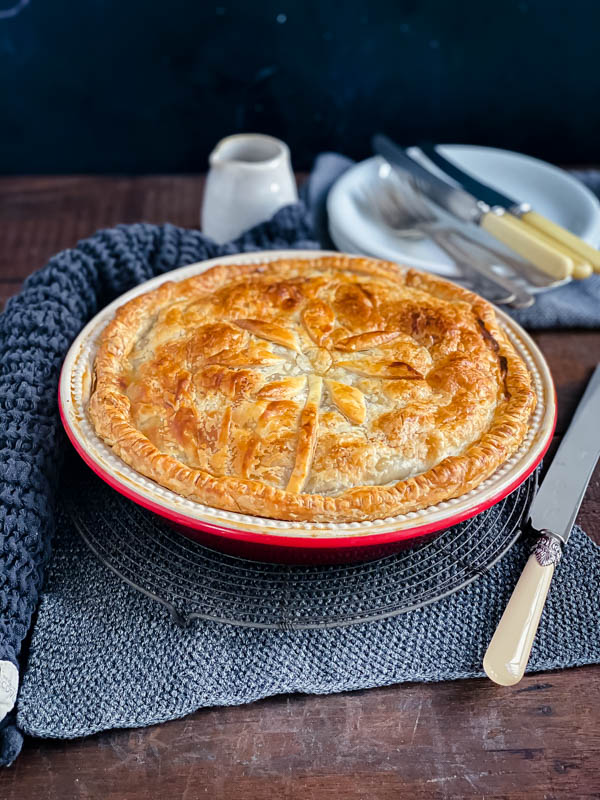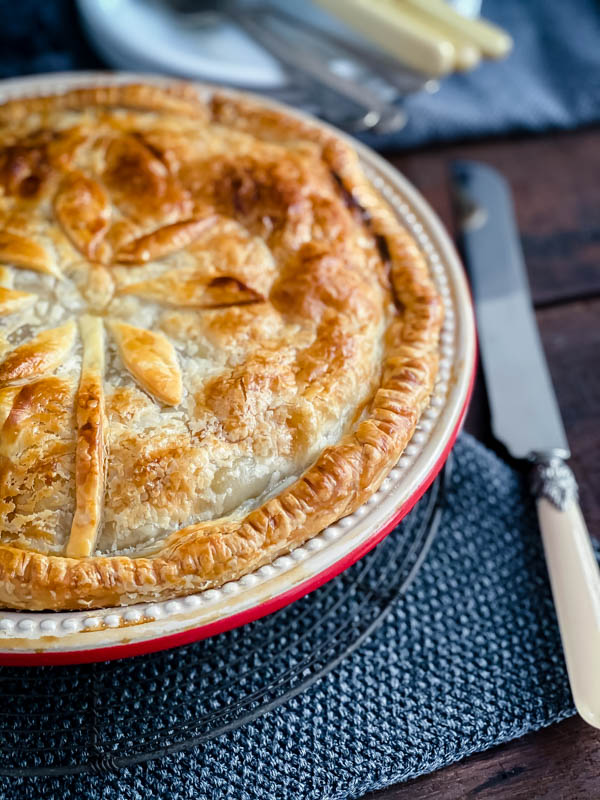 This is a hearty pie that has a very generous filling of beef and vegetables without being too rich.
I wanted to create a pie filling that wasn't wine based. This one has great flavour from a combination of beef stock, herbs, onions, garlic, Worcestershire sauce, Tomato sauce and spices which are all combined together with the beef and vegetables. They are slow-cooked in the oven to create a flavoursome tender stew, which is then cooled down; ideally overnight in the fridge, and used as a filling for the pie.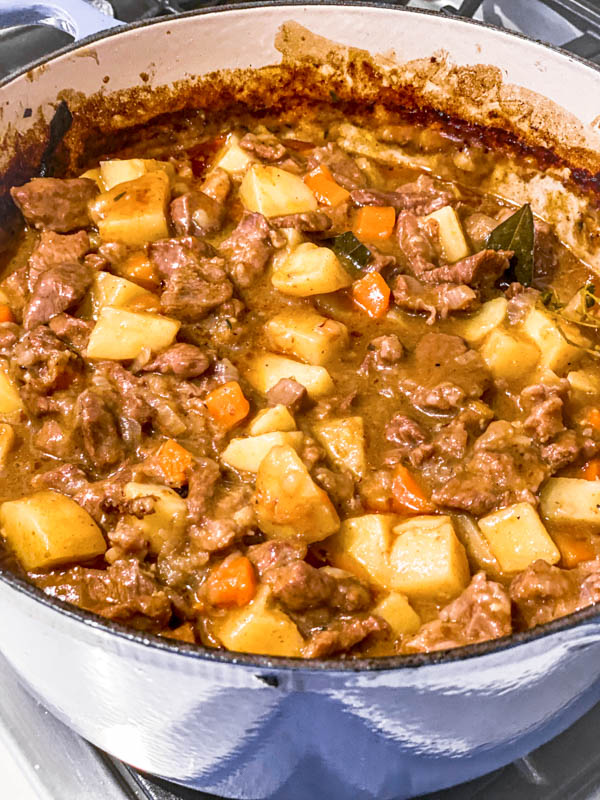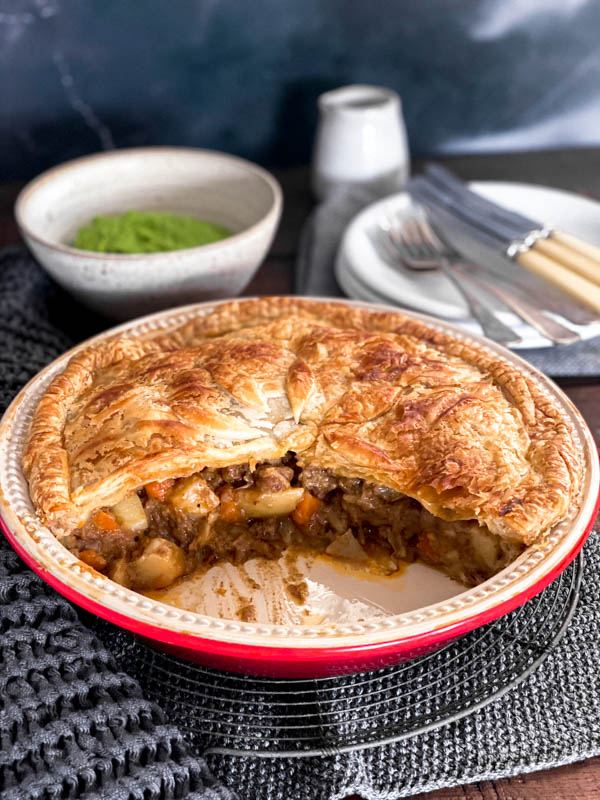 This recipe makes enough for one large rectangle pie (approx 30cm x 20cm) or 2 round pie dishes (approx 22-24cm round 1.6 litre capacity) and feeds approximately 10 people.
I sometimes make one (1) round pie with half the mixture and then freeze the other half of the filling to use at a later date (1 round pie using half the mixture, feeds 5-6 people).
Preferably, the stew filling is best made the day before you assemble and cook the pie, as it allows the flavours to develop further and a refrigerated/cold filling helps prevent a soggy pastry base. That is not to say you can't make it on the same day – just make sure the filling has had time to cool down to room temperature at least.
It is a great recipe for a family dinner but also a good dish for casual entertaining. We love serving this pie with a Pea Purée. You can find the recipe for my Pea Purée here. You can make the pie filling up to 2 days before it is required, and then all you have to do is fill the pies on the day, or even the day before they are required.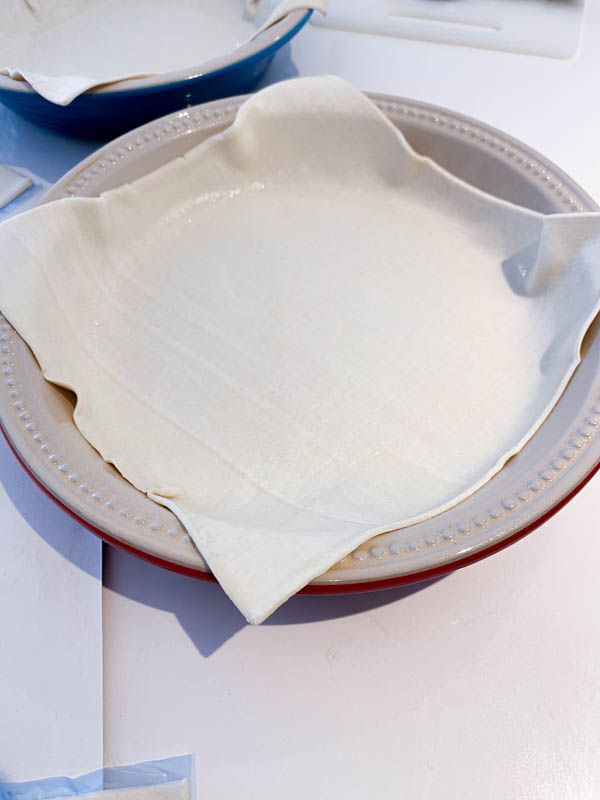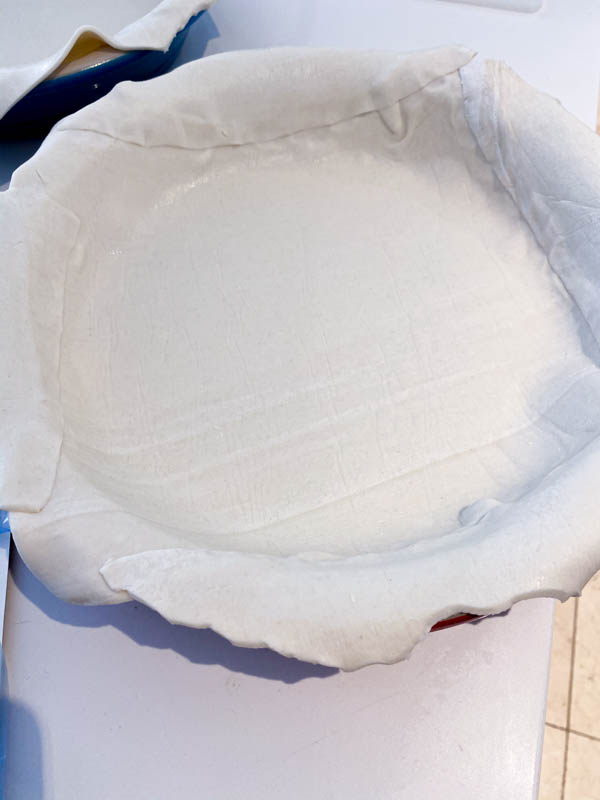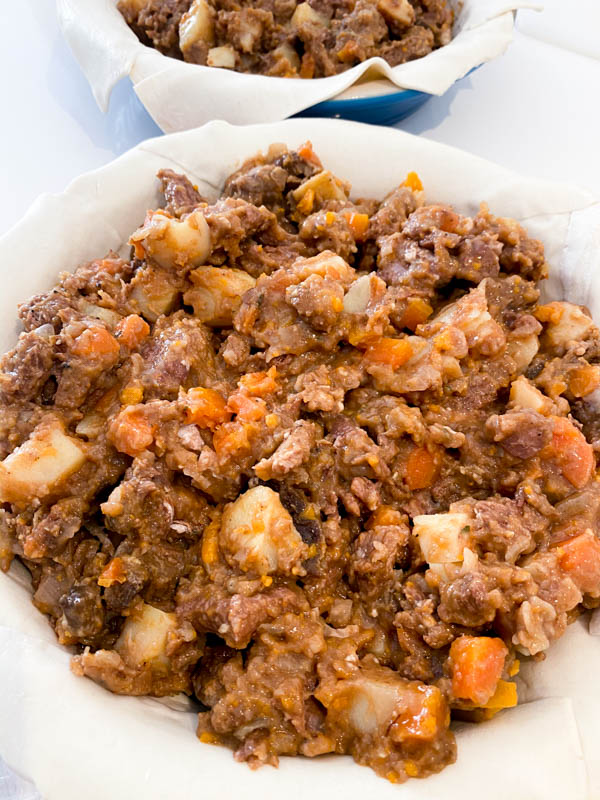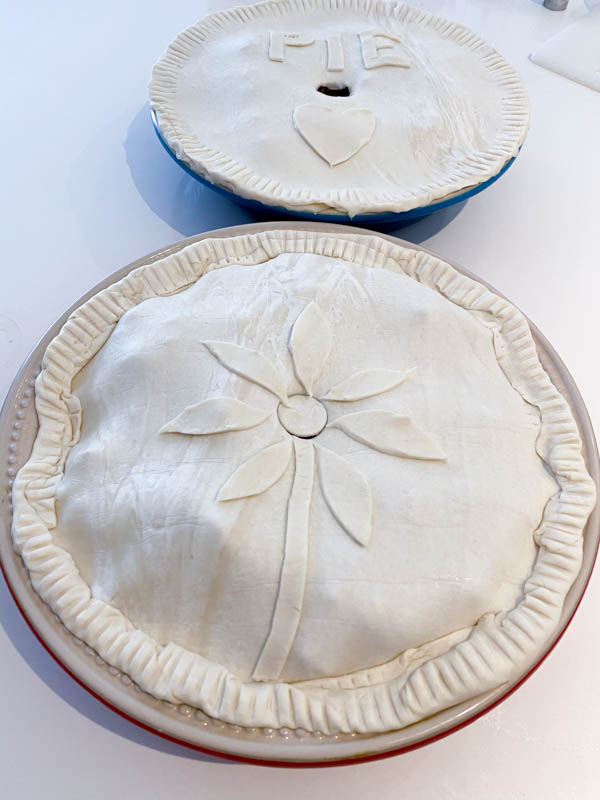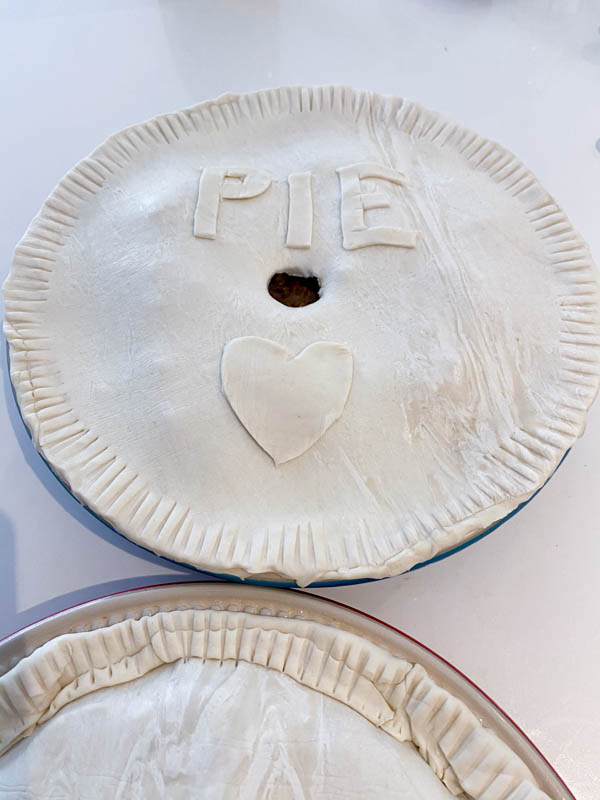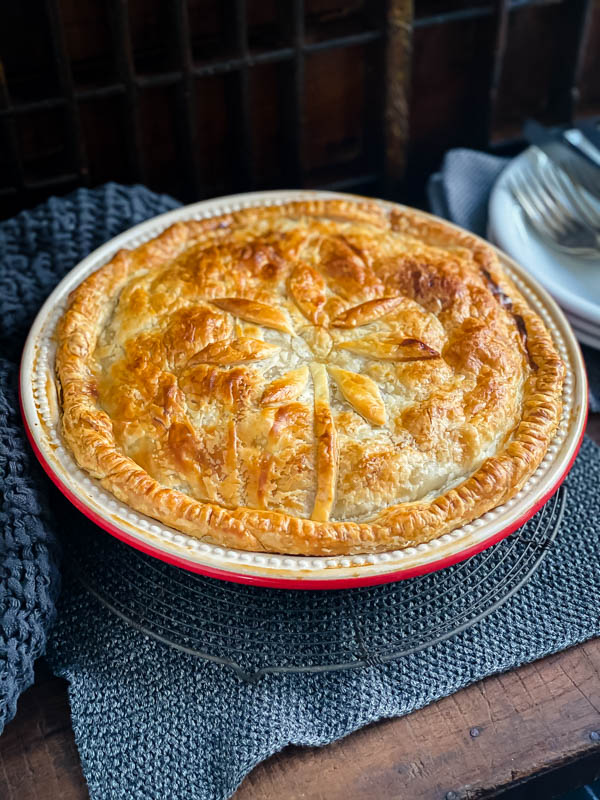 The filling of the pie is delicious and can be served in other ways too:
It can be served hot as a stew/casserole with a mash for a family meal.
It can also be made as a pie, with just a puff pastry topping/lid (ie. no base or sides).
We also sometimes have it served on toast, or use as a filling for toasties or jaffles.
The recipe is straightforward to make, but you do need to allow time for the filling to be slow-cooked in the oven, and cooled, before assembling the pies.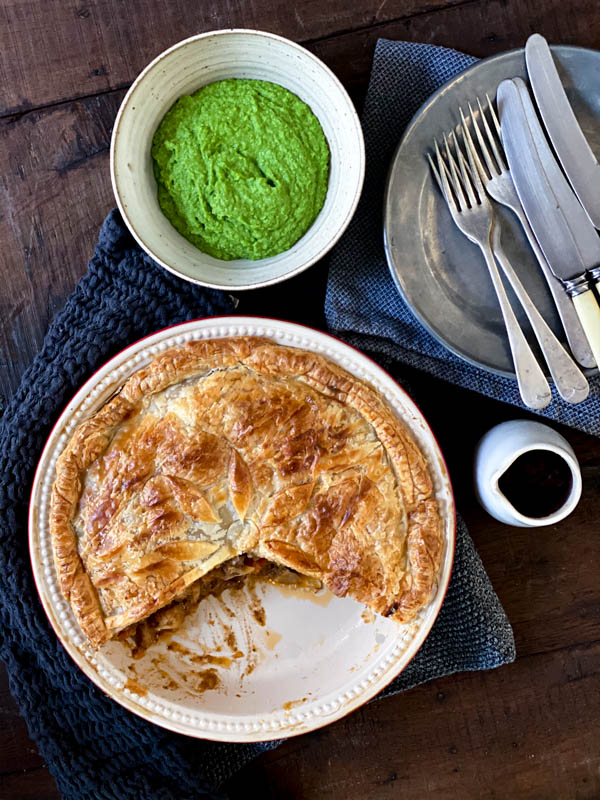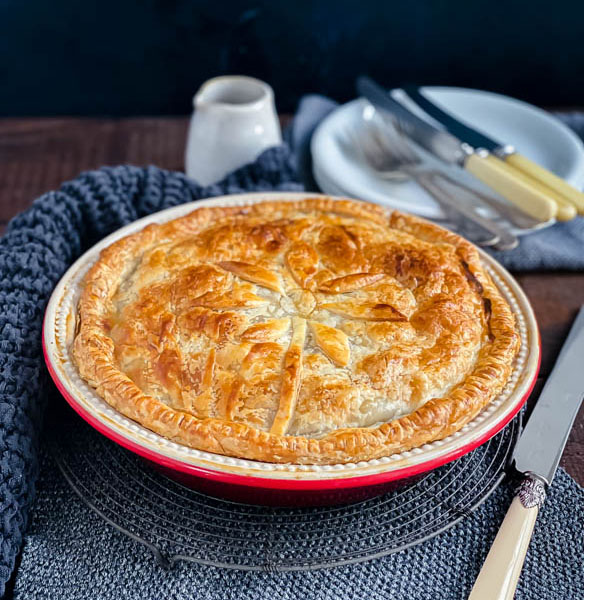 Equipment
Dutch oven or similar heavy based oven-proof pot

Large Rectangle Pie dish or lasagne dish (approx 30cm x 22cm) or 2 Round Pie dishes (approx 22-24cm 1.6 litre capacity)

Pastry Brush
Ingredients
1

kg

Puff pastry

frozen, 6 sheets (8 sheets if using rectangle dish) – there will be some wastage
Beef and flour mix
1

kg

beef chuck steak

2.5cm cubes

1/2

c

plain flour

1

tsp

salt

1/2

tsp

cumin powder

1/2

tsp

paprika

1

tsp

black pepper

freshly ground
Filling
3

tbsp

olive oil

2

onions

diced

1/2

tsp

sea salt

4

garlic cloves

crushed

3

carrots

1cm cubes

2

c

beef stock

1

tsp

beef stock powder

or 1 cube

2

tbsp

worcestershire sauce

3

tbsp

tomato sauce

or ketchup

2

bay leaves

3

thyme sprigs

4

potatoes

approx 700g, peeled and cut into 2cm cubes
Egg wash
1

egg yolk

2

tbsp

water

or milk
Instructions
Preheat the oven to 150°C.
Prep the Beef
Put the flour, salt, cumin, paprika and pepper into a glad bag along with the beef and shake to coat all the beef pieces. Set aside.
Filling
Heat 1 tbsp olive oil in a large heavy based Le Creuset pan Dutch Oven or similar oven-proof pot, over medium heat. Add the diced onion, carrots, and 1/2 tsp sea salt and cook for 5 minutes to soften onions slightly. Add the garlic and cook for 2 minutes more. Remove the vegetables from the pot and set aside.

In the same pot, add another tablespoon of olive oil over medium/high heat, and add 1/2 the beef. Spread out and brown the beef to seal them. Stir so they don't burn. This will only take a few minutes. Remove to a dish and repeat with the rest of the beef adding more oil if required. Once the beef is browned, add all the beef back to the pan, along with the onion mixture, flour, beef stock, beef cube, worcestershire sauce, tomato sauce, bay leaves and thyme. Stir well to lift any bits that have stuck to the bottom of the pot. Bring everything to the boil,and once boiling, cover with a lid and place the pot in the preheated oven to cook for 45 minutes.

After 45 minutes, remove from the oven and add the potato cubes. Stir to combine and to cover the potatoes. Cover and return to the oven for another hour. Check again after 1 hour and stir mixture. It will probably need another 30 minutes to 1 hour for the beef to be tender and potatoes to soften, so put back in the oven and check again in 30 minutes. Once ready, remove from the oven, discard the bay leaves and thyme sprig, and set aside to cool in the pot. Season to taste if required. Cool to room temperature, and ideally refrigerate overnight before using as a filling for the pies.
To Assemble Pie/s:
Preheat oven to 200°C. Grease the pie dish or dishes. Make sure the puff pastry sheets are defrosted but chilled/cold.

For a round pie dish: Take one sheet of pastry and place flat in the bottom of the pie dish. Take another sheet of pastry and cut into 4 even strips. Take one of the strips and use it to cover one of the sides by letting it overlap the first sheet slightly, pressing down to seal the join together (see photos). Repeat with the other 3 strips and sides. The pie dish should now be completely covered with pastry and all joins pressed together to seal. Fill the pie dish generously with cold beef filling and spread mixture out. Take a third sheet of pastry and place over the top of the filling to form the top. The lid should cover the whole top and lip of the pie dish, so press pastry together and trim the sides. Use a fork or fingers to crimp the edges to seal. If the pie pastry top doesn't quite reach all sides, then use the excess pastry on the sides to fold over/roll to enclose the filling (see photos showing both ways). Repeat with second round pie dish. If using a large rectangle dish, then follow the same principles explained here, to cover the dish with pastry, but you may have to use more pastry sheets.

Decorate the pie however you like with excess pastry pieces. You can also leave it undecorated. Cut out a small hole in the middle of the pastry lid, or make a few slashes as this allows steam to escape when it is cooking.

Combine the egg yolk and water together. Brush the top of the pie with the egg wash. Bake in the oven for 45-50 minutes, until golden on top. If the pie is browning too quickly, cover the top loosely with tin foil. Rest for 15 minutes before serving and cutting.
Notes
Ideally this recipe is best started the day before – make the filling and refrigerate overnight, then assemble the pie on the day. The pie can be made and refrigerated, uncooked for a few hours or overnight, if the filling is pre-chilled.
Beef – chuck steak is my favourite cut to use for this pie. Gravy beef is too lean and while you can use boneless beef short ribs, they are a fattier cut of meat.
Beef Stock – good quality store-bought liquid stock is best for this recipe, however you can use beef stock cubes or powder mixed with water (as per packet instructions, to get 2 cups liquid stock). In addition to the 2 cups of liquid stock, the recipe also require an extra cube or teaspoon of stock powder.
Pastry – If you prefer, you can use shortcrust pastry for the base of this pie. I sometimes do, but more often than not, I just use puff pastry. If you do use shortcrust pastry, you can blind-bake it first. I always use puff pastry for the top.
Storage – cooked pies will keep well in the refrigerator for up to 5 days. Reheat in a low oven 150°C – cover loosely with tin foil for first half.
Nutritional facts – the amount of pastry used to calculate the nutritional facts was 1 kg, however this is not the amount used, as there is some pastry that is discarded.
Nutrition
Calories:
928
kcal
|
Carbohydrates:
71
g
|
Protein:
30
g
|
Fat:
59
g
|
Saturated Fat:
17
g
|
Cholesterol:
88
mg
|
Sodium:
890
mg
|
Potassium:
995
mg
|
Fiber:
5
g
|
Sugar:
4
g
|
Vitamin A:
3181
IU
|
Vitamin C:
21
mg
|
Calcium:
59
mg
|
Iron:
6
mg