Rocky Road is one of the easiest treats to make. It is wonderful to have on hand during the festive season and also makes a very welcome homemade gift which will be popular amongst your friends and family.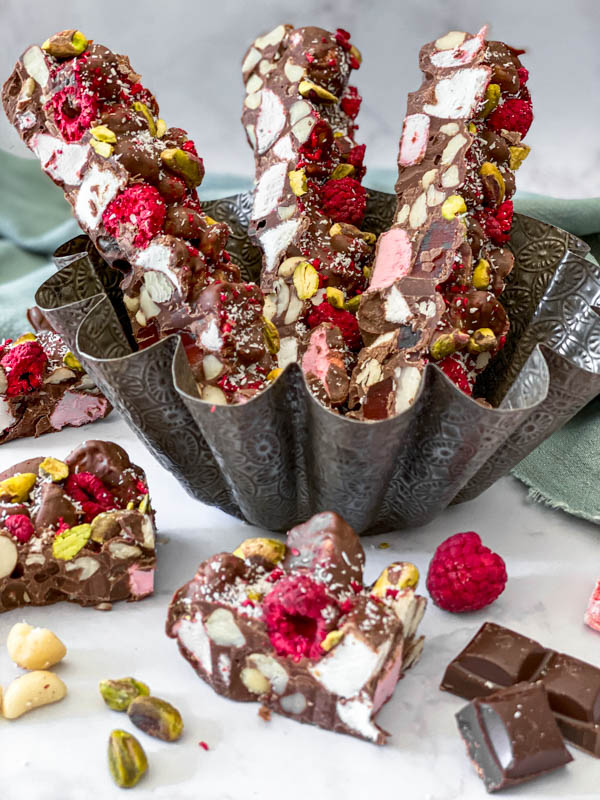 My favourite rocky road combination of milk chocolate, macadamia nuts and marshmallows are given a festive twist with the addition of dark chocolate, pistachios, freeze-dried raspberries and Turkish delight. It has a great ratio of chocolate and fillings and is so very moreish! The green of the pistachios and the red of the freeze-dried raspberries along with a sprinkling of coconut creates the true Christmas spirit.
What I love about rocky road recipes is how versatile they are. If there is an ingredient you don't like, you can just substitute it for something you do like. Please read the 'Ingredients' section below before looking at the recipe, as I have given suggestions for other ingredients you can use.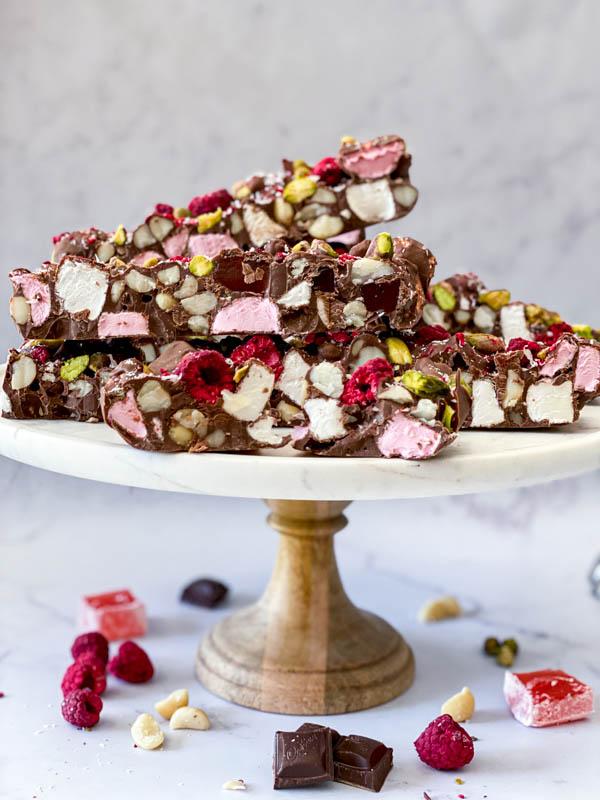 This is a very simple recipe to make. The chocolate is melted and then added to the other ingredients (except the freeze-dried raspberries and a small handful of pistachio nuts)and combined so that everything is coated. The mixture is then poured into a lined slice tin (or square cake tin) and spread out before adding the reserved pistachio nuts and the freeze-dried raspberries to the top. You can also scatter over some coconut. The rocky road is then refrigerated for at least 1 hour to set.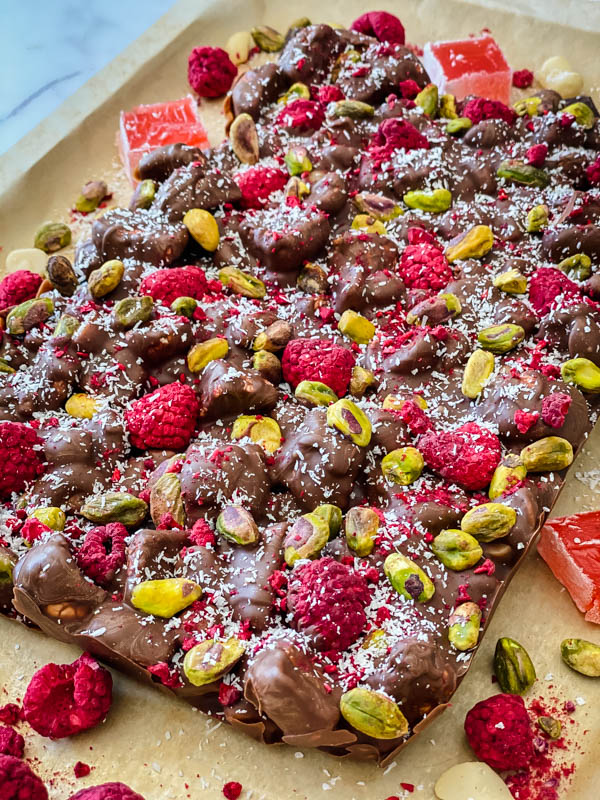 Ingredients you'll need to make this Christmas Rocky Road
Chocolate – for this recipe I use 2 x 180-200g bars of milk chocolate and 1 x 180-200g dark chocolate (45-55% cocoa is what I prefer). I find this combination is what I prefer but you can alter milk or dark chocolate according to your preference. It really is up to you, just use the same quantity of 540-600g total.
Marshmallows – I use normal size marshmallows and cut them in half and in quarters as I like the varying sizes. Feel free to use mini marshmallows if you prefer. They will just look a little smaller when you slice into the rocky road.
Macadamia Nuts and Pistachio Nuts – these nuts work beautifully in this rocky road. They are a more expensive nut but for Christmas, they are a nice luxury. Again, if you are not a fan of these nuts, you can substitute with others you prefer. Whichever nuts you use, just make sure they are not salted. If using almonds, I like to use 'roasted' almonds. If you have a nut allergy, just leave them out completely (see below for other suggestions you can add instead).
Turkish Delight – a real favourite of mine so of course I am including this in here. Again if you are not a fan, just leave it out or see below for a substitute.
Freeze-Dried Raspberries – these add a lovely slightly tart flavour to the rocky road which helps balance the overall sweetness of the marshmallows and Turkish delight. They also look really striking as they are placed on top of the rocky road. Top Tip: store any leftover freeze-dried fruits in a sealed bag in the freezer. This is by far the best way to store them once they have been opened. They will soften in the pantry.
Coconut – shredded or desiccated (optional) – I sometimes scatter a small amount of coconut over the top of the rocky road but this is optional. You could also drizzle over some melted white chocolate to decorate the top instead.
I really hope you try this version but here are some suggestions for other things you can add to rocky road:
Any nuts or even seeds (pumpkin or sunflower)
Dried fruits like cranberries, chopped apricots, figs, pears, peaches, mango
Biscuits like ginger nut biscuits, shortbread, amaretto, Oreo or any plain biscuit like Marie or Arrowroot
White Chocolate – either in chunks or even drizzled over the top
Grated zest of an orange
Pretzels
Any soft lolly
Glacé fruits like cherries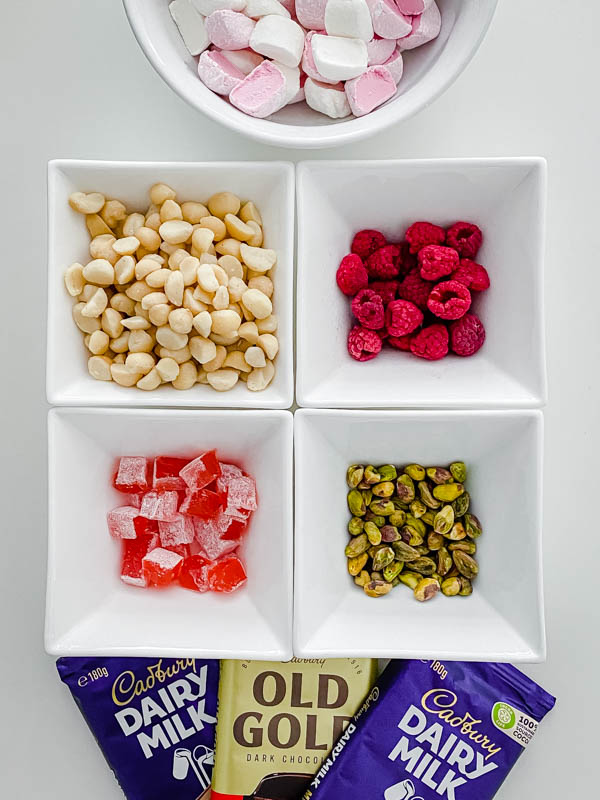 After more edible gift ideas? Take a look at my other recipes for Sweet and Spicy Nuts, Easy Candied Walnuts and Lolly Cake.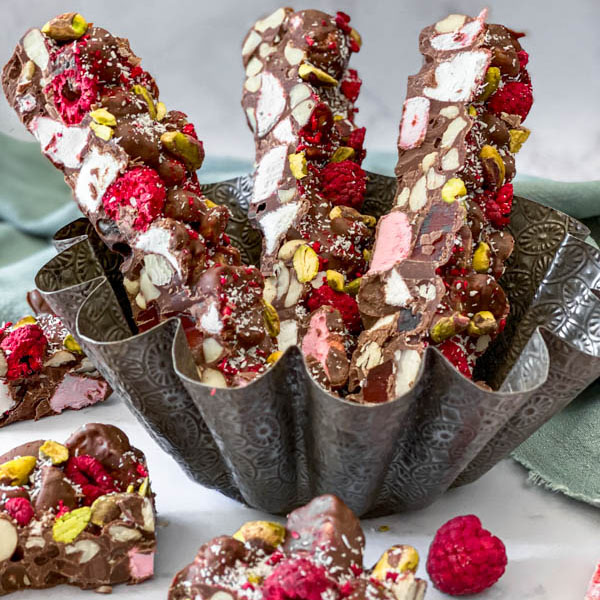 Equipment
slice tin (18cm x 27.5cm approximately ) (7in x 11in approximately ) or a 20cm square baking tin (8in)

2 large bowls (one microwaveable) or 1 large bowl and a saucepan
Ingredients
400

g

milk chocolate

(or 360g)

200

g

dark chocolate (45-55% cocoa)

(or 180g)

200

g

macadamia nuts

raw and unsalted, cut in half

200

g

marshmallows

cut into halves and quarters

120

g

Turkish delight

chocolate covered or plain – chop up into 1-2cm pieces if you have larger sizes

50

g

pistachio nuts

unsalted

10

g

freeze-dried raspberries

see note 1

1

tbsp

pistachio nuts (extra)

for decorating

2

tsp

dessicated coconut

optional
Instructions
Line the baking tin with baking paper. Make sure the baking paper has good over hang so that you can easily pull the rocky road out of the tin once it sets. Set aside.

Place the macadamia nuts, marshmallows, Turkish delight and pistachio nuts into a large bowl and stir to mix them up. Set aside.

To melt the chocolate: Break the chocolate into small pieces and microwave on a low heat setting in 30 second bursts, stirring each time, until the chocolate is just melted. This can also be done in a pot over a very low heat, or over a double boiler (bain-marie). Make sure you stir the chocolate all the time until it has just melted.

Pour the just melted chocolate into the bowl of nuts, marshmallows and Turkish delight, and using a large spoon, stir gently so that all the ingredients are coated well in chocolate. Pour the rocky road mixture into the baking tin and even it out around the tin using the spoon.

Decorate the top while the chocolate is still soft by placing the extra pistachios all over, pressing them into the chocolate slightly. Repeat with the freeze dried raspberries. With the last 2-3 raspberries, I like to crush them with my fingers and sprinkle this all over the top. Lastly sprinkle with desiccated coconut (optional).

Cover and refrigerate for at least 1 hour or until set.

Remove from the fridge and lift the set rocky road out of the tin onto a flat chopping surface. Using a large sharp knife, cut widthways into 6 even slices. These longer slices are great for gifts. Otherwise you can cut each of the slices into 3 or 4 serving size pieces.

Store the rocky road covered in the refrigerator for up to 3 weeks. Rocky road can also be frozen for up to a month.
Notes
Note 1: Store any open packets of freeze-dried fruits in the freezer in a sealed bag. This is by far the best way to store any unused freeze-dried ingredients. If you leave half-used packets in your pantry, they will soften. Freezing them keeps them in the best condition and you can use them again directly from the freezer. ?
Nutrition
Calories:
334
kcal
|
Carbohydrates:
35
g
|
Protein:
4
g
|
Fat:
22
g
|
Saturated Fat:
9
g
|
Cholesterol:
1
mg
|
Sodium:
21
mg
|
Potassium:
218
mg
|
Fiber:
4
g
|
Sugar:
25
g
|
Vitamin A:
16
IU
|
Vitamin C:
1
mg
|
Calcium:
26
mg
|
Iron:
3
mg