Homemade Chicken Soup is one of the ultimate comfort foods and when you use bone-in chicken to make your own broth, it is even more satisfying and delicious. Packed full of nutrients from chicken, rice and vegetables, this is a nourishing one-pot meal that your family will love.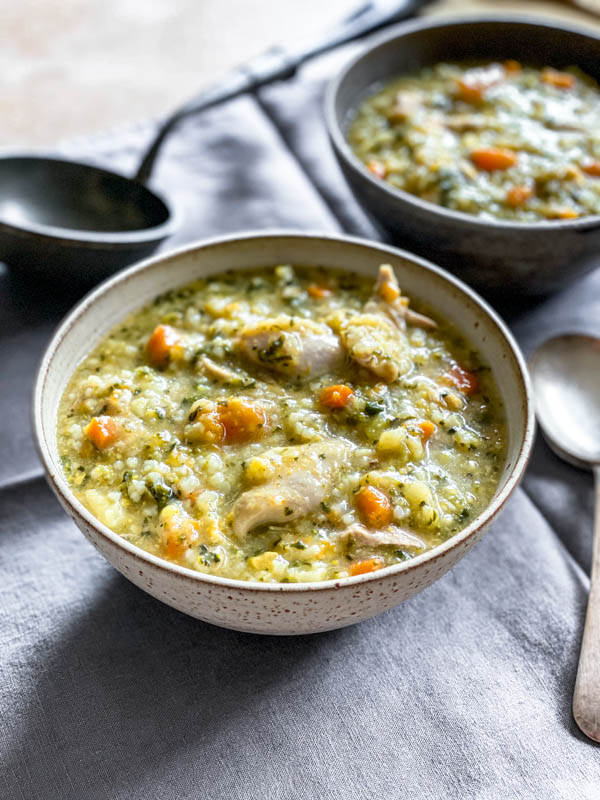 Whenever I feel like a 'pick me up' dinner, I always make this soup. Feeding this to my family is like giving them a hug in a bowl. It is healthy, comforting and delicious. The fact that it is easy to make and all made in one pot is a bonus.
Making a homemade chicken stock using bone-in chicken creates an impactful and flavoursome base to this signature soup. Once this delicious broth is developed you are left with tender meat that just pulls away from the bones (which are then discarded). The meat is then added back into the stock along with rice and vegetables so you only need one large pot to make this soup.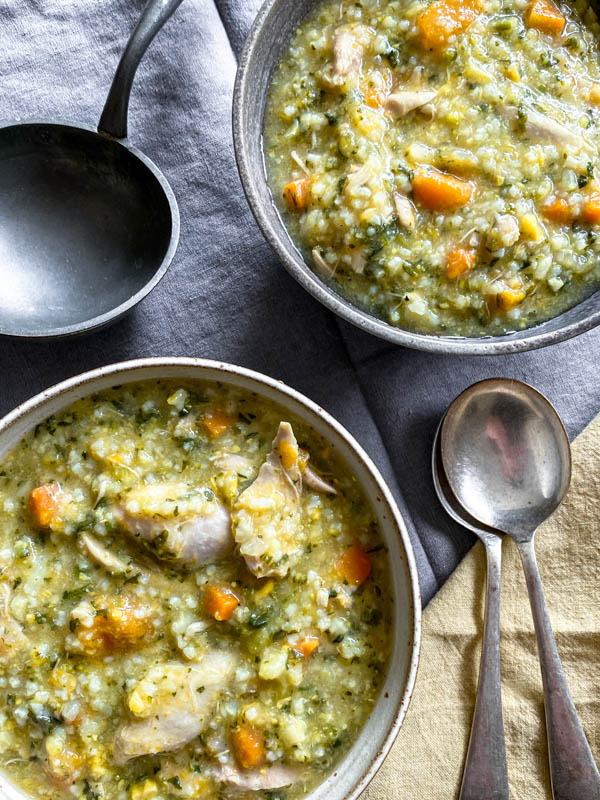 There is no need to use a whole chicken for soups which are often harder to submerge and handle. I prefer to use chicken Maryland pieces (the bone-in thigh with the drumstick attached) or bone-in chicken thighs and legs, as I find them much easier to work with than a whole chicken. When making soups, I also prefer the more tender and fuller flavoured meat from the thigh and drumsticks versus the white meat from the chicken breast.
Once the stock is made, the chicken pieces are removed and once cool enough to handle, the meat is taken off the bones and added back into the stock along with the rice, vegetables and seasonings. It is then simmered until everything is cooked. A very simple process! This is a hearty soup that makes a great family dinner. I hope you enjoy this soup as much as my family does. Let's take a look at how to make it and the ingredients you will need.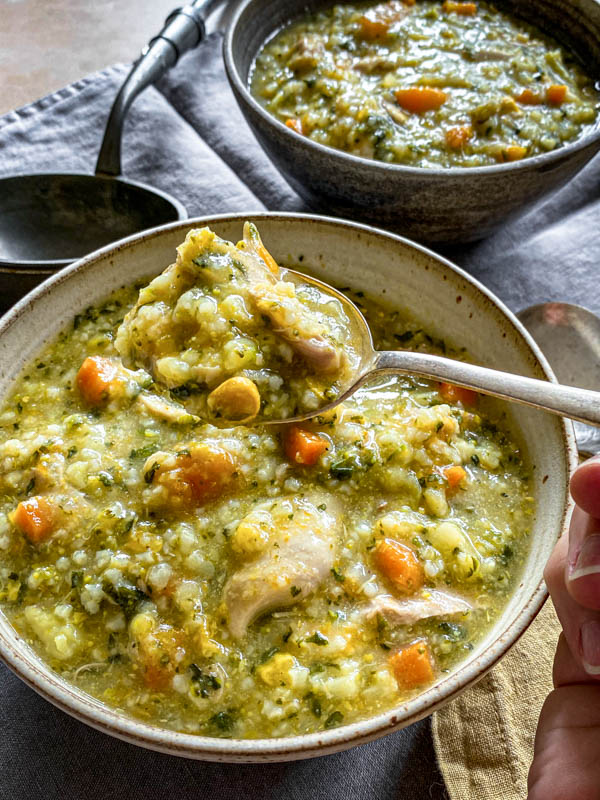 Ingredients to make this soup
Onion
Carrots
Bone-In Chicken pieces – as mentioned earlier, I have used Chicken Maryland pieces (a raw bone-in piece of chicken comprising the thigh and leg). For this recipe, I use 4 chicken Maryland pieces, however you can use 4 bone-in thigh and 4 bone-in drumstick pieces instead. I also like to use skin on pieces when making stock as they give a better flavour. I remove and discard the skin once the chicken is cooked, so only the meat is returned to the soup.
Water
Herbs – I have added parsley stalks to this soup as I always have these growing in my garden. They are added to flavour the stock.
Sea Salt
Garlic
Rice – I use white short grain rice in soups
Vegetables – I have used pumpkin, sweet potato, cauliflower, broccoli, spinach and sweetcorn. Once you have made this soup, you will see that you can add different vegetables each time depending on what you have available, which is the beauty of this recipe. I will say though that it is always worth having vegetables like pumpkin or sweet potato in there as they do break down and provide a slightly creamy element to the soup. I have used a small tin of creamed sweetcorn which is another way to bring a creamy element to the soup – it is optional. I use it if I happen to have it in my pantry.
Curry Powder – use your favourite – store-bought is fine here. It is barely detectable but does lift the flavour of this soup. Sometimes if I want a more pronounced curry flavour, I just add more.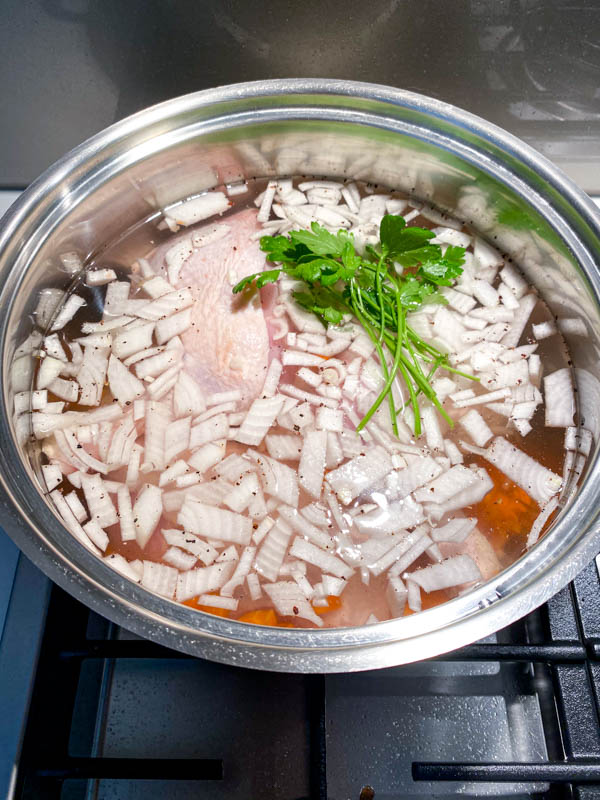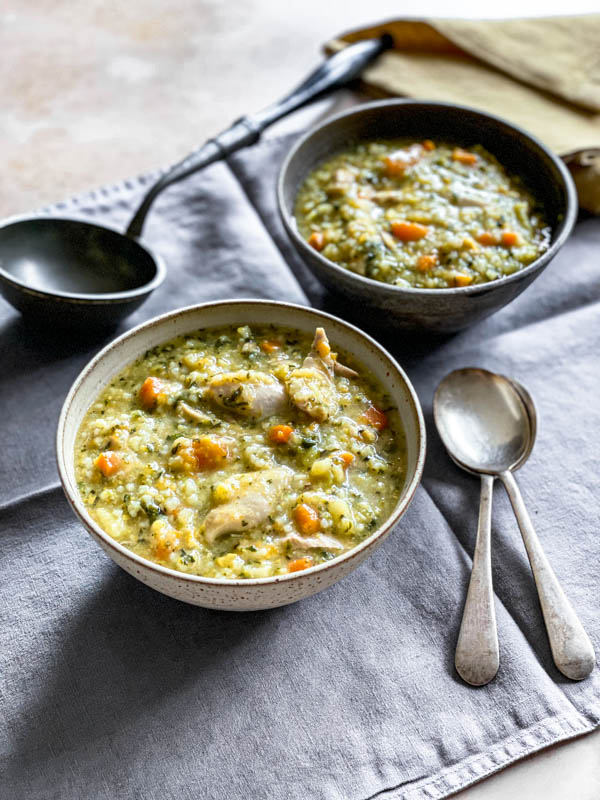 Other soup ideas?
If you are looking for more delicious soup ideas, take a look at my following posts: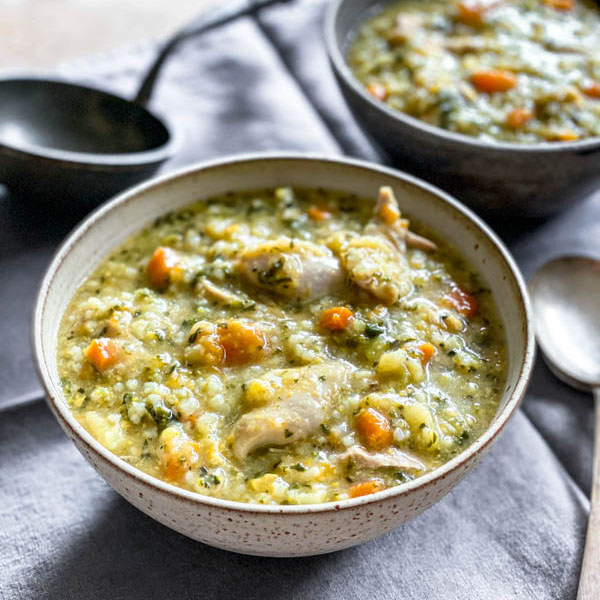 Equipment
Large Pot – I use a large 5 litre pot
Ingredients
2

tbsp

olive oil

1

onion

brown, peeled and chopped

2

carrots

peeled and chopped into small cubes

4

garlic cloves

crushed

4

chicken Maryland pieces (thigh with leg attached)

or 4 bone-in, skin on chicken thighs and 4 bone-in, skin on chicken drumsticks

8

c

water (2 litres)

6

parsley stalks

2

tsp

sea salt

1/2

c

white short grain rice

1.5

c

pumpkin cubes

see note 1

1

medium orange sweet potato

cubed (1.5cm cubes)

1

c

broccoli pieces

1.5

c

cauliflower pieces

100

g

frozen spinach cubes

or use fresh leaves, chopped finely

1

tsp

curry powder

250

g

tin of creamed sweetcorn

optional
Instructions
Heat oil in a large pot over medium heat. Add the onion and carrots and sauté for 3 minutes, stirring occasionally. Add the garlic and cook a further 5 minutes, stirring. Reduce heat slightly if browning.

Add the chicken pieces, water, parsley stalks and salt to the pot. Increase the heat to high and bring to the boil. Reduce heat, partially cover with a lid and allow to simmer for 20-25 minutes or until the chicken is cooked and tender. Turn the heat off and allow the chicken to sit in the stock for an extra 10 minutes.

Remove the chicken pieces carefully to a plate and set them aside for 5 minutes. Remove and discard the parsley stalks.

While they are cooling, increase the heat to high and add all the remaining ingredients except the sweetcorn, to the stock and bring to the boil for 5 minutes, stirring occasionally so the rice doesn't stick to the bottom.

Carefully remove the chicken meat from the bones in small pieces, discarding the bones and skin. Add the chicken meat back into the soup.

Once the soup has boiled, reduce the heat and simmer until all the vegetables have softened and are cooked. Stir in the sweetcorn if using and cook 5 minutes longer. Add a little more water if the soup becomes too thick.

Season with salt and pepper to taste. Serve warm.
Notes
Note 1: I like to use Jap (Kent) Pumpkin or Butternut pumpkin as I find they are nice and creamy in soups.
The amount of vegetables are approximate so if you are adding a little more or a little less it will be fine. No need to be exact.
I sometimes add a teaspoon of chicken or vegetable stock powder to the soup when I add the vegetables. This is optional and more often than not, I find the soup to be flavoursome without it. If you do this, reduce the salt by half and season to taste at the end.
This recipe feeds 6-8 people depending on the size of the serves. The nutritional values are for 8 servings.
Nutrition
Calories:
283
kcal
|
Carbohydrates:
28
g
|
Protein:
13
g
|
Fat:
14
g
|
Saturated Fat:
3
g
|
Trans Fat:
1
g
|
Cholesterol:
55
mg
|
Sodium:
735
mg
|
Potassium:
571
mg
|
Fiber:
3
g
|
Sugar:
4
g
|
Vitamin A:
10993
IU
|
Vitamin C:
30
mg
|
Calcium:
76
mg
|
Iron:
2
mg