A truly delicious New Potato Salad that is bursting with mint flavour. The dressing is all made in a food processor making this a very quick and easy dish to put together. This no-fuss yet impressive salad will delight your friends and family.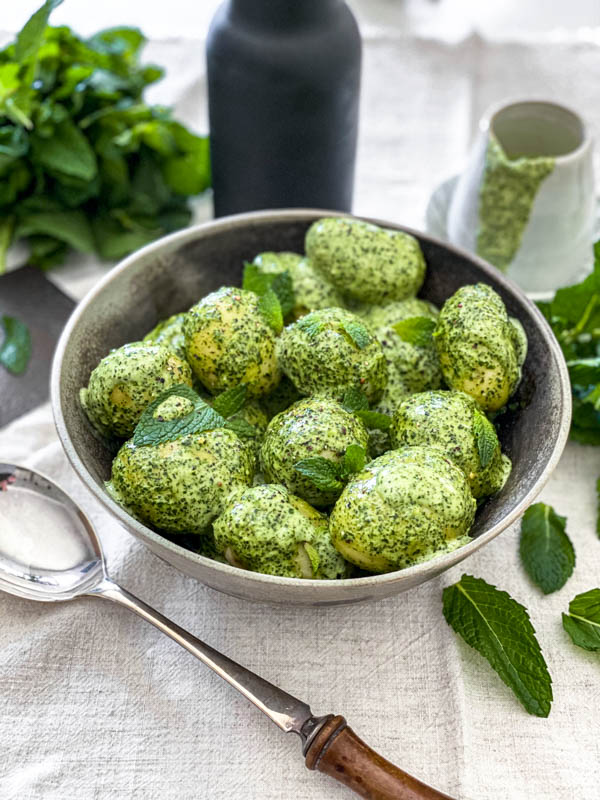 The herby mayonnaise dressing is really versatile and can be used in so many different dishes. It is such a quick and easy recipe to make as all the ingredients are simply blended together in a food processor. It is creamy with a delicious mint flavour which works perfectly with potatoes, salmon, chicken and many other meats and vegetables. You'll have this dressing made in no time and it will add 'that extra something' to whatever you choose to serve it with.
In this instance, it really adds a wonderful flavour to new or baby potatoes. The salad also looks beautiful as the dressing coats the warm potatoes and creates a richer colour. The dressing is added to the potatoes when they are still warm as this allows the flavours to develop. The salad can be served immediately or at room temperature. It can also be served cold.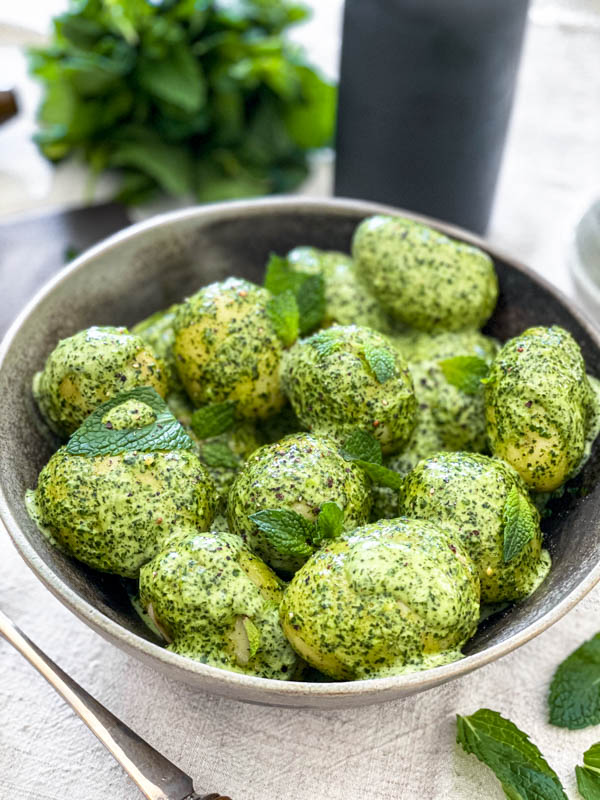 In the photos you can see I have garnished the salad with extra fresh mint leaves. I sometimes add freshly cooked peas as well. Simply mix the peas through so they are coated with the dressing, before garnishing with the fresh herbs. Additionally you can add fried chopped bacon and/or chopped boiled eggs to this dish. A great salad for your Christmas Day feast or as part of a buffet of salads for a barbecue.
You will not use all the dressing to make this salad and will have some left over. Take a look at other ways you can use any leftover dressing here. It really is so versatile and can be used in many other dishes.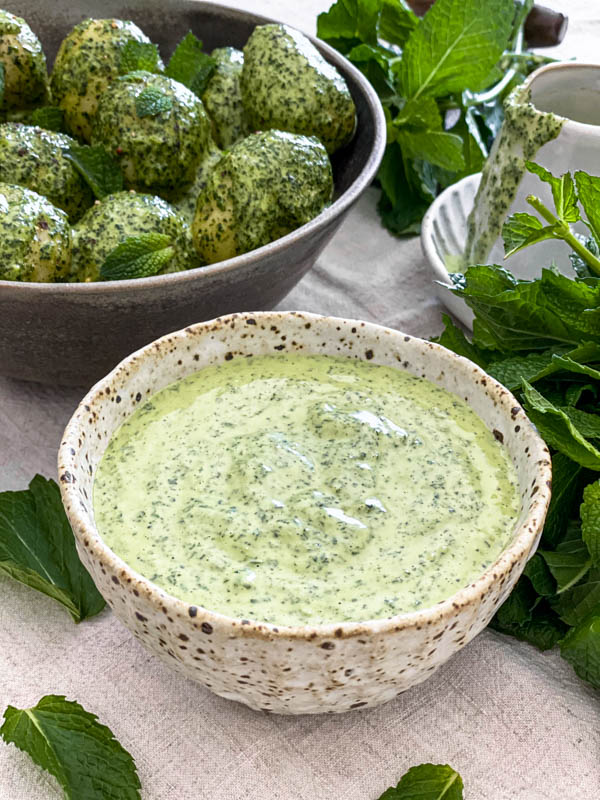 Ingredients to make this salad
Baby Potatoes – of course new buttery baby potatoes are ideal for this recipe but any baby potato works well.
Herbs – only use fresh herbs for this dressing. Dry herbs just don't work here. I use mint and curly leaf parsley. The curly leaf parsley gives a lovely green colour to the dressing. You use a lot of herbs in this – a packed cup of each.
Eggs – use large or extra large eggs. For this recipe you will need 2 eggs and 1 egg yolk.
Sugar – helps to balance out the bitterness of the herbs. Use 1-2 teaspoons to taste.
Garlic – 2 cloves are used. Crush them first before adding to the food processor so that you don't end up with chunks of garlic in your dressing.
White Vinegar – you can also use white wine vinegar or champagne vinegar, but I mostly use white wine vinegar.
Mustard – I use a mix of dijon and wholegrain mustard, but you can just use dijon mustard if you prefer. I quite like the little pops of wholegrain mustard seeds throughout the dressing.
Salt – sea salt
Oil – any mild flavoured oil. I use vegetable or grape seed. I prefer not to use light olive oil for this dressing.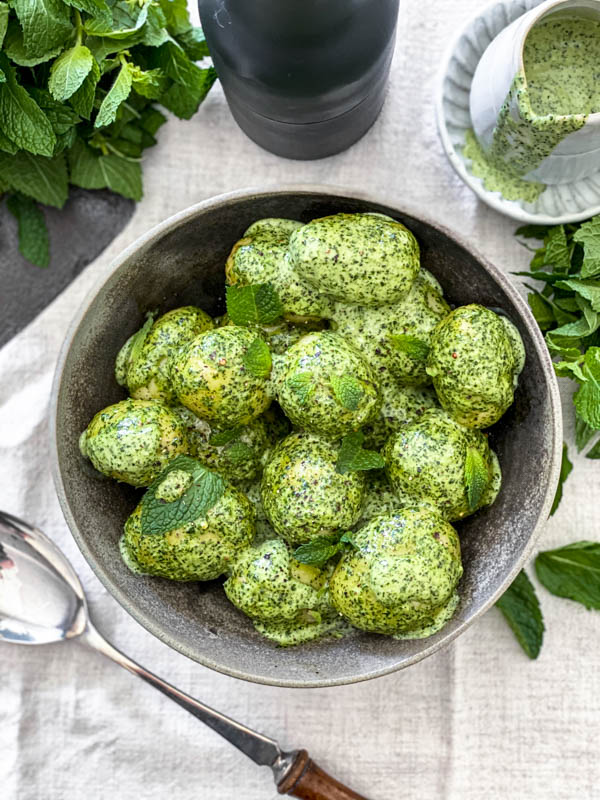 Tips to help you make the dressing
This is a very quick and simple dressing to make. You will not need all the dressing to make this quantity of potato salad. You can halve the dressing recipe if you prefer.
The first tip I would give is to make sure you use enough herbs so you get a nicely flavoured, herby dressing. I have included weight measurements to help you achieve this. Wash the herbs well and squeeze out any water before adding them to the food processor. No need to chop them up.
The only other tip is to take your time pouring the oil into the food processor so that you get a nicely emulsified dressing. Once all the other ingredients have been blended together, you then start pouring the oil into the feeder tube very slowly – just drizzle it in. This can take a couple of minutes. The dressing consistency will be like a runny mayonnaise but it will thicken slightly once it has been refrigerated.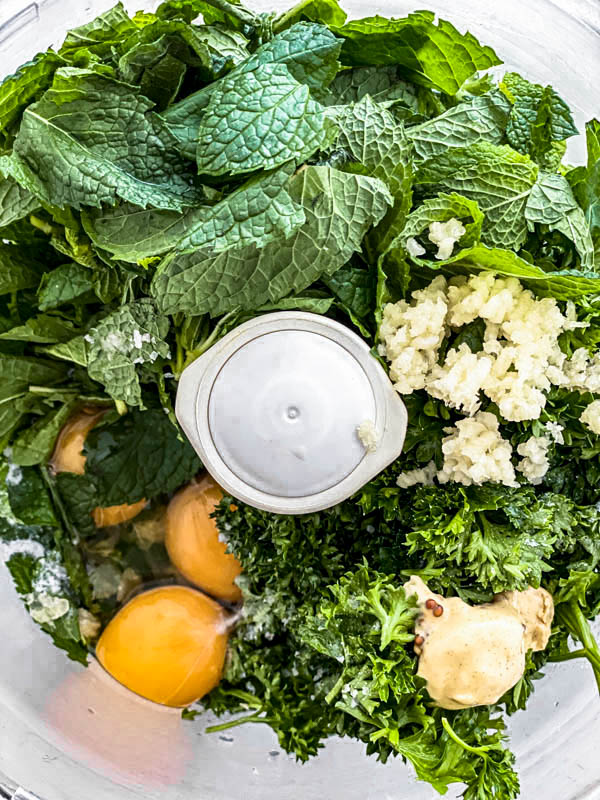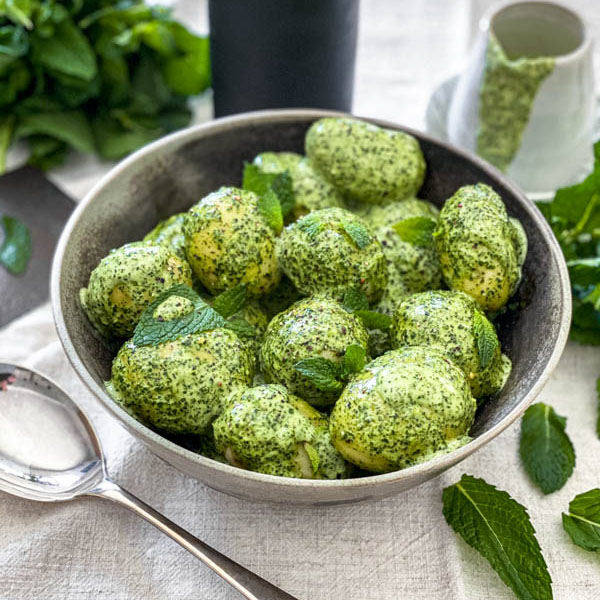 Ingredients
1

kg

baby potatoes

washed

1

tsp

salt
11Mint Dressing:
1

c

mint leaves, packed (50g)

washed and squeezed dry

1

c

curly-leaf parsley, packed (60g)

washed and squeezed dry

2

large or extra large eggs

1

egg yolk

1

tsp

sugar

see note 1

2

garlic cloves

peeled and crushed

1/4

c

white vinegar

1

tsp

dijon mustard

1/2

tsp

wholegrain mustard

(or use dijon)

1

tsp

sea salt

1.5

c

mild flavoured oil

grape seed or vegetable oil

extra salt to season/taste at end
To Garnish:
fresh mint leaves

freshly ground black pepper
Instructions
To make the Mint Dressing:
Place all the ingredients (except the oil) into the bowl of a food processor. Process for a few seconds until everything is combined and the herbs are all chopped (scrape down the sides of the bowl half way through).

With the motor running, slowly drizzle in the oil through the feeder tube. Take your time doing this step. It should be a very slow drizzle. Taste and season with extra salt (I often add up to 1.4 tsp more to taste). If you think it requires a little more sugar (see note 1) add that now too and pulse to combine. Season with freshly ground black pepper.

Pour the dressing into into a jug or container, cover and refrigerate for 2 hours to allow the dressing to thicken slightly and for the flavours to develop.

Makes approximately 3 cups.

Storage: Keep refrigerated. The dressing will last 1 week in the fridge.
Potatoes:
Put the potatoes into a large pot and add enough cold water to cover them. Add the salt. Cover with a lid and bring to the boil. Reduce the heat to a gentle boil and cook until the potatoes are tender. Drain well and leave to cool slightly in the pot with the lid off. The residual steam will help dry the potatoes.
To Assemble the Potato Salad:
While the potatoes are still warm, place half of them in your serving bowl and add enough of the dressing to coat them well. Do the same to the potatoes still left in the pot, then add these carefully to the bowl as well. Be gentle when folding the dressing through the potatoes so they don't break up. Once all the potatoes are nicely coated with the dressing, taste and season with a little more salt if required.

Just before serving, garnish with extra fresh mint leaves. The salad can be served warm or at room temperature. It can also be refrigerated and served cold. If not serving straight away, you might like to drizzle over a little more dressing, just before garnishing.
Notes
The dressing quantities in this recipe will make more than you need. You may only use half of this amount. The nutritional values reflect the whole amount so take this into account.
Note 1: If you prefer a slightly sweeter dressing, you can add up to 2 teaspoons of sugar. Taste the dressing at the end and adjust if necessary. I add 1-2 teaspoons depending on the bitterness of the herbs.
Nutrition
Calories:
502
kcal
|
Carbohydrates:
24
g
|
Protein:
5
g
|
Fat:
44
g
|
Saturated Fat:
4
g
|
Cholesterol:
65
mg
|
Sodium:
622
mg
|
Potassium:
615
mg
|
Fiber:
3
g
|
Sugar:
2
g
|
Vitamin A:
963
IU
|
Vitamin C:
37
mg
|
Calcium:
49
mg
|
Iron:
2
mg