This rustic yet elegant mushroom galette is a winner! It has a creamy ricotta and gruyere cheese layer topped with mushrooms, (including shiitake) which have been sautéed with garlic, thyme, sherry and lemon zest. The filling is encased in a light, buttery sour cream shortcrust pastry that just melts in your mouth. Perfect for entertaining as well as family lunches or dinners, and even picnics.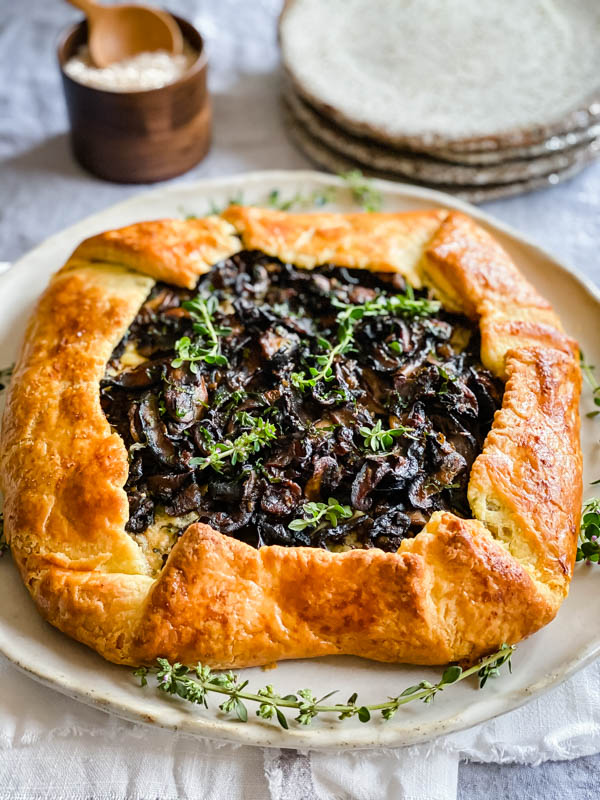 This savoury galette can be served with a simple dressed green salad for lunch or dinner entertaining. It can also be served sliced and eaten on a picnic rug! This is a dish you can dress up or down and it will impress your most discerning guests. It is something I love to make and it always gets a 'wow' when it is set on the table.
So what exactly is a galette?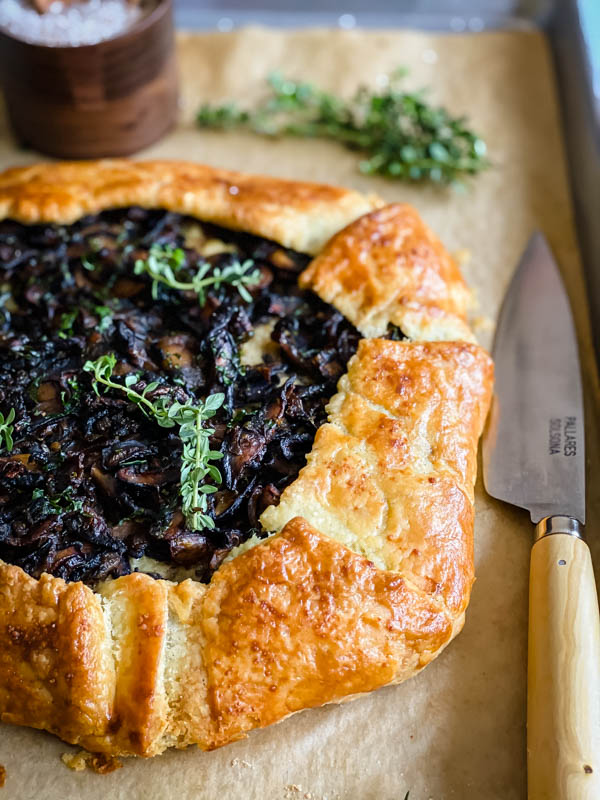 What is a Galette?
A galette is a french term used to describe a free-form tart or pie with either a sweet or savoury filling. It is essentially a single piece of pastry dough rolled out and wrapped around a filling to form a rustic style pie or tart. This means you don't need a pie tin or dish as you simply wrap the pastry edges up and over the filling to hold it all in.
If you are new to pie-making, a galette is a great place to start. It is easy to make and the french rustic charm is clear. There is something quite endearing about the organic form of a galette.
Let's take a look at the ingredients for this galette.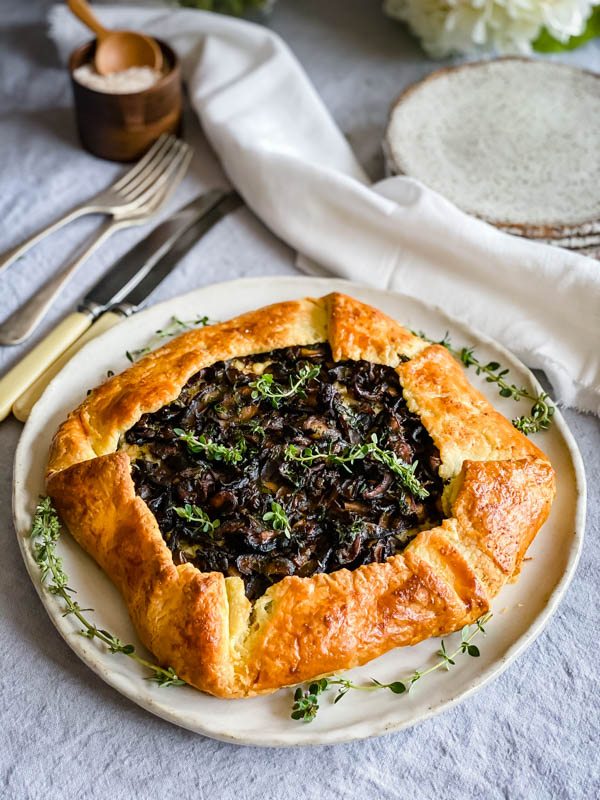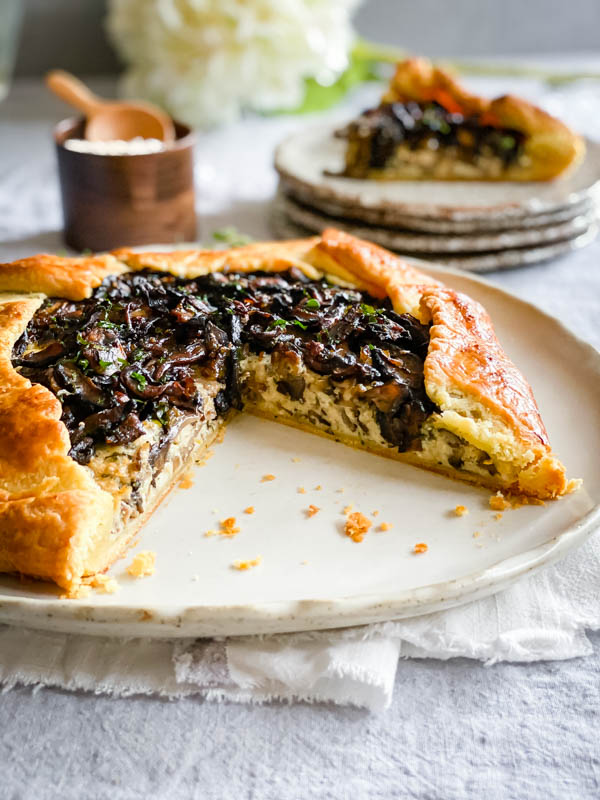 Ingredients
SOUR CREAM PASTRY – this is a very easy and forgiving pastry that is made in the food processor. It is beautifully flaky, buttery and light. Made with just four ingredients which are:
Flour – plain all purpose flour
Butter – salted and chilled
Sour Cream – use full-fat sour cream for this pastry (chilled)
Lemon Juice – adds flavour and along with the sour cream, helps to tenderise the gluten.
MUSHROOM MIX – a mix of Swiss brown, Portobello and Shiitake mushrooms are used in this galette. Feel free to substitute with other varieties if you prefer, although I really love the chewy, meaty texture of shiitake mushrooms in this combination.
To wipe or wash your mushrooms? That is up to you although I like to wipe mine clean with a wet clean cloth. This way the mushrooms aren't exposed to as much water compared to washing them. Whatever you do, just don't peel your mushrooms as this just strips away flavour.
The stems are removed for this recipe but you can save them to use in stocks, soup or sauces.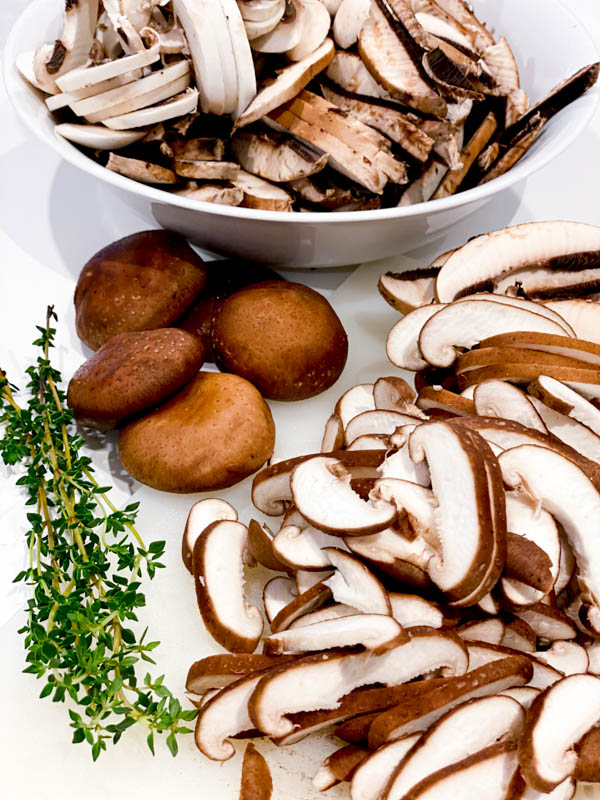 Onions, Garlic and Thyme – these are sautéed and add great flavour to the mushroom mixture. Using whole thyme sprigs tied together with cooking string (instead of picking the leaves), saves a lot of time. Most of the thyme leaves soften and fall off in the pan, and then the stalks are simply removed and discarded at the end.
Sherry – you can use white wine, but sherry adds great depth of flavour to the mushrooms so use it if you can. It deglazes the pan and lifts the caramelised bits of onion and mushrooms that are stuck to the bottom of the pan. These 'bits' are full of flavour!
Other ingredients – dijon mustard, lemon zest and juice, parsley, salt and pepper all help to add freshness and elevate the flavour of the mushrooms.
CHEESE MIX – the cheese layer is made up of three different cheeses:
Ricotta – adds creaminess without being too rich. It forms the main body of the cheese filling.
Parmesan – adds a slightly salty, rich flavour that elevates the cheese mix.
Gruyere – this is the main flavour that shines through in the cheese mixture. It has a sweet, nutty flavour that complements the earthy mushrooms.
Parsley – added here for brightness. Use flat-leaf/continental parsley not the curly-leafed variety.
Egg – the egg acts as a binding agent and adds a bit more body to the cheese mixture.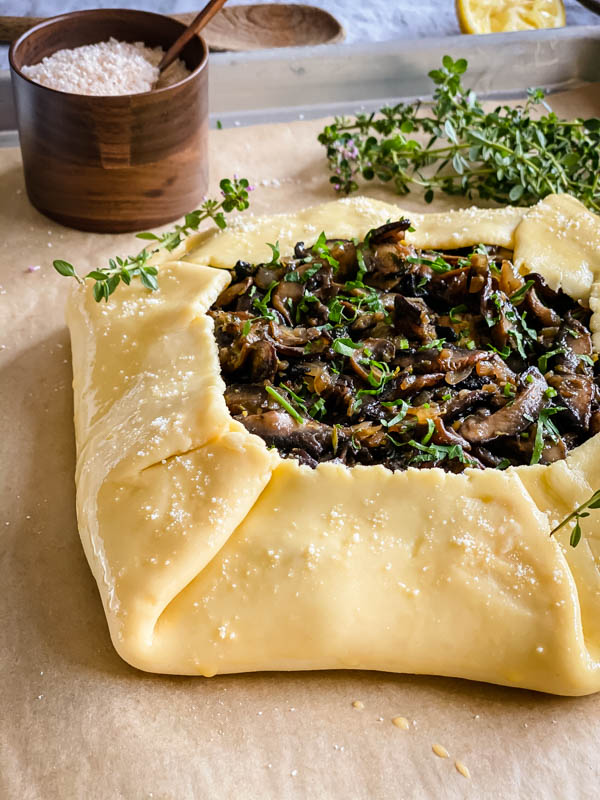 Method
To make this galette, there are three components:
SOUR CREAM PASTRY – This only takes a few minutes to make in the food processor. See the photos below to see the stages and try not to overwork your pastry. I like to take it out just before it starts to form a 'ball' in the food processor and then bring it together gently by hand. If you have worked with pastry before, you will know the benefits of a pastry mat. I use one all the time. They are inexpensive and save a lot of mess. The dough does require chilling so factor this time into your bake. The dough can be prepared 1-2 days in advance if you like and kept refrigerated.
CHEESE MIXTURE – all the ingredients for the cheese mixture are combined in a bowl and mixed together. Refrigerate until required.
MUSHROOM MIXTURE – The mushrooms are sautéed in olive oil until all the moisture is removed from them and they start to brown. At this stage, butter, onions, garlic, salt and pepper are added and cooked until the onions are softened and starting to caramelise. Sherry is then added to deglaze the pan. Once this has evaporated, mustard, parsley, lemon zest and juice are added along with a little salt and pepper to taste. This then needs to cool to room temperature before adding half of the mushrooms to the cheese mixture. The remaining half is for the topping.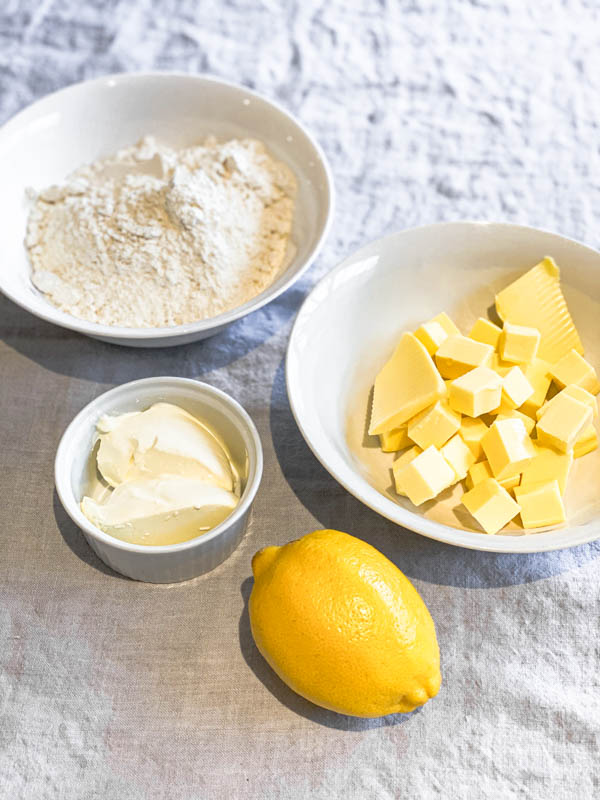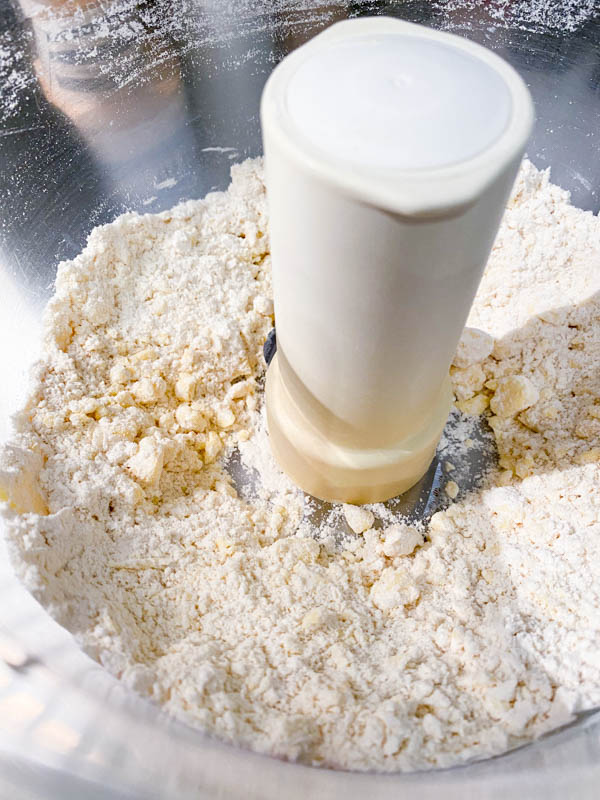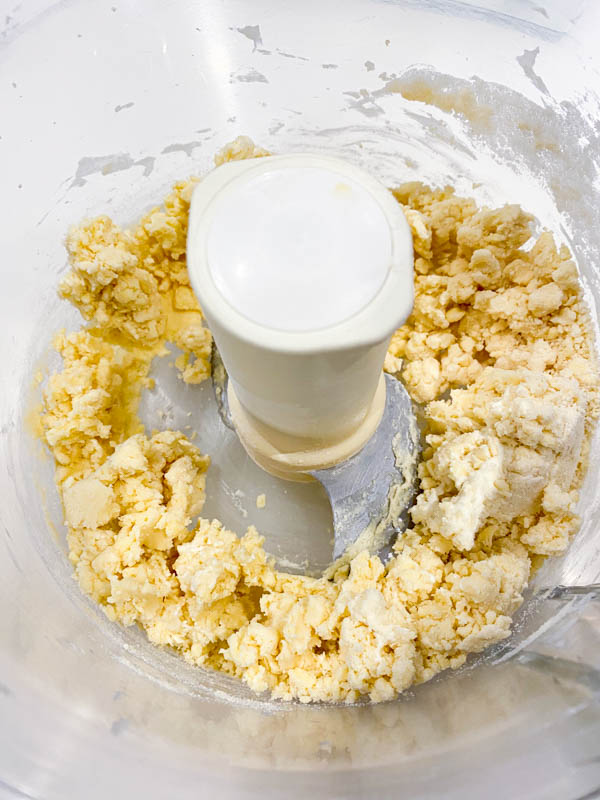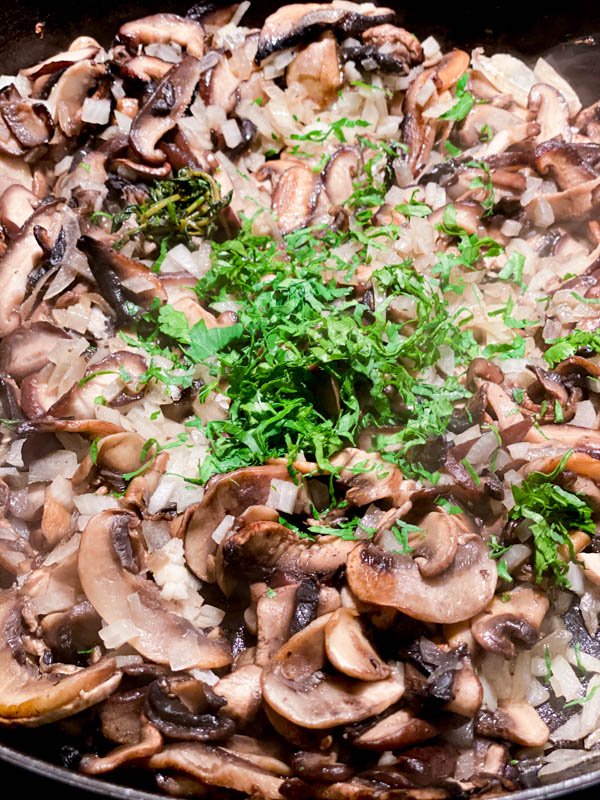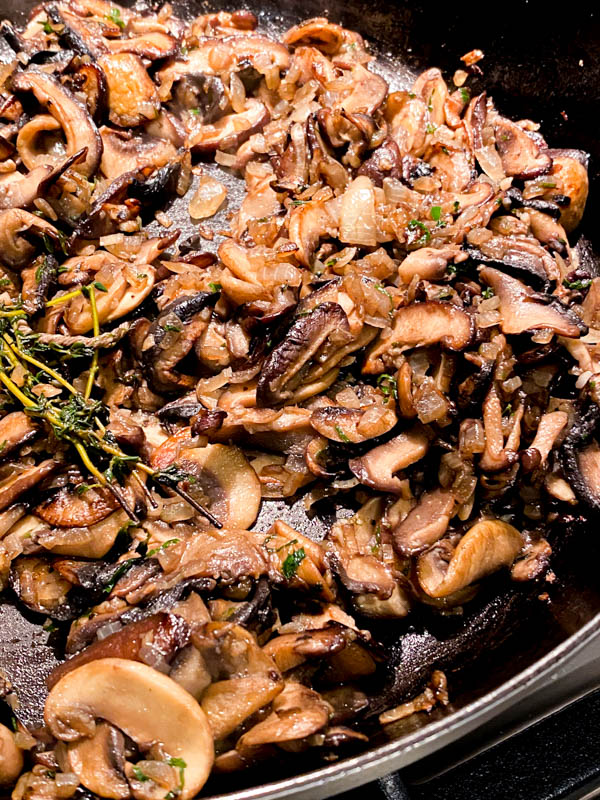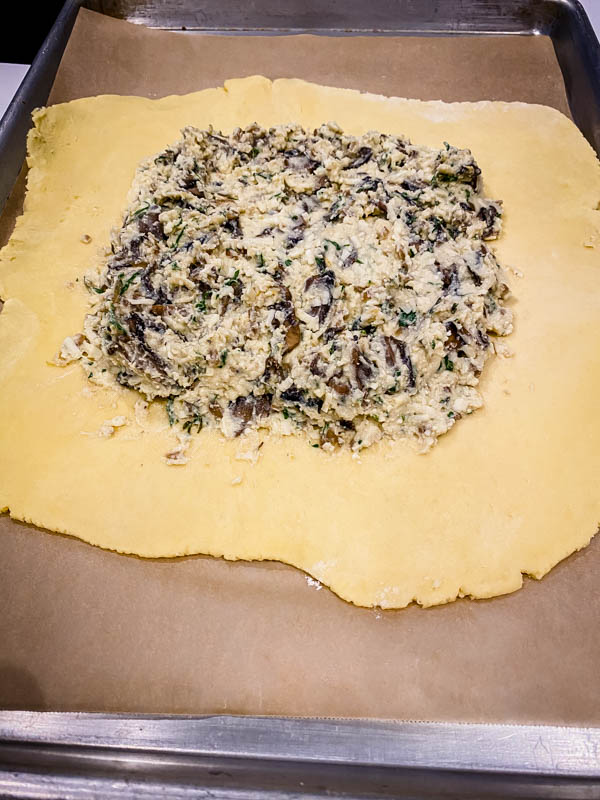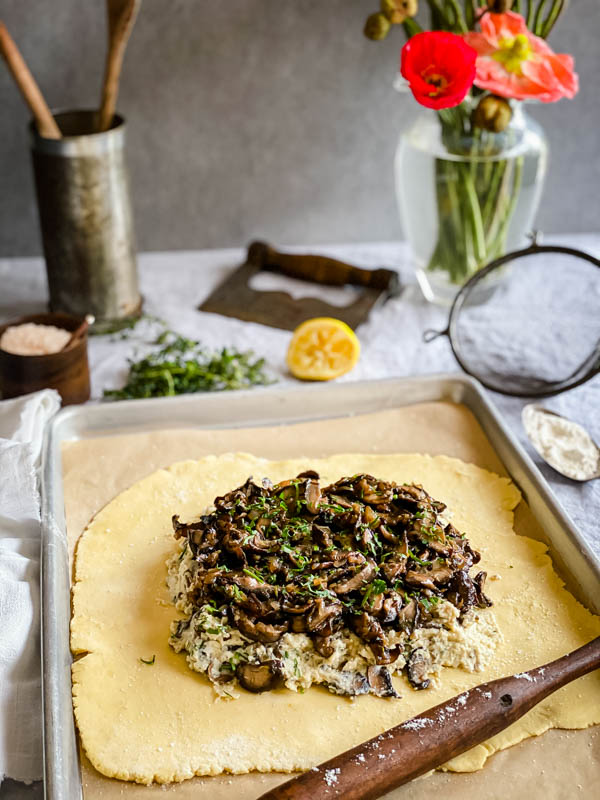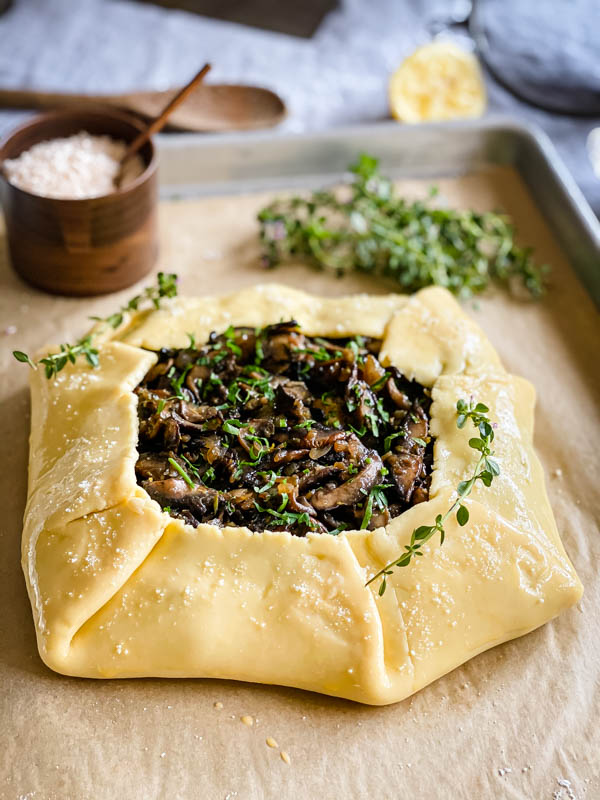 Prepare Ahead (Options)
Pastry – can be prepared 1-2 days in advance and kept refrigerated. During this time you can also roll it out into a circle, so it's all ready for assembling. If you do this, take it out of the fridge for 5-10 minutes so it's not too firm to fold. This pastry also freezes well, so you can double the mixture and freeze some for another time.
Cheese Mix – can be made 1-2 days ahead of time also but add the parsley and egg just before using.
Mushroom Mix – can be made earlier in the day and set aside at room temperature. You can also make it the day before and refrigerate it overnight. Remove it from the fridge and allow it to come to room temperature before assembling.
Serving Suggestions/Storage
I just love that this galette can be served warm or at room temperature. Any leftovers (very rare in our house!) are also great cold the next day.
For entertaining or family meals, serve with a simply dressed green salad. It can also be sliced and served as part of a buffet-style casual meal. Great lunch, dinner or picnic fare.
Any leftovers can be stored in the fridge for up to 2 days.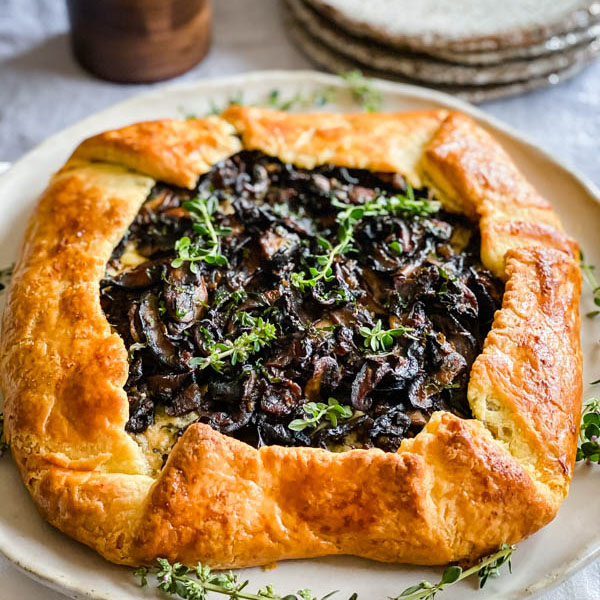 Equipment
food processor

Rolling Pin

oven tray or half baking sheet, lined with baking paper

large frying pan (26-30cm)

Cheese Grater

Pastry Brush

medium bowl
Ingredients
Pastry:
150

g

flour

plain

115

g

butter

salted, chilled and cut into small 1cm cubes

75

g

full-fat sour cream

chilled

5

ml

lemon juice

(1 tsp)
Mushroom Mixture:
1

tbsp

olive oil

extra virgin

250

g

portobello mushrooms

cleaned, stalks removed and sliced into 1/2cm slices

250

g

swiss brown mushrooms

cleaned, stalks removed and sliced into 1/2cm slices

200

g

shiitake mushrooms

cleaned, stalks removed and sliced into 1/2cm slices

5

thyme sprigs

fresh, tied together with kitchen string

30

g

butter

salted

1

onion

brown, peeled and finely chopped

3

garlic cloves

crushed

1

tbsp

parsley

continental, chopped

1/4

tsp

black pepper

freshly ground

1/4

c

sherry

or madiera

1/2

tsp

sea salt

approximately for seasoning throughout the cook

1

tsp

dijon mustard

1

tsp

lemon juice

1

lemon, zest of
Cheese Mixture:
150

g

ricotta cheese

80

g

gruyere cheese

grated

50

g

parmesan cheese

grated

2

tbsp

parsley

continental, chopped

1

egg

lightly beaten
Egg Wash:
1

egg

lightly beaten

1

tsp

milk

or cream
Garnish:
parmesan cheese

extra for sprinkling over pastry top

parsley and thyme leaves

extra for garnishing (optional)
Instructions
MAKE THE PASTRY DOUGH: Measure the flour into the bowl of a food processor. Scatter the cold cubes of butter over the top. Process in short bursts until the mixture forms chunky breadcrumbs. Add the chilled sour cream and lemon juice and pulse again until mixture almost forms a ball. Remove onto a pastry mat or a sheet of glad wrap. Cover loosely and using your hands, flatten the pastry into a thick round disc. Cover in the pastry mat or glad wrap and refrigerate for at least 30 minutes.

MAKE THE CHEESE MIXTURE: In a medium-sized bowl, add all the ingredients and mix to combine. Refrigerate until required.

MAKE THE MUSHROOM MIXTURE: In a large frying pan heat the olive oil over medium-high heat. Add the mushrooms and spread them out evenly. Leave them for a minute or two before stirring, so the bottom ones start to brown. Add the bunch of thyme and stir the mushrooms every minute or so, until the mushrooms are nicely browned and all the moisture is gone from the pan. The mushrooms will start to caramelise slightly. This will take about 5-6 minutes.

Add the butter, onion, garlic, parsley, pepper and season lightly with salt. Cook for another 5 minutes, stirring frequently, until the onions have softened.

Add the sherry and stir to deglaze the pan. Cook until all the sherry liquid has evaporated and the mushrooms are caramelised and tender. Add the lemon juice, zest and mustard and stir through. Taste and season with a small amount of salt if required, remembering the cheese will be slightly salty too. Remove the thyme sprigs and discard. Set mixture aside to cool to room temperature before assembling the galette. To speed up the cooling process, you can spread the mushroom mixture onto a tray.

EGG WASH: In a small bowl, whisk together the egg and milk. Set aside.

ASSEMBLE THE GALETTE: Preheat the oven to 200°C (400°F). Remove the dough disc from the fridge. Dust a work surface with flour (I use a pastry mat or a sheet of baking paper but you can use the kitchen bench) and lightly dust the dough disc with flour. Take a rolling pin and roll out the dough to form a 30cm (12inch) round. If the dough is quite firm, let it rest on the bench for 5 minutes. Start from the middle of the dough disc and roll out, rotating the dough around as you go, so it doesn't stick to the work surface. Continue to lightly dust the dough and work surface with more flour if required. Once rolled, carefully transfer the dough round to a baking paper lined oven tray. At this stage, I like to chill the dough in the fridge for 15-20 minutes, as rolling it out causes the pastry to warm up and soften.

Tip: By using a pastry sheet or baking paper, this enables you to easily transfer the rolled out dough to the oven tray. Use 2 pieces large enough to accommodate a 30cm circle of dough, one underneath the dough and one on top and place the dough disc right in the centre. By rolling the dough out between the sheets of baking paper you won't need much flour (if any). Once the dough is rolled out, you simply peel off the top sheet and transfer the bottom sheet with the rolled out dough straight onto the oven tray.

Once the mushrooms have cooled to room temperature, add half of them to the cheese mixture.

Remove the now chilled 30cm dough circle from the fridge. Spoon the cheese mixture into the middle of the dough, spreading it out evenly, leaving a 3-4cm border of dough on all sides. Spoon the remaining half of the mushrooms over the top of the cheese mix and spread out evenly.

Carefully fold the dough sides up and over the top of the filling, keeping the shape of the circle as best you can and leaving the centre exposed. Don't be too precious with the folding, as it is a rustic looking tart (see photos).

Brush the pastry with egg wash. Sprinkle with a little extra parmesan cheese and season the pastry very lightly with salt.

Sprinkle extra parsley over the mushrooms (optional) and bake in the preheated oven for 35-45 minutes or until the pastry is golden in colour. Remove from the oven and allow to cool on the tray for 5-10 minutes before serving. Garnish with extra thyme leaves if desired.
Nutrition
Calories:
512
kcal
|
Carbohydrates:
30
g
|
Protein:
18
g
|
Fat:
36
g
|
Saturated Fat:
21
g
|
Cholesterol:
146
mg
|
Sodium:
619
mg
|
Potassium:
596
mg
|
Fiber:
3
g
|
Sugar:
4
g
|
Vitamin A:
1272
IU
|
Vitamin C:
8
mg
|
Calcium:
335
mg
|
Iron:
2
mg