Introducing one of my favourite quinoa salads. It has great flavour and sweetness from roasted vegetables (baby carrots, beetroot, pumpkin and onion) with a hit of saltiness from creamy feta cheese and texture from 'al-dente' quinoa, toasted pine-nuts and crispy kale. A fresh orange dressing completes this hearty salad that can be served as a main meal or a side-dish. A cafe quality salad that you can make at home for family, or for entertaining. Oh and it's gluten-free too. The recipe may seem long, but once you've roasted the vegetables, the rest is completed in under 20 minutes.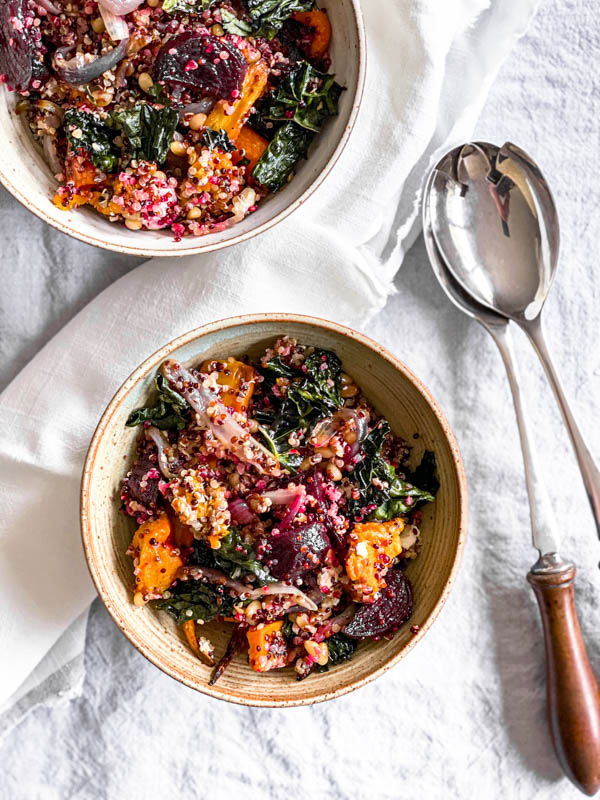 This is the perfect salad to make when you are catering for both vegetarians and non-vegetarians as it can be served alongside meats but also eaten on its own. I served this as part of our Christmas lunch one year and the vegetarian at our table was very happy!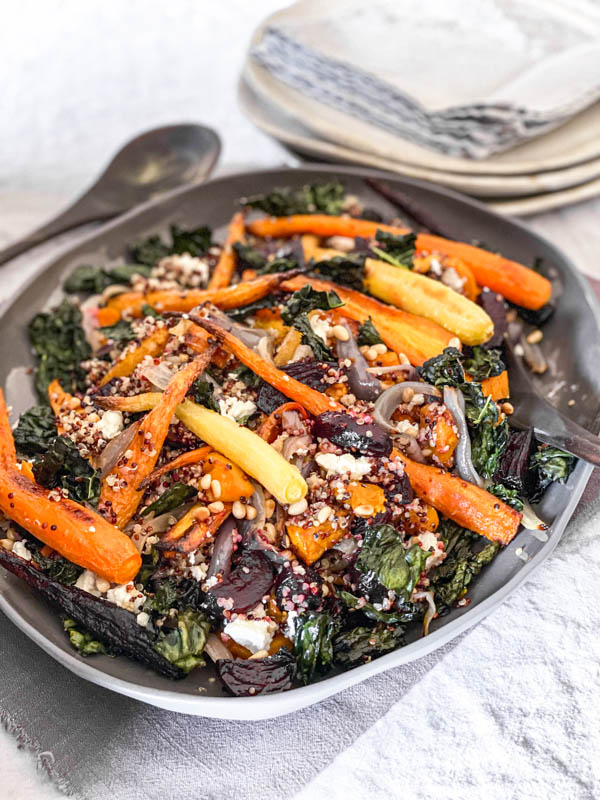 Please don't be put off by the list of instructions in this recipe. Most of them relate to roasting the vegetables, which isn't a complicated task. The time to do this will only vary depending on the number of oven trays that you have.
The salad is made up of 3 main parts.
The first is the roasting of the vegetables. It's not a hard process at all but can take time. If you have more than one oven tray, you can roast multiple vegetables at the same time. The beauty of this recipe though is that all the preparation, including the roasting of the vegetables, can be done ahead of time.
The second process is to cook the quinoa (pronounced 'keen-wah'). This only takes 15-20 minutes and is a very simple task.
The third part is to make the dressing – another very easy step. Everything is put in a jar and shaken, or whisked together in a bowl or jug.
Now that we have touched on some of the steps, let's take a look at the ingredients required to make this salad.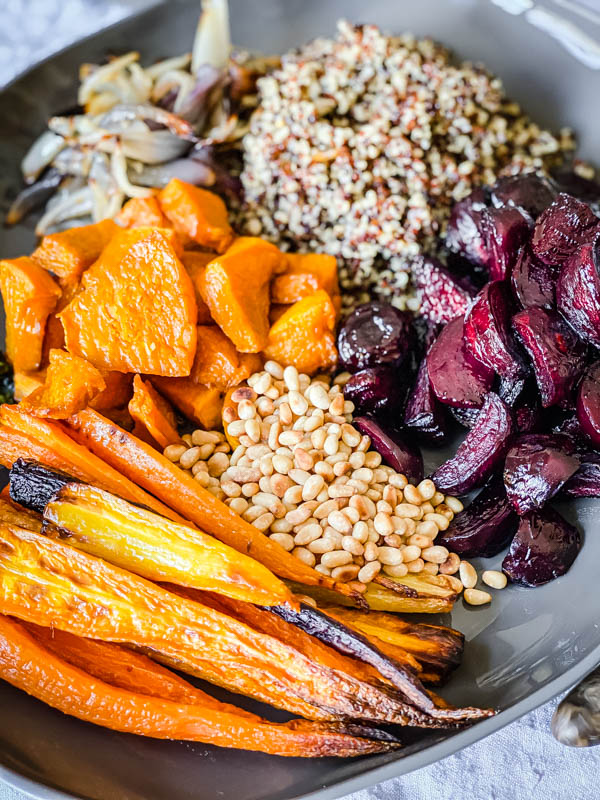 Ingredients
Olive Oil – used for roasting the vegetables and also in the salad dressing. Please use a good quality extra-virgin olive oil as it has much better flavour.
Baby Carrots or Baby Heirloom Carrots – these are the ones usually sold in bunches with the green carrot tops still attached. They are smaller and sweeter than normal carrots. There are approximately 8 baby carrots to a bunch.
Baby Beetroot – again these are smaller than the normal sized beetroot. If you can't get baby beetroot, then just cut the larger sized beetroot into small wedges (see photos).
Pumpkin – I prefer to use the Kent variety (also called Japanese or Jap Pumpkin), but any pumpkin variety will do.
Red Onions – red onions are preferred but if you only have brown onions, then they can be used too.
Quinoa – Quinoa is an ancient seed that is a great gluten-free alternative to grains. It is rich in protein and dietary fibre and is part of the Amaranth family. While quinoa itself is quite bland, it has great texture and is mostly used with other flavoursome ingredients in salads, soups or as a substitute for rice. It is readily available in supermarkets and I often use the 'tri-colour' packets which consist of a mix of white, red and black quinoa. You can use this or just use white quinoa which is more common and readily available.
Kale – I love kale chips so for this recipe I crisp up kale leaves in the oven. This only takes 10-15 minutes and can be prepared ahead of time.
Pine-nuts – these are toasted. The easiest way to toast them is to pre-heat a frying pan over a medium heat and add the pine-nuts. Stir them often, until they are golden all over. This only takes a few minutes. Set aside to cool. This can be done the day before.
Dressing Ingredients – the dressing for this salad is made up of freshly squeezed orange juice, extra-virgin olive oil, honey, mustard and white wine vinegar (or white balsamic).
Marinated Feta Cheese in Olive Oil – this is the marinated feta that is bought in jars. I often use the olive oil that it is marinated in for the dressing, as it has great flavour.
Sea Salt and Freshly Ground Black Pepper – for seasoning of the vegetables, in the dressing and when assembling the salad (if needed).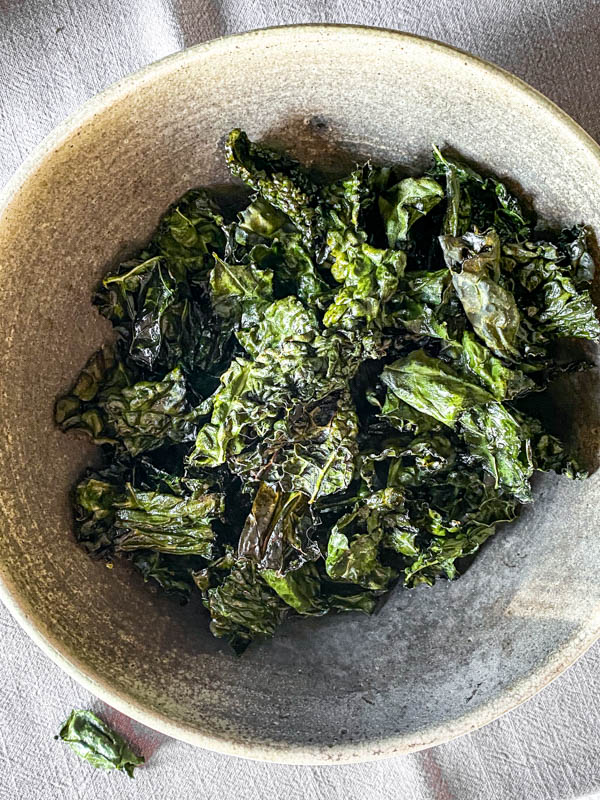 What are Kale Chips?
Kale chips are basically raw kale leaves that are chopped into bite-sized pieces (thick central stem removed first), drizzled with a little olive oil, seasoned with sea-salt and baked in the oven at a moderate heat until they are crispy. They only takes 10-15 minutes to become crispy.
The kale chips can be eaten as a snack as they are, or added to salads to provide extra texture and crunch.
They can also be flavoured with ingredients like nutritional yeast, chilli flakes or parmesan cheese before they are baked in the oven.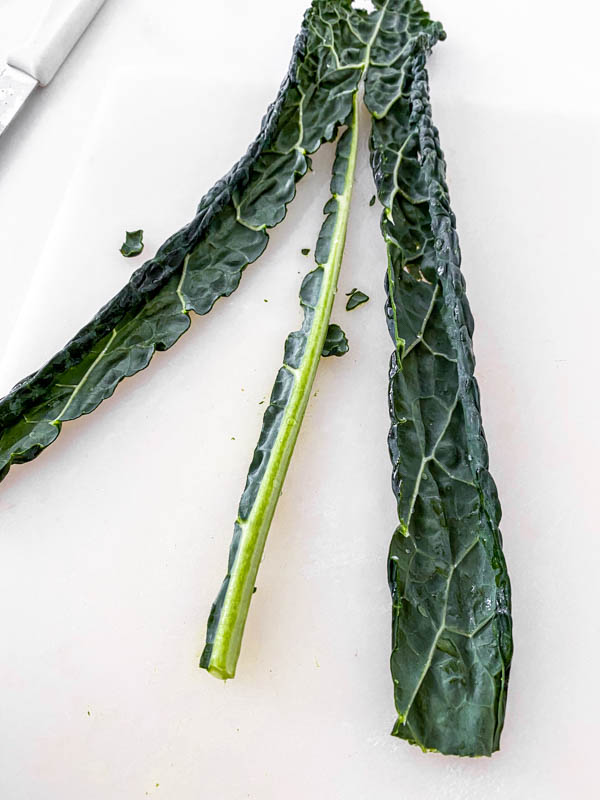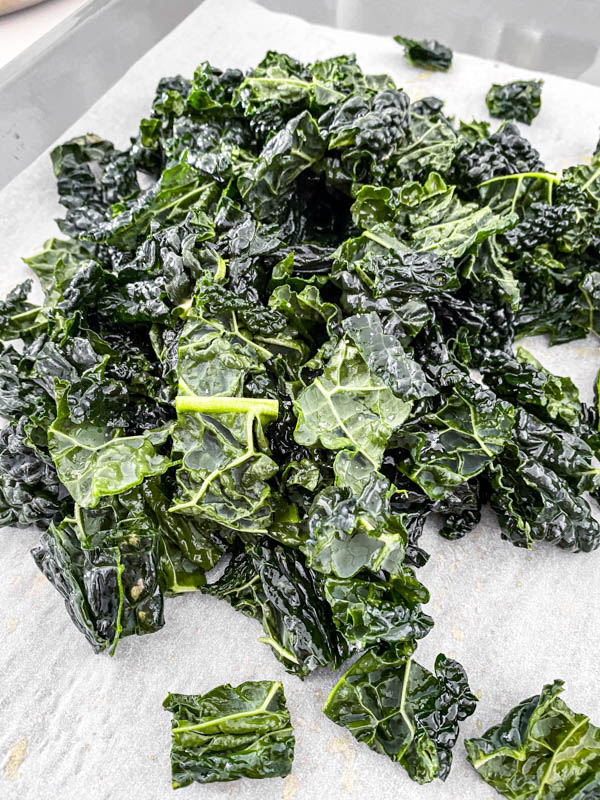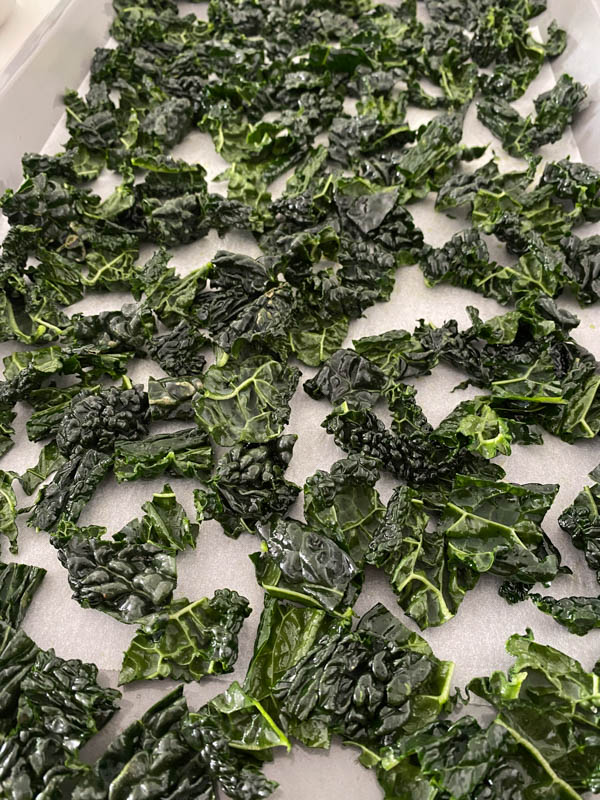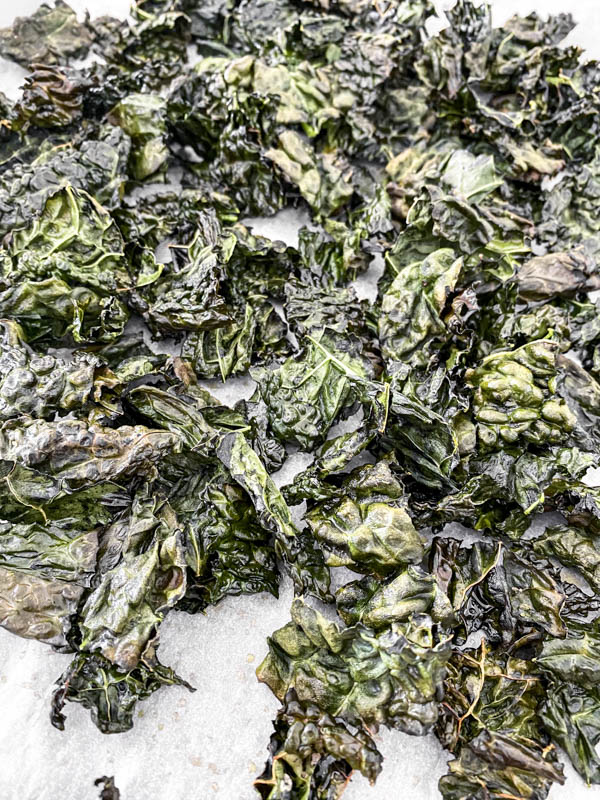 Method
To roast the vegetables: When roasting the vegetables for this salad, make sure they are nicely caramelised around the edges as this gives great sweetness and depth of flavour. Cooking times can vary for the vegetables. For example, while the carrots are of a similar size, there are some that are slightly smaller than others, so if you notice the smaller ones are ready, before the others, then remove them and leave the others in for longer.
To roast the beetroot: I like to first roast them in an enclosed aluminium-foil parcel so they steam until cooked. Then for the last 15-20 minutes of cooking time, I remove the top layer of the parcel to expose the beetroot and roast them. This will result in the beetroot being cooked through with a little caramelisation on the outside and a lovely sweet flavour. Often I see recipes that understate the time it takes to cook beetroot. Beetroot will take around an hour to cook properly.
Quinoa: To cook the quinoa 'al-dente', I use the ratio of 1 cup of quinoa to 1 3/4 cups of water or stock. A lot of recipes call for 1 cup quinoa to 2 cups liquid, but I find the quinoa can often go a little soggy/gluggy in this amount of liquid. When using quinoa, you must also rinse the quinoa first before cooking it. This helps remove a natural coating on the quinoa seeds called saponin. Saponin protects the quinoa plant from fungal and insect attacks, but can also make the quinoa taste 'bitter and soapy' so rinsing the quinoa vigorously (using your hands to rub the grains) under running water for approximately 20 seconds will remove this coating. Once the quinoa has been rinsed, place it in a pot with the stock (or water), and just let that sit for 15 minutes before cooking (it is said that this helps activate enzymes which make the quinoa more digestible and nutritious). To cook the quinoa, bring it to the boil and then reduce the heat to low (lid on) and cook for 10-15 minutes or until all the water has just evaporated (mine took 12 minutes). Fluff the quinoa with a fork, turn off the heat, and leave with the lid on for 10 minutes. These simple and quick steps are very easy to do and will make your quinoa eating experience an enjoyable one!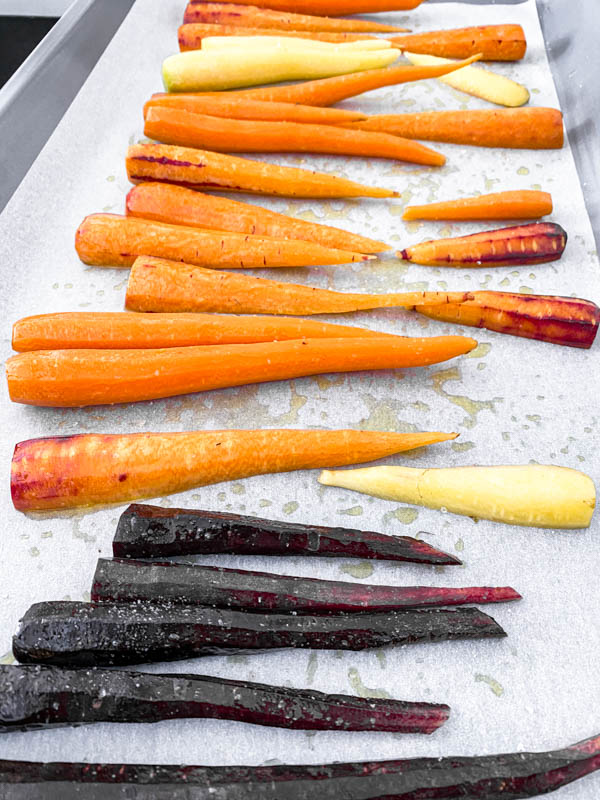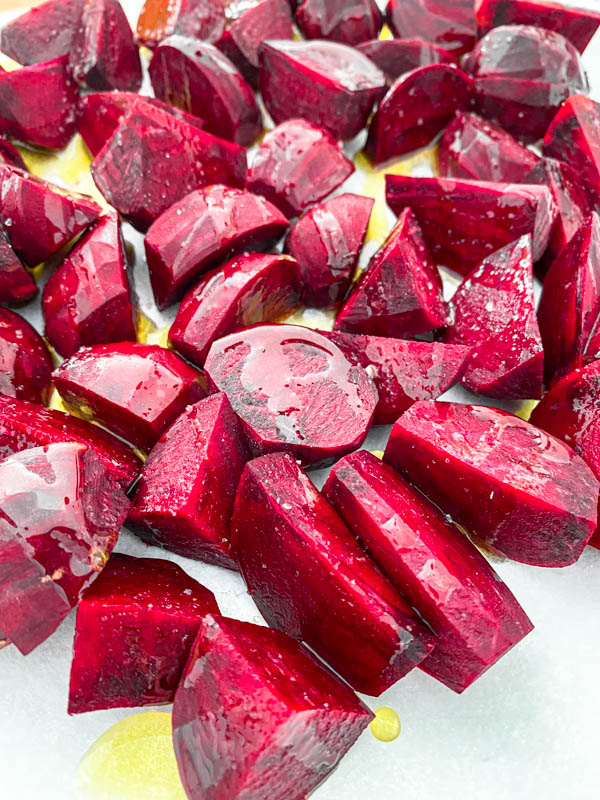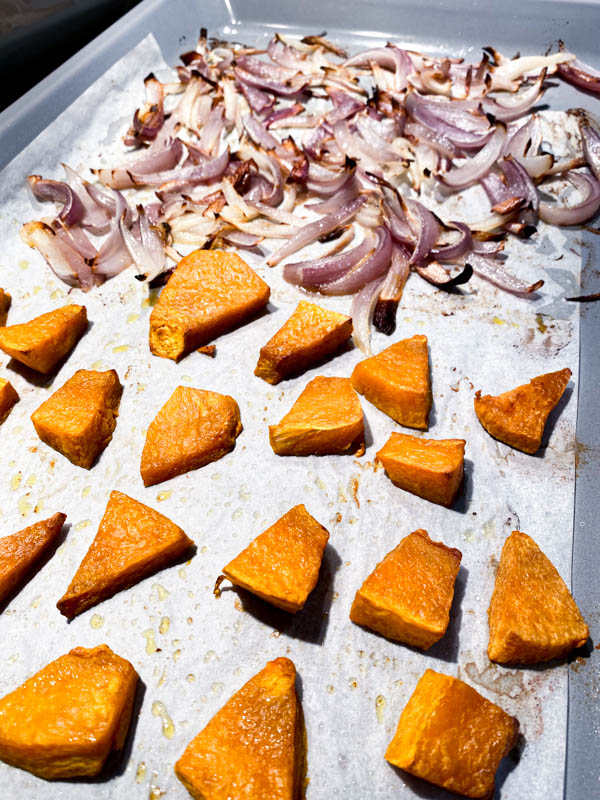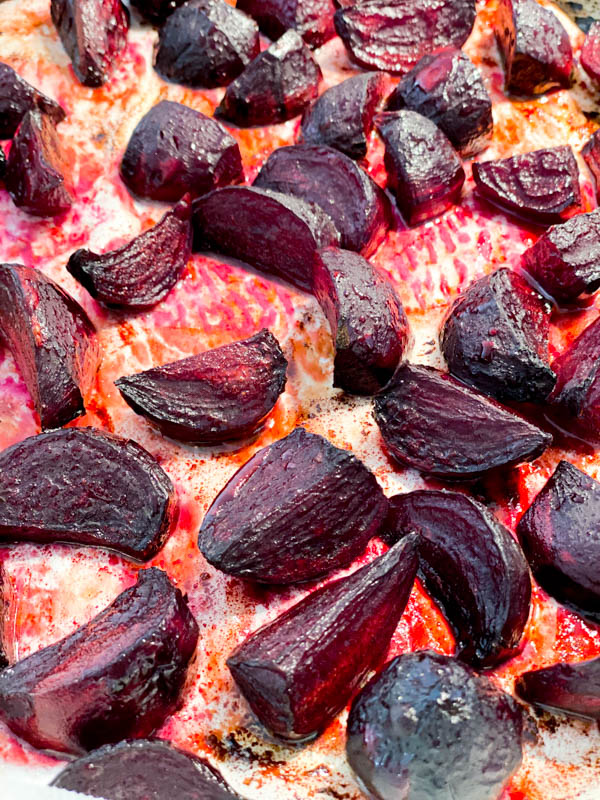 To Serve/Prepare Ahead
All the components of this salad can be made ahead of time:
The day before (up to two days before):
Toast the pine-nuts and once cooled, store in an airtight container at room temperature.
Make the dressing and store in a sealed jar or jug in the fridge. Remove 30 minutes before using to allow it to come to room temperature.
Earlier on the same day you are serving the salad:
Roast all the vegetables – carrots, beetroot, pumpkin and onions, and set aside, covered, at room temperature.
Prepare and cook the quinoa. Set aside, covered at room temperature (or place in the fridge and remove 30 minutes before serving).
Feta – line a bowl with a double layer of paper towels. Place cubes of the feta onto the paper towels to allow the oil to drain away. Cover the bowl and keep in the fridge until required.
Once everything is prepared, all that is required is to assemble the salad which can be done an hour before serving. Add the feta just before serving.
Being able to prepare all these components ahead of time, makes this salad ideal for entertaining.
Storage:
Any leftovers are still great the next day. Keep refrigerated. I do not recommend freezing this salad.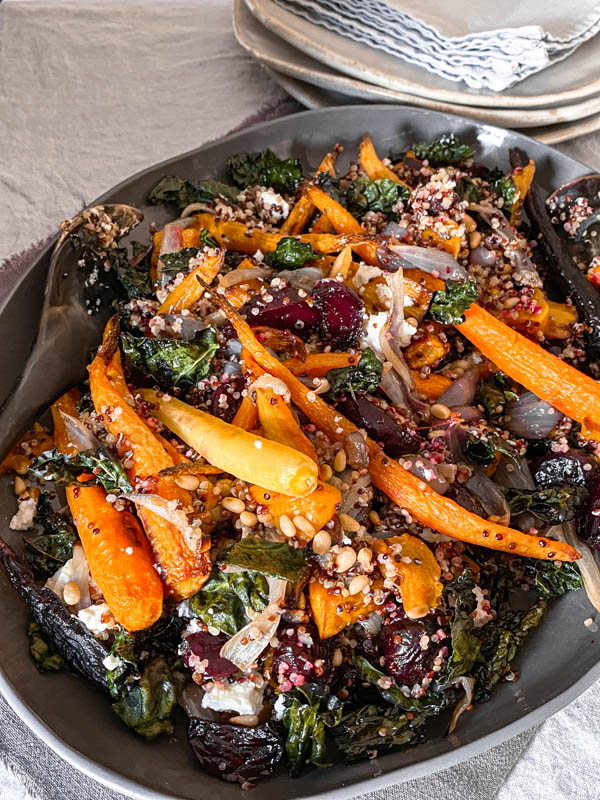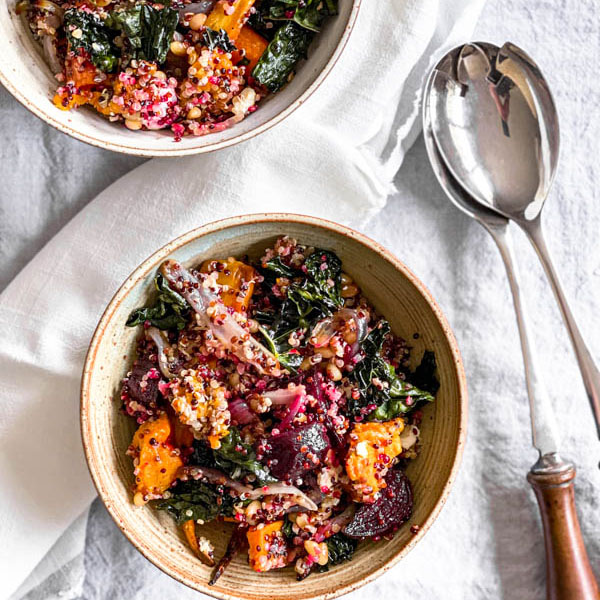 Equipment
oven trays

medium saucepan

Frying pan

small bowl, jug or jar
Ingredients
Salad
2

tbsp

olive oil

extra virgin, for roasting vegetables (approx)

1.5

tsp

sea salt

to season vegetables (approx)

16

baby carrots

or heirloom, (2 bunches), peeled, trimmed and larger carrots cut in half lengthways

12

baby beetroot

peeled, trimmed and cut into halves (larger into quarters)

1/4

small kent pumpkin (approx 350gm piece)

skin and seeds removed and cut into 2-3cm bite-sized pieces

2

red onions

peeled, halved and each half cut into 6 wedges

200

g

kale

I use tuscan kale – washed and dried, thick middle stem removed and leaves cut into 2cm bite-sized pieces

1

c

quinoa

tri-colour or white

1 3/4

c

water or stock

(chicken or vegetable stock)

4

tbsp

pine-nuts

toasted until golden

150

g

feta

marinated in oil, drained
Dressing
2

tbsp

olive oil

extra virgin

2

tbsp

white wine vinegar

or white balsamic vinegar

1.5

tbsp

orange juice

freshly squeezed

2

tsp

honey

1

tsp

wholegrain mustard

or dijon

salt and pepper to taste
Instructions
Kale:
Preheat the oven to 150°C (fan forced). Line an oven tray with baking paper.

To make the kale chips for the salad: Wash and dry the kale leaves thoroughly. Remove the tough central stem and chop the green leaves into 2-3cm bite-sized pieces. Place them on the oven tray and drizzle over a small amount of olive oil to just coat the leaves. Season with a small amount of salt and massage the oil and salt into the leaves. Spread the leaves out in one layer and cook for 10-15 minutes until crispy. In my oven this took 12 minutes. Please keep an eye on them in the last few minutes as they can go from crispy to burnt very quickly. Remove from the oven and place in a bowl. Once cooled, cover and set aside.
Roasting the vegetables: see notes
Preheat the oven to 170°C (fan forced) or 190°C. Line 2-3 oven trays with baking paper. The vegetables may have to be cooked in 2 batches, depending on how many oven trays you have and whether you have a fan forced option on your oven. If you don't have a fan forced option, the vegetables will need to be cooked one tray at a time.

Place the prepared carrots on an oven tray and the pumpkin and onions on a second oven tray. Drizzle with olive oil and season with salt (only put a small amount of olive oil on the pumpkin or use olive oil spray for them, as they can become soft if too much oil is used). Rub the oil into the carrots so they are well coated and spread them out. Spread out the pumpkin so they are all flat on the tray. Cook the carrots for 35-40 minutes (turning half-way through) or until cooked and tender. Cook the pumpkin and onions for 25-30 minutes or until pumpkin and onions are nicely caramelised and cooked. Give the onions a bit of a stir halfway through cooking time.Once the vegetables are cooked, remove from the oven and allow to cool on the trays. Remove to a plate or platter and set aside.

Place the beetroot on a piece of aluminium foil that is lined with baking paper. The pieces should be large enough to enable the beetroot pieces to be in one layer. Drizzle with olive oil, season with salt, and cover the beetroot with another sheet of baking paper and aluminium foil over the top. Fold up/scrunch up the edges of the foil to form a parcel to enable the beetroot to steam. Place the parcel onto an oven tray and cook for 45-50 minutes or until the beetroot are soft. Remove the cover of the parcel carefully to expose the beetroot and place back in the oven for a further 15-20 minutes until slightly caramelised. Remove from the oven and place in a bowl. Note: If you have a third oven tray, the beetroot can be cooked at the same time as the other vegetables, but for a longer time.

Once all the vegetables are roasted and cooled, they can be left out at room temperature, covered, until ready to assemble. I often put them all on a large platter ready to be tossed. While the vegetables are cooking, you can prepare the quinoa and other ingredients.
To Cook Quinoa:
Rinse the quinoa thoroughly under running water (I do this in a fine mesh sieve), rubbing the seeds with your fingers for 20-30 seconds. Drain and place the quinoa into a medium sized saucepan. Add the stock or water and set aside to soak for 15 minutes. Bring to the boil, reduce the heat to low and cook with the lid on for 10-15 minutes or until the liquid has just evaporated. Fluff the quinoa with a fork, replace the lid and set aside for 15 minutes. Remove to a bowl or platter until required.
Pine-nuts:
To toast the pine-nuts, preheat a frying pan over medium heat and add the pine-nuts. Stir them frequently until golden (approx 3 minutes). Set aside in a bowl to cool.
Orange Dressing:
Place all the dressing ingredients – olive oil, honey, orange juice, mustard and vinegar into a small jar or bowl. Put the lid on the jar and shake or whisk in the bowl until combined. Season to taste with salt and pepper.
To Assemble the Salad:
All the ingredients (except the feta) will now be at room temperature.

To assemble the salad: Place the cooked quinoa, roasted vegetables (carrots, beetroot, pumpkin and onions), toasted pine-nuts and some of the kale onto a large platter. Drizzle over 3/4 of the dressing and toss gently. Grind over black pepper and season with salt if required. Take the feta and crumble over the top of the salad. Drizzle over the remaining dressing, then sprinkle over more of the kale chips (you may not use all the kale chips) and serve.
Notes
Roasting Vegetables:
Keep an eye on the vegetables as they are cooking. Some carrots may be ready sooner than others, even though they are of similar size as some parts of our ovens are hotter than others. Remove any that cook sooner (place them on a plate), and let the rest caramelise more until they are ready. Getting a nice caramelisation on the vegetables adds more depth of flavour and brings out their sweetness.
Nutrition
Calories:
241
kcal
|
Carbohydrates:
29
g
|
Protein:
8
g
|
Fat:
11
g
|
Saturated Fat:
3
g
|
Cholesterol:
12
mg
|
Sodium:
570
mg
|
Potassium:
754
mg
|
Fiber:
5
g
|
Sugar:
11
g
|
Vitamin A:
4363
IU
|
Vitamin C:
34
mg
|
Calcium:
132
mg
|
Iron:
2
mg