This Roasted Ratatouille Salad recipe is an interpretation of the more traditional French version which is more like a stew. It is utterly delicious and a real favourite of mine. The roasted vegetables are tossed with a sweet, sour sherry vinegar dressing with pops of saltiness from Sicilian olives and capers. You must try this salad as it is loved by both my vegan and vegetarian friends as well as meat eaters.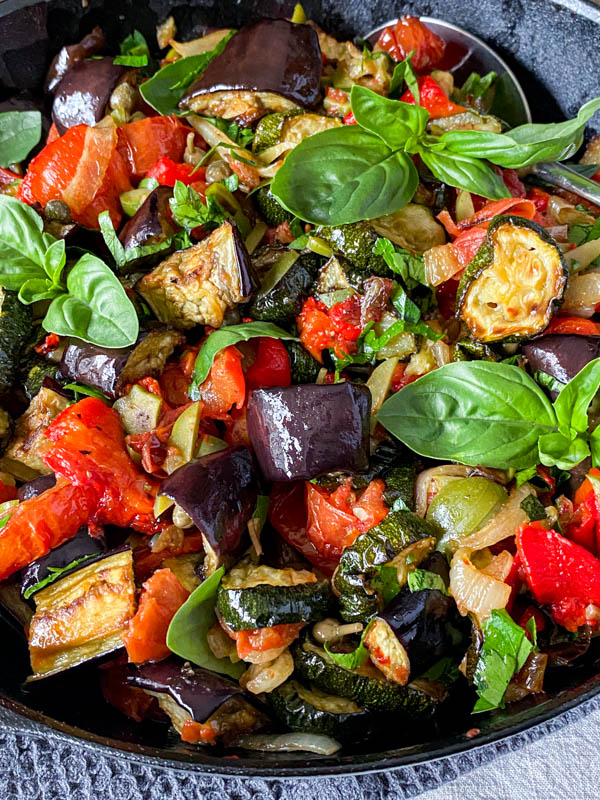 This is a room temperature salad and it is so versatile. It is wonderful eaten on its own as a meal, making it ideal when catering for vegans or vegetarians. It can also be served as a side salad to accompany fish, beef, lamb or chicken dishes. I often serve this dish if I have a group of friends over and I have to cater for both vegetarians and meat-eaters.
It's also a great salad to take to a barbecue or picnic and leftovers are wonderful for breakfast or brunch with a poached or fried egg!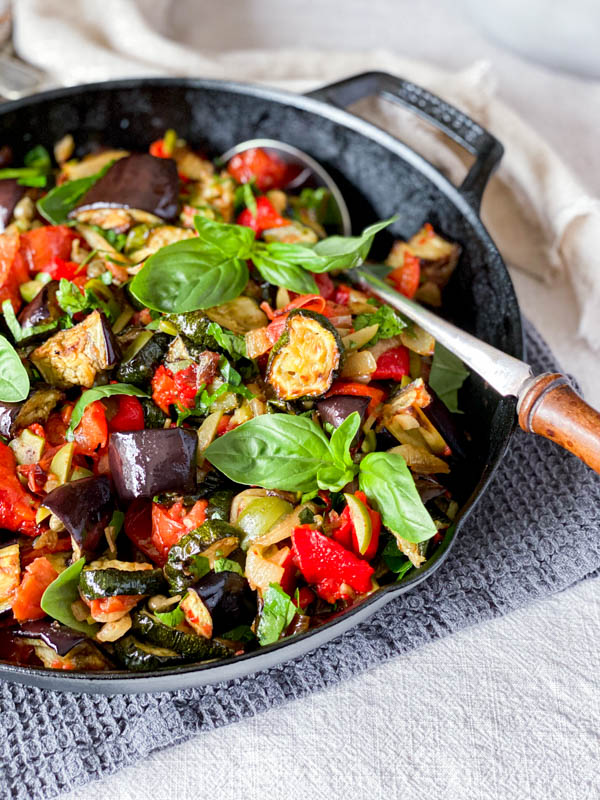 I just love the flavours in this salad. The dressing complements the roasted and caramelised vegetables beautifully. You must make this salad! I'm sure you will make it again and again like I do.
Here are the ingredients you will need to make this salad: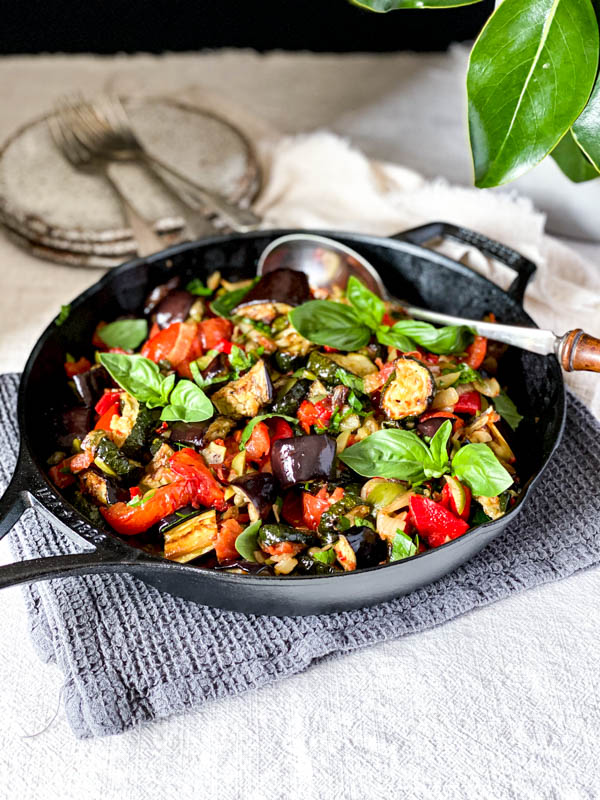 Ingredients you will need
Eggplant (Aubergine) – buy nice firm eggplants. The recipe uses three small to medium sized eggplants or 2 large. I prefer to buy small to medium sized ones if I have the choice.
Zucchini (Courgette) – again, firmer is better here and smaller to medium size instead of the older larger ones which can be more floury inside.
Red Pepper (Capsicum) – for this recipe they are roasted and then the skin is peeled off before being cut up for the salad.
Tomatoes – use large sweet and ripe tomatoes for the best flavour.
Onion – brown or red
Olive Oil – use a good quality fruity extra-virgin olive oil
Garlic – fresh garlic
Sherry Vinegar
Brown Sugar
Sicilian Olives – most Sicilian Olives are bought with the stone in. Simply cut around the stone with a knife and then cut into slices. I like the firmer texture and flavour of these olives, but you can use any black or green olives for this recipe.
Capers – I buy a local brand and their capers are fantastic. Try to use the salted capers versus the ones in liquid. Simply rinse the salted capers in running water to remove the excess salt and pat dry. Buy a quality brand and you will taste the difference! They are also firmer and fresher in texture.
Fresh Basil
Fresh Italian Parsley
Salt and Pepper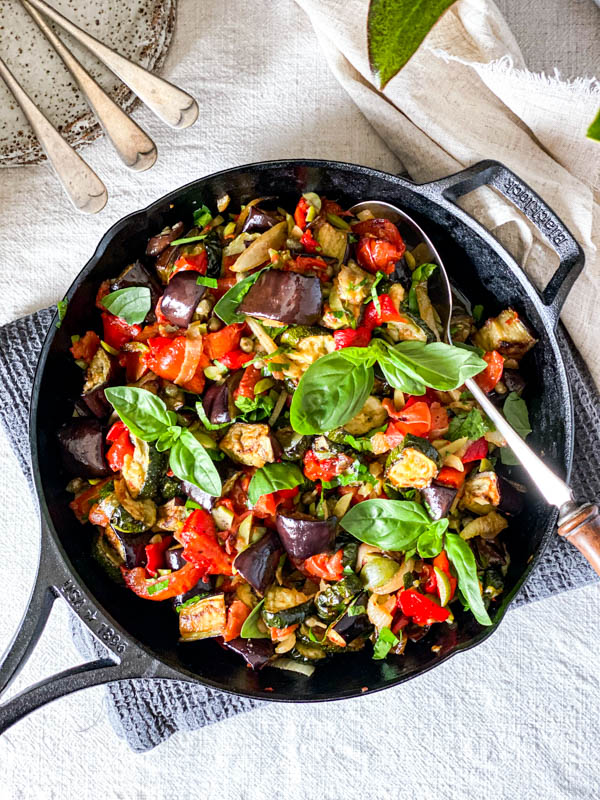 How to Make this Salad
This is an easy salad to make. There are two parts to making this salad. The first part is roasting all the vegetables and the second part is preparing the dressing and other additions.
It does take a little time to roast the vegetables. Please don't let that put you off though as the process itself is easy…we all know how to roast vegetables. The rest of the salad is quick to prepare. The end result is totally worth it! To help speed up the roasting process, if you have a fan-forced oven, you can roast multiple trays of vegetables at once which will save you time. Whichever oven you have, just be sure not to crowd the oven trays with vegetables as they will not caramelise nicely. They need to be spread out in one layer with a little room between them. It's important to achieve a nice caramelisation on the vegetables (see photos below). In my experience, the zucchini and tomatoes can often take the longest as they do have more moisture in them. Also be aware that on one tray, some pieces may brown more quickly than others, so remove the ones that are ready and leave the rest in longer. All ovens have hot spots which is why you need to use your own judgement sometimes.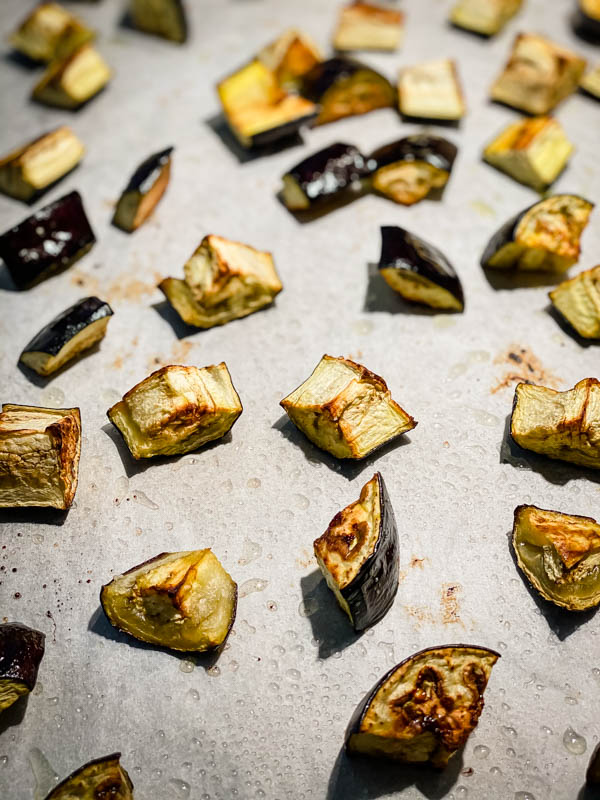 Once the vegetables are nicely caramelised and cooked, they are removed from the oven and set aside at room temperature on a plate or tray. By the way, the vegetables can be prepared and roasted earlier in the day.
The second part of the salad is preparing the capers, slicing the olives and making the dressing. The dressing is made by slowly cooking the onions in olive oil, followed by the garlic in a frying pan until they are soft (see photo below). Then the sherry vinegar and sugar is added to the pan and cooked together for a few minutes. The slow cooking of the onions and garlic on the stovetop takes about 35 minutes but can be done while the vegetables are cooking in the oven.
Now that everything is prepared it is just a matter of assembling the salad. The roasted vegetables, sliced olives and capers are placed on a platter or in a salad bowl. The onion/dressing mix is added and everything is tossed together gently so that all the vegetables get coated with the dressing. Season with salt and pepper. Sprinkle over the herbs and it is ready to serve.
A really lovely combination of flavours. The salad can be assembled an hour or two ahead of time.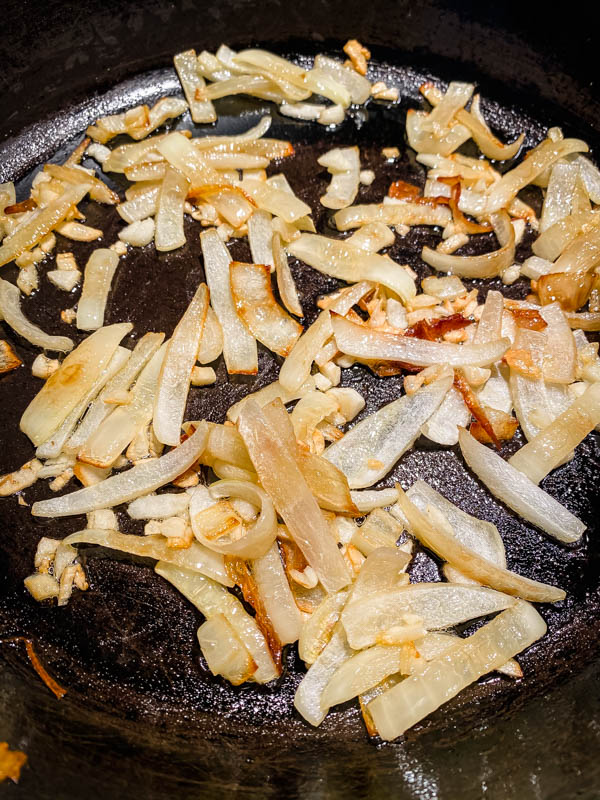 Serving Suggestions/Prepare Ahead
As mentioned earlier this salad can be served as a meal on its own, or as part of a meal alongside other dishes. If serving on its own, provide some artisan bread to mop up the dressing and juices.
Here are some other suggestions for using this salad:
Use as a topping for bruschetta.
Can also be served alongside cheeses like feta, ricotta or buffalo mozzarella as part of an antipasto starter with beautiful artisan bread.
The salad could also be used as a pie or galette filling using store-bought or homemade pastry.
Leftovers are great served with a poached or fried egg for breakfast or brunch.
Prepare Ahead:
The vegetables can be roasted earlier in the day and set aside at room temperature.
The whole salad can be made and assembled 1-2 hours ahead of time.
We have eaten this salad the day after it is made and it is still delicious. I'm always hesitant to say salads can be made a day ahead of time though, but in this instance, it does work. While delicious cold, I would recommend it be bought back to room temperature for best enjoyment.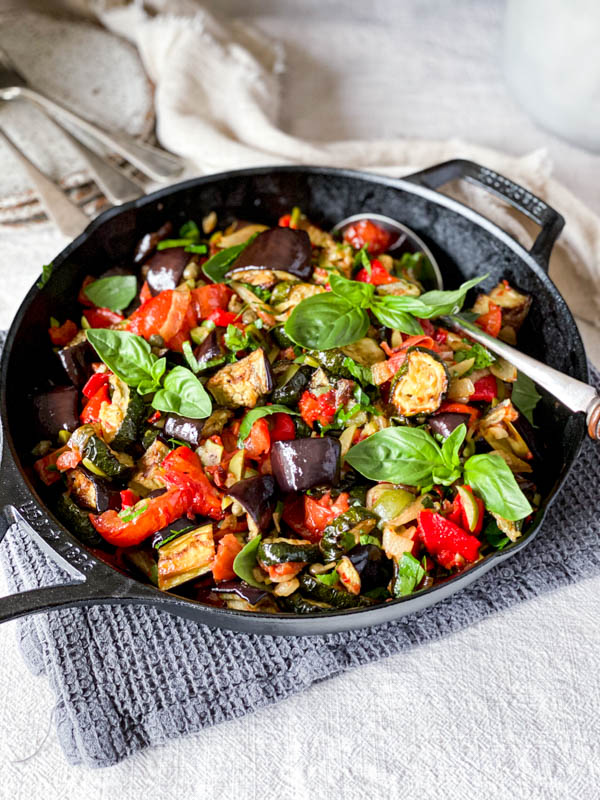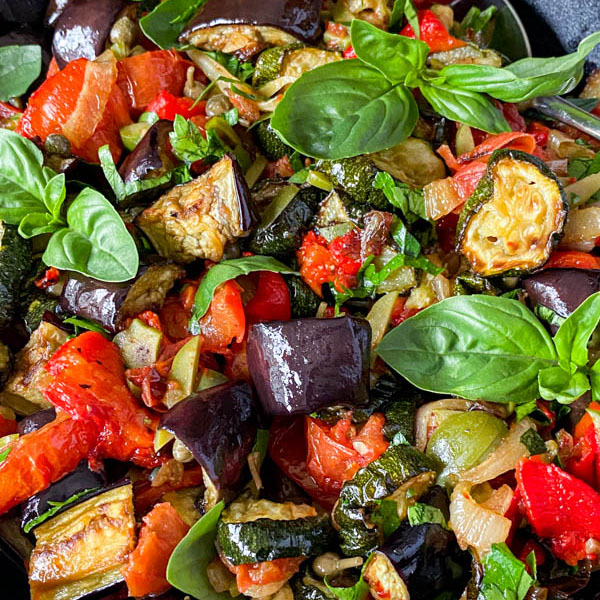 Equipment
oven trays

frying pan or sauté pan

large bowl

small bowl
Ingredients
3

small eggplant

or 2 medium/large – see note 1, cut into 2cm cubes

3

zucchini

cut into 1cm rounds

2

red peppers

core and membrane removed and cut in half lengthways

8

medium size tomatoes

sliced into 2cm thick slices

1/4

c

salted capers

rinsed under running water and pat dried

1/2

c

sliced Sicilian olives

remove stone and cut into thin slices -see note 2

1/4

c

olive oil

good quality extra virgin – may need a little more

1

onion

large, peeled, halved and sliced into 1cm wedges or slices

4

garlic cloves

peeled and chopped finely (roughly chopped)

2

tbsp

sherry vinegar

3

tsp

brown sugar

2

tbsp

Italian parsley

chopped

1

tbsp

basil leaves

roughly chopped or torn

1/2

tsp

salt

used throughout recipe for seasoning of vegetables etc

1/4

tsp

black pepper

freshly ground

basil leaves, extra

for garnish

extra salt

for seasoning at the end, if required
Instructions
To Roast Vegetables:
Preheat the oven to 200°C or 175°C fan forced.

Line up to 3-4 oven trays with baking paper. If you have a conventional oven you will be roasting the vegetables one tray at at time, whereas if using a fan forced oven you can roast multiple trays at the same time. I have used both types of ovens and the only difference is that it will take you more time in a conventional oven.

Prepare the eggplant by placing them into a bowl and lightly coating with some of the olive oil, then spreading them out onto one of the oven trays and season well with some of the salt. Repeat this process for the zucchinis and tomatoes. Tip: When roasting eggplant, I often use olive oil spray to coat them (I spray the baking paper lined tray all over, then add the eggplant in one layer, and spray the top of the eggplant pieces with more oil). The reason I do it this way is because eggplants are like sponges and tend to soak up a lot of oil, so spraying them coats them lightly and they will be less oily when cooked.

Prepare the red pepper halves by coating them lightly in olive oil and placing them skin side up on a tray.

Put the tray or trays of vegetables into the oven and roast until they are nicely browned and cooked through. Turn the vegetables (except the red peppers) over after 20 minutes so they brown on both sides. The total cooking time for the vegetables are approximate (see note 3).

Eggplant: 25-30 minutes (ie 20 minutes on one side, and 5-10 minutes longer on other side).

Zucchini: 35-40 minutes (20 minutes one side, 15-20 minutes on other side)

Tomatoes: 45 minutes (20 minutes one side, 25 minutes on other side)

Red Peppers: 30 minutes (on one side only – skin side up)

Once all the vegetables are nicely browned on both sides and cooked through, remove them from the oven and set aside to cool to room temperature on plates or a tray. Place the red pepper halves into a bowl and cover the bowl with glad wrap. Set aside for 10 minutes, then carefully remove the skin which should come off easily and discard. Cut the flesh into 2cm pieces and set aside with the other vegetables. Once cooled, add all the vegetables to a platter or salad bowl (I like to use a platter for this salad as it shows off all the colours better).
To make the dressing (this can be done while the vegetables are roasting):
Heat a heavy based frying pan over a low to medium heat and add 2 tablespoons of the olive oil. Add the onion and a pinch of the salt and stir, then reduce the heat to low and slow cook the onion for 20 minutes or until it is nicely softened but not coloured. Add the garlic and continue to cook for a further 10 minutes. In the last 5 minutes, turn the heat up to low/medium and cook until the onions and garlic are soft and only just showing a little colour on the edges. Reduce the heat to low again and add the sherry and brown sugar. Stir and cook another 5 minutes. Remove from the heat.
To Assemble the Salad:
Add the onion and sherry dressing to the roasted vegetables along with the sliced olives, capers, basil, parsley and pepper. Season to taste with salt if required. When ready to serve, garnish with the remaining basil leaves/tips.

Serve at room temperature.

Refrigerate any left over salad in a sealed container. Consume within 3 days.
Notes
Note 1: I prefer to use small to medium sized eggplant if I can find them. I recommend 3 small or 2 medium ones for this recipe. If you can only get larger sized eggplants then just use 1. Look for firm eggplants as they are fresher.
Note 2: I use Sicilian olives in this recipe and often it is hard to find them with the stone removed. Simply cut around the stone and then slice the flesh into thin slices. The 1/2 cup measurement is for the sliced flesh. I like the firmer texture and flavour of Sicilian olives in this dish but you can substitute with other green or black olives if you can't find Sicilian ones.
Note 3: Cooking times for the roasted vegetables are approximate because all ovens vary. Also some parts of our ovens can be hotter than other parts (hotspots), so even on one tray you might find some of the pieces of vegetables are browning more quickly than others. We want the vegetables to be nicely browned (not burnt) and cooked through (nothing worse than biting into an uncooked piece of eggplant!), so please use your intuition. Remove any vegetable pieces that have browned and cooked before others. Leave the others in until they are nicely browned (but not dry or crispy). See the photos. ?
Nutrition
Calories:
202
kcal
|
Carbohydrates:
23
g
|
Protein:
5
g
|
Fat:
12
g
|
Saturated Fat:
2
g
|
Sodium:
594
mg
|
Potassium:
1029
mg
|
Fiber:
8
g
|
Sugar:
15
g
|
Vitamin A:
3014
IU
|
Vitamin C:
97
mg
|
Calcium:
63
mg
|
Iron:
2
mg