This herby mayonnaise dressing is really versatile and can be used in so many different dishes. It is such a quick and easy recipe to make as all the ingredients are simply blended together in a food processor. It is creamy with a delicious mint flavour which works perfectly with potatoes, salmon, chicken and many other meats and vegetables. You'll have this dressing made in no time and it will add that extra something to whatever you choose to serve it with.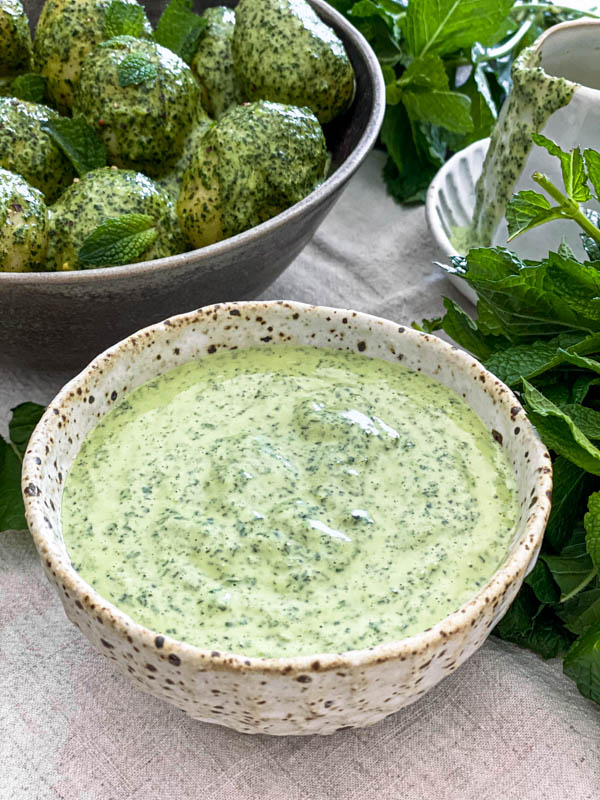 This dressing is creamy but not too heavy as the abundance of herbs used keep it light and fresh. The herbs really shine through. It is an egg and oil based dressing, much like a mayonnaise, only thinner in consistency.
The recipe makes approximately 3 cups of dressing and it can be kept in the refrigerator for 1 week. If you don't need that much dressing you can easily halve the recipe. I often make this dressing at Christmas time as I use it to make my New Potato Salad with Mint Dressing. I then use any left overs to dress lettuce salads, serve it with ham on Boxing Day, or with cooked salmon or turkey. It is also great in sandwiches or wraps. There really are so many ways to use this dressing.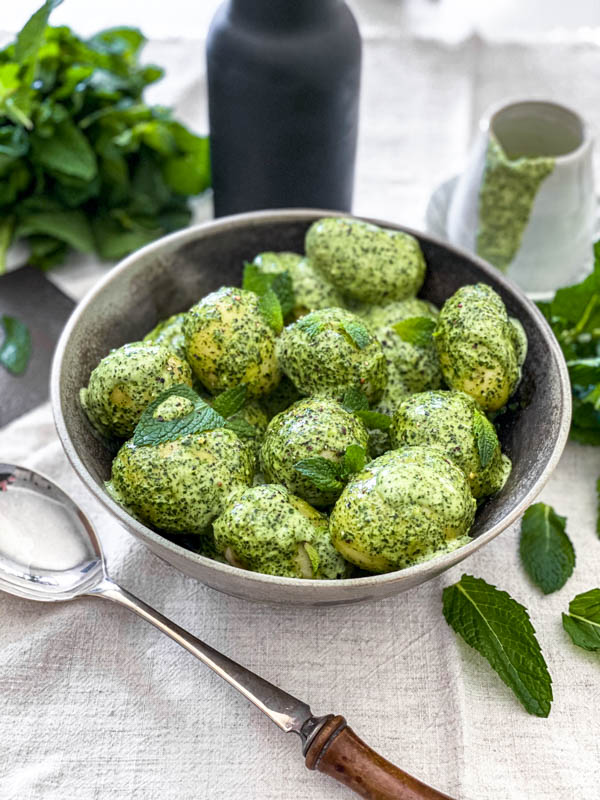 The beauty of this recipe is that once you have made it once, you can experiment and use different herbs. You could make an Asian inspired dressing using coriander and add some chilli or siracha sauce to it, or add other soft herbs like dill or tarragon in place of the mint.
This beautiful recipe was given to me by my dear Auntie Cathy who is a wonderful cook. She served this as a Potato Salad with barbequed meats and other salads. I have tweaked the quantities slightly and added an extra egg yolk to make it slightly thicker and richer. I hope you give this delicious dressing a try!
Let's take a look at the ingredients you will need to make it.
Ingredients to make the Easy Mint Dressing
Herbs – only use fresh herbs – no dried herbs for this recipe! I use mint and curly leaf parsley. The curly leaf parsley gives a lovely green colour to the dressing. You use a lot of herbs in this – a packed cup of each.
Eggs – I use large or extra large eggs (700-800g). For this recipe you'll need 2 eggs and 1 egg yolk.
Sugar – helps balance out the bitterness of the herbs. Use 1-2 teaspoons to taste.
Garlic – 2 cloves are used. Crush them first so you don't have chunks in your dressing.
White Vinegar – you can also use white wine vinegar or champagne vinegar, but I mostly use plain white vinegar.
Mustard – I use a mix of dijon and wholegrain mustard, but you can just use dijon mustard if you prefer. I quite like the little pops of wholegrain mustard seeds through the dressing.
Salt – I use sea salt
Oil – any mild flavoured oil. I use vegetable or grape seed. I prefer not to use olive oil for this as it has a stronger flavour.
Tips to help you make this dressing
This is a very simple recipe to make.
The first tip I would give is to make sure you use enough herbs so you get a nicely flavoured, herby dressing. I have included weight measurements to help you achieve this. Wash the herbs well and squeeze out any water before adding them to the food processor. No need to chop them up.
The only other tip is to take your time pouring the oil into the food processor so that you get a nicely emulsified dressing. Once all the other ingredients have been blended together, you then start pouring the oil into the feeder tube very slowly – just drizzle it in. This can take a couple of minutes. The dressing consistency will be like a runny mayonnaise but it will thicken slightly once it has been refrigerated.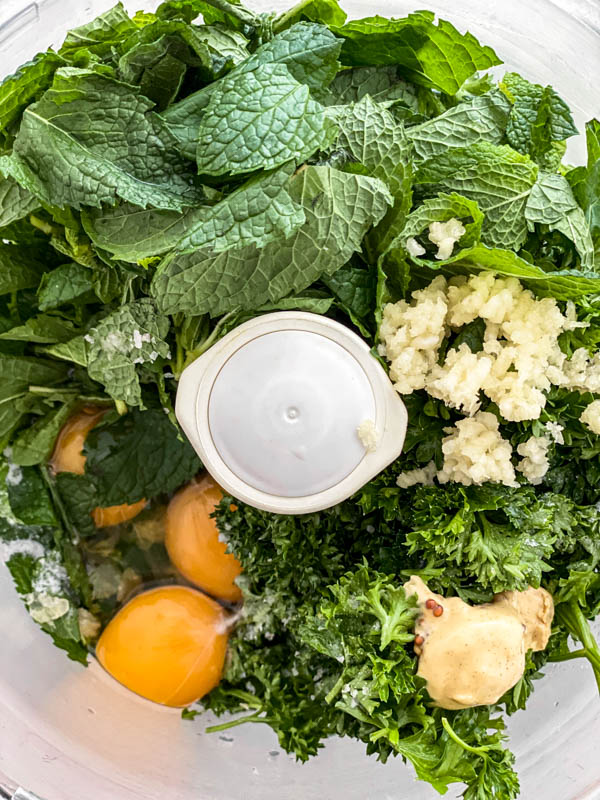 Serving Suggestions/Storage
This dressing can be added to so many things. Here are some suggestions:
Add to new baby potatoes – Boil new potatoes in salted water until soft and drain well. A little tip is once you drain any potatoes, leave them for a few minutes in the pot with the lid off as the residual heat from the pot will help dry the potatoes and remove any moisture clinging to them. Add the dressing to the potatoes while they are still hot as they will absorb the flavours of the dressing better. The dressing might darken a little which is totally fine and looks great. Carefully stir the dressing through the potatoes to avoid them breaking up, and dress with extra fresh mint leaves. Serve the potatoes warm or at room temperature, or as a cold Potato Salad.
Use as a dressing over a simple green salad – butter lettuce or iceberg lettuce with sliced tomatoes and even a boiled egg – delicious! Flake some smoked or cooked salmon or chopped cooked chicken and potatoes through the salad as well.
Add the dressing to cooked shredded chicken and mix through – use as a sandwich filling or in wraps.
Serve alongside cooked salmon, chicken, beef or lamb.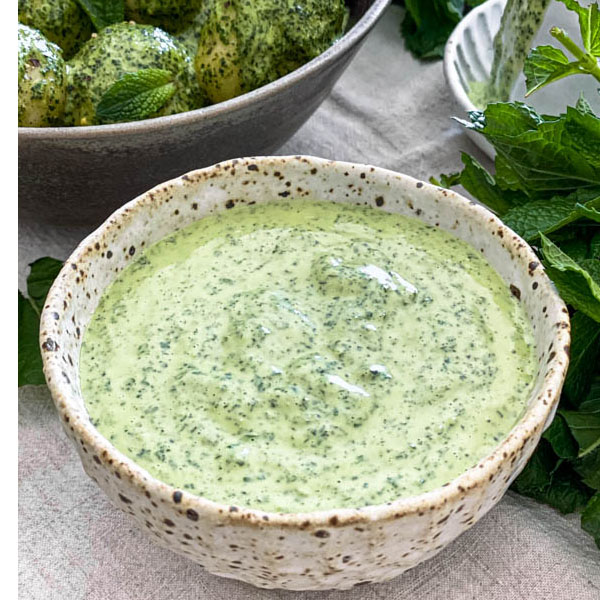 Ingredients
1

c

mint leaves, packed (50g)

washed

1

c

curly-leaf parsley, packed (60g)

washed

2

eggs

large or extra large

1

egg yolk

1

tsp

sugar

see note 1

2

garlic cloves

peeled and crushed

1/4

c

white vinegar

1

tsp

dijon mustard

1/2

tsp

wholegrain mustard

optional

1

tsp

sea salt

1.5

c

mild flavoured oil

grape seed or vegetable oil

freshly ground black pepper, to season

extra sea-salt to taste
Instructions
Place all the ingredients (except the oil) into the bowl of a food processor. Process for a few seconds until everything is combined well and the herbs are all chopped (scrape down the sides half way through).

With the motor running, slowly drizzle the oil in through the feeder tube. Take your time doing this step. It should be a very slow drizzle. Taste and season with extra salt (I often add up to 1/4 tsp more to taste). Season with freshly ground black pepper. Pour the dressing into a jug or container, cover and refrigerate for 2 hours to allow the dressing to thicken slightly and for the flavours to develop.

Makes approximately 3 cups. Recipe quantities can be halved.

Storage: Keep refrigerated. Will last for 1 week in the fridge.
Notes
Note 1: If you prefer a slightly sweeter dressing, you can add up to 2 teaspoons for this recipe. Taste the dressing and adjust. I add 1-2 teaspoons depending on the bitterness of the herbs. 
Nutrition
Calories:
3249
kcal
|
Carbohydrates:
18
g
|
Protein:
18
g
|
Fat:
350
g
|
Saturated Fat:
29
g
|
Cholesterol:
523
mg
|
Sodium:
2594
mg
|
Potassium:
710
mg
|
Fiber:
6
g
|
Sugar:
5
g
|
Vitamin A:
7701
IU
|
Vitamin C:
96
mg
|
Calcium:
276
mg
|
Iron:
8
mg