This may not be the most decorated cake, but let me tell you that it is one of the best cakes I have tasted. Apple and dates are a wonderful combination in this dense, moist cake. It is almost pudding like in texture and is topped with a delicious caramelised and chewy coconut topping made from brown sugar, butter and coconut. I've been making this recipe for over 15 years and everyone loves it. This also makes a lovely dessert cake, served simply with cream. Delicious!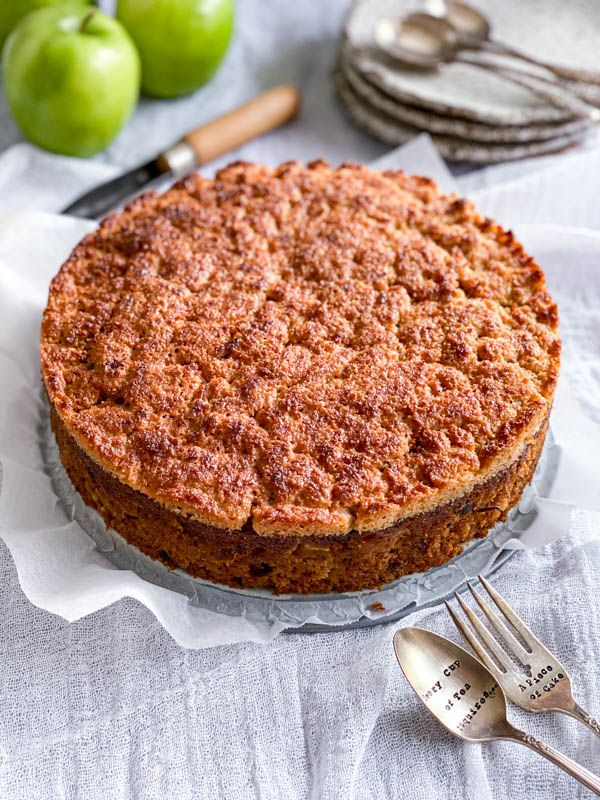 So what exactly is a 'Lumberjack' Cake? It is an old-fashioned type of cake made with apples and dates. The apples and dates are chopped but there are some recipes that use grated apple. This cake has a similar texture to a sticky date pudding as the dates and apples give this cake a very moist, dense crumb. While traditionally made with dates and apples, these can be substituted for other fruit combinations like date/pear, fig/apple, apricot/apple.
The origins of this cake are a bit of a mystery. Initial thoughts are that because of its name 'Lumberjack', that it came from Canada or America but it seems not many people there have heard of it. The cake is more widely known in Australia and New Zealand where it is more popular. The coconut topping certainly has similar ingredients to an Anzac Biscuit – coconut, butter and brown sugar. Wherever it originated, it has gained more popularity here in Australia and New Zealand and is often found in cafes.
This cake can also be made gluten-free.
Here are the ingredients for this beautifully moist cake with a chewy coconut topping: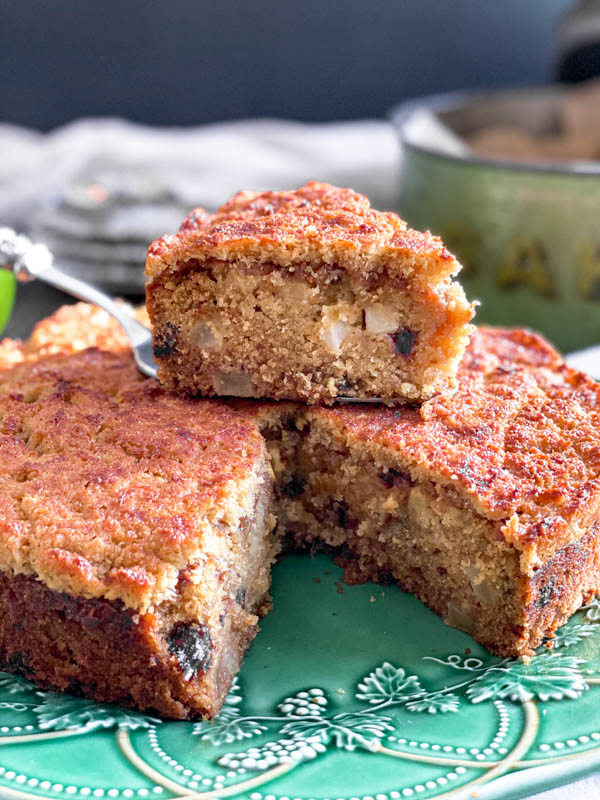 Ingredients
Cake:
Apples – you'll need 2-3 apples for this recipe. Granny Smiths are a great apple to use but I often use whatever apples I have in the fruit bowl (usually Gala or Granny Smith apples)
Dates – normal dried dates are good for this recipe. Buy them pitted if you can as they save a bit of time. You can use Medjool dates if you like but I have always used the supermarket variety for this cake
Boiling Water
Baking Soda – the boiling water and baking soda are added to the chopped fruits to help soften them before they are added to the batter. Don't drain the fruit as all the liquid is used in the batter as well.
Butter – use softened butter. I use salted. If you use unsalted, just add a pinch of salt to the flour
Sugar – granulated
Egg – ideally at room temperature. I recommend you use room temperature eggs in all your bakes
Vanilla Extract
Flour – plain all purpose flour or Gluten-free all purpose flour
Topping:
Butter
Milk – use full-fat milk or cream
Brown sugar
Coconut – dessicated or shredded. With shredded coconut, I prefer the finer ones rather than the larger pieces for this topping (different brands vary).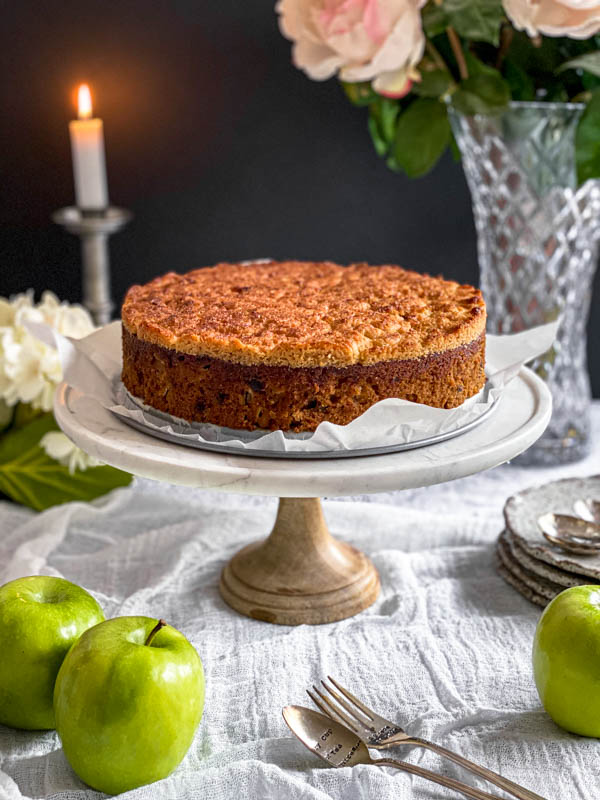 How to make a Lumberjack Cake
This cake is made by adding chopped dates and apple to a bowl along with the baking soda and boiling water. This is set aside for 10 minutes while the batter is made. The baking soda and boiling water will help soften the fruits slightly before adding them to the batter.
The batter is made by beating together butter and sugar until pale. This can be done in a stand mixer or with a hand-held mixer. The egg and vanilla are added to the creamed butter and beaten for a few minutes more. Then the fruit mix (including the water) and sifted flour are added to the butter and combined. Do this by pouring half the fruit mix in, with half the flour, then repeat with remaining fruit and flour. The batter is then spooned into a greased and lined cake tin and baked in the oven for 50 minutes.
While this is baking, the coconut topping is made. The topping ingredients are all added to a small saucepan and melted over a low heat. This is spread evenly onto the top of the cake after 50 minutes of baking. Do this as quickly as you can, but make sure you spread it evenly and to the edges for a nice look. The cake is then put back into the oven for approximately 15-20 minutes more to finish baking and to also allow the topping to turn a lovely golden colour. If the topping hasn't coloured to your liking, you can pop it under the grill for a minute, but watch it like a hawk, as it will go from golden to too dark very quickly (it will also be too crunchy if it is taken too far).
This recipe has been in our family for over 15 years. It was given to my sister by a friend, and we have all been making it since.
Here are some photos showing some of the steps: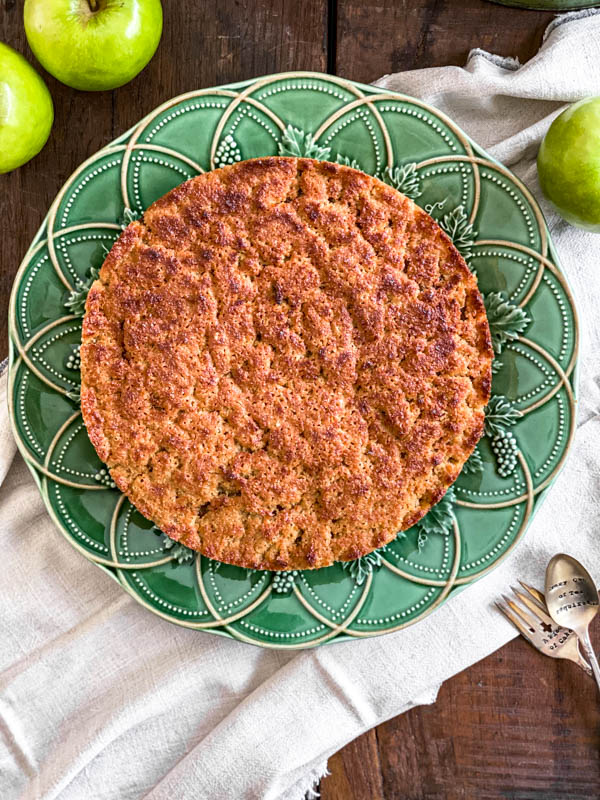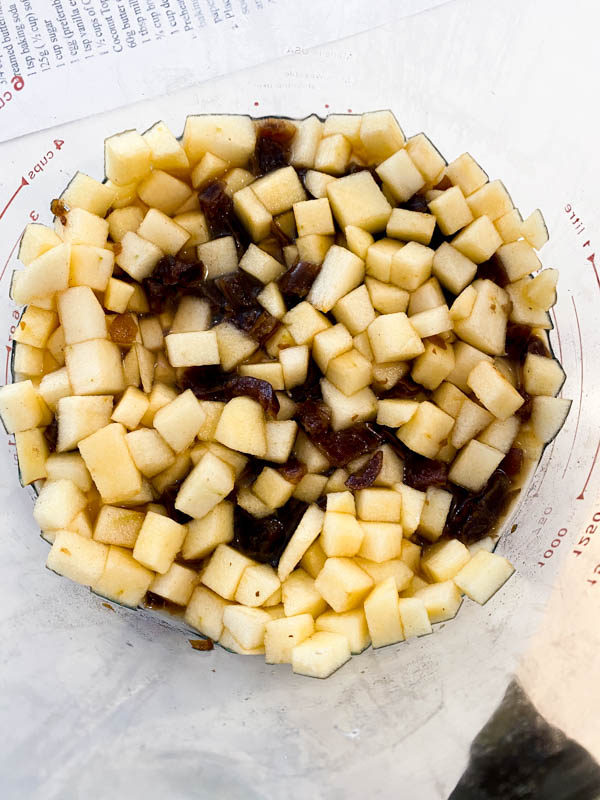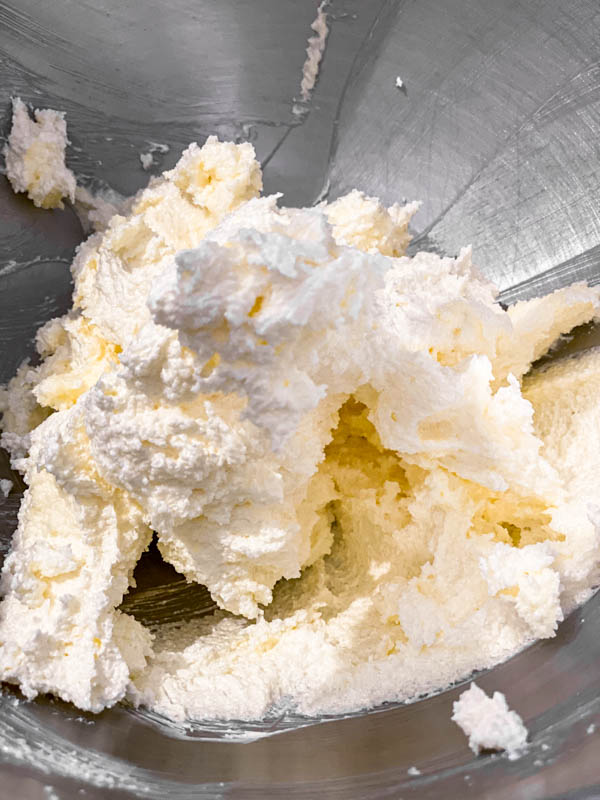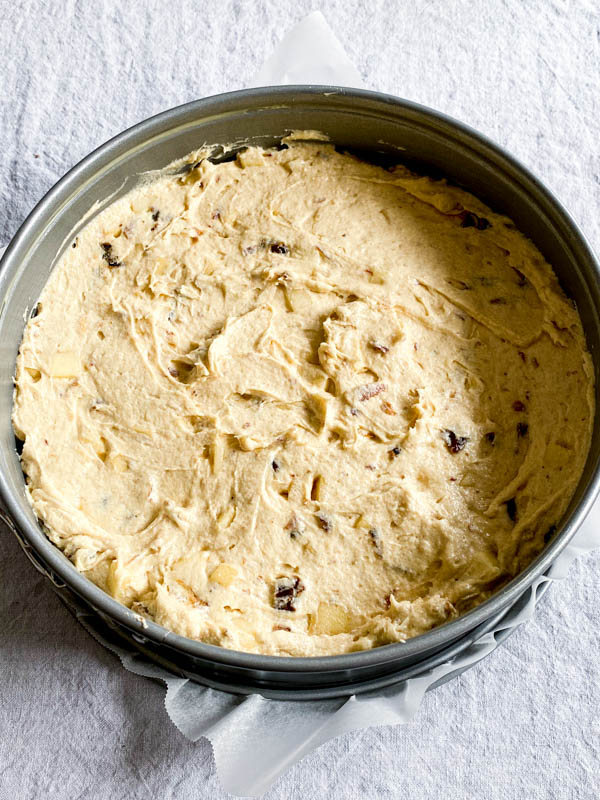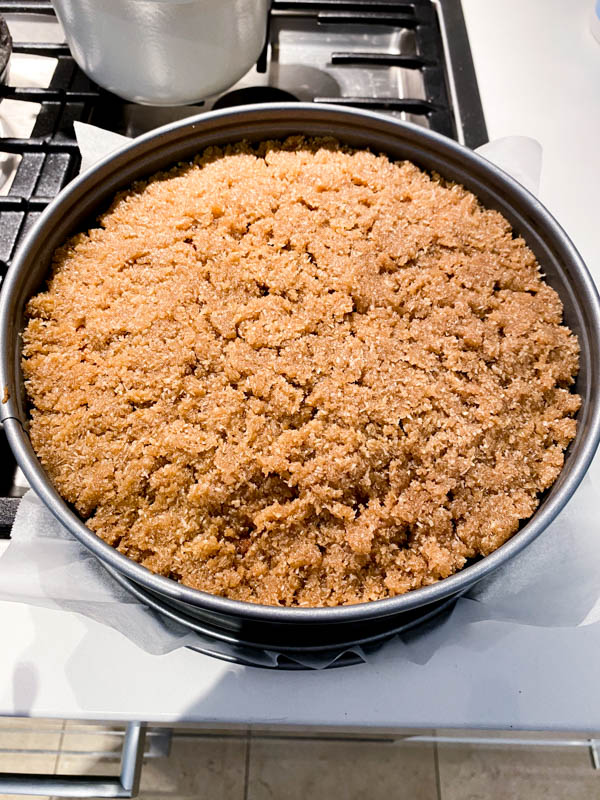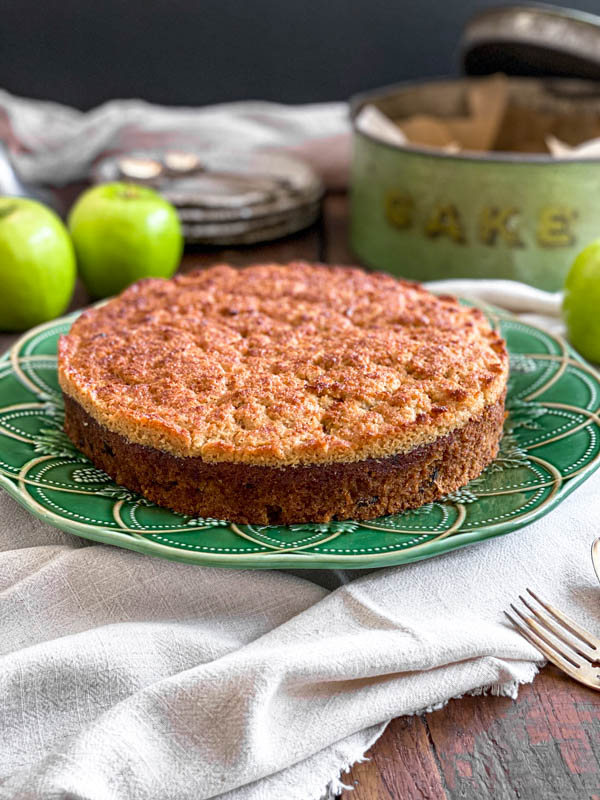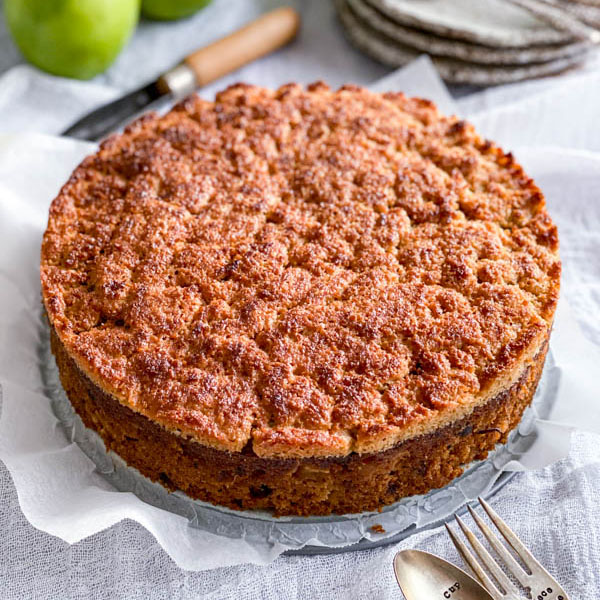 Equipment
22-24cm cake tin

stand mixer or hand-held cake mixer

2 large mixing bowls
Ingredients
Cake:
2

large apples (or 3 small/medium)

peeled, cored and finely chopped. You want 2 cups (240g) of finely chopped apples

150

g

pitted dates

chopped (1 cup)

190

ml

boiling water

(3/4 cup)

1

tsp

baking soda

125

g

butter

softened

225

g

sugar

(1 cup)

1

large egg

room temperature

1

tsp

vanilla extract

240

g

plain all-purpose flour, sifted

(1 1/2 cups) can use 1 1/2 cups of gluten-free flour for gluten free option
Coconut Topping:
60

g

butter

diced

40

ml

full-cream milk

or cream (2 tbsp)

100

g

brown sugar

(1/2 cup)

85

g

desiccated coconut

or shredded (1 cup)
Instructions
Cake Batter:
Preheat the oven to 150°C (300°F). Lightly grease and line a 22-24cm cake tin with baking paper.

Place the diced apple and dates into a bowl and sprinkle with baking soda. Add the boiling water, stir and set aside to cool.

Place the softened butter and sugar into a bowl and beat until smooth, pale and creamy (approximately 5-7 minutes). Add egg and vanilla extract and beat again until combined (1 minute).

Add half the sifted flour and half the fruit mix (including the liquid) to the butter mix and fold through. Add remaining flour and fruit and fold until combined.

Spoon the batter into the prepared cake tin and smooth the surface.

Bake in the preheated oven for 50 minutes (while the cake is cooking, prepare the Coconut Topping). After 50 minutes, remove the cake from the oven and as quickly as possible place the prepared Coconut Topping onto the cake. Carefully spread the topping out evenly over the whole cake. I often find that using clean fingers to do this gives you better control. Make sure you take the topping to the edges for a nice clean finish (see photos). Place the cake back into the oven and bake for an additional 15-20 minutes. The topping should be a lovely golden colour (see notes).

Remove from the oven and place on a wire rack. Once the cake has cooled down, remove it from the tin.

Delicious served with whipped cream for dessert or any time of day!

Store in an airtight container at room temperature for up to four days.
Coconut Topping:
Place the butter, milk, sugar and coconut into a saucepan and set over low heat. Stir until the butter and sugar have melted and ingredients are combined.
Notes
DIf the coconut topping is still a little pale, you can pop it under the grill but watch it like a hawk as you only want it to be a lovely golden colour, which will happen quickly.
This can also be made in a 20cm tin which will result in a taller cake. Cooking time will remain the same.
Nutrition
Calories:
394
kcal
|
Carbohydrates:
58
g
|
Protein:
4
g
|
Fat:
18
g
|
Saturated Fat:
12
g
|
Cholesterol:
47
mg
|
Sodium:
229
mg
|
Potassium:
195
mg
|
Fiber:
3
g
|
Sugar:
39
g
|
Vitamin A:
427
IU
|
Vitamin C:
2
mg
|
Calcium:
28
mg
|
Iron:
1
mg