These beautifully soft, sweet and sticky confit orange slices are really simple to make. Using only three ingredients, they only take 10 minutes to prepare before being put in the oven to slowly bake in a sugar syrup. This is a great way to use up oranges when they are in season and the confit will last for months in the fridge. They are very addictive so be warned! They also make a wonderful gift if you are willing to part with them!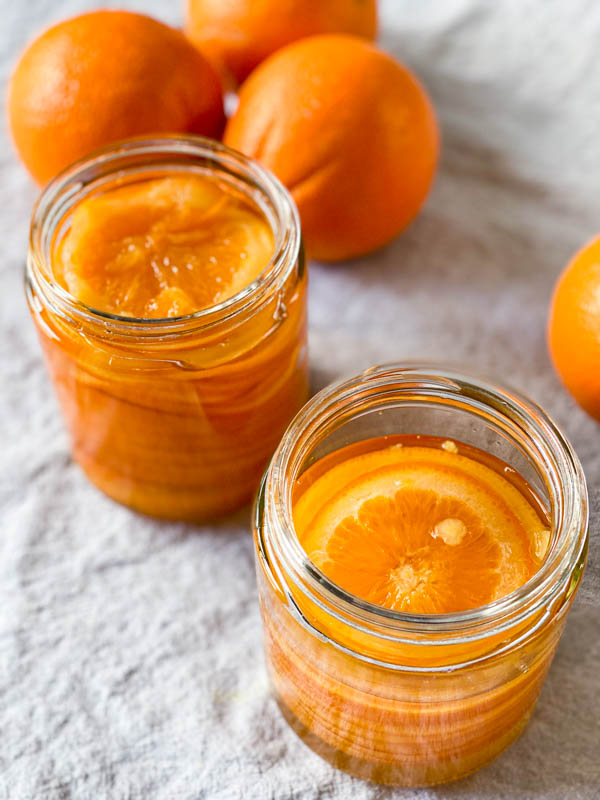 The orange slices can be used in many different ways –
Decorate bakes and desserts – I recently made an orange cake with a cream cheese frosting. I arranged these slices on top of the cake. Not only does it look beautiful but they really lift the overall flavour. Wonderful on tarts or cheesecakes and a great accompaniment to chocolate desserts (chocolate and orange is a fantastic combination). They really do elevate a dish.
Chop the slices up and use them in ice-creams or parfaits. Also great added to cake or muffin batter.
Delicious served with yoghurt and cereal or even with porridge.
Chop up and add to sweet yeasted breads, brioche, panettone or use in bread and butter puddings.
The confit orange slices can also be taken a step further and candied. See the recipe notes for the instructions on how to do this. Basically, they are dried on a wire rack for 24-48hrs until no longer sticky to the touch. They can be stored like this, or coated in sugar.
Let's take a look at the three ingredients you'll need to make these delicious orange slices.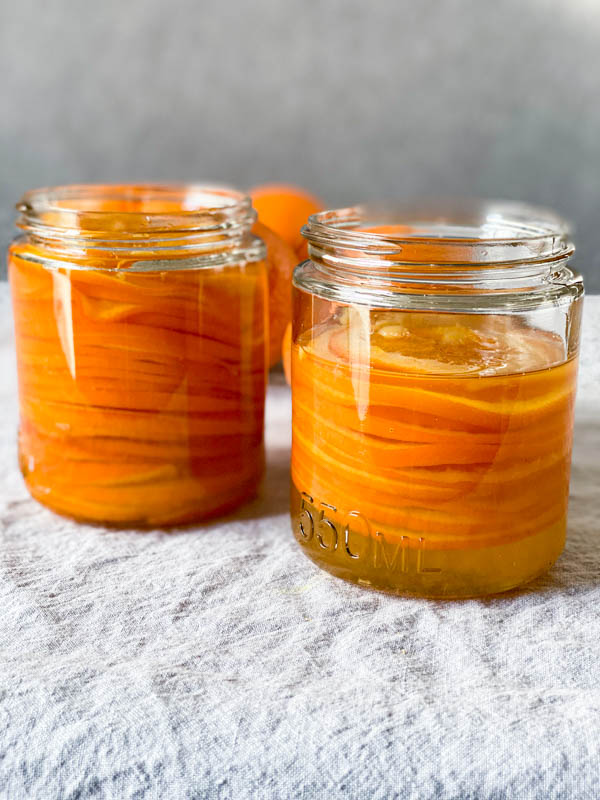 Ingredients
Oranges – any type of orange can be used. Here I have used navel oranges. Wash them well and slice thinly. How thin is up to you. If I am drying them out, I tend to cut them a little thicker, but no more than 3mm thick. When storing them in their syrup, I cut them slightly thinner.
Sugar and Water – this is used to make the Sugar Syrup which the oranges are covered and cooked in.
Here are some step-by-step photos showing you the process: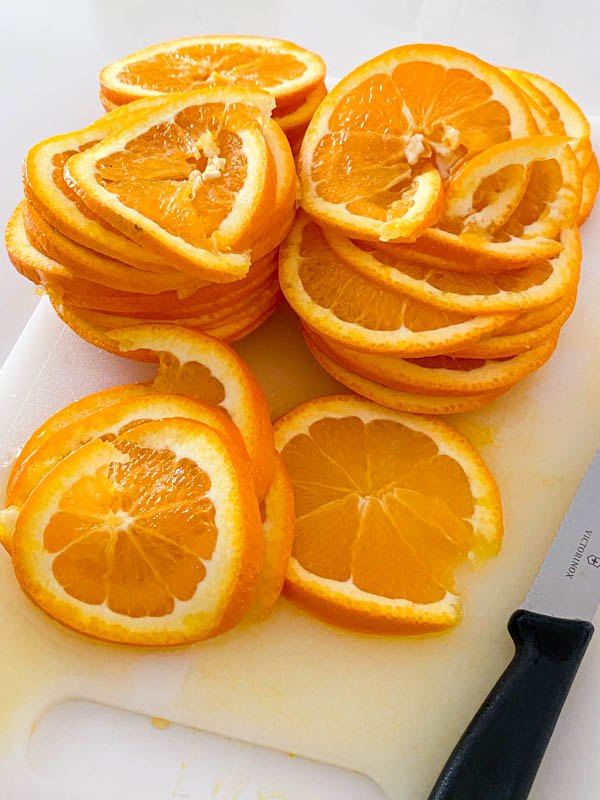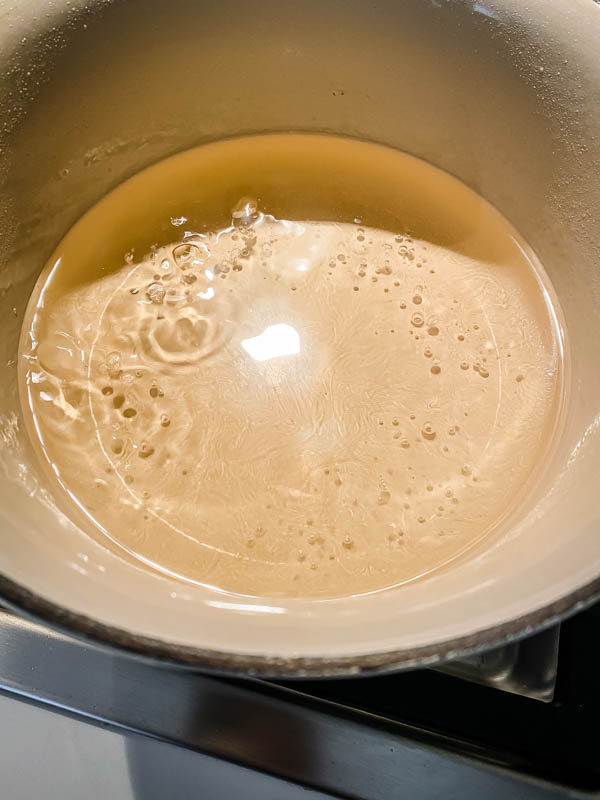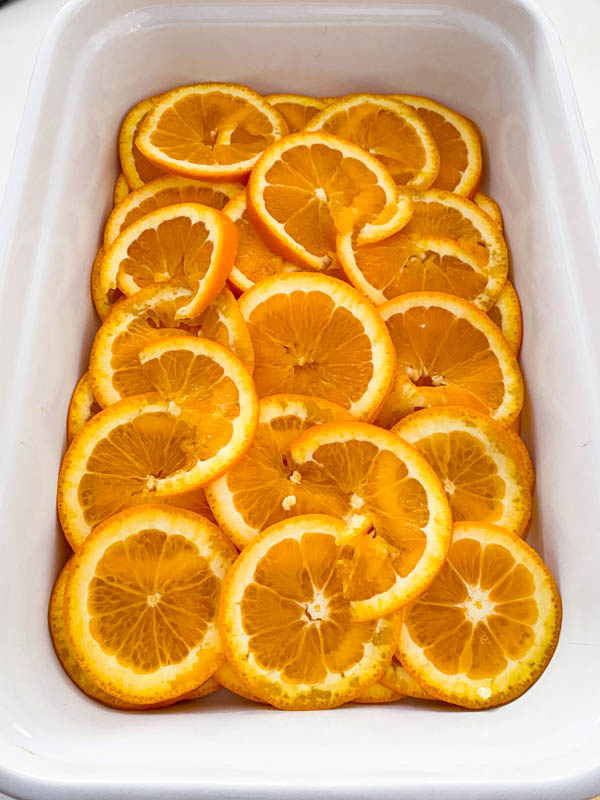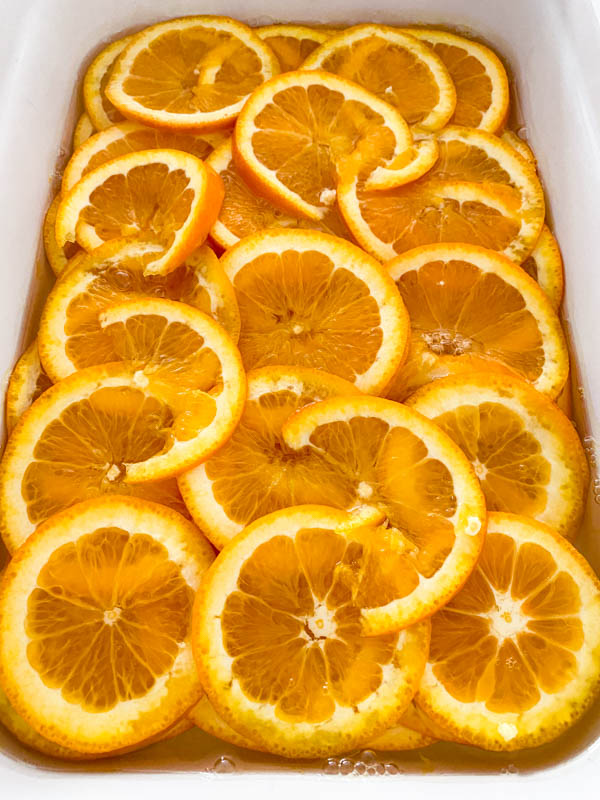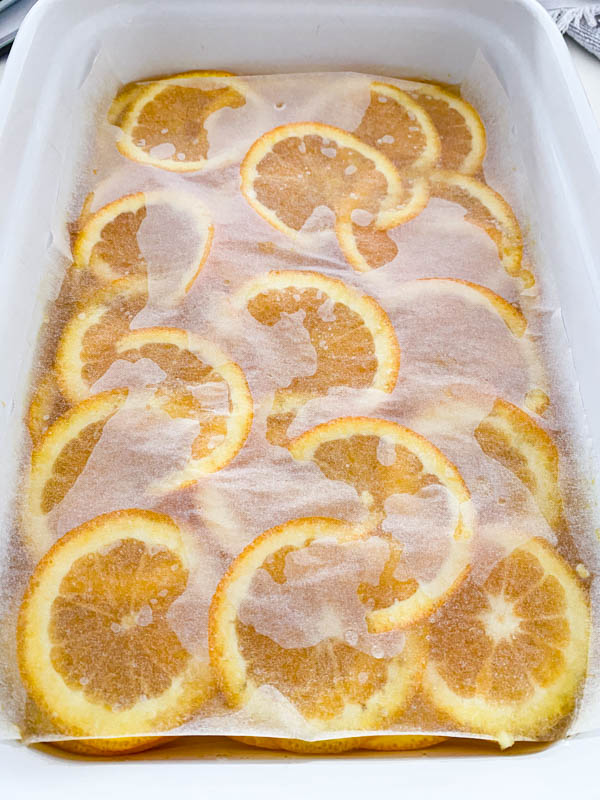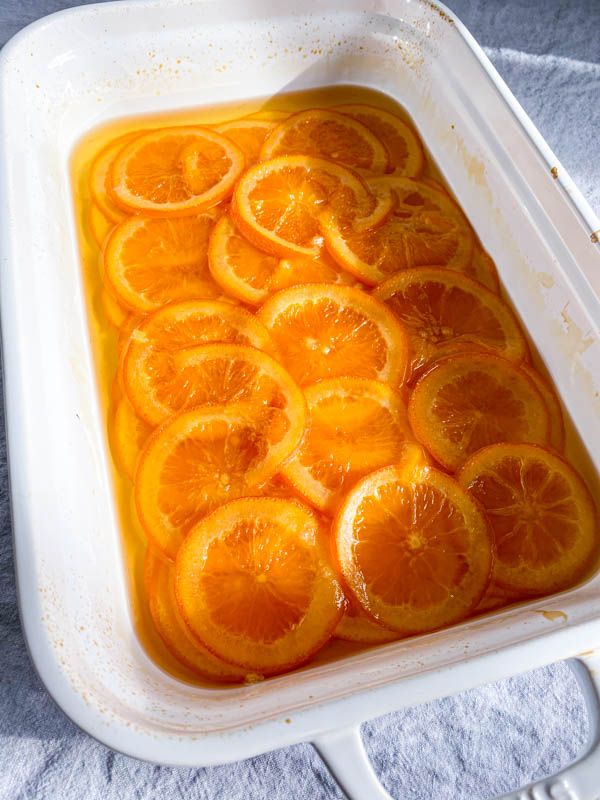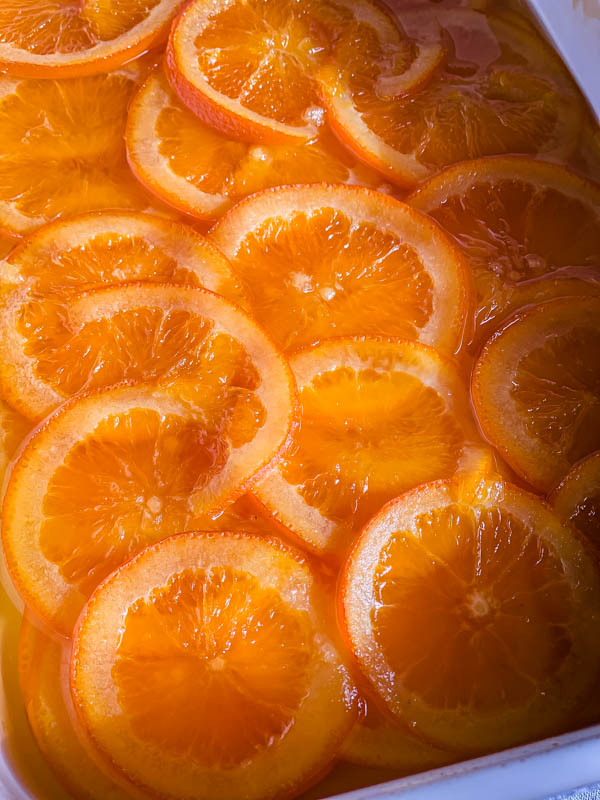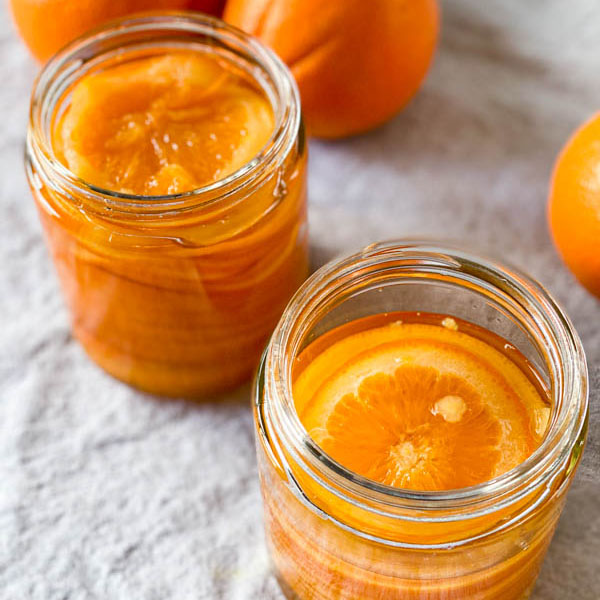 Equipment
large ovenproof baking dish – I used a large rectangle lasagne dish (30cm x 21cm)

medium sized heavy based saucepan
Ingredients
4

oranges

thinly sliced, no thicker than 3mm

500

g

caster sugar

750

ml

water
Instructions
Preheat the oven to 150°C.

Clean and scrub the oranges. Slice oranges thinly using a sharp knife or mandoline slicer. Discard the ends. Lay the orange slices in the baking dish so they are slightly overlapping.

To make the Sugar Syrup: place the sugar and water into the saucepan over low heat and stir until the sugar is dissolved. Increase the heat to high, and bring to the boil. Reduce heat to medium and cook 10-15 minutes until liquid reduces and thickens slightly.

Pour the syrup over the orange slices. Place a baking sheet cut to the size of the dish, directly on top of the orange slices and press down slightly. Cover and seal the baking dish with aluminium foil or a lid.

Bake covered, in the preheated oven for 1 hour. Remove foil and baking paper and return to the oven for another 45 minutes to 1 hour, to allow the syrup to reduce more.

Remove from the oven. Set the dish aside and let the orange slices cool completely in the syrup before removing them carefully to sterilised jars. Pour over the syrup and seal. Store the jars in the fridge for up to 2 months.
Notes
Once you have made these Confit Orange Slices, you can also make Candied Orange Slices as well. I often take half the batch of confit slices and candy them.
They take a little longer, but I thought I would include these extra steps if you would like to make them.
Candied Orange Slices: Once the orange slices have cooled in the syrup, carefully place them in a single layer on a wire rack over a baking tray (to catch any drips).  Leave them to dry at room temperature for 24 hours or until the orange slices are only just sticky to the touch. Store them in an airtight container, in the fridge for up to 2 months.
Sugar coated Candied Orange Slices: As above, but let them dry at room temperature for up to 48 hours or until they are barely sticky to the touch. Coat them in white sugar and store in an airtight container in a cool place or refrigerate. Will last up to 2 months.
Nutrition
Calories:
2181
kcal
|
Carbohydrates:
561
g
|
Protein:
5
g
|
Fat:
1
g
|
Saturated Fat:
1
g
|
Sodium:
43
mg
|
Potassium:
948
mg
|
Fiber:
13
g
|
Sugar:
548
g
|
Vitamin A:
1179
IU
|
Vitamin C:
279
mg
|
Calcium:
232
mg
|
Iron:
1
mg