Here is my all-time favourite granola recipe that I have been making for years. Granola is one of the easiest things to make and once you start making your own, you will find it hard to go back to buying it. Home made granola is so much better and you can customise it to suit your own taste.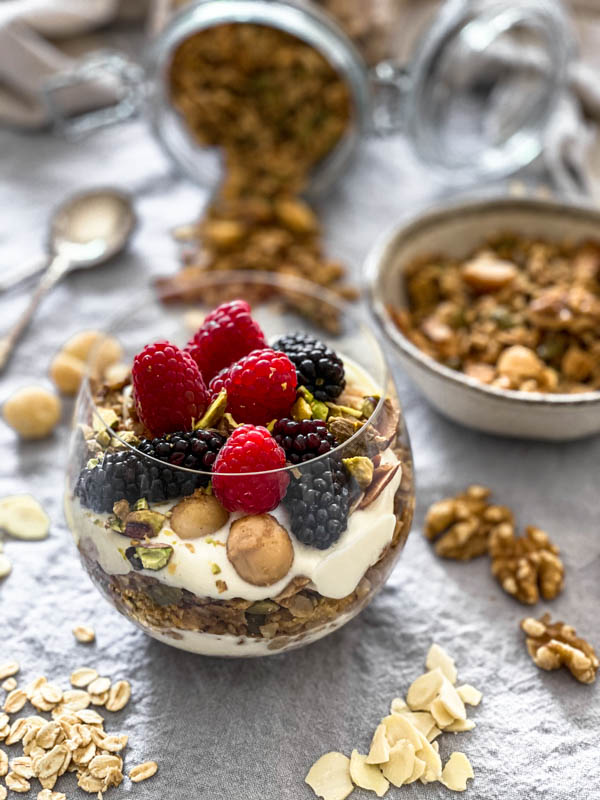 There are lots of granola recipes out there and I have made a few of them before settling on this version. They all use similar ingredients so it is more about the quantities and add-ons that achieves my perfect combination. My recipe is made up predominately of oats (traditional oats not the instant kind), puffed brown rice, pumpkin seeds and my favourite nuts – walnuts or pecans, macadamia nuts and flaked almonds. It is sweetened with a mix of maple syrup and brown sugar which gives a lovely caramel flavour to the granola. I use a fruity extra virgin olive oil which is sweeter and lighter (also non saturated), although coconut oil is an alternative. I add coconut flakes and cinnamon to mine; the cinnamon is very subtle as I only use a teaspoon, but it adds another level of flavour to the granola.
While a lot of granola recipes add dried fruit, I do not add any during the cooking process. Personally, I prefer adding fresh or dried fruit to my cereal bowl at the time of serving which allows for the fruit to be distributed evenly and you can then add as little or as much as you like according to your preference.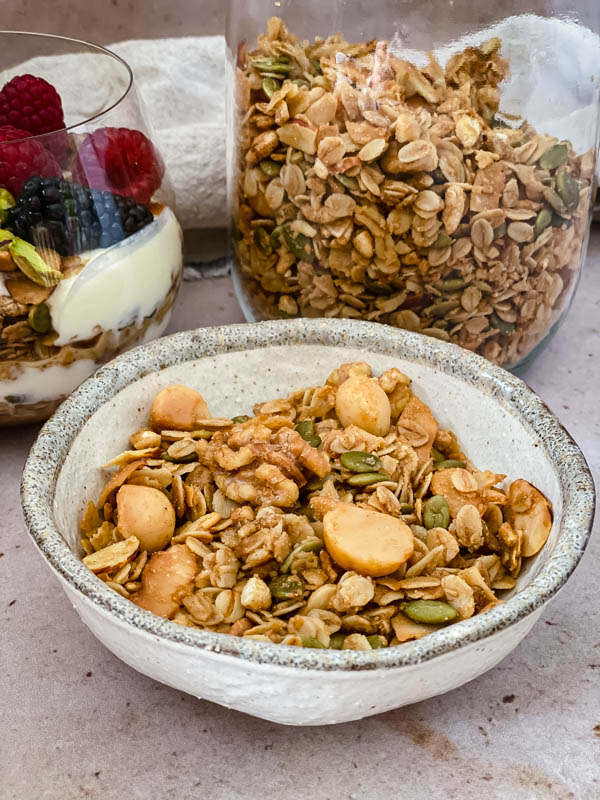 This recipe only takes 10 minutes to prepare and 35-40 minutes to bake. Everything is mixed together in one bowl. Make sure to use a large bowl as that way you can mix all the ingredients together easily without worrying about it going over the sides. The prepared granola is then spread onto a lined oven tray and baked in the oven for 35-40 minutes or until nicely golden brown and toasted. It really is that simple to make and the aroma coming from your oven is reason enough to try this recipe – your kitchen will smell amazing! It is delicious and the beauty of this recipe is that you really can substitute certain things to suit your own palate. Let's take a look at the ingredients and suggestions for alternatives if you have intolerances, etc.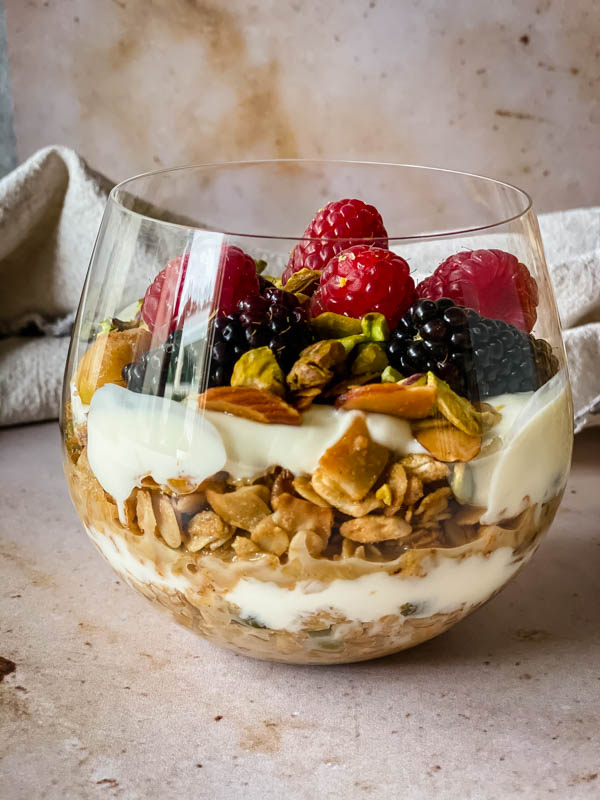 Ingredients to make Granola:
Oats – use the traditional old-fashioned oats, not the instant variety. The reason for this is the traditional whole oats will hold their shape and the instant variety does not. For a gluten-free granola, use certified gluten-free oats.
Puffed Brown Rice – this is readily available at Health Food Stores. I love these in my granola as I find it adds another texture and also 'lightens' the granola overall compared to using just oats.
Nuts and Seeds – I use walnuts (or pecans), macadamia nuts, flaked almonds and pumpkin seeds which is my favourite combination. Other options include slivered almonds, cashews, pistachios, hazelnuts and sunflower seeds. Whichever nuts you use, make sure they are natural and not salted or roasted. If you have a nut allergy then you can use all seeds.
Oil – I use a fruity extra-virgin olive oil as I find it lighter and fruitier than coconut oil. You can however use coconut oil if you prefer. The oil makes the granola crispy and gives it the lovely texture and toasty flavour.
Sweeteners – my favourite combination is maple syrup and brown sugar as they provide a lovely complexity and an almost caramel like flavour. It's a combination I use often (I use them in my Sweet and Spicy Nuts recipe too). You can substitute with honey if you prefer.
Unsweetened Coconut Flakes – I'm talking the larger pieces (flakes) not the shredded or desiccated variety and definitely not the toasted or sweetened kind. The larger 'flakes' work well in granola as they toast beautifully without burning and you get lovely hits of coconut flavour without it overpowering the granola. The flakes also have a much nicer texture vs shredded or desiccated coconut which can be a little gritty in this.
Salt and Spice – you definitely need some salt in your granola. The salt brings out all the flavours. I use fine sea-salt. I also use cinnamon spice in my granola. It is very subtle but adds another layer of flavour to the granola.
I hope you give this recipe a try and enjoy it as much as we do!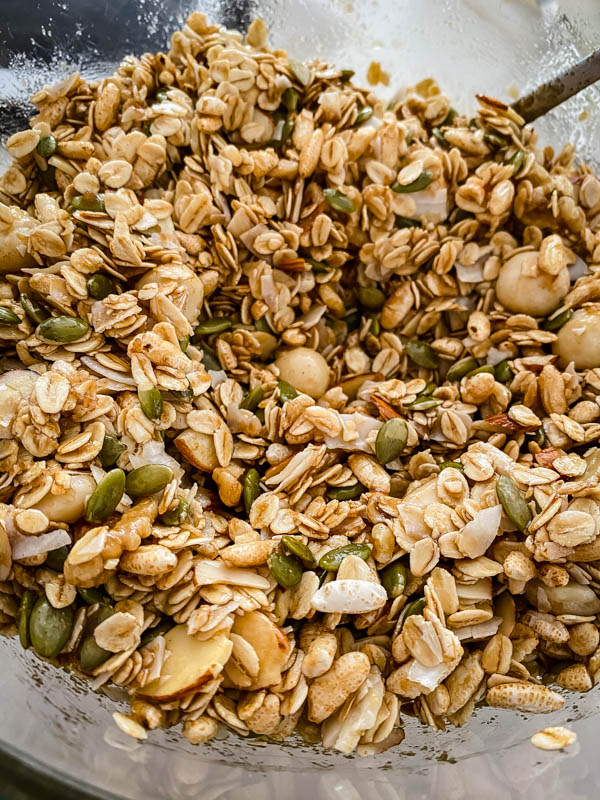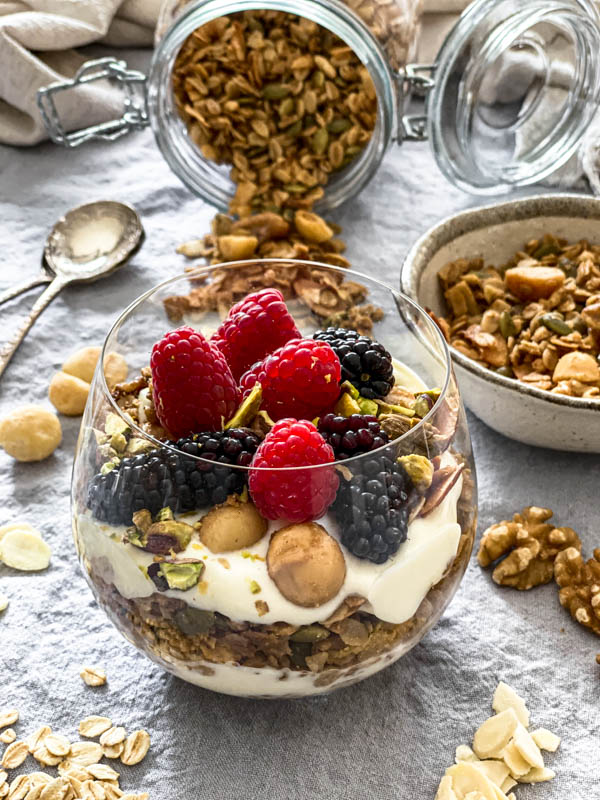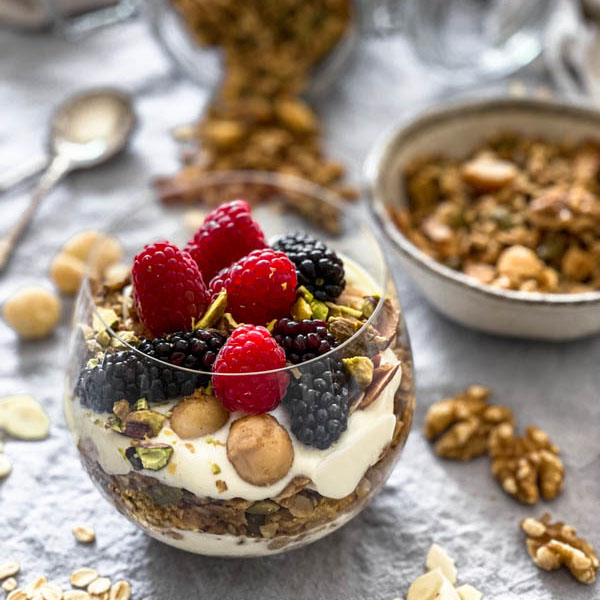 Equipment
large bowl

Oven tray with sides (ie not a flat sheet).
Ingredients
3

c

traditional rolled oats

1

c

puffed brown rice

1

c

pumpkin seeds

raw

3/4

c

walnuts

or pecans

3/4

c

macadamia nuts

raw

3/4

c

flaked almonds

1

c

coconut flakes

un-toasted

1/2

c

olive oil

extra virgin

1/2

c

maple syrup

pure

1/2

c

brown sugar

lightly packed, or 1/4 cup if you prefer it less sweet

1

tsp

sea salt

fine

1

tsp

cinnamon spice
Instructions
Preheat the oven to 150°C (300°F).

Line an oven tray with baking paper. Make sure the oven tray has raised sides so you can stir the granola when it is cooking.

In a large bowl, add all the dry ingredients (oats, puffed brown rice, pumpkin seeds, walnuts, macadamia nuts, flaked almonds and coconut flakes. Stir to combine.

Now add the rest of the ingredients – olive oil, maple syrup, brown sugar, salt and cinnamon. Stir well to combine and make sure everything is well coated.

Spread the granola mix on the oven tray so that it is in an even layer. Bake in the oven stirring every 10 minutes for 35-40 minutes, or until the granola is nicely golden and toasted. This may take anywhere from 35-45 minutes, depending on your oven. Keep an eye on it in the last 5-10 minutes and watch the coconut flakes and almond flakes so they don't burn towards the end of the cooking time (I stir the ones that are browning more quickly so they are underneath the mixture).

Remove from the oven and allow the granola to cool completely on the oven tray. When cool, store in an airtight container or tightly sealing jar. It will last for 3-4 weeks.

Makes approximately 8 cups.
Nutrition
Calories:
342
kcal
|
Carbohydrates:
29
g
|
Protein:
6
g
|
Fat:
24
g
|
Saturated Fat:
6
g
|
Sodium:
152
mg
|
Potassium:
231
mg
|
Fiber:
4
g
|
Sugar:
14
g
|
Vitamin C:
1
mg
|
Calcium:
53
mg
|
Iron:
2
mg