Here is my favourite way to use Sourdough discard. These Sourdough Crumpets are beautifully light and airy and so simple and quick to whip up – they take less than 10 minutes to make! I have shared my tips to help you achieve great crumpets, as well as the recipe I use. You will never throw your discarded starter away again after trying these!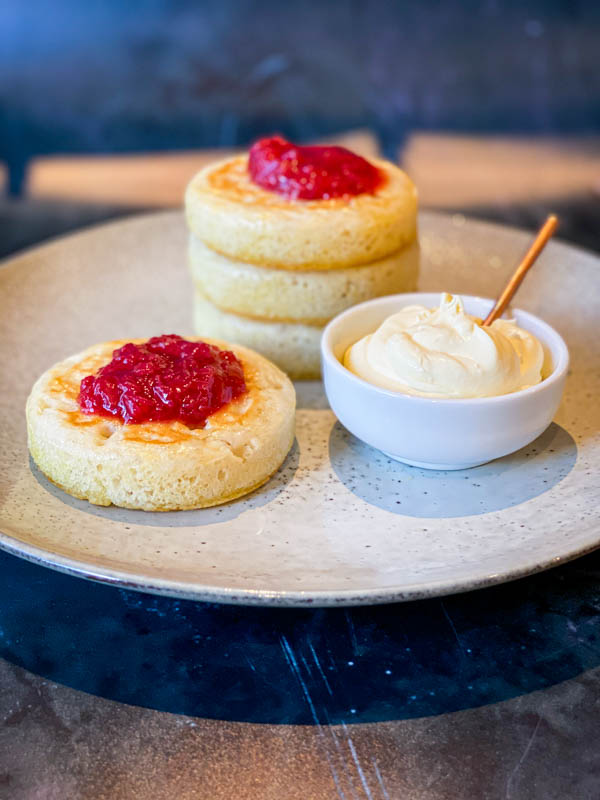 Once you've made these, you'll be making extra 'starter' just so you have enough 'discard' to make them again and again! I know I do. ?
They are delicious eaten straight away, still warm, or toasted the next day. They never last long in our house. They are so much softer and better than any crumpets I have ever bought.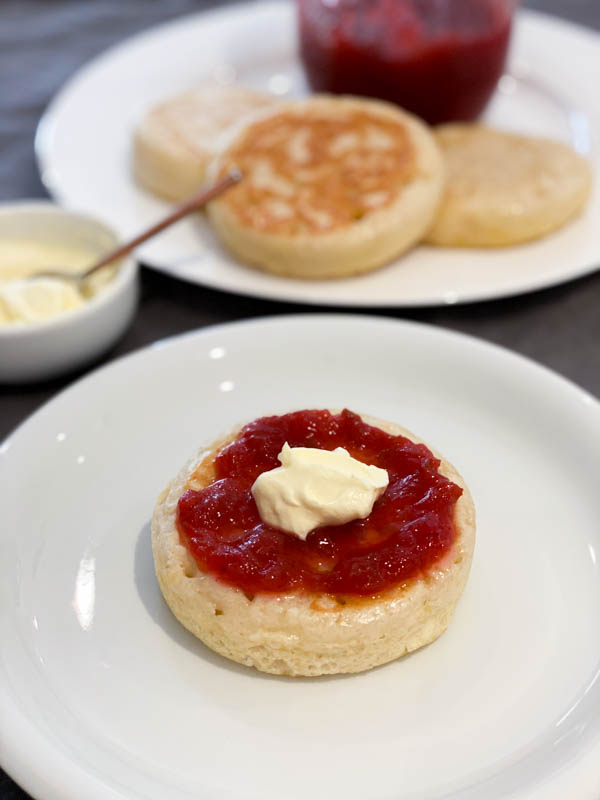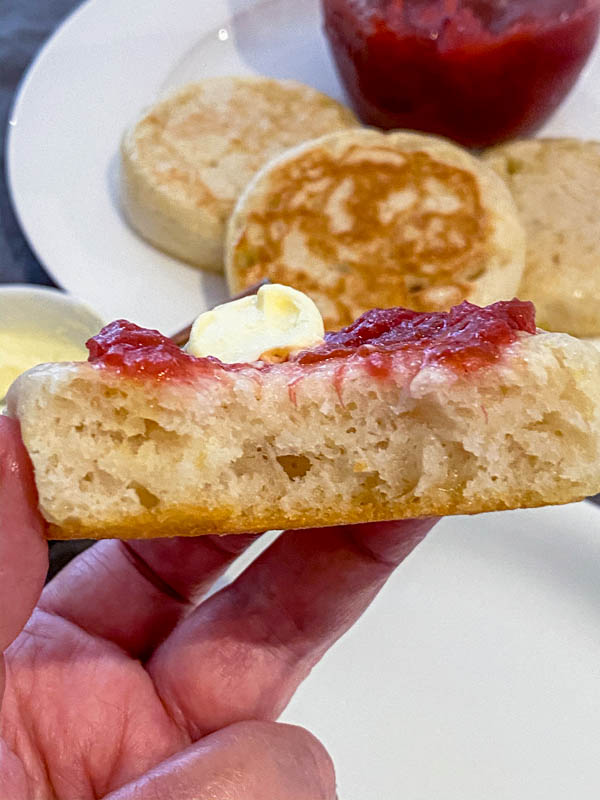 I have tried a few recipes in my endeavours to find the best one. The saying that 'practice makes perfect' is very true, as I have discovered a few tips that make life easier when it comes to making them. It may take you a few attempts to get yours exactly perfect, but with my tips, it will make this a lot easier.
Firstly, the recipe. For me, the recipe that has given the best results is the one on the King Arthur Flour website (link below). There are a lot of other Sourdough Crumpet recipes out there and all are quite similar but this is the one I follow and it gives great results.
If you are reading this post and you don't have a sourdough starter, here is a recipe using yeast, also from the King Arthur Flour website. I haven't tried it, but their recipes are reliable. You can find the recipe for Crumpets made with yeast here. If you are lucky enough to have a sourdough starter, then keep reading as making crumpets this way is so much easier!
If you do make these Sourdough Crumpets, I'd love to hear what you think in the comments. So…what are you waiting for? Give them a go. You won't regret it and you'll never have to waste any of your precious discarded starter again!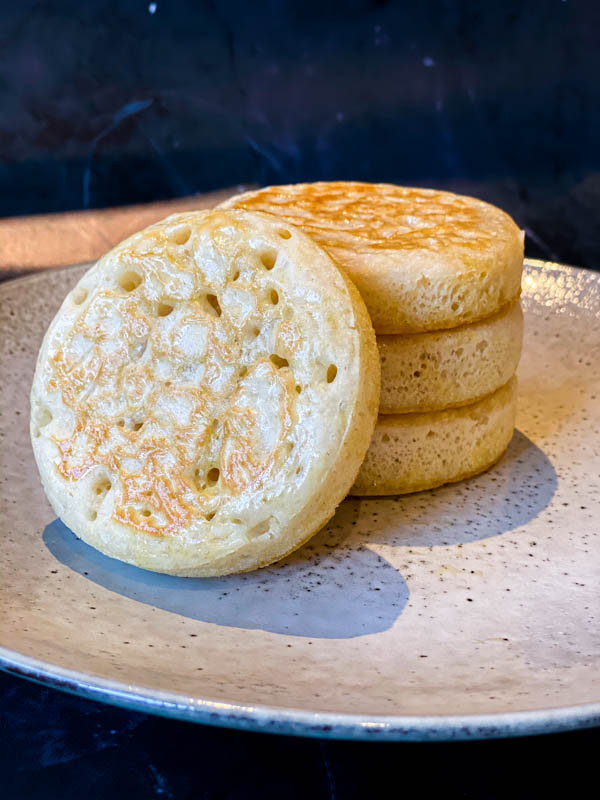 My Tips For Making Sourdough Crumpets
Firstly, lets talk about the ingredients.
Sourdough Discard – this is the unfed starter that usually gets 'discarded' when you have too much. Never throw it away as there are so many things you can make with it, like these crumpets…and they are made with a minimum amount of effort.
I have a large jar in the fridge that I put my discarded sourdough starter into. I just keep topping up this jar with discarded starter throughout the week, or until I am ready to make crumpets or something else with it (pancakes, pasta, fritters…so many things). I always make crumpets at least once a week, so by the time I'm ready to use it, the jar has a combination of 'week old, unfed starter as well as 'day old, unfed starter' in it. Sometimes if I want to make a large amount of crumpets, I intentionally feed my actual starter more through the week, so I am able to discard more to add to my 'discard' jar in the fridge.
So basically, just keep adding the starter you usually throw out, to a designated 'discard jar' and keep it in the fridge until you need it.
For this recipe, you need between 225-230gm of sourdough discard (approx 1 cup).
Caster Sugar – I use caster sugar as it dissolves more easily. This is added to the unfed starter along with the salt. You only need 1 teaspoon.
Salt – use table salt or fine sea-salt.
Baking Soda – the ingredient that acts a leavener when combined with the acidic starter.
Oil and Butter for the frying pan and rings – only small amounts of each in the frying pan to just coat it. I then take a pastry brush and brush some of this melted oil and butter on to the insides of my Crumpet rings. Make sure to coat them well as you don't want any of the batter to stick.
EQUIPMENT:
I recommend you have everything out and ready, as once you start the recipe, it's all done in less than 10 minutes.
large bowl or jug – I use a large Pyrex Jug
large spoon for mixing the batter – I use a serving size spoon
kitchen scales – for measuring out the starter
measuring spoons
1/4 cup measurement or 1/4 cup cookie scoop – I have a large cookie scoop and its fantastic for this!
4 crumpet rings – you can make them without these, however you won't get a nice rise so I recommend you use them. I bought my non-stick crumpet rings from Spotlight
Frying Pan – it needs to be large enough to fit the 4 crumpet rings so they all sit flat comfortably
Spatula – a flat spatula to turn the crumpets
Pastry brush – for brushing melted butter onto the insides of the crumpet rings to avoid any sticking
I also use a set of tongs (to remove the crumpet rings), and put a plate near my stovetop (or set down a double layer of paper towels), so I can place the crumpet rings and cookie dough scoop there, if I am making more than one batch (makes clean up easier).
Ok, lets get started!
Step 1: Firstly, you weigh 227-230g (8 oz) of unfed sourdough starter (discard) to the bowl and add 1 tsp caster sugar and 1/2 tsp salt. Stir this together to combine.
Step 2: Now set your frying pan over medium heat on the stove top, and add a very small amount of light olive oil (or any other non-flavoured oil) to just coat the frying pan (say 1 tsp). Then add a small amount of butter (1cm cube) and move around to coat the base of the pan. Get the crumpet rings and, using a pastry brush, dip it into the melted butter mix in the pan and use the brush to coat the inside of the 4 crumpet rings well. Place the well buttered crumpet rings into the frying pan so they are all sitting flat, ready for the batter. It's important that you get this all ready before you do the next step, as once you add the bi-carb soda to the batter, you need to use the batter straight away – this makes a big difference to the success of your crumpets!
Step 3: So by this stage, everything is ready to go. Reduce the heat to just under medium. Now add just under 1/2 tsp of baking soda to the batter. Using the mixing spoon, quickly stir to distribute the baking soda through the batter. This will cause the batter to rise a little and bubble up, so you want to move quickly from here.
Step 4: Using the cookie dough scoop or 1/4 cup measurement, divide the batter evenly between the 4 crumpet rings. I find a heaped scoop works well. Cook for approx 5-7 minutes, or until the tops are partly set. There should be lots of holes coming through as they are cooking. The colour also changes slightly on the edges as they start to set. Once they are partially set, carefully remove the crumpet rings (I use tongs to ease them off – they should come off quite easily) and then use a flat spatula to turn them over. Cook for a further minute. Remove to a plate and enjoy!
If you want to make more than 4, then repeat the process again. I recommend you make up only enough batter for the amount of rings you have as you don't want the batter sitting around once you have added the baking soda.
That's it! So easy. They are fantastic!
You can find the full recipe for the King Arthur Sourdough Crumpets here. I hope you have found my tips helpful.
The crumpets keep well for up to 3 days in an airtight container at room temperature, or placed in the freezer, in an airtight container for up to 2 months.
If you'd like the recipe for my Easy Rhubarb Compote click here, It is a delicious topping on the crumpets.