These Sweet and Spicy Nuts come with a warning…highly addictive! They are a great snack to have with drinks or part of a grazing platter, and very easy to make. Super tasty with a great balance of sweet and spicy flavours.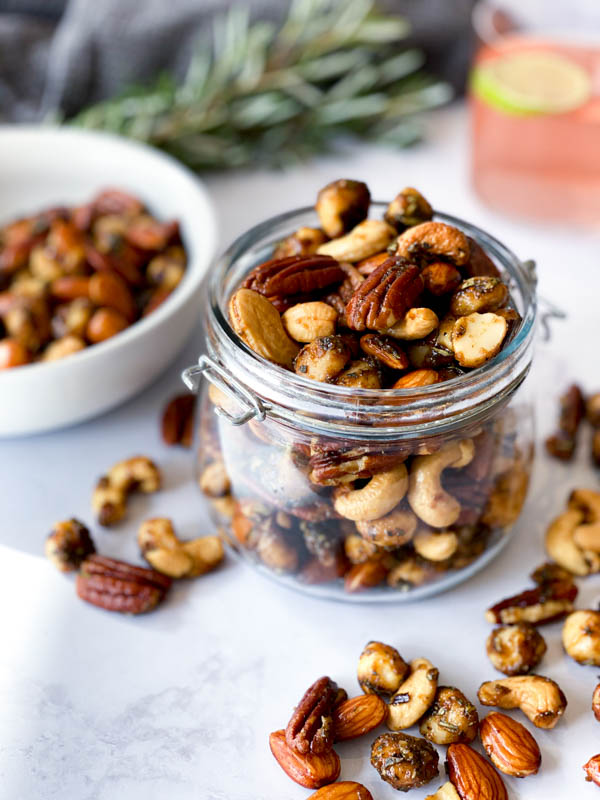 These nuts are salty, sweet with a little heat from the cayenne pepper and delicious flavour from the fresh rosemary – they are very moreish.
This is a very simple recipe with everything getting mixed together in one bowl!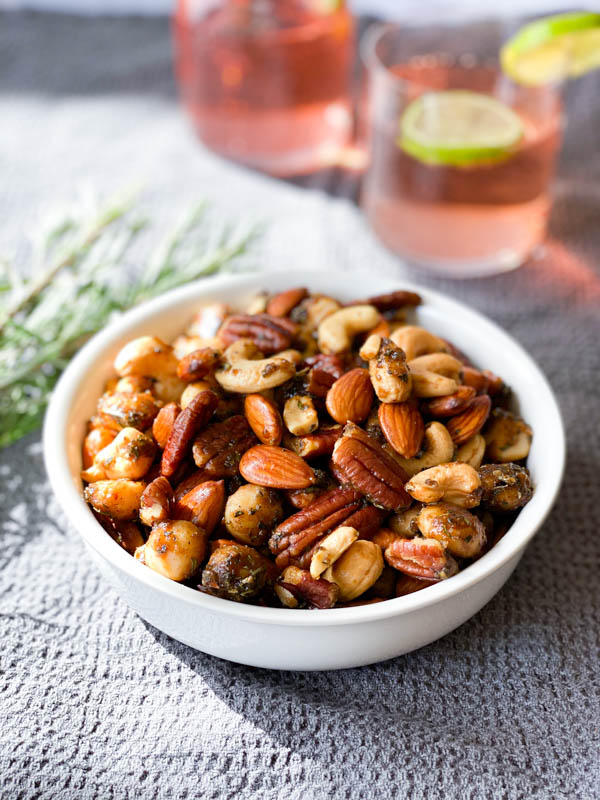 These Sweet and Spicy Nuts also make a great gift. I make batches of them a couple of weeks before Christmas, pop them in jars with ribbon and a label and give them to friends to enjoy with their family and friends over the holidays. The nuts keep well for 3 weeks in an airtight jar.
They are delicious served at room temperature or slightly warmed through.
Enjoy x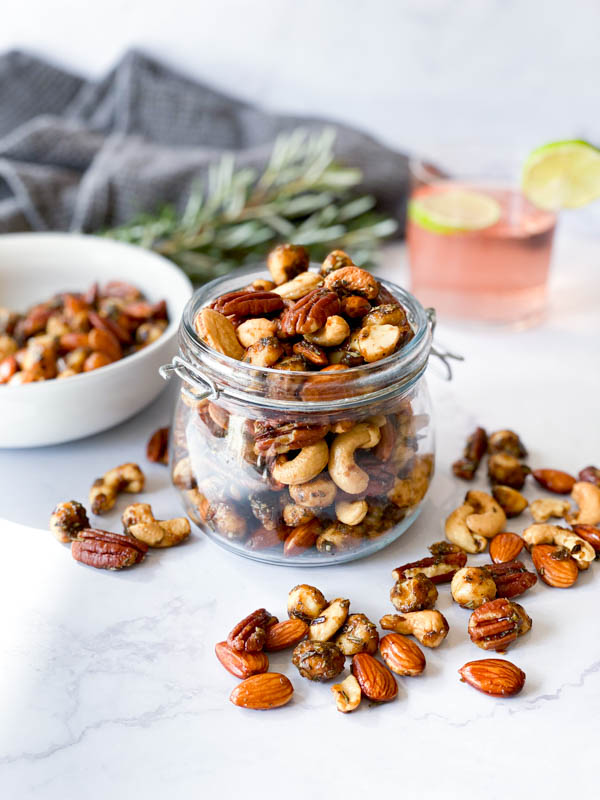 About The Ingredients
Nuts – this recipe uses raw nuts (not salted or roasted). My favourite mix is Cashews, Macadamias, Pecan/Walnuts, Almonds but you can use any nuts you like.
Spices – I have included some optional spices in the recipe but I think using them all gives the best flavour.
Salt – kosher salt or good old table salt is fine in this recipe!
Rosemary – use fresh please, not dried.
Sugar – we are using brown sugar in this recipe and also Maple Syrup as they both give a lovely flavour to these nuts.
Butter – salted or unsalted is ok. Whichever you have.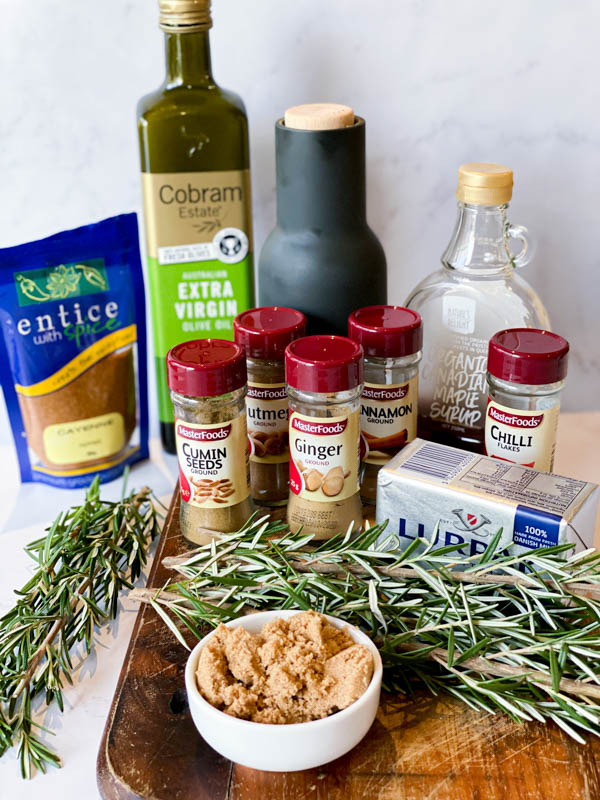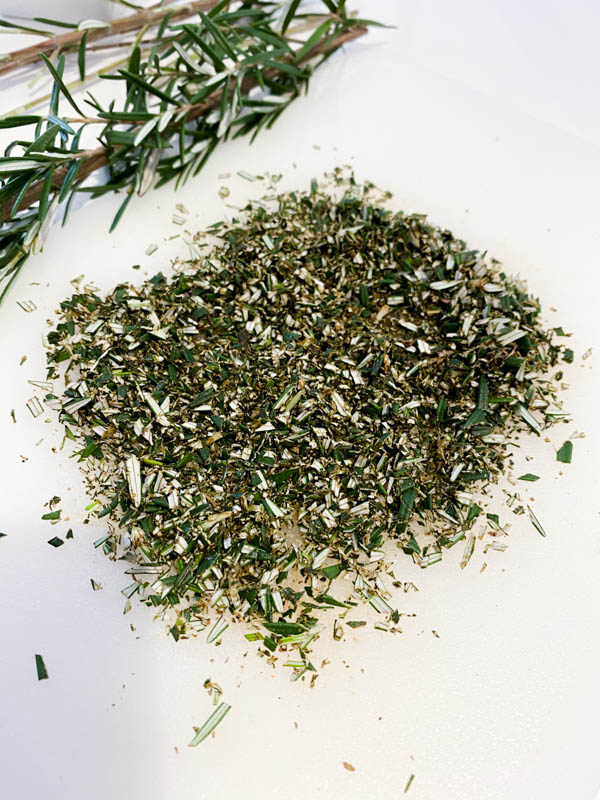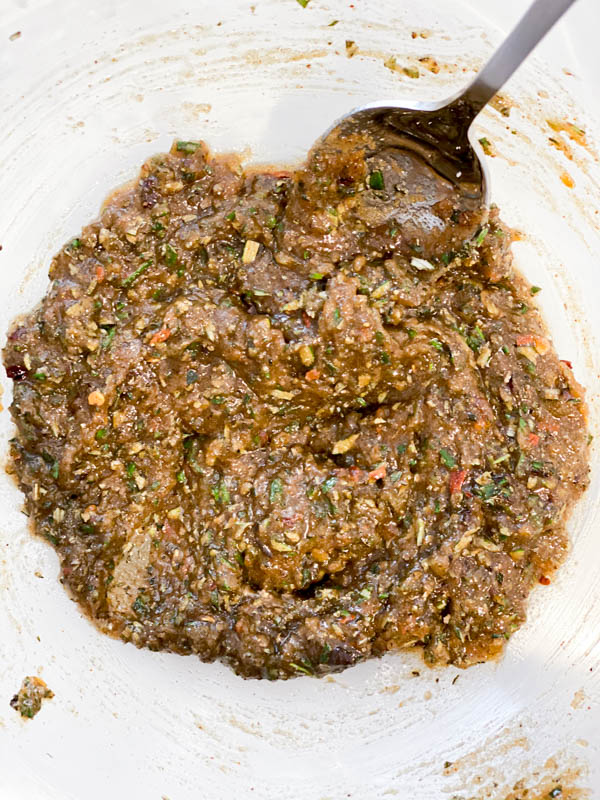 Method/Tips
When lining the baking tray, use tin foil to fully cover the tray first, before adding baking paper, as it makes cleaning easy.
When you stir the nuts during the cooking time, some of the melted spice mix will stick to the spoon, so wash the spoon in hot water each time. That way it wont harden on your spoon. It only takes a second to do, but saves cleaning the spoon later.
Please do not skip this simple step: When the nuts are cooked, stir them around gently with a spoon (they'll still be hot) to separate them while they are cooling. Do this 2-3 times, every couple of minutes which will stop the nuts from clumping together. Once cooled, break up the small few that do stick together with clean hands.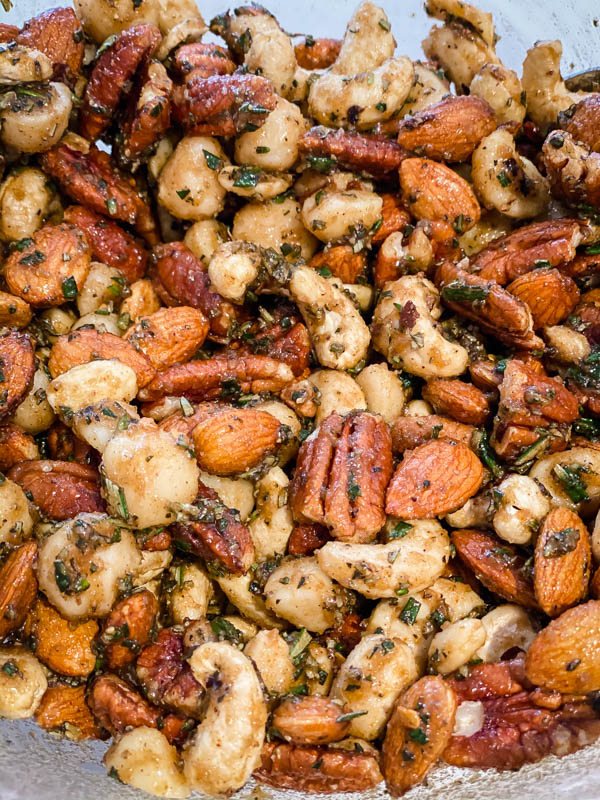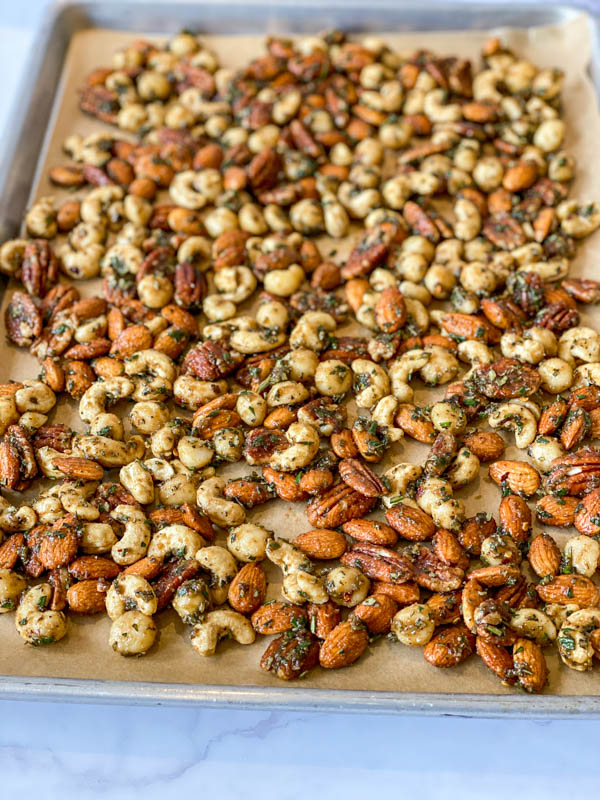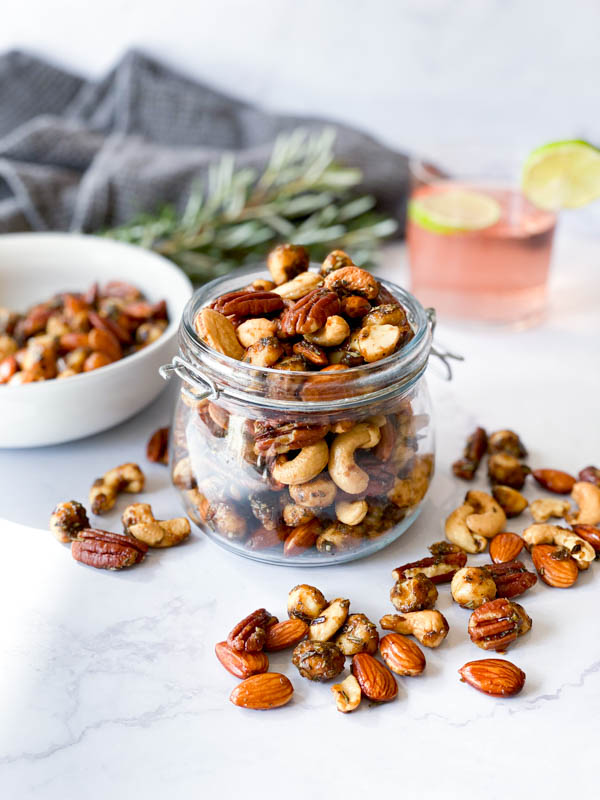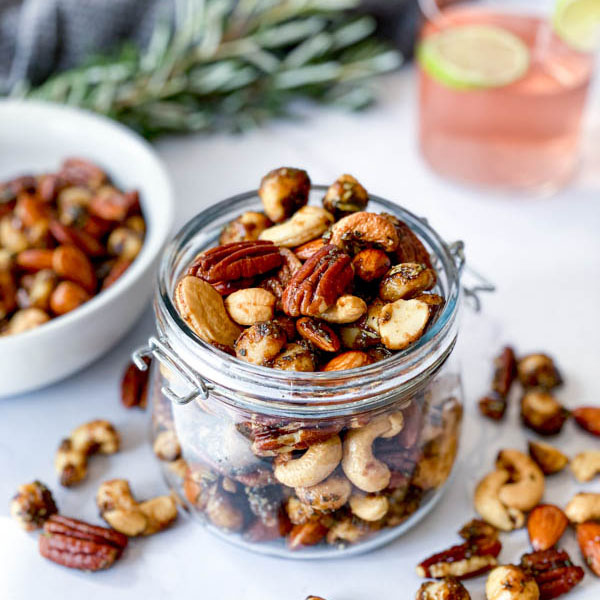 Ingredients
4.5

cups

nuts, assorted

I use a mix of macadamias, walnuts/pecans, cashews, almonds
Spice Mix:
2

tsp

ground cumin

1/2

tsp

chilli flakes

dried

3

tbsp

brown sugar

2.5

tsp

salt

fine table salt or kosher

1/2

tsp

black pepper

freshly ground

4

tbsp

rosemary

finely chopped

1

tbsp

maple syrup

pure

2

tbsp

butter

melted

1

tbsp

olive oil

extra virgin

1/4

tsp

cayenne pepper

(can add more if you like them more spicy)
Optional Spices (recommend adding all of these!)
1/2

tsp

ground ginger

pinch of ground nutmeg

pinch of ground cinnamon
Instructions
Preheat oven to 160°C. LIne an oven tray with tin foil to cover the tray and a piece of baking paper on top.

In a large bowl, add all the ingredients (except the nuts) and mix to combine. Add the nuts and stir so they all get coated well in the spice mixture.

Spread the coated nuts onto the oven tray and spread out evenly. Bake in the oven for 15 minutes.

Take the tray out of the oven, and give the nuts a stir to move them around (I bring all the nuts on the sides into the middle with a spoon and then spread them all back out again evenly).

Return the nuts to the oven and continue to cook for another 8 minutes. Remove from the oven, stir again and put them back in for a further 3-7 minutes. Keep an eye on them during this last cooking time as everyone's oven temps are different. You only want the lighter coloured nuts like cashews to colour slightly, so you need to keep an eye on them. You might find your oven takes a little longer so just look for the colour change and take them out. Please watch them as you you don't want burnt nuts!

Stir the nuts again, and set aside to cool on the oven tray. While they are cooling, give them a stir every couple of minutes (repeat 2-3 times). This is important as it stops the nuts from clumping together.

Once cooled, break up the small few that have stuck together, with your hands, and try not to eat too many 🙂 .

Pour nuts into sterilised jars. Nuts will keep for 3 weeks in a cool, dry place.
Nutrition
Calories:
177
kcal
|
Carbohydrates:
9
g
|
Protein:
5
g
|
Fat:
15
g
|
Saturated Fat:
2
g
|
Cholesterol:
2
mg
|
Sodium:
245
mg
|
Potassium:
164
mg
|
Fiber:
3
g
|
Sugar:
2
g
|
Vitamin A:
65
IU
|
Vitamin C:
1
mg
|
Calcium:
26
mg
|
Iron:
1
mg