These Candied Walnuts are delicious and highly addictive! They are lightly candied (I have reduced the amount of sugar normally used), so the taste of the walnuts still shine through. A crunchy snack to serve while entertaining, or you can add them to salads, ice-cream, cereal, yoghurt or use them to decorate cakes. They are so versatile! Made in only 5 minutes, using only four ingredients, this is a great recipe to have in your repertoire for entertaining. They also make a great gift.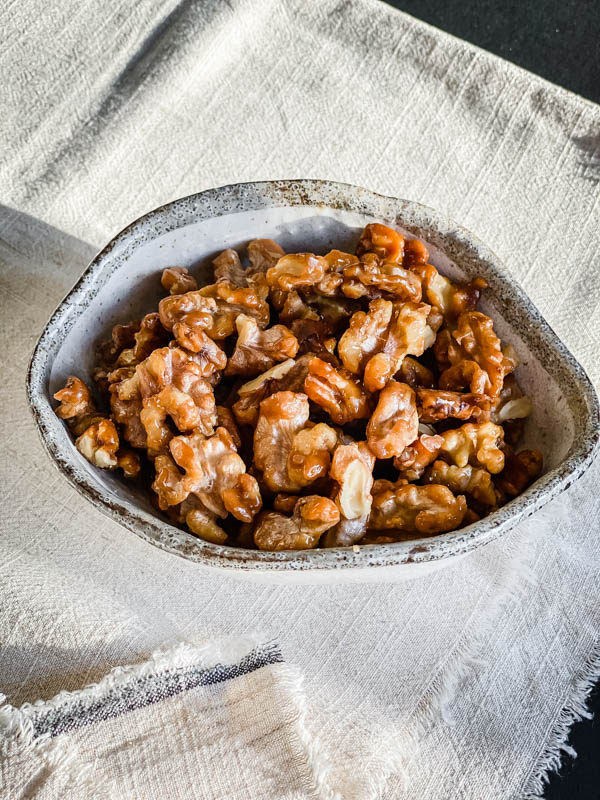 I just love how simple and quick these are to make.
Everything is cooked together in a skillet pan or saucepan on the stovetop. No need to toast them first or finish them off in the oven. The walnuts are roasted and caramelised at the same time in the pot – so very easy.
It has become my "go-to" snack for easy entertaining – a perfect accompaniment with drinks. But because they are so quick to make, I often also use them to decorate bakes. They work well with Banana, Carrot or Zucchini Cakes with Cream Cheese Frosting. Use them whole or crush them and sprinkle over the frosting for added flavour.
I also use them in salads. They work well with apples in a salad. I recently used them in my Roast Beetroot, Goats Cheese and Walnut Salad. You can find the recipe here.
This Candied Walnuts recipe can easily be doubled.
Let's take a look at the ingredients.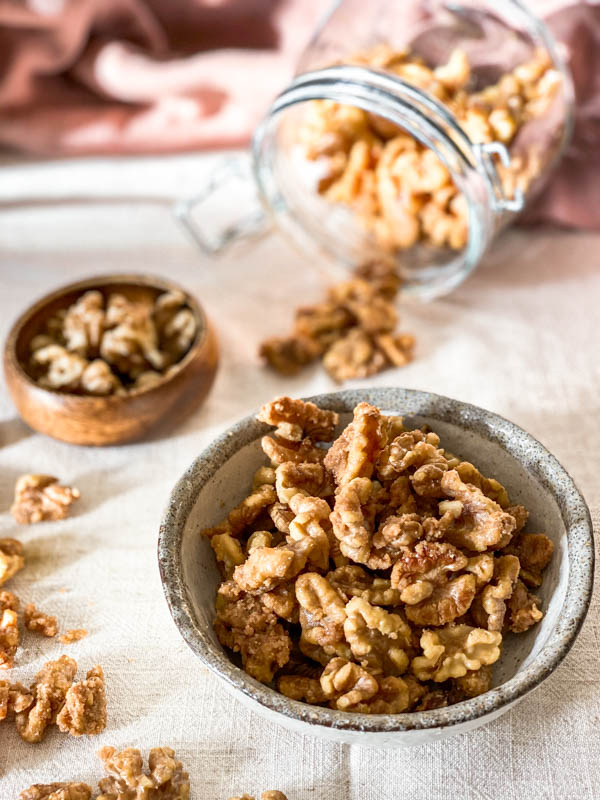 Ingredients
Walnuts – Walnuts are absolutely perfect in this recipe (although could be substituted with pecans or almonds if you prefer). Their slightly bitter taste makes them a great nut to candy.
Sugar – I use caster sugar. You can use brown sugar or half of each. If you have a sweet tooth, you can add an extra tablespoon if you wish.
Butter – salted or unsalted is fine.
Salt – just a pinch but it makes all the difference! Don't leave it out.
You could also add some spices or herbs to this recipe. Cinnamon or Cayenne and/or rosemary would be nice. I also have another nut recipe which uses spices and herbs. You can find my very tasty Sweet and Spicy Nuts recipe here.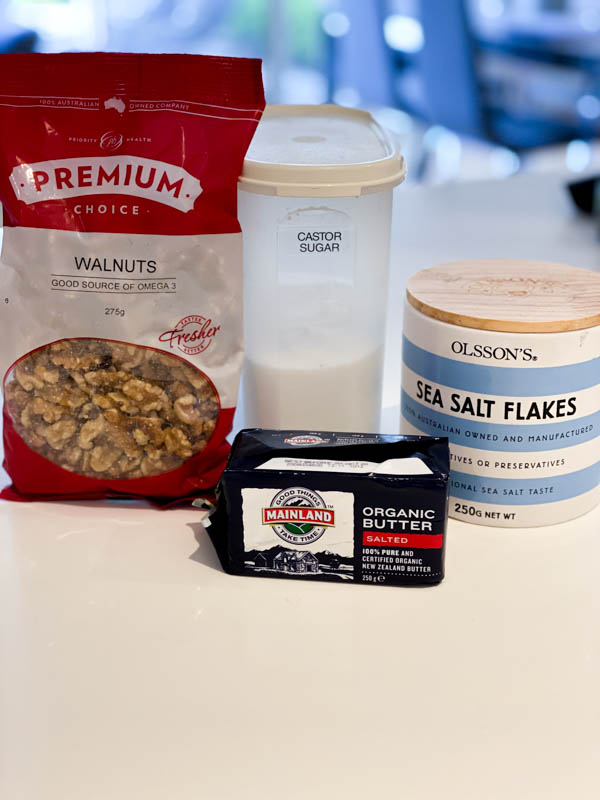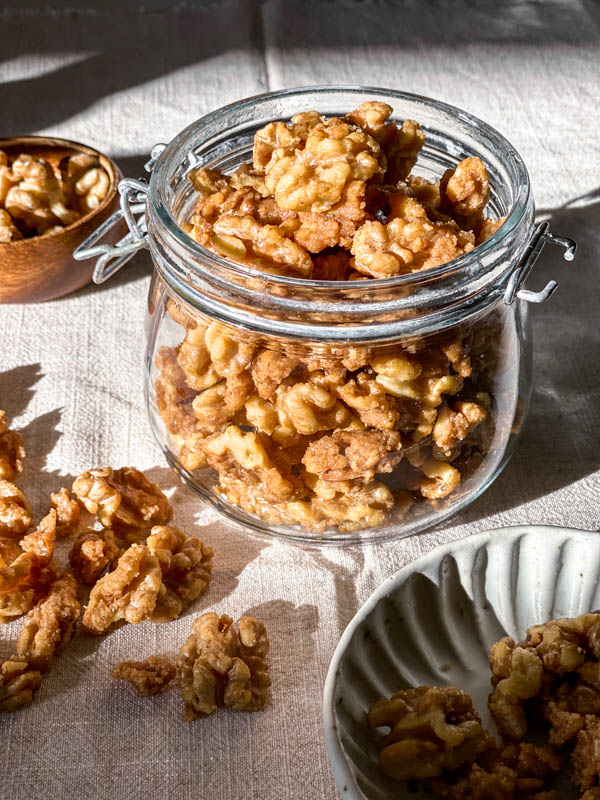 How to Use Candied Walnuts
There are so many ways you can use these nuts. They make a delicious snack as they are, or they can be added to a cheeseboard or grazing platter as they complement cheeses beautifully.
Here are other suggestions for using them:
Serve with ice-cream – either sprinkled on top or folded through softened ice-cream. They can also be added to an ice-cream machine when making homemade ice-cream (follow manufacturers instructions).
Add to cereals and yoghurt.
Use them to decorate cakes or muffins. They can be used whole or crushed and work well with cakes that have a cream cheese frosting like Banana, Carrot or Zucchini Cakes.
Add them to salads. See my Roast Beetroot, Goats Cheese and Walnut Salad. They also work well in salads that use apples.
Chop them up and add to your Bircher Muesli mix.
Here are some photos showing some of the steps: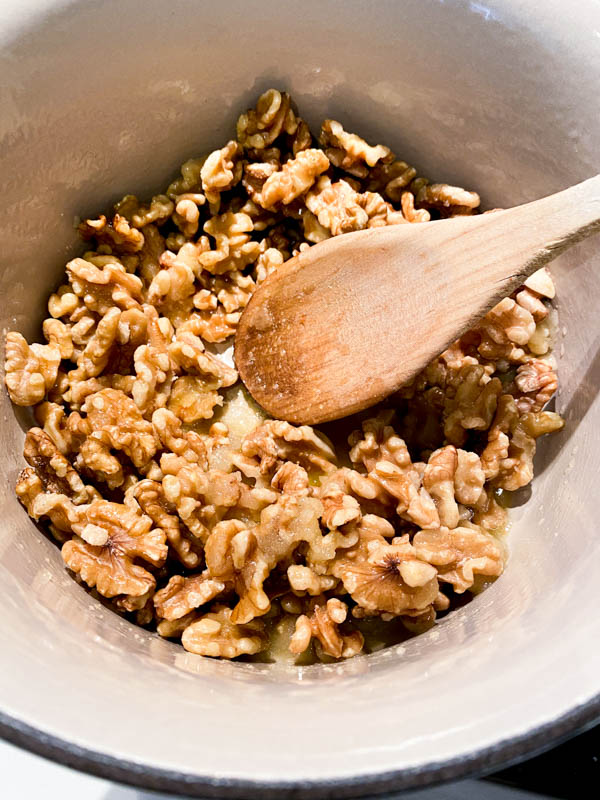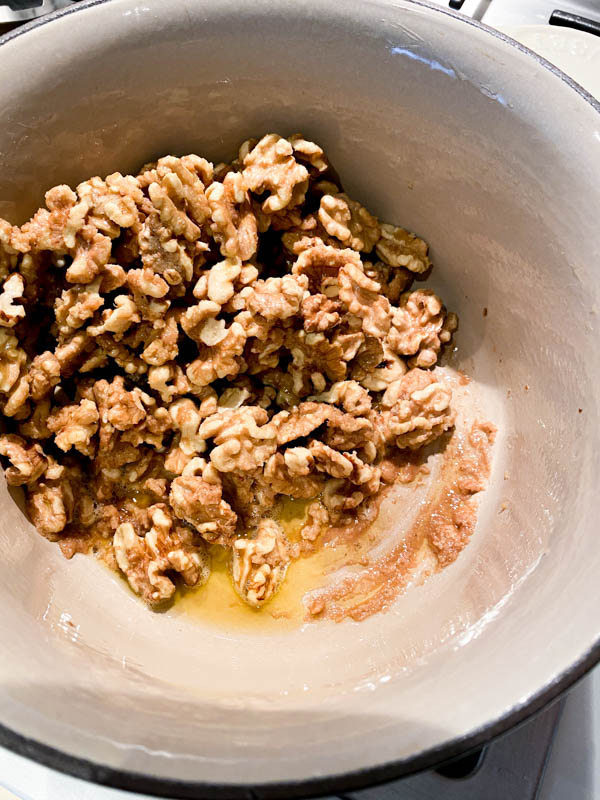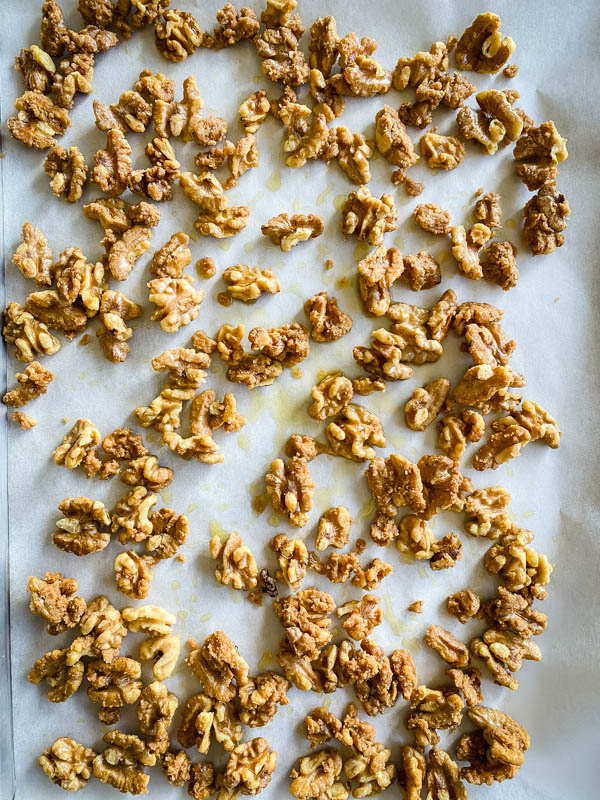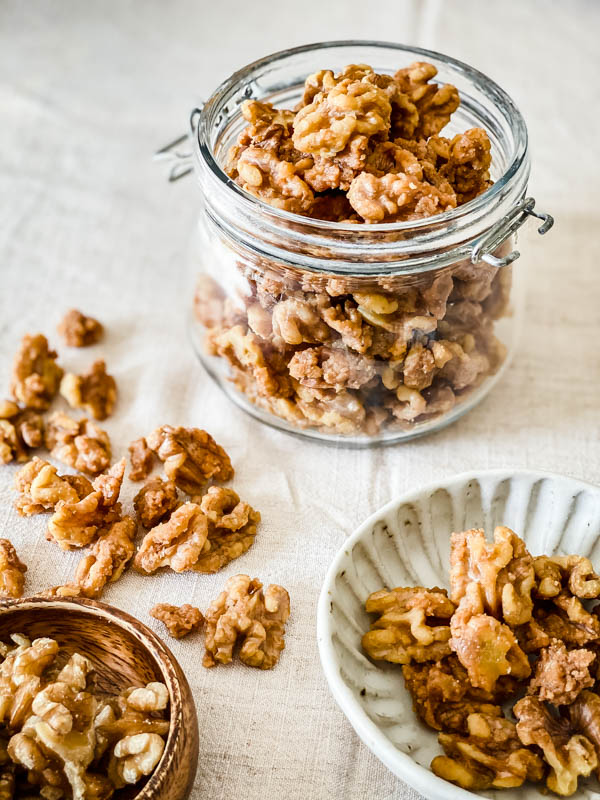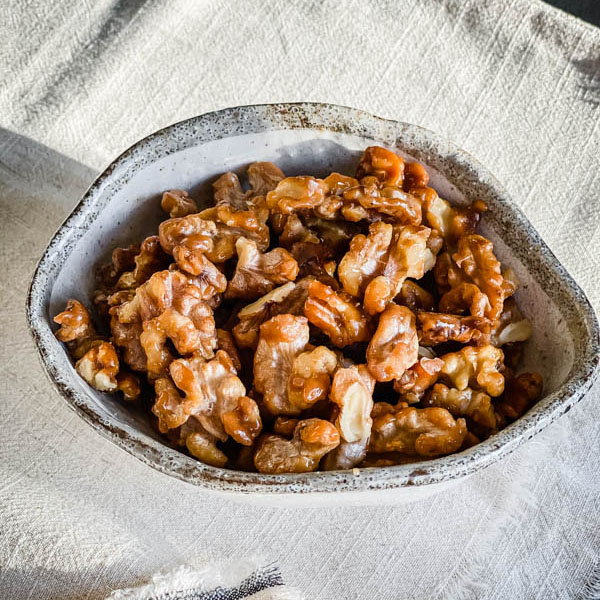 Equipment
small skillet pan or saucepan

baking paper lined tray for cooling the nuts
Ingredients
20

g

butter

salted

1

c

walnuts

30

g

caster sugar

pinch of salt
Instructions
Line a tray with baking paper and set aside.

Melt the butter in a heavy based skillet pan or saucepan over medium heat. Add the sugar and stir briefly, then leave the sugar until it has almost all melted. Add the walnuts and a pinch of salt, and stir continuously for 2-3 minutes or until you notice the sugar starting to change to a golden colour. Stir a few seconds more to ensure all the walnuts are coated. Be careful not to let the sugar colour too much.

Immediately pour the candied walnuts out onto the lined tray and spread them out so they don't stick together. Leave to cool for 5-10 minutes.

Once completely cooled, store in sealed jars for 1-2 weeks. They can also be frozen in an airtight container for up to 2 months.
Notes
This recipe can easily be doubled. It will just take a little longer for the walnuts to caramelise in the pan.
Take care when caramelising the walnuts that they don't burn. They should be a golden colour and not too dark.
Nutrition
Calories:
171
kcal
|
Carbohydrates:
8
g
|
Protein:
3
g
|
Fat:
15
g
|
Saturated Fat:
3
g
|
Cholesterol:
7
mg
|
Sodium:
24
mg
|
Potassium:
86
mg
|
Fiber:
1
g
|
Sugar:
6
g
|
Vitamin A:
83
IU
|
Vitamin C:
1
mg
|
Calcium:
19
mg
|
Iron:
1
mg