This Cheese Puffs recipe is one of the easiest things you can make. Made with everyday ingredients that are mixed together in one bowl. A no-frills recipe that you can whip up at a moments notice. They are light and cheesy and are a great little snack; or serve it like we do, alongside your favourite soup.
Did you eat these as a child? They have been around for a long time – your Nan may have made them. I hadn't eaten them in years, but when I needed something last minute to accompany a soup last week, these came to mind. They were ready in 20 minutes! Served warm with the soup, they were cheesy and delicious. There is nothing fancy about these Cheese Puffs. All the ingredients are simply mixed together in one bowl, apportioned on an oven tray and baked for 10 minutes. They are a bit like a damper or scone but lighter and much less work.. They are best eaten the day they are made. A great little snack or side to whip up at a moments notice.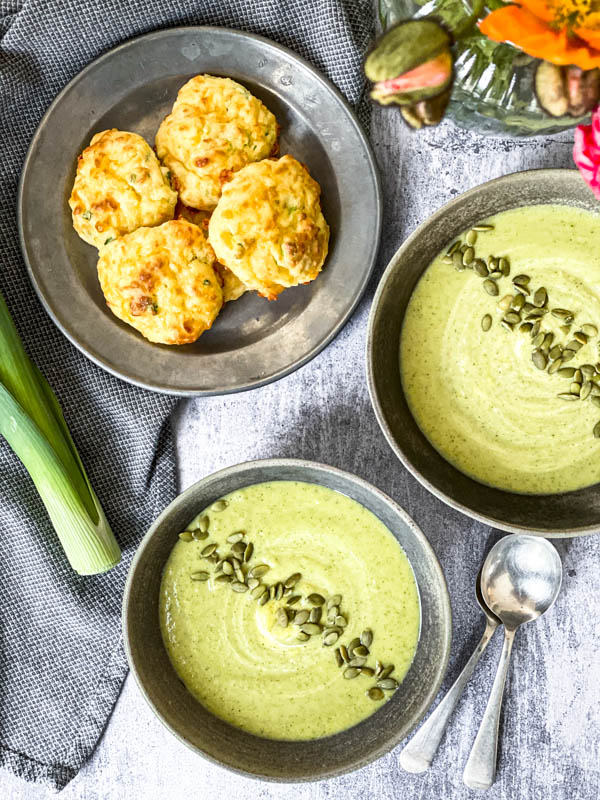 Ingredients
The beauty of this recipe, is that most of these ingredients are pantry staples. The basic recipe can be made with just the following ingredients and they can be gluten-free:
Plain flour or Gluten-free plain flour (if using gluten-free flour, add a little more milk to the batter)
Milk
Egg
Baking Powder or Gluten-free baking powder
Salt and Pepper
Cheese – tasty, cheddar and even a little parmesan
You can also add:
chopped spring onions
finely diced onions (I like to cook them a little first)
diced bacon (about 3-4 rashers)
crushed garlic
pinch of paprika
pinch of mustard powder
herbs like parsley, rosemary or chives
Other ways to serve:
Cut in half and add a filling – eg. cream cheese and smoked salmon slices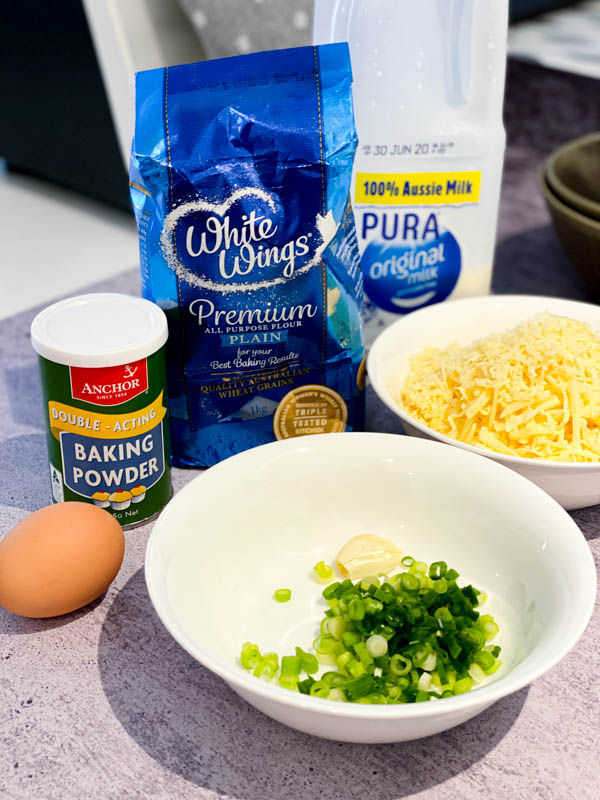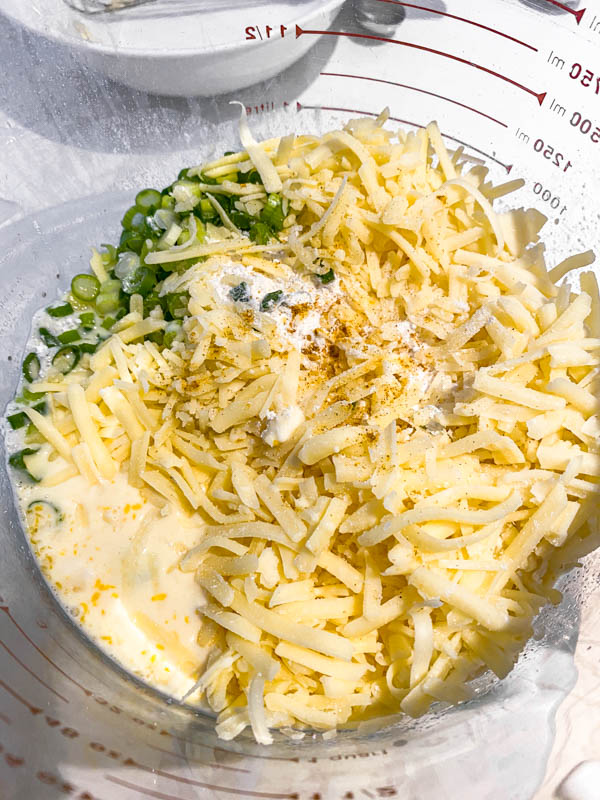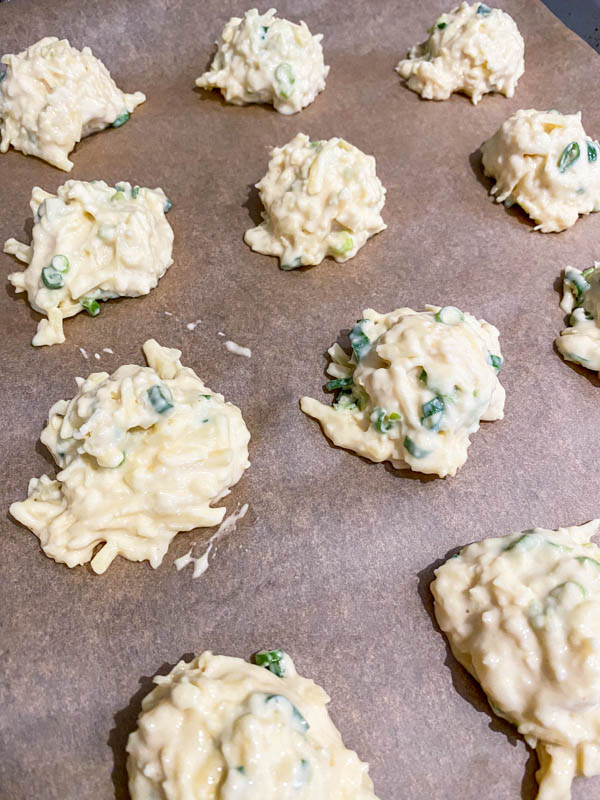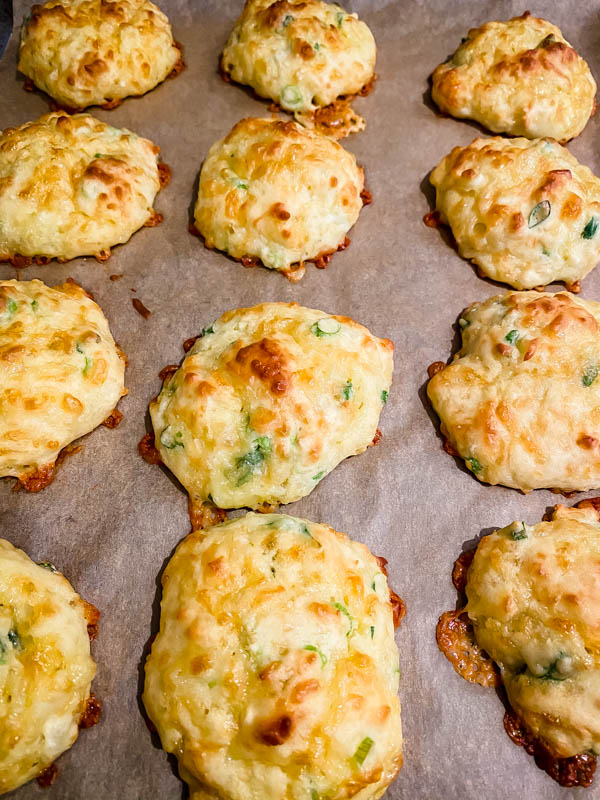 They are best eaten warm out of the oven. If you are looking for a soup recipe to have these with – take a look at my Broccoli Soup, Pumpkin Soup or Roasted Tomato Soup.
This is a great easy recipe to get your children involved with (supervised of course) and a good one to give your child when they leave home and go flatting for the first time. Simple, foolproof and quick!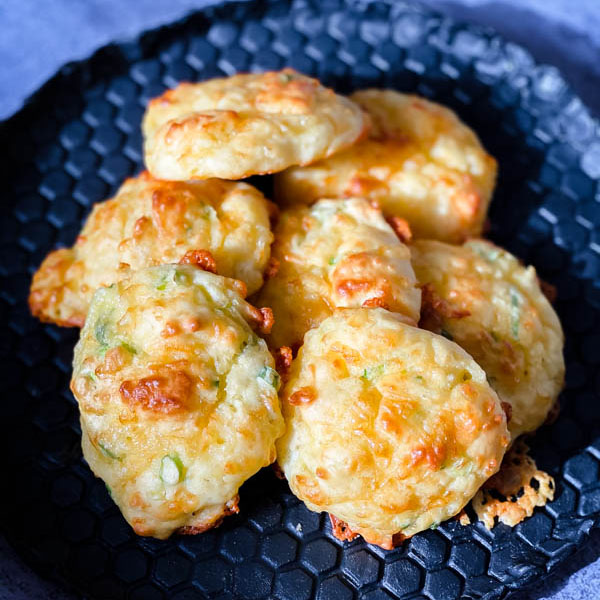 Equipment
large bowl or jug

Cheese Grater
Ingredients
1

c

plain flour

3

tsp

baking powder

1/2

c

milk

(or cream)

1

egg

beaten

salt

good pinch

2

c

cheddar cheese

or tasty, grated

1/4

tsp

mustard

dijon (optional)

1

garlic clove

crushed (optional)

1/4

c

spring onions

chopped finely (optional)

pepper

to season

2

tbsp

parmesan cheese
Instructions
Preheat the oven to 200°C. Line an oven tray with baking paper.

Mix all the ingredients (except the parmesan cheese) together in a bowl until just combined. Do not over-mix.

Drop tablespoon sized mounds onto a baking tray leaving at least 5cm between them.

Sprinkle the tops with the parmesan cheese.

Bake for 10-12 minutes until puffed and golden. Rest 5 minutes before serving.

Best eaten warm from the oven, with or without butter.
Notes
Suggestions:
chopped spring onions
finely diced onions (I like to cook them a little first)
diced bacon
crushed garlic
pinch of paprika
pinch of mustard powder
herbs like parsley, rosemary or chives
Nutrition
Calories:
130
kcal
|
Carbohydrates:
9
g
|
Protein:
7
g
|
Fat:
7
g
|
Saturated Fat:
4
g
|
Cholesterol:
35
mg
|
Sodium:
264
mg
|
Potassium:
54
mg
|
Fiber:
1
g
|
Sugar:
1
g
|
Vitamin A:
252
IU
|
Vitamin C:
1
mg
|
Calcium:
230
mg
|
Iron:
1
mg