An absolute favourite summer salad coinciding with when tomatoes are at their peak and bursting with flavour. It is so simple to make as once you have roasted the capsicums/peppers, it is just a matter of slicing and assembling everything on a platter. This is my take on a classic Caprese Salad with a few extra ingredients and I just love the salty pops of flavour that the capers and olives add to this wonderful dish. Delicious!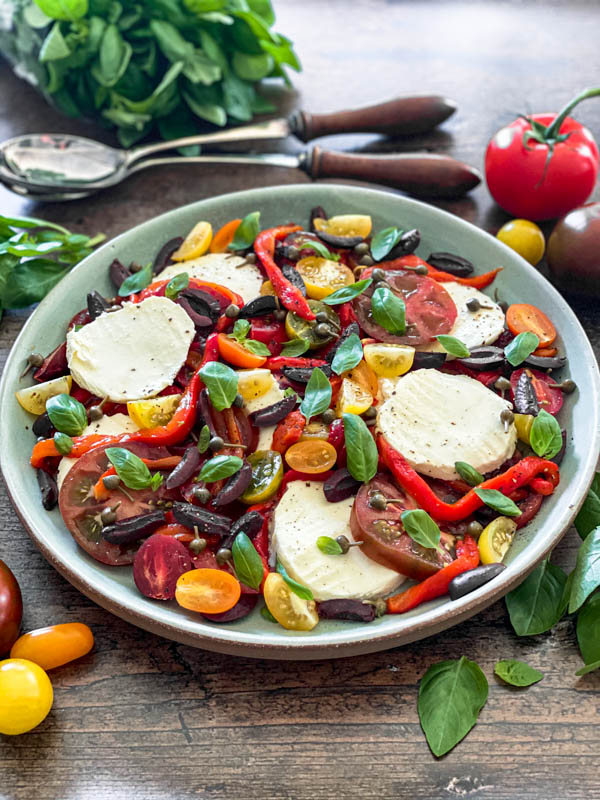 A traditional Caprese Salad uses only five ingredients which are tomatoes, fresh mozzarella, basil, salt and extra-virgin olive oil. For my version, I have added capers, olives, roasted capsicum/pepper slices and a thin drizzle of sticky fig syrup (optional – you can use a balsamic syrup or similar). The salty hits of capers and olives along with the slight sweetness from the roasted capsicums/peppers and fig syrup really adds extra levels of flavour to this salad.
While I have given measurements in this recipe, it really is a guideline as this is one of those throw together recipes – if you don't have quite enough tomatoes or capers, it doesn't really matter! If I could write 'a handful of olives' or a 'handful of capers' as a measurement, I would. It is one of those recipes that, when I am in a real hurry and want to whip up this salad for myself on a weeknight, I can have this salad made in 5 minutes (obviously without the added roasted capsicums/peppers), and it is still delicious without them.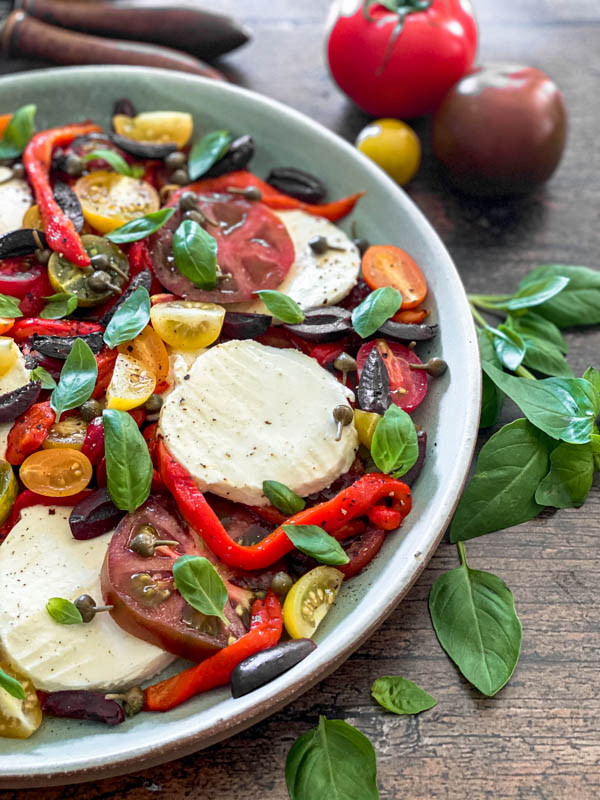 The key to this salad is to use quality ingredients and tomatoes that are at their best – ripe and full of flavour. You can use all red tomatoes, but I like to use an assortment of coloured or heirloom tomatoes if I can get hold of them.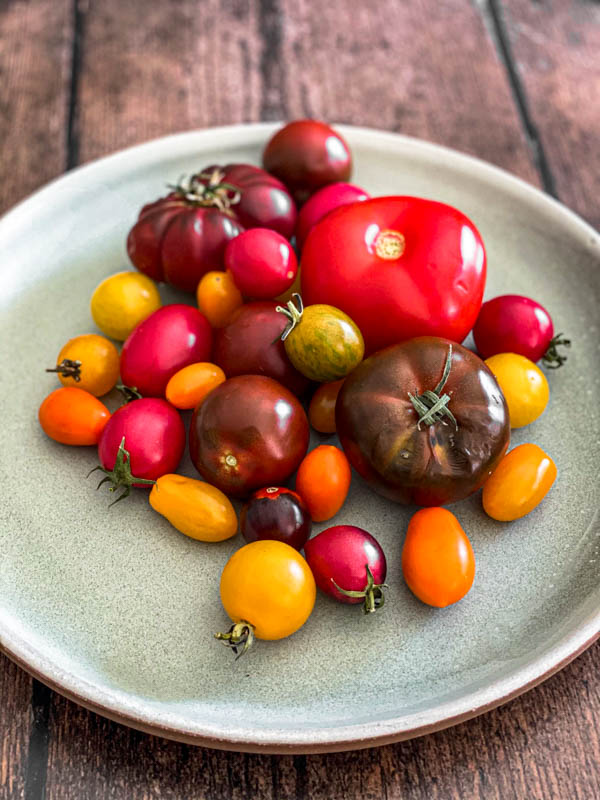 This salad is delicious served on it's own as a meatless meal, or served alongside other meats and/or salads as part of a meal. It can also be served as a starter or 'antipasto' with crusty bread. When serving it this way, you can also drape thinly sliced prosciutto around the salad or serve them on a separate dish. I like to serve this on a large platter so your guests can just help themselves.
A delicious take on a classic Caprese Salad.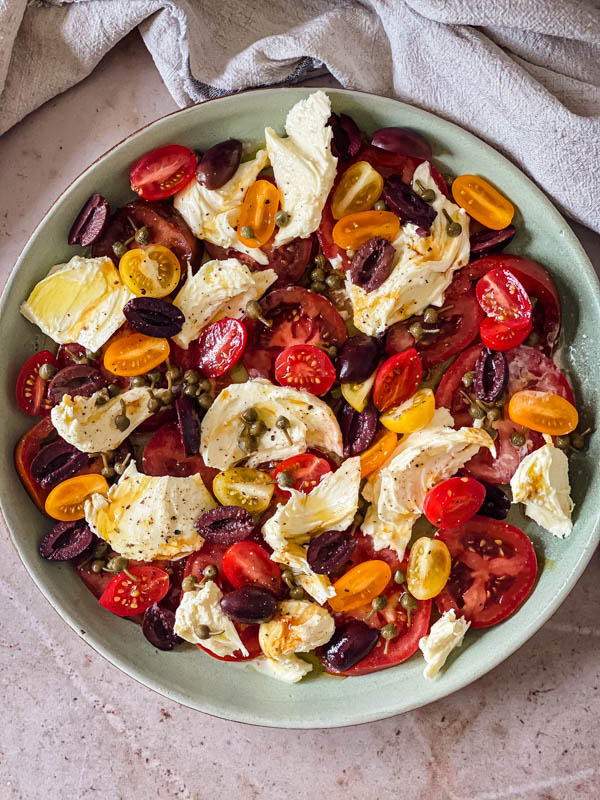 Ingredients you will need to make the Caprese Salad:
Tomatoes – you will need both large tomatoes and cherry tomatoes to make this salad. Using an assortment of colours is nice in this salad but you can use all red tomatoes if that's all you have. The most important thing is to use sweet, ripe and juicy tomatoes. Quantities in this salad is just a guide – I have suggested 800g of large tomatoes and 250g cherry tomatoes, but you can use slightly more or slightly less.
Capsicum/Peppers – I like to use 1 red and 1 yellow capsicum. These are roasted until the skin becomes blackened. I do mine in the oven, but you can also grill them on a bbq or over a gas flame if that's how you prefer to do it.
Mozzarella – use the fresh white balls of mozzarella for this recipe not the yellow processed mozzarella.
Olives – pitted black olives. You can use a little more or a little less than the quantities suggested, to suit your own taste.
Capers – I like to use salted capers in this recipe. Rinse them well and drain them or pat them dry gently. Again, you can use a little more or a little less than the recipe suggests, to suit your own taste.
Extra-virgin Olive Oil – use your favourite good quality olive oil for this recipe as it is used to liberally dress this salad. The olive oil, the fig syrup (refer below) and the juices from the tomatoes are delicious!
Sticky Fig Syrup – I use this locally made product but you can use a similar sticky syrup (balsamic) to lightly dress this salad. It is optional and you can still enjoy this salad without it.
Basil leaves – fresh basil leaves are used to garnish this salad. I love the freshness and flavour the basil brings to this salad. Basil, tomatoes and mozzarella are such a great combination. I like to use enough basil so that you can get some with every mouthful.
Salt – to season the tomatoes lightly.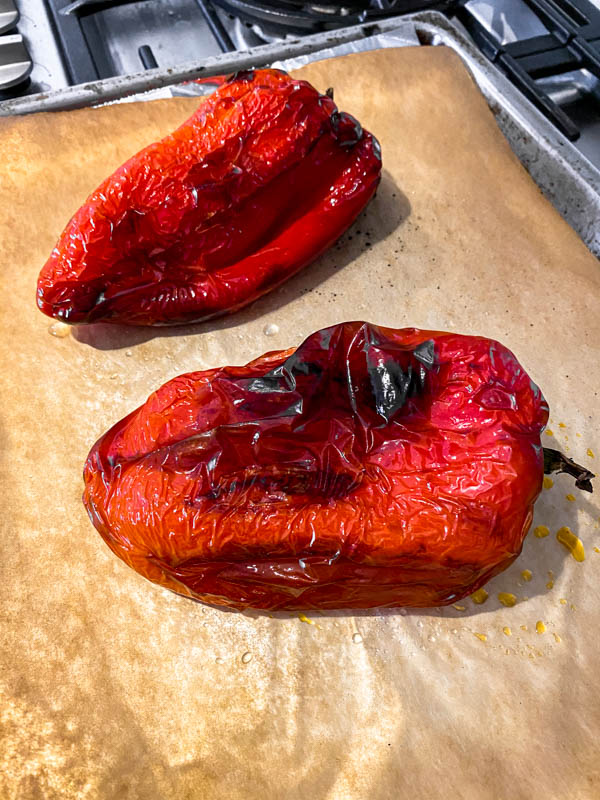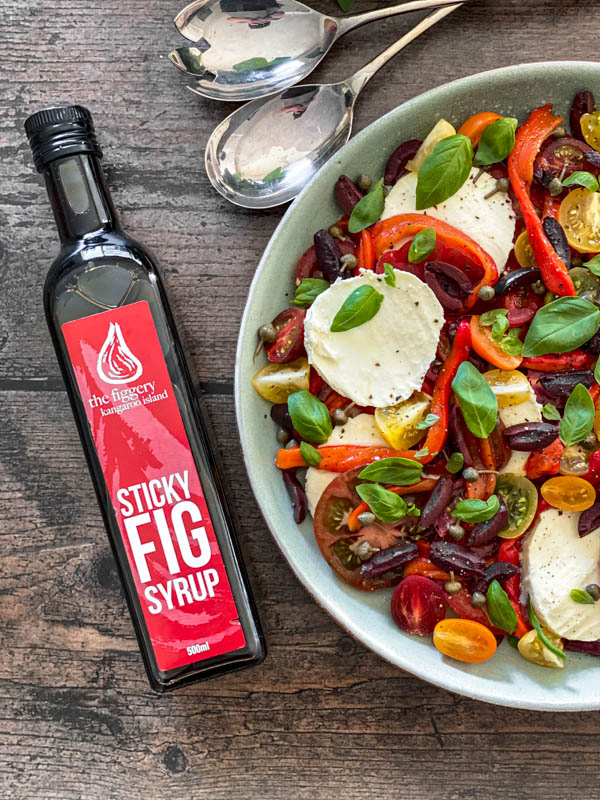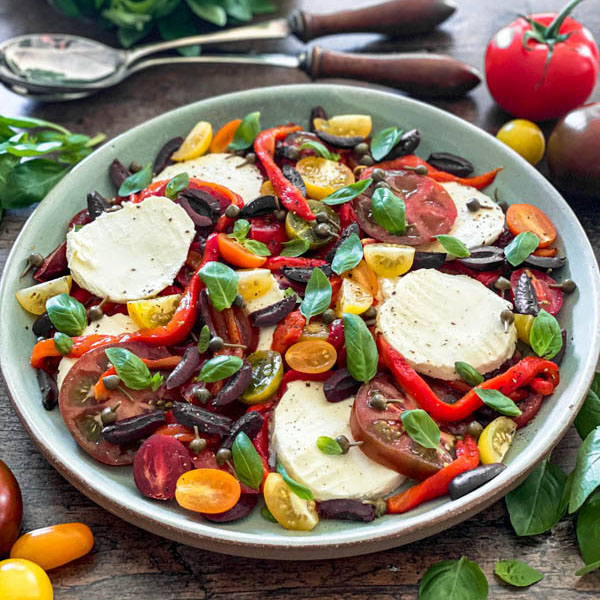 Equipment
heatproof glass bowl or jug to rest the roasted capsicums/peppers

oven tray

large round platter
Ingredients
800

g

large ripe tomatoes

assorted colours if possible – heirloom varieties

225

g

cherry tomatoes

assorted colours if possible (heirloom varieties), baby Roma and cherry tomatoes

2

medium capsicums/bell peppers

1 red, 1 yellow if possible (see note 1)

400

g

fresh mozzarella

I use 2 large round balls at 200g each (see note 2)

1.5

tbsp

salted capers

rinsed and drained (or gently patted dry) – you can substitute salted capers with a handful of caper berries

15

pitted black olives

halved or quartered

2

tbsp

olive oil

extra virgin

2

tsp

sticky fig syrup

or similar (sticky balsamic syrup) use 1-2 tsp according to taste and depending how sweet the tomatoes are

1

c

fresh basil leaves

a good handful of picked leaves

salt to season capsicum/peppers and tomatoes
Instructions
To Roast the Capsicum/Peppers:
Preheat the oven to 200°C (400°F). Line an oven tray with baking paper.

Wash the capsicums/peppers and cut in half lengthways. Remove the core and seeds. Rub with a little oil and place skin side up on the oven tray. Roast in the oven for 25-35 minutes or until the skin is blackened and blistered. Alternatively they can be grilled on a bbq plate or over an open gas flame if that is how you prefer to do it.

Remove them from the oven and using tongs, place them into a heatproof bowl and cover tightly with cling film. Set aside for 15 minutes to cool.

Once cooled, peel off the skin (this should come away easily) and discard. Slice the flesh into thick slices (just under 1cm) and place them in a bowl. Drizzle over a tablespoon of the extra-virgin olive oil and season with salt. Set aside on the bench or if not using them that day, refrigerate them until required (see note 1).
To Assemble the Salad:
Slice the large tomatoes into thick 1cm slices discarding the ends. Cut the cherry tomatoes and baby Roma tomatoes in half.

Cut the mozzarella balls into 1/2cm slices (or tear roughly into pieces).

To assemble the salad, place the large tomato slices onto a large platter in one or two layers depending on how large your platter is. Place 1/2 of the roasted capsicum/pepper slices around the platter (no need to drain them as their oil forms some of the dressing). Arrange mozzarella slices on top and scatter over the cherry and baby tomato quarters. Season lightly with salt. Arrange more of the roasted capsicum/pepper slices over the top (you may not need them all).

Scatter over the olives and capers. Drizzle with the remaining extra-virgin olive oil and the sticky fig syrup (if using). Garnish with the basil leaves. Ideally serve within 30 minutes of plating.

Serves 4-6 as a starter or side salad (see note 3).

Another way to assemble this salad is to arrange all the tomatoes and roasted capsicum slices around the outside of the platter and place the mozzarella slices in a circle in the middle. Scatter over the capers and olives etc.
Notes
Note 1: The capsicum/peppers can be prepared in advance up to 2 days ahead. Keep refrigerated and bring to room temperature before using.
Note 2: Use fresh mozzarella – the round white ones. Do not use the firmer yellow (processed) ones for this salad.
Note 3: Serves 4-6. Nutritional values are based on 4 servings. If serving as an antipasto or starter with bread, the salad can also be draped with thinly sliced prosciutto (or serve the prosciutto on the side).
Nutrition
Calories:
454
kcal
|
Carbohydrates:
18
g
|
Protein:
25
g
|
Fat:
32
g
|
Saturated Fat:
15
g
|
Cholesterol:
79
mg
|
Sodium:
969
mg
|
Potassium:
816
mg
|
Fiber:
5
g
|
Sugar:
11
g
|
Vitamin A:
4855
IU
|
Vitamin C:
117
mg
|
Calcium:
554
mg
|
Iron:
2
mg