Oh my, if you're a Quince and Gin fan, you must make this ridiculously easy (I'm almost embarrassed at how easy!) Quince Infused Gin – it will take you 15 minutes tops! Now, before you reach for the glasses and ice, it does need to 'infuse' for 2-4 weeks (a sneaky taste test along the way is perfectly acceptable). Be patient though, as you will be rewarded with a delicious and unique infused gin to be enjoyed over the Winter months.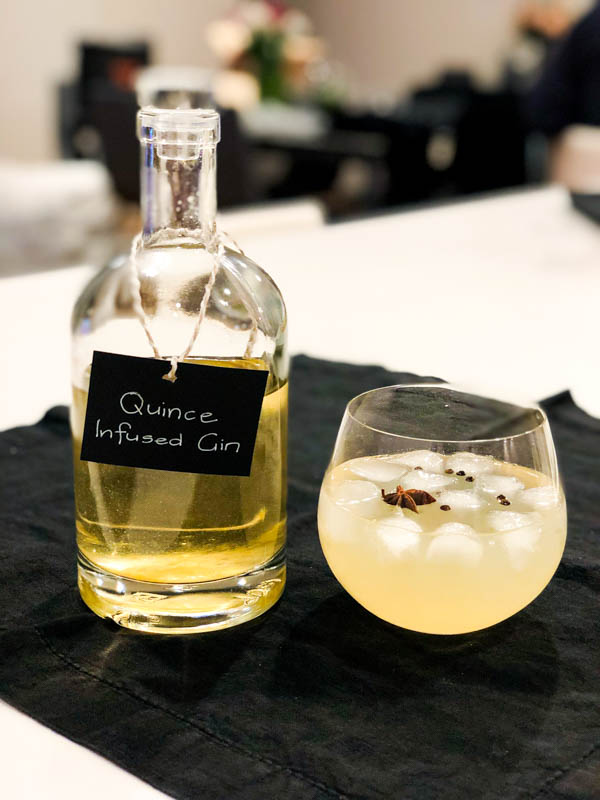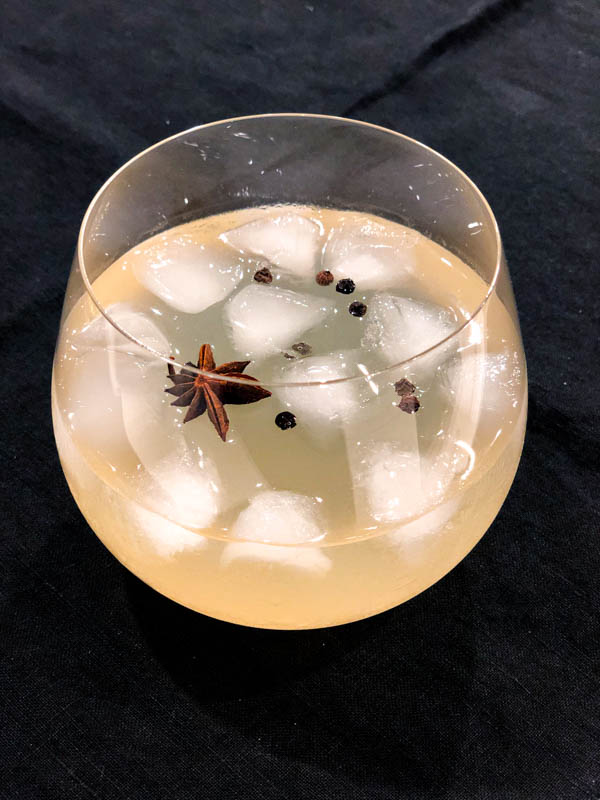 Over the 2-4 weeks, the gin will take on the heady flavours of the Quince fruit and the Gin will change from clear to a beautiful golden colour.
The resulting flavour of the Gin, like the Quince itself, is a heady mix of flavours; hints of citrus, apple, pear, honey and guava with almost tropical fruit notes, and the earthy taste of juniper berries and exotic spice. It's absolutely delicious and while I enjoy it mixed with tonic, I also very much like to sip it, served neat or over ice (in front of an open fire is optional, but recommended ☺️). It is a wonderful Winter drink.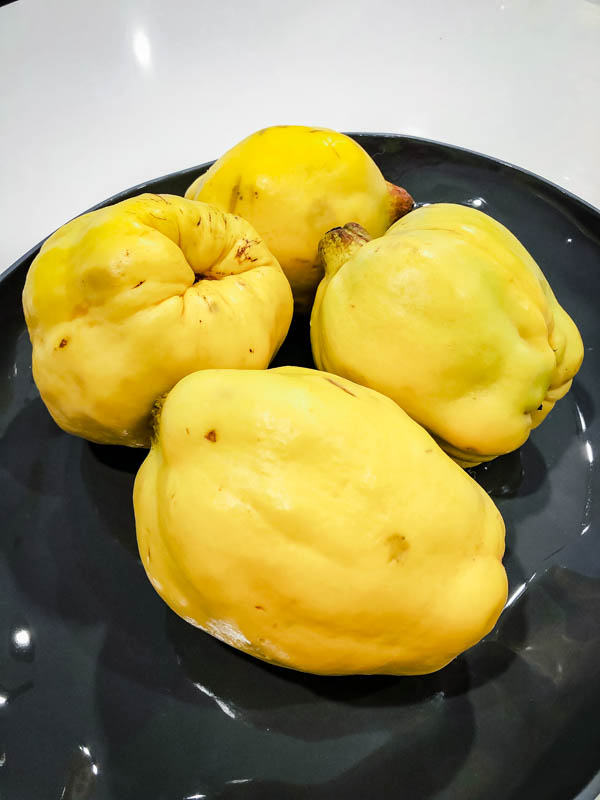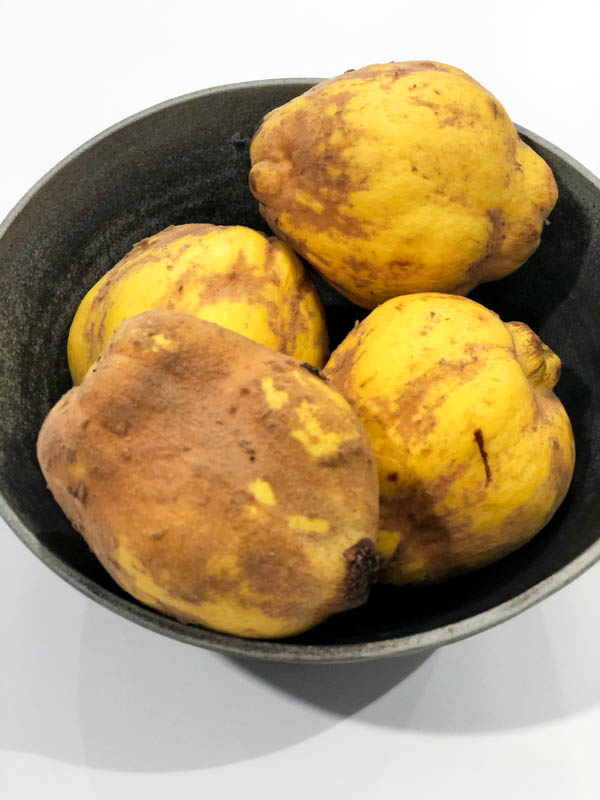 What is Quince?
Quince is an often overlooked fruit, mainly because people are unsure of how to use or prepare it. It really is a fruit worth exploring.
The Quince grows on a tree and looks a bit like a cross between a pear and apple but is more knobbly in appearance. It has yellow skin which can sometimes be covered in a furry coating which easily washes off. The thing that struck me most when I first bought this fruit was the beautiful fragrance it had. So hard to describe as it's unlike anything I had smelt before – a heady, almost exotic perfume of apple, pear, honey and tropical fruits like guava and pineapple – heavenly. Put your fruit bowl by a sunny window and you will be rewarded every time you walk by.
The Quince fruit has been around for many years. It was used in Roman cooking and is said to have originated from the Middle East and Asia. The pome fruits look so enticing and pretty hanging on the tree. When ripe, they turn from a very furry green fruit to a yellow colour and are strongly perfumed.
When ready to eat, the creamy white flesh is still very hard, bitter and astringent. It is not pleasant to eat raw, but when cooked with sugar and water, it transforms into the most delicious, soft, sweet and fragrant fruit. The flesh also changes from a yellow white colour to a rosy pink/deep ruby red.
The most common ways to cook the raw flesh is to poach or roast it in water, sugar and aromatics for a few hours until the flesh is soft. It can then be used in so many sweet or savoury dishes. Another popular way Quince is used, is to make Quince Paste (Membrillo) which is often seen on cheese boards.
It really is a fruit worth seeking out if you haven't already, as it really isn't hard to prepare or cook with.
Anyway, back to this recipe. As we are only using the Quince to 'infuse' our Gin, this is one exception where we use the raw fruit.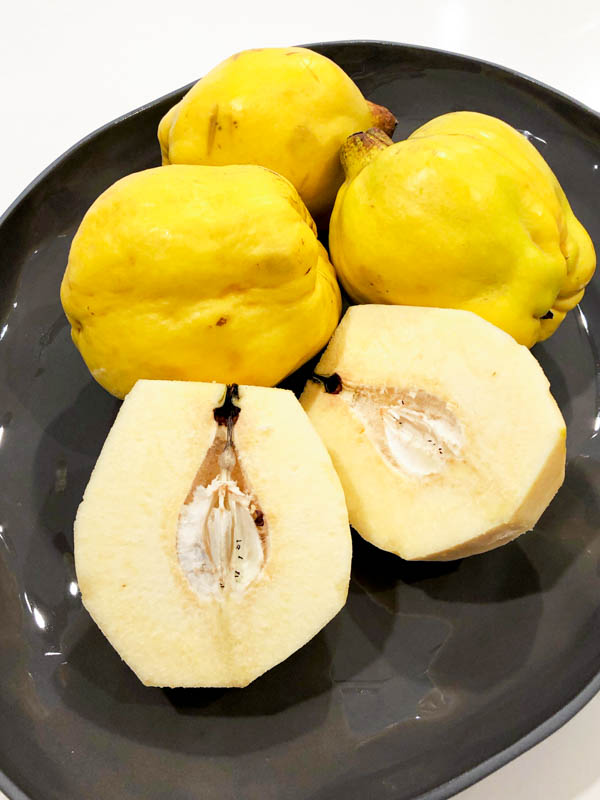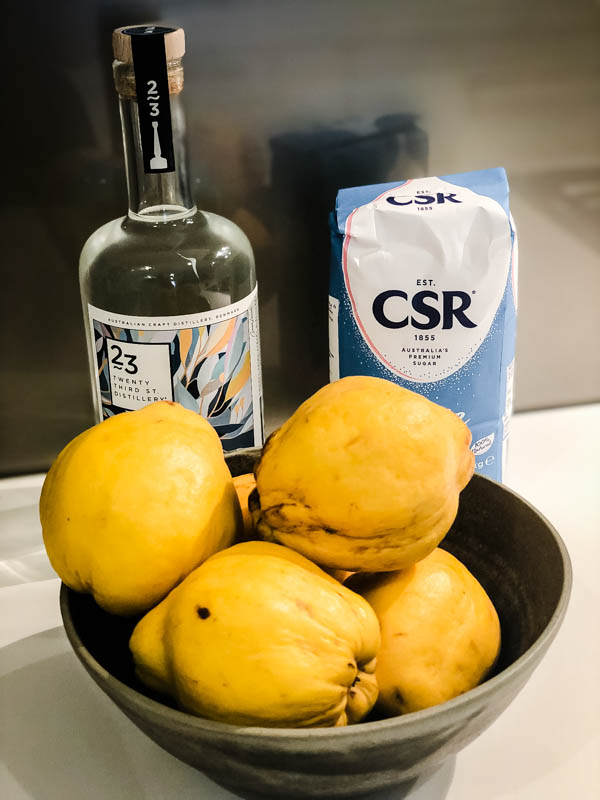 About The Ingredients
Quince – As we are only using the Quince to infuse the Gin, we will be using the raw flesh. Some Quince still have a furry coating (see photos above) so the skin needs to be washed and cleaned thoroughly to remove it.
Gin – choose any plain gin that you enjoy drinking.
Sugar – just normal granulated white sugar for this.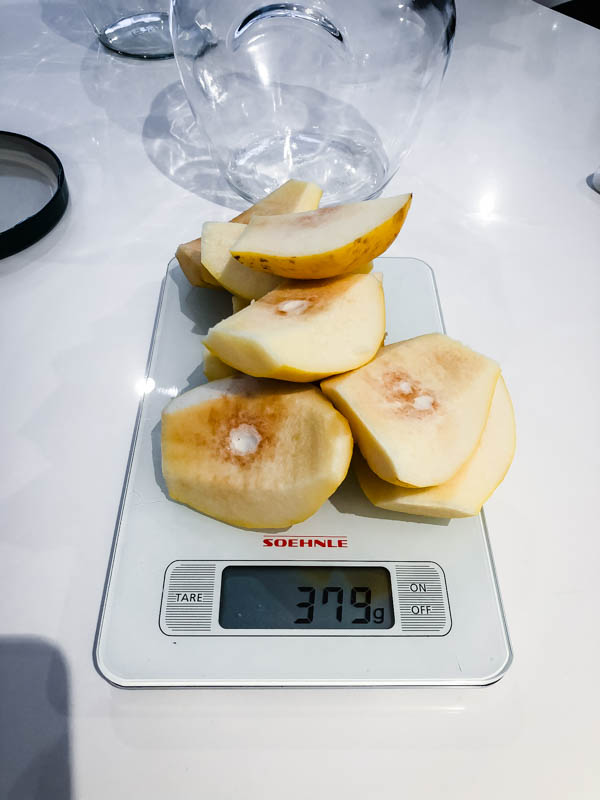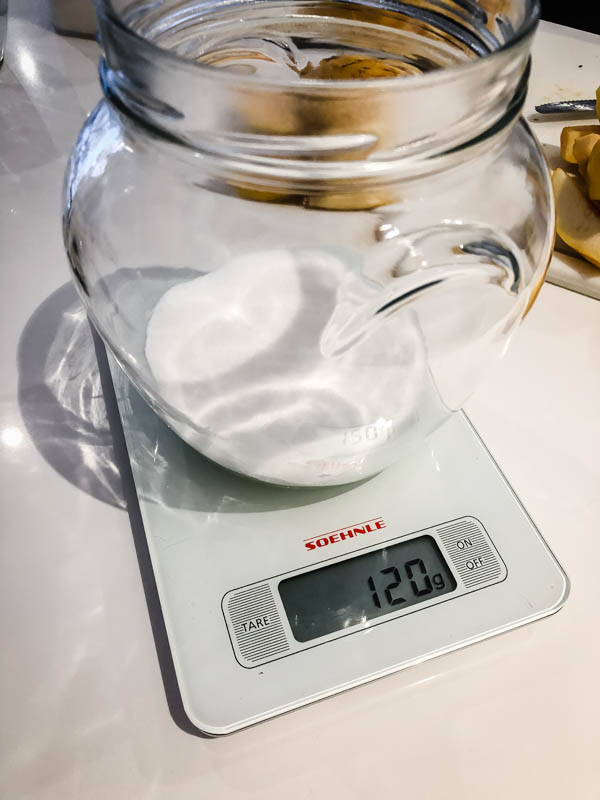 The Quince Infused Gin in stages: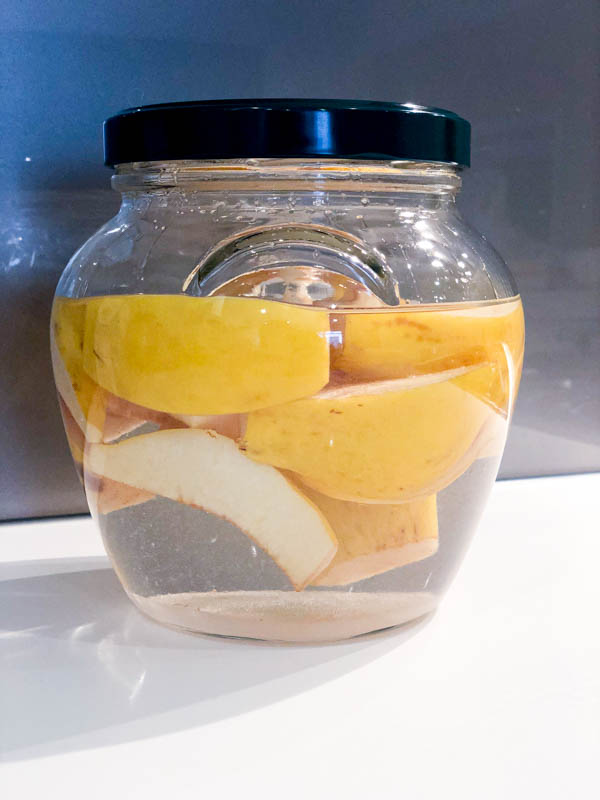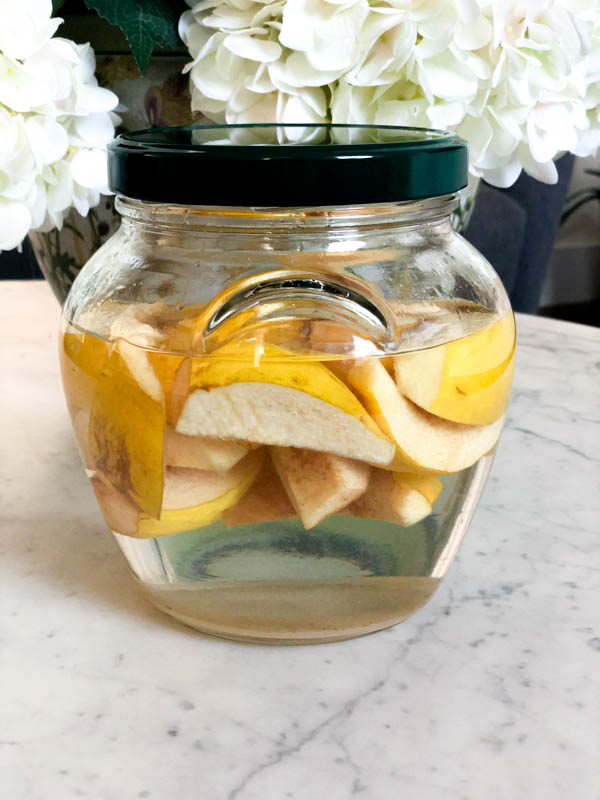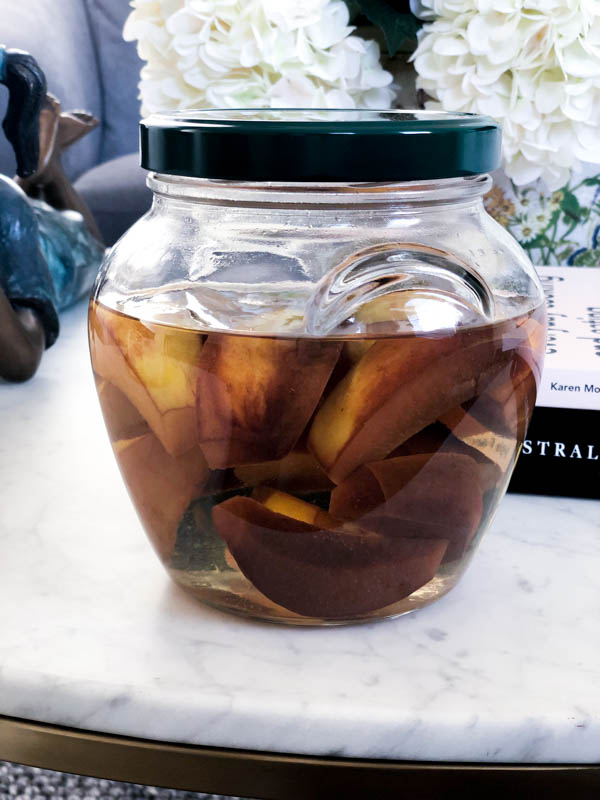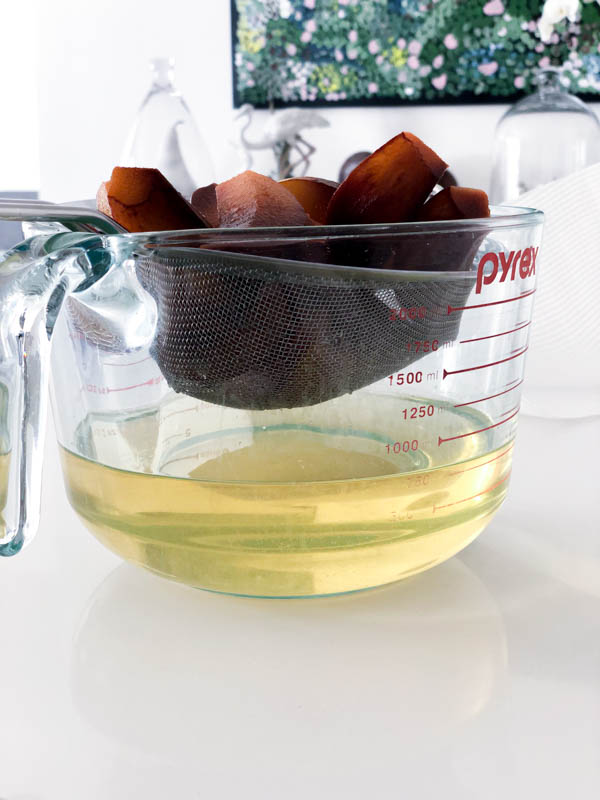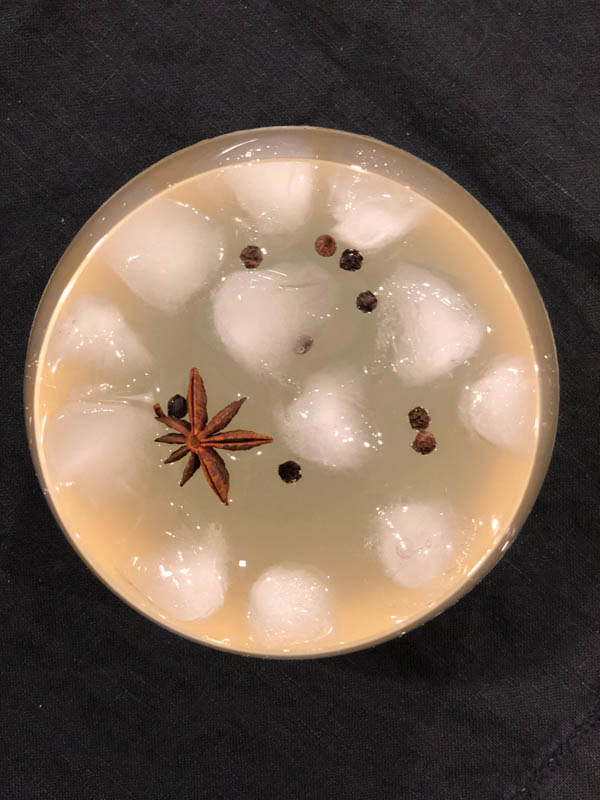 To Serve/Suggestions
Once the Quince Infused Gin has been infusing for 4 weeks it is now ready to be enjoyed. It really is up to you whether you drink it at 2 weeks or 4 weeks. The flavour is better developed at 4 weeks and you can actually infuse it for up to 6 weeks.
As mentioned earlier, I do enjoy mine with tonic and garnishes but I also love to sip it neat, or over ice, as it has such a beautiful flavour.
Some suggestions for a G&T:
I just try and think of flavours that go with Quince when I add anything to this G&T. Some of these are: star anise, black peppercorns, cinnamon quill, orange rind, bay leaf, rosemary. I also enjoy the Fever Tree Lemon Tonic with it too.
Quince Infused Gin can be kept in a sealed bottle and stored in a cool, dark cupboard. A bottle of this gin also makes a lovely gift for family and friends.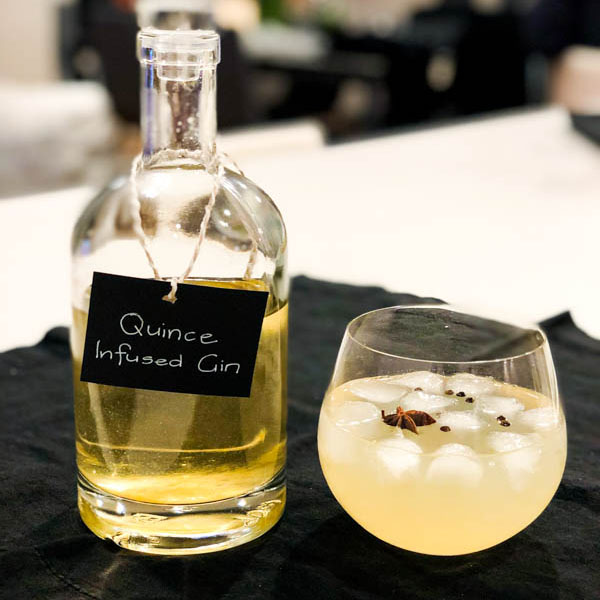 Equipment
Large sterilised jar (1.5 litre)

Sieve/strainer

Muslin cloth

Sterilised Bottle for storing (750ml)
Ingredients
700

ml

gin

120

g

sugar

granulated

375

g

quince
Instructions
Before you make this recipe, you need to have a sterilised jar large enough to hold the gin and fruit (I suggest a 1.5 lt) with a sealable lid.

Wash the quince skin thoroughly and rub off any furry coating. Quarter and core the quince, leaving the skin on. Discard cores.

Place the cored quince quarters into the sterilised jar and measure in the sugar and gin. Mix well until sugar is dissolved (I put the lid on (make sure it seals well) and give it a good shake).

That's it! So easy. Now put the sealed jar in a cool, dark cupboard for 2-4 weeks (I recommend 4 weeks for best flavour). In the first couple of days, give the jar a shake or stir each day to distribute any sugar that settles at the bottom.

In 4 weeks time, test your gin. You can actually leave it for another 2 weeks if you prefer, but I've found the flavour to be great at 4 weeks.

Strain the gin through a sieve lined with muslin cloth (you can double strain ie. do this twice, if you prefer) into a large jug. You are left with a lovely golden coloured gin.

Pour this liquid into a sterilised bottle (I use the Gin bottle it came from) and seal. A funnel is useful for this.

Enjoy!