A delicious, old fashioned NZ classic. This no bake Lolly Cake (or 'Lolly Log') uses only five ingredients – malt biscuits, butter, sweetened condensed milk, lollies and coconut. A very simple melt and mix recipe. Great for children's birthday parties as they are colourful and fun to eat. However, it won't only be the kids who will be devouring this cake, as it is just as popular with adults!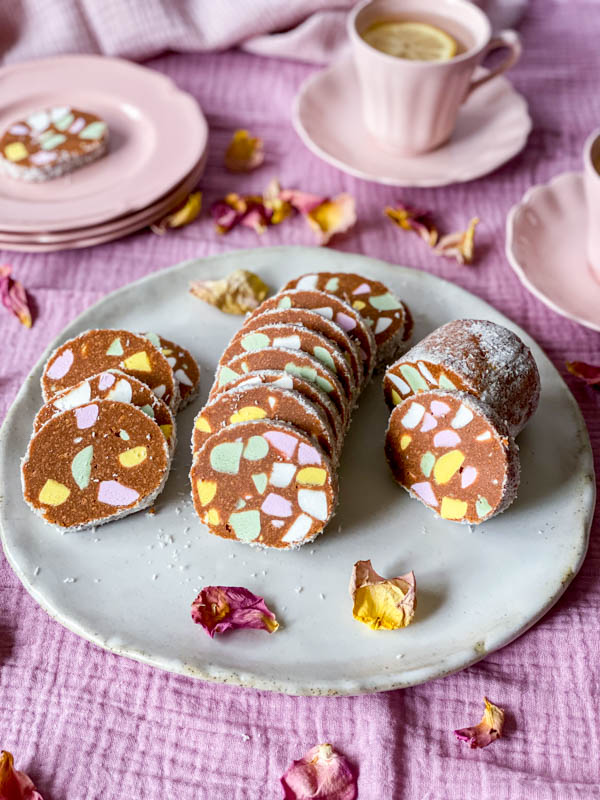 I just wouldn't be a true 'kiwi' if I didn't have this recipe on my website! It is very popular in NZ and can still be found in bakeries and coffee shops all over the country.
This Lolly Cake reminds me of my childhood as my mother often made this slice and I still recall being so excited to come home from school to find this in the fridge.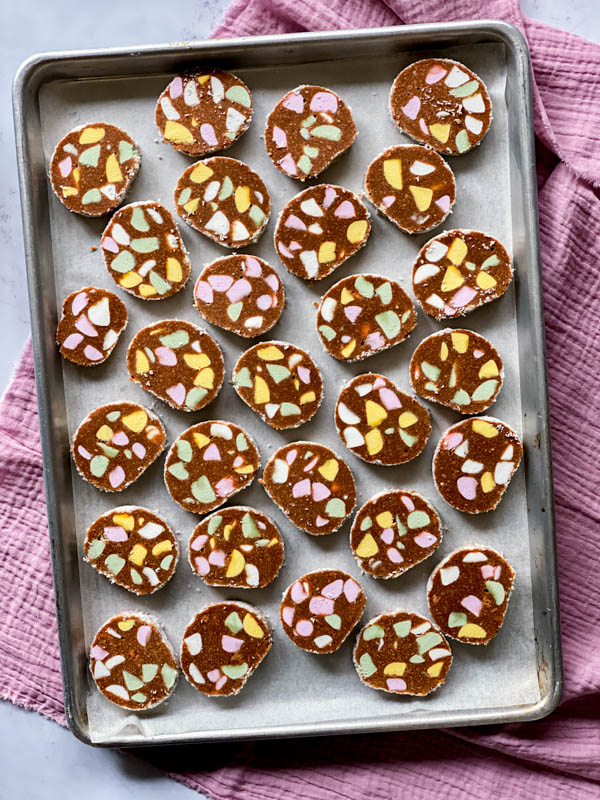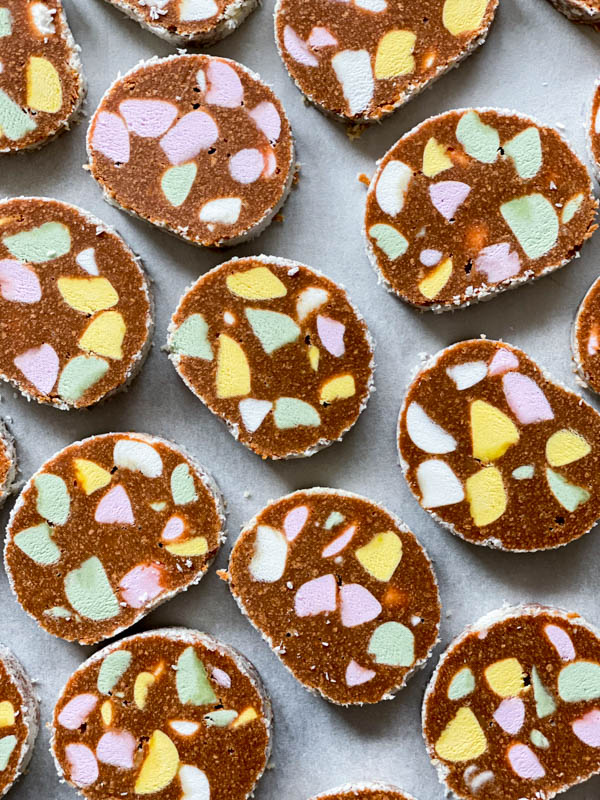 What is a Lolly Cake?
Lolly Cake in some form or other has been around since the 1940's.
It is actually more of a 'log' than a cake. Made with crushed malt biscuits, sweetened condensed milk, melted butter, and chopped lollies (fruit puffs or similar) which are all combined and shaped into a roll that is then coated in desiccated coconut. It is then refrigerated for several hours to set before being sliced. By slicing the log, you get to see the lovely colours of the lollies inside.
The traditional lollies used in this cake are Fruit Puffs or Eskimo lollies. They are like a firm and chewy marshmallow in texture. These lollies are hard to find outside of NZ (Australians can buy them from specialty NZ food shops) so a good substitute is marshmallows or Banana lollies or, for more colour, use a combination of both. You can also use mini marshmallows instead of chopping up larger ones.
The Lolly Cake is formed into one long log or two smaller ones. I am also giving you two other options for shaping this Lolly Cake – one is into Lolly Balls and the other is a Lolly Slice. The same recipe, just a different way to present them. I've included photos with a description on how to do it.
Here are some process photos and descriptions on how to make this Lolly Cake.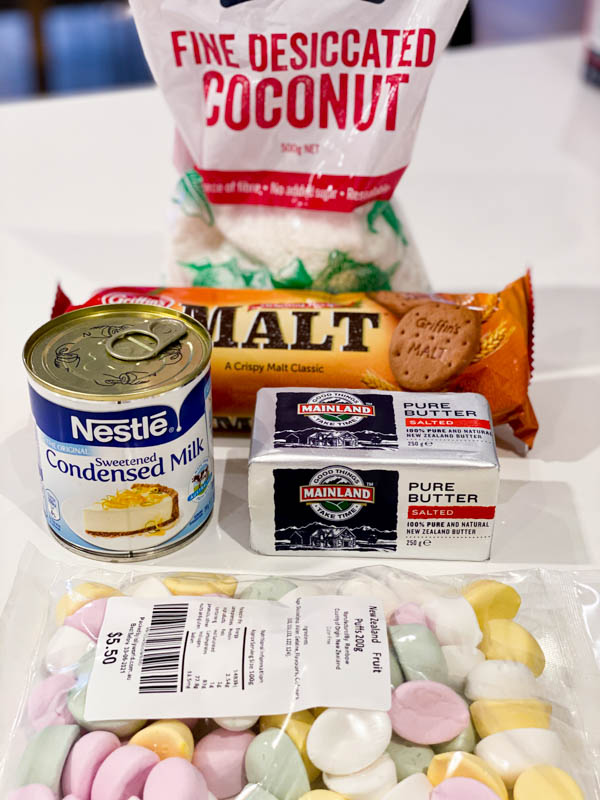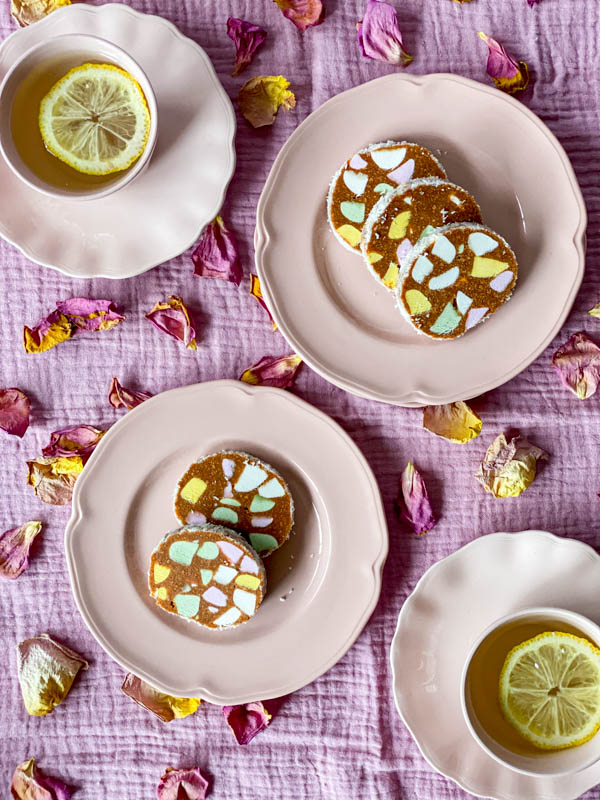 Here are two other ways to shape this recipe: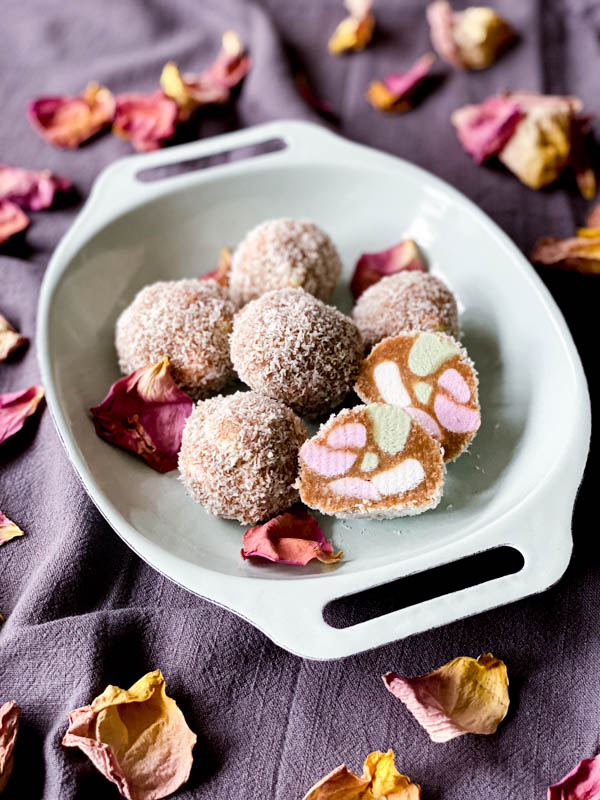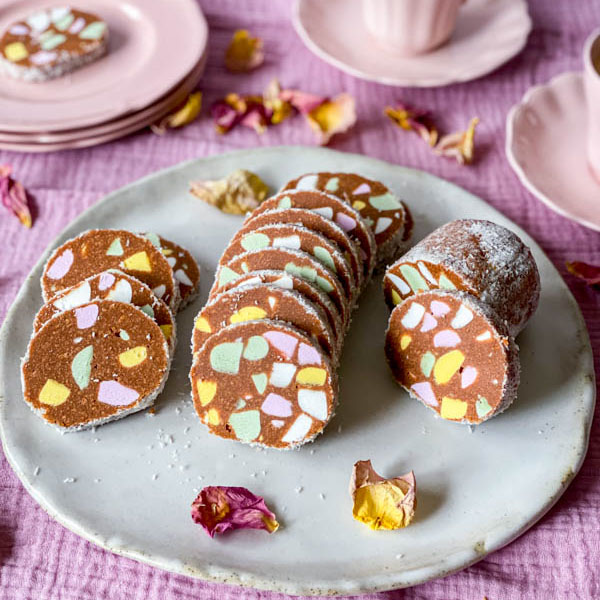 Equipment
large bowl

small saucepan

food processor
Ingredients
250

g

malt biscuits

crushed

110

g

butter

melted

200

g

sweetened condensed milk

180

g

fruit puffs or eskimo lollies

or similar (see note 1)

1/2

c

desiccated coconut
Instructions
To crush the malt biscuits: Break up the biscuits and place in the bowl of a food processor. Process until the biscuits are fine crumbs. Set aside.

To prepare the lollies: Cut each lolly into three or four pieces and set aside.

Place the melted butter into a large bowl with the sweetened condensed milk and stir. Add the biscuits and chopped lollies and mix all the ingredients together well. Make sure all the biscuits crumbs are moistened and incorporated.

Tip the mixture out onto a clean surface or onto a piece of baking paper. Shape the mixture into one long log or divide the mixture in half and shape into two smaller logs. The logs should be approximately 5-6cm in diameter. Some people find shaping two smaller sized ones easier to handle. Roll the log in coconut, pressing the coconut onto it so it sticks. Roll the log tightly in cling wrap and refrigerate for 4 hours or overnight to set.

Remove the cling wrap and slice into 1-2cm slices. I get about 20 slices from this recipe. It is up to you though as to how thick or thin you slice it.

Store in an airtight container in the fridge for up to 1 week, or freeze for up to 3 months.
Notes
Note 1: Marshmallows or Banana lollies are a good substitute, or a combination of both (a combination will give you more colour). If you use mini marshmallows there is no need to chop them up.
Nutrition
Calories:
177
kcal
|
Carbohydrates:
21
g
|
Protein:
2
g
|
Fat:
10
g
|
Saturated Fat:
5
g
|
Cholesterol:
18
mg
|
Sodium:
125
mg
|
Potassium:
61
mg
|
Fiber:
1
g
|
Sugar:
13
g
|
Vitamin A:
175
IU
|
Vitamin C:
1
mg
|
Calcium:
35
mg
|
Iron:
1
mg