I just love this Chewy Chocolate Coconut Slice! A real family favourite and it's so easy to make with everything mixed together in one bowl – the perfect melt and mix slice. The texture is like a combination of chewy cookie and brownie – delicious! It can also easily be made Gluten-free.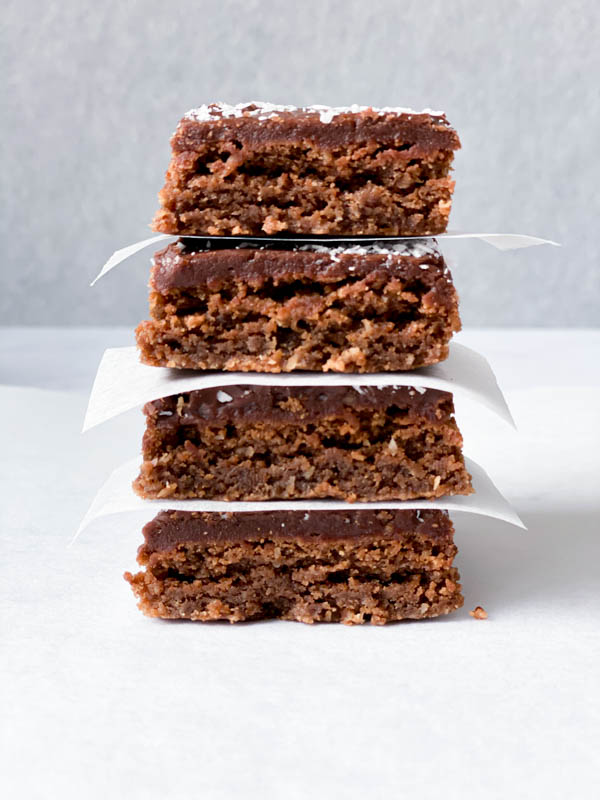 This Chewy Chocolate Slice is definitely one of my favourite slices and I can even remember the first time I ate it. I was about 13 years old, at a friend's house and her mother had made it. I remember wishing that she would offer me a second slice! When you make it, you'll see what I mean – it's hard to stop at just one…or even two. ☺️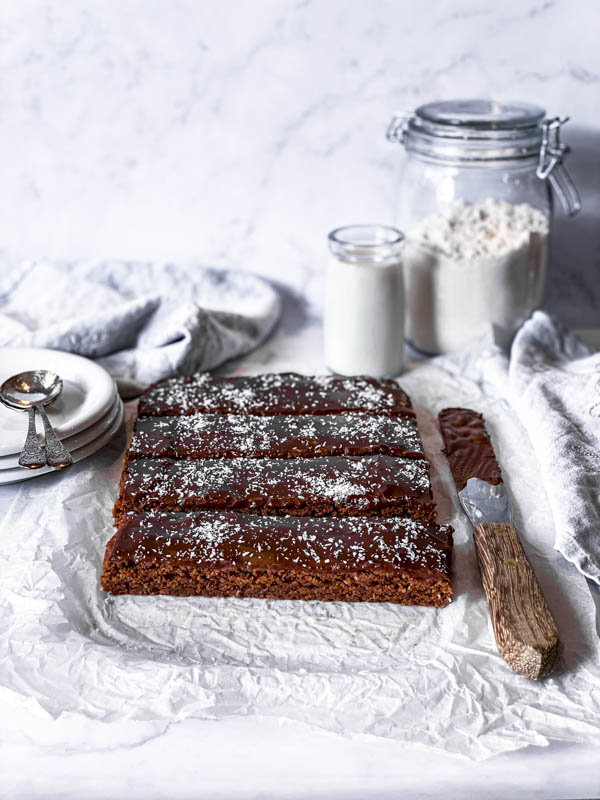 I have made many different variations of this slice over the years, trying to perfect it to get the right amount of chewiness that I remembered about the slice I'd eaten as a child. After a few attempts, I realised that brown sugar gave better chewiness than white sugar, and more cocoa in the icing balanced out the sugar better.
This slice has great texture. The base is soft and chewy (like a cookie crossed with a brownie) and the end bits are even more chewy. The icing just tops the whole slice off!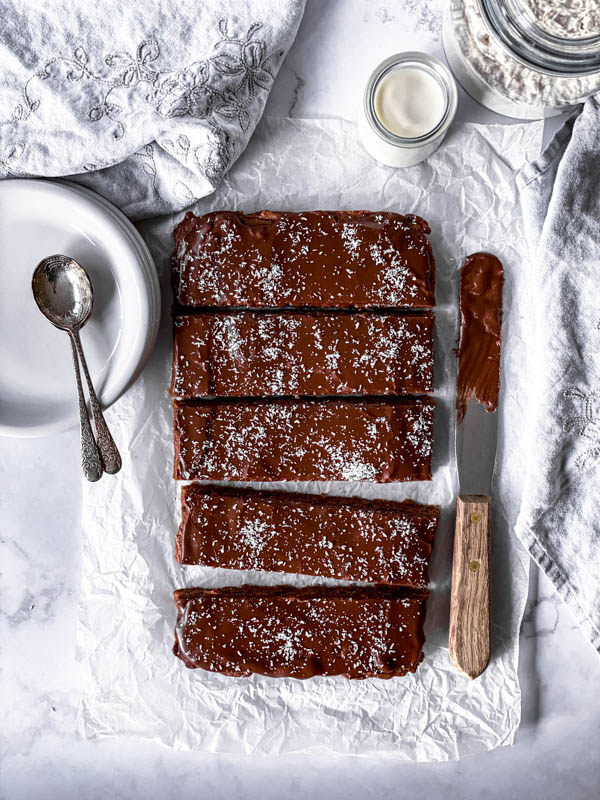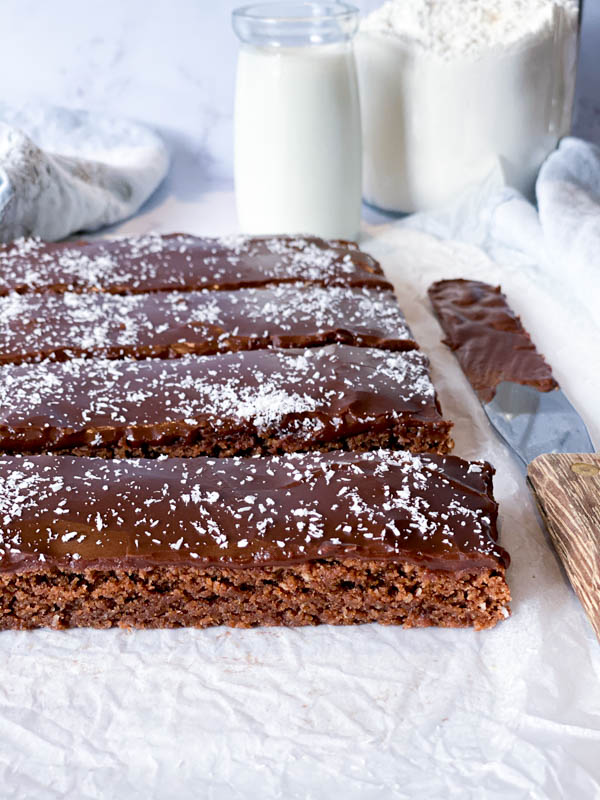 It really is a super quick and easy slice to make. Once you've melted the butter, everything gets added and mixed together in the one pot or bowl. It is prepared in 10 minutes and then baked in the oven. Once it has cooled slightly, the icing is poured over the top while the slice is still warm.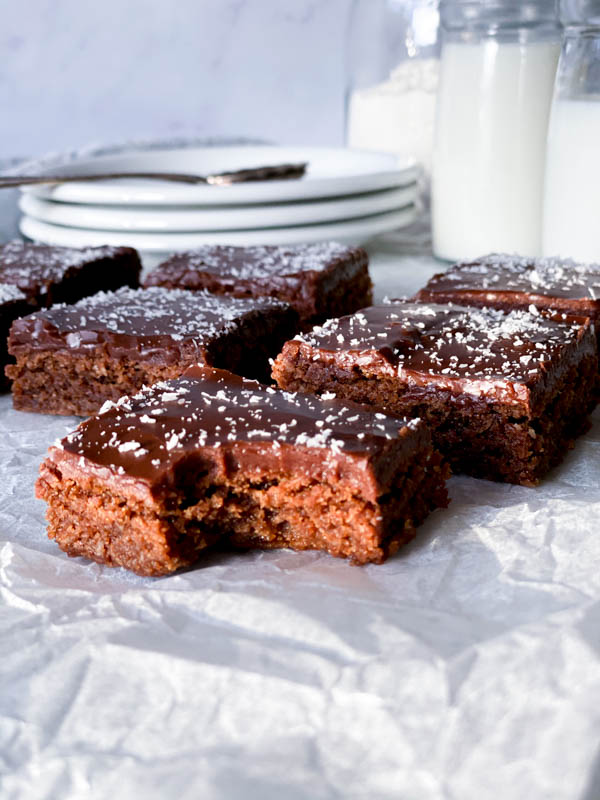 This slice can also easily be made gluten-free by simply replacing plain flour with gluten-free flour.
I really hope you enjoy this Chewy Chocolate Coconut Slice as much as I do. x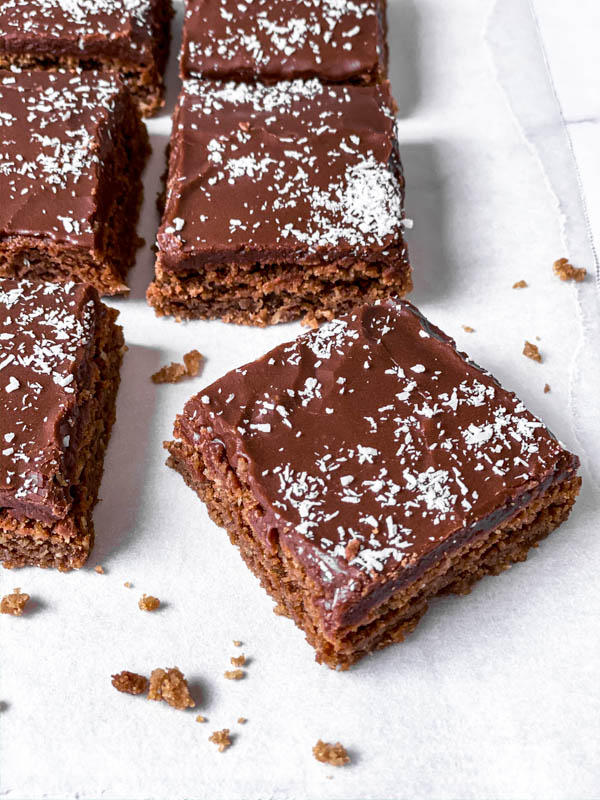 About The Ingredients
The ingredients you need to make this slice are:
Butter – I use salted, as I like a bit of salt in chocolate bakes.
Brown Sugar – Brown Sugar gives the slice a lovely chewy texture. I found when I used white sugar, the slice was more crispy.
Flour – I use Plain All Purpose Flour (substitute with Gluten-free plain flour if you wish).
Baking Powder – only a small amount is used as the slice doesn't need to rise too much (use gluten-free baking powder if you wish).
Coconut – I use dessicated coconut as I prefer this to shredded coconut. Dessicated coconut is finer and for me, gives a better texture without overpowering the slice.
Vanilla Extract – vanilla extract is so much better than vanilla essence.
Cocoa Powder – any cocoa powder is fine – I've used Cadbury and Dutch Cocoa at different times.
Egg – lightly beaten, before adding to rest of ingredients.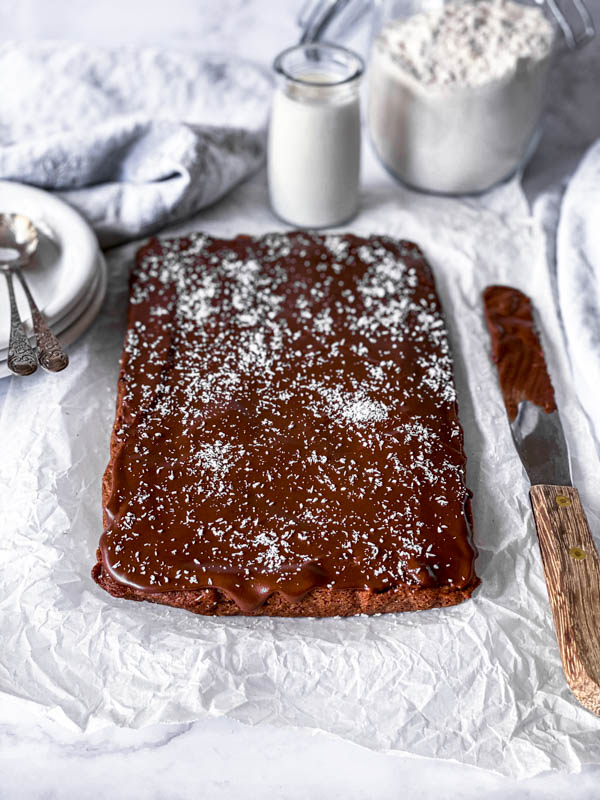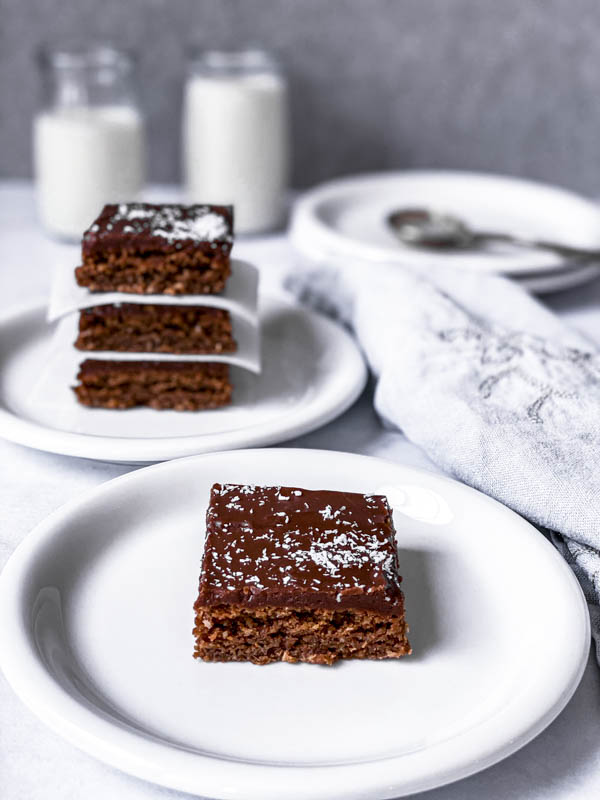 After another delicious chocolate bake which is also gluten-free? Have a look at my Torta Caprese. It's a beatifully moist cake that is perfect for entertaining but also great with a cuppa!
Another chocolate bake is my Chocolate Brownies recipe which is always popular!
Other baking suggestions: Gingernut Biscuits (a family favourite), Anzac Biscuits or my Pistachio Blueberry Friands which are also gluten-free ?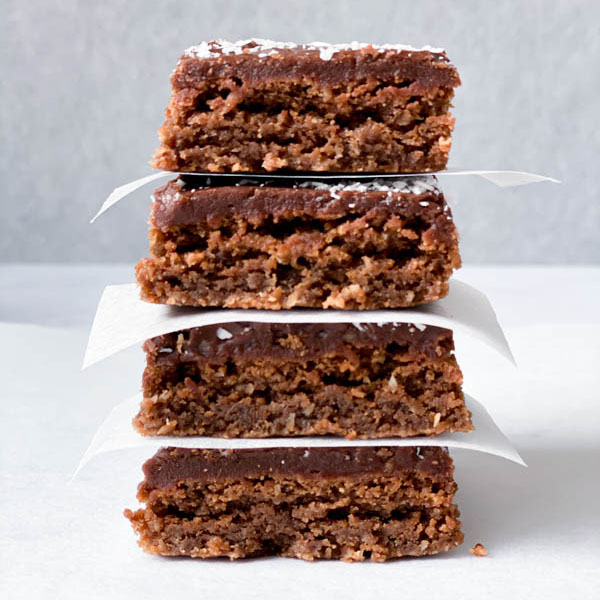 Equipment
Pot or Large Bowl

Slice Baking Tin
Ingredients
Base:
125

g

butter

salted

220

g

brown sugar

(1 packed cup)

125

g

plain flour or gluten-free plain flour

(1 cup)

1/2

tsp

baking powder

(or gluten-free baking powder)

1/2

cup

dessicated coconut

1

tsp

vanilla extract

2

tbsp

cocoa powder

1

egg

lightly beaten
Icing:
1

cup

icing sugar

pure

2

tbsp

cocoa powder

20

g

butter

melted

2

tbsp

hot water (approx 1.5 to 2 tbspns)

dessicated coconut, extra for sprinkling on top
Instructions
For the Base:
Preheat the oven to 180°C and line a 19cmx28cm Slice Tin with baking paper. Allow enough baking paper to come up the sides so you can easily pull the cooked slice out.

Melt the butter in a pot over low heat, or in a bowl in the microwave (low), until just melted.

Add all the remaining ingredients (add the lightly beaten egg last) and mix everything together well so its all combined.

Put the base mixture into the lined slice tin and spread out evenly. Use clean fingers to press down so base is nice and flat.

Put in the oven and bake at 180°C for 15-20 minutes or until base is just cooked and browned slightly. Be careful not to overcook and burn it. In my oven this slice takes 15 minutes.

Remove from the oven and set aside to cool slightly for 10 minutes while you make the icing.
For the icing:
If you have a small blender: place all the icing ingredients into the blender and process, scraping down the sides half-way through. I find this the easiest way to make icing.

Otherwise: Sift the icing sugar and cocoa into a jug or small bowl. Add the melted butter and hot water and mix until combined and smooth.

When the slice is cooled but still warm, carefully lift it onto a chopping board or flat surface. Pour the icing over the slice and smooth out evenly with a palette knife or similar. Sprinkle with extra dessicated coconut.

Once slice is cooled and icing is set, cut into squares.
Storage:
The slice keeps well for up to 5 days in an airtight container or freeze for up to a month.
Notes
To make the slice Gluten-free: use Gluten-free plain flour and Gluten-free Baking Powder.
My favourite way to eat this slice is with a glass of cold milk! ?
I hope you enjoy this slice as much as I do. Please let me know in the comments on this post if you have made it. I love getting your feedback.
Enjoy. K
Nutrition
Calories:
160
kcal
|
Carbohydrates:
23
g
|
Protein:
1
g
|
Fat:
8
g
|
Saturated Fat:
5
g
|
Cholesterol:
24
mg
|
Sodium:
70
mg
|
Potassium:
51
mg
|
Fiber:
1
g
|
Sugar:
17
g
|
Vitamin A:
193
IU
|
Calcium:
21
mg
|
Iron:
1
mg